From the SFLA Blog
You Know You're Doing Something Right When Kamala Harris Calls It "Shameful"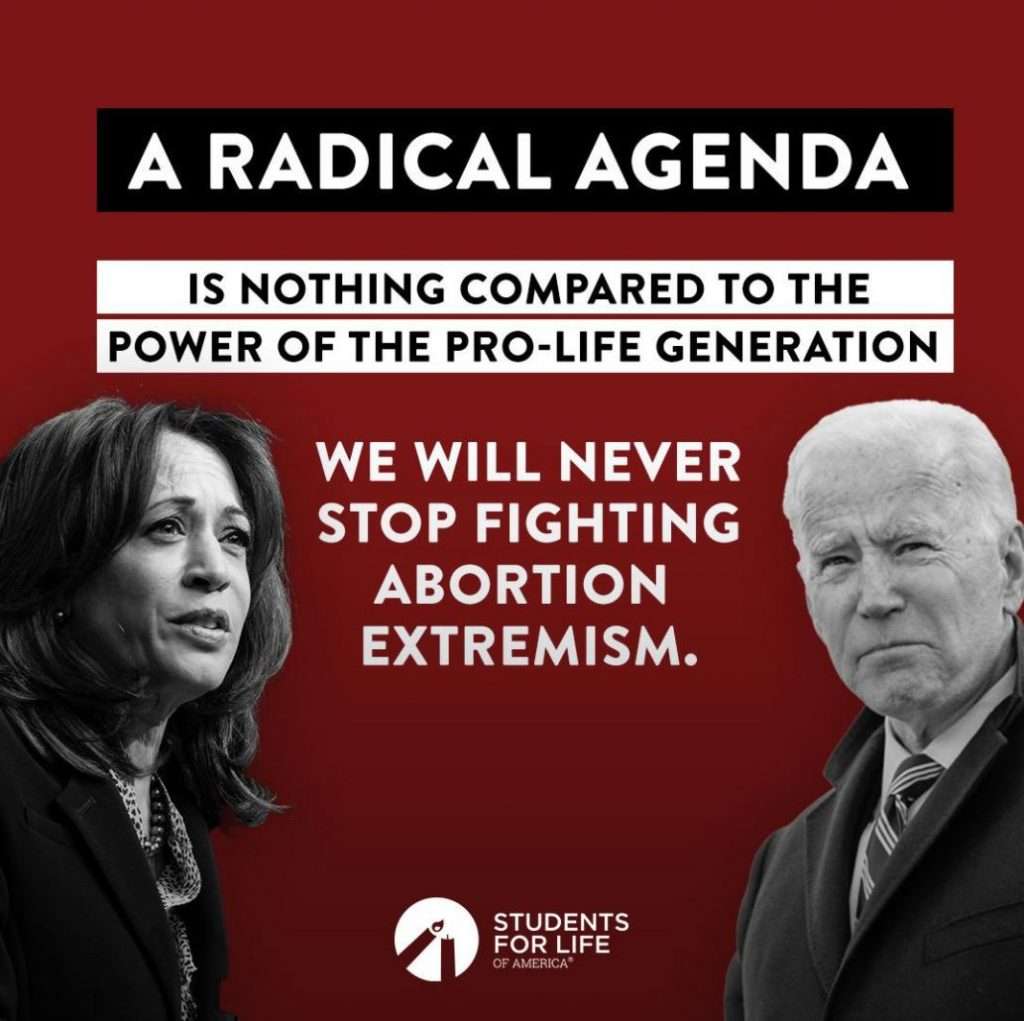 Caroline Wharton - 13 Apr 2022
Students for Life Action (SFLAction) recently had the honor of witnessing history in the making at the bill signing ceremony of the Oklahoma Life at Conception Law. After SFLAction worked with Oklahoma legislators for almost two years on the creation and the passage of this bill, it was a joy for our team to see it enacted in person—but we're not the only ones who are freaking out about this new law. Everyone has something to say about the new Oklahoma Life at Conception Act—including the current Vice President of the United States herself—and while the newly enacted legislation deserves all the attention, it deserves none of the negativity. Let's discuss the Vice President's reaction to the law and why we consider it a badge of honor:
Kamala Harris Cannot Stand This Law:
In a tweet posted on April 6th, 2022, Harris wrote, "Right now, reproductive rights are under attack in states across our nation. The Oklahoma legislature advanced a shameful bill that would prohibit almost all abortions if put into effect. If signed, this bill will only prevent women from getting the heath care they need."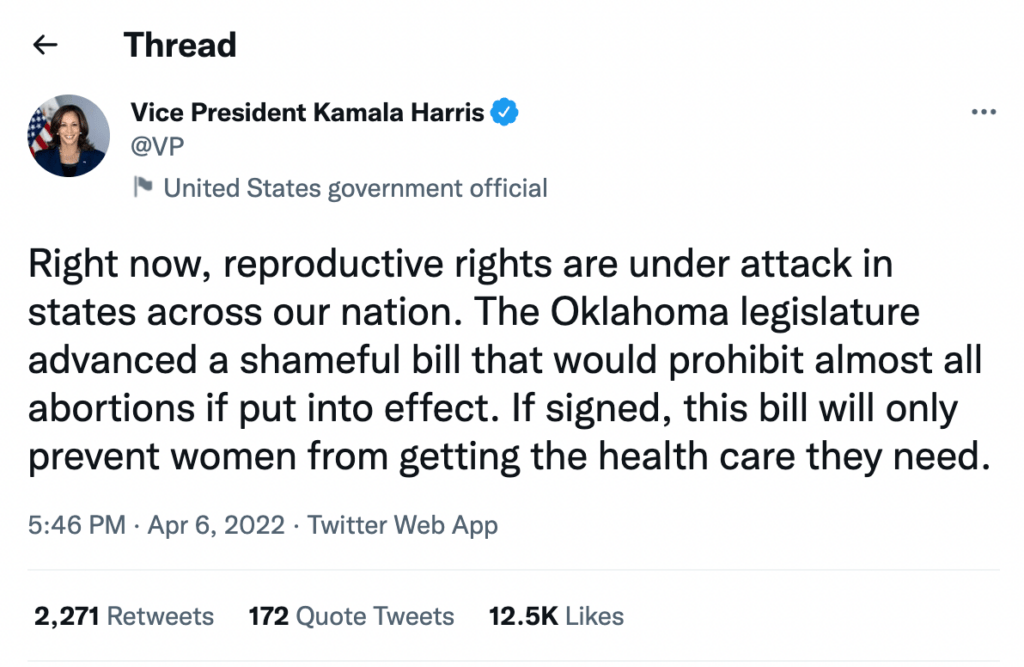 In a follow-up tweet, she continued by lauding the horrific new Colorado abortion law (HB 1279, which stripped the preborn of all rights and made abortion legal up until birth) by saying, "I applaud Gov. Polis for protecting the right to an abortion in Colorado. Colorado will now join 15 states & DC in enshrining the right. Our Administration will continue to do everything in our power to protect access to health care and women's fundamental rights."
We Love That She Hates This Law:
As a rabid supporter of the abortion industry, Harris' response to the Oklahoma Life at Conception Act is everything that the pro-life movement could have hoped for because her stance on abortion is polar opposite to ours. That means that when Harris calls a piece of pro-life legislation "shameful," it's basically the next best thing to sliced bread for the pro-life movement.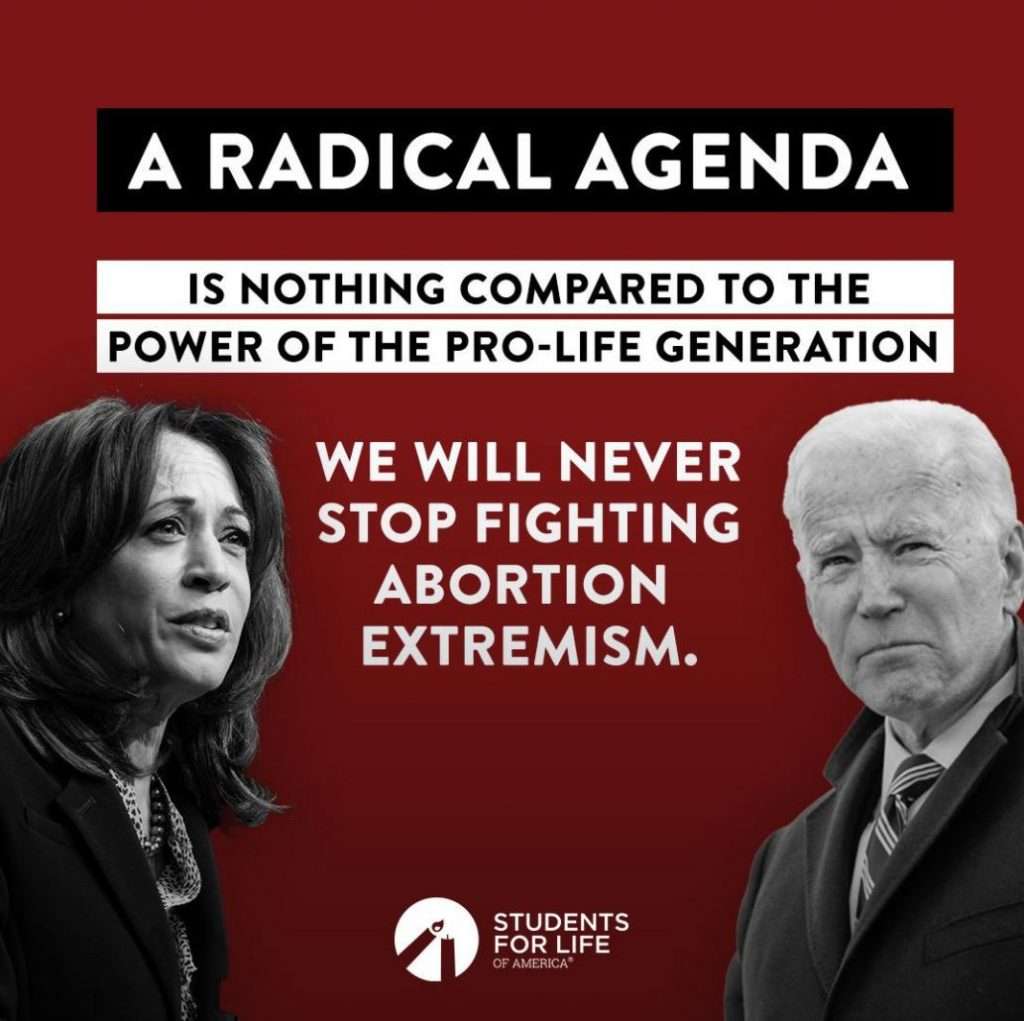 Students for Life Action Public Relations and Policy Coordinator Savanna Deretich described it best when she called the law "monumental," saying:
"Oklahoma's Life At Conception Act is monumental not only for the preborn, but also for the pro-life movement! Students for Life Action has worked tirelessly the last couple years to help legislators make this bill a law. We couldn't have provided so much support without all the students and staff for all the lobbying, delivering petitions, making phone calls, sending texts, and door knocking they did. We are also so grateful to Senator Dahm for sponsoring the bill and Representative Olsen for co-sponsoring. Without these pro-life champions in the Oklahoma legislature, none of this would have been possible. Oklahoma is truly protecting ALL life in law, both born and preborn. Now let's get the rest of the states to follow Oklahoma's suit!"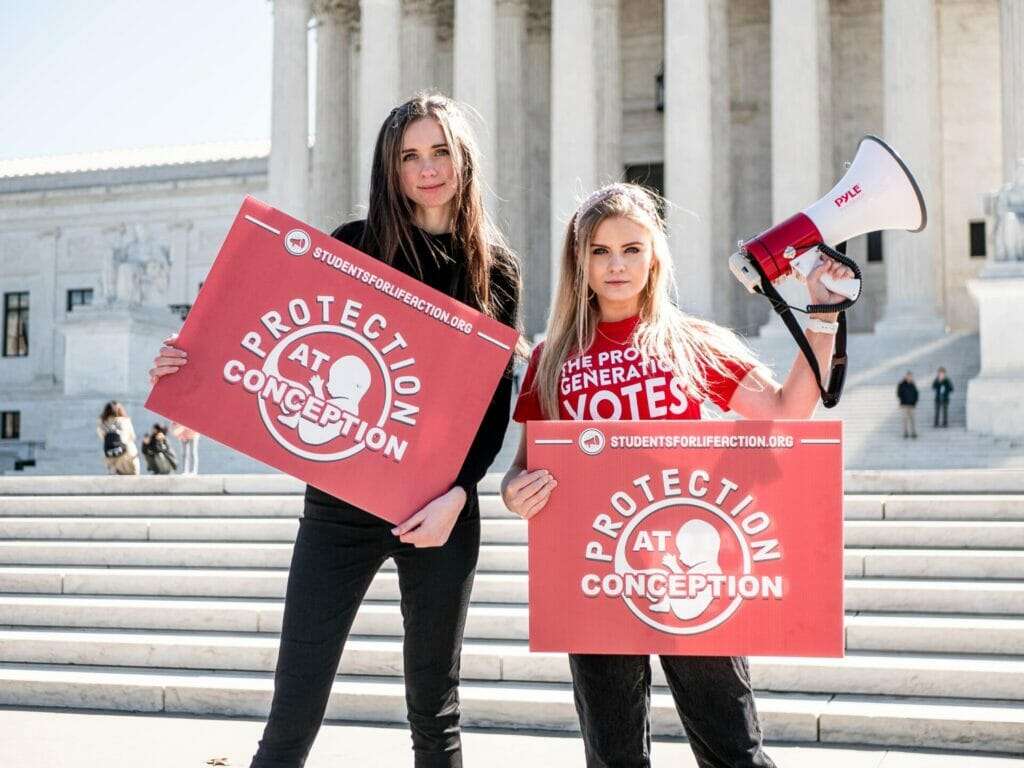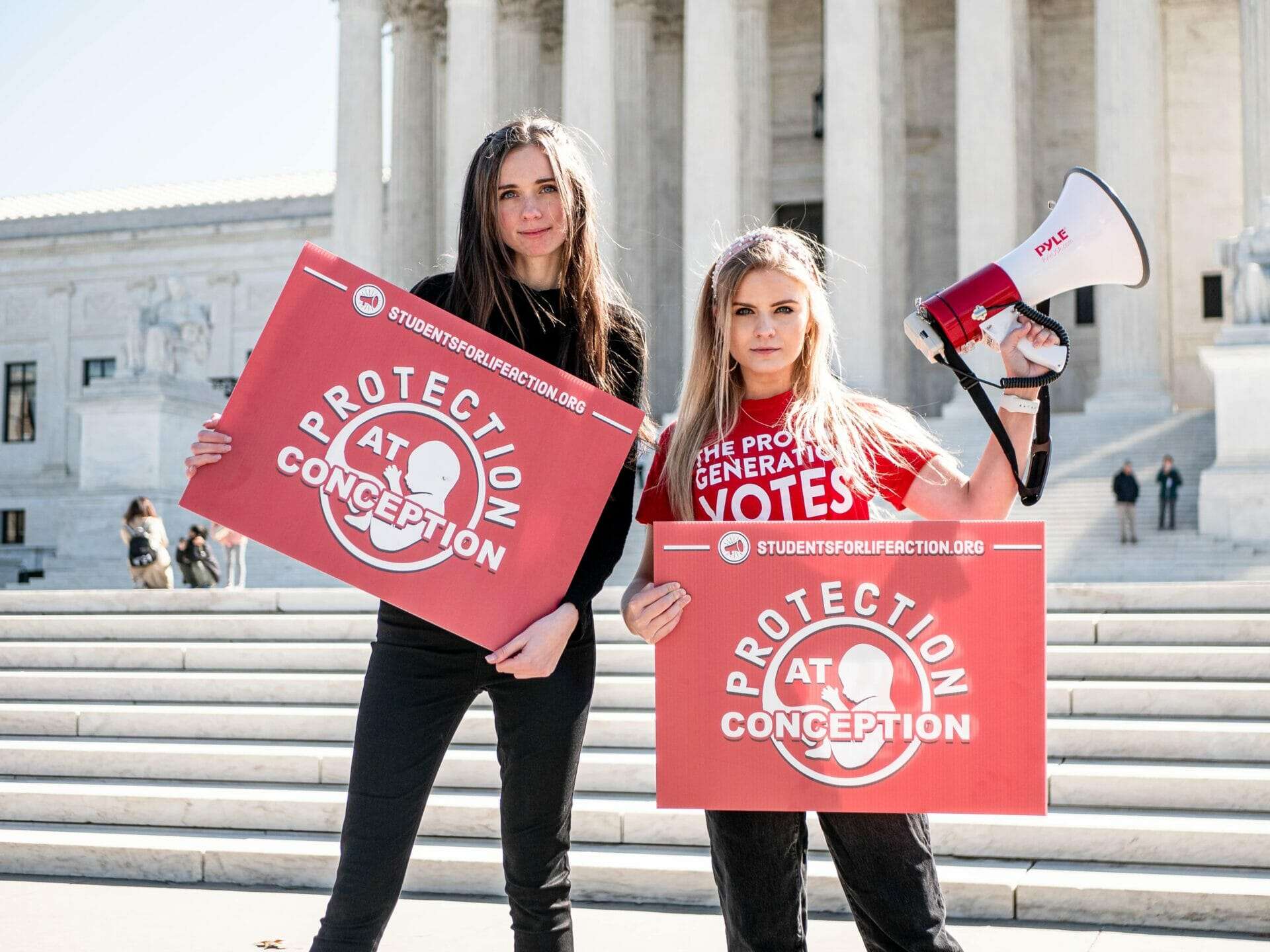 "Momala" Needs to Reconsider What's Healthcare
As a stepmother dubbed "Momala" by her stepchildren, Harris needs to think again about what she calls healthcare for mothers because abortion certainly isn't it. SFLA strongly supports caring about women's health and safety (that's why we highlight abortion risks for women, particularly in Chemical Abortion), and we wholeheartedly reject the notion that abortion can be considered healthcare. Healthcare is about preserving life—what part of abortion's inherent mission to kill the preborn and harmful side effects to mothers (which can include increased risks of breast cancer, future ectopic pregnancies, and maternal death) has you confused, Momala?
This confusion is apparently something the Vice President and the Biden-Harris Administration's new SCOTUS justice Ketanji Brown Jackson have in common. Regrettably, both women seem to need a biology lesson on women and the true consequences of abortion, as well as a constitutional lesson on the fact that abortion is not a fundamental right.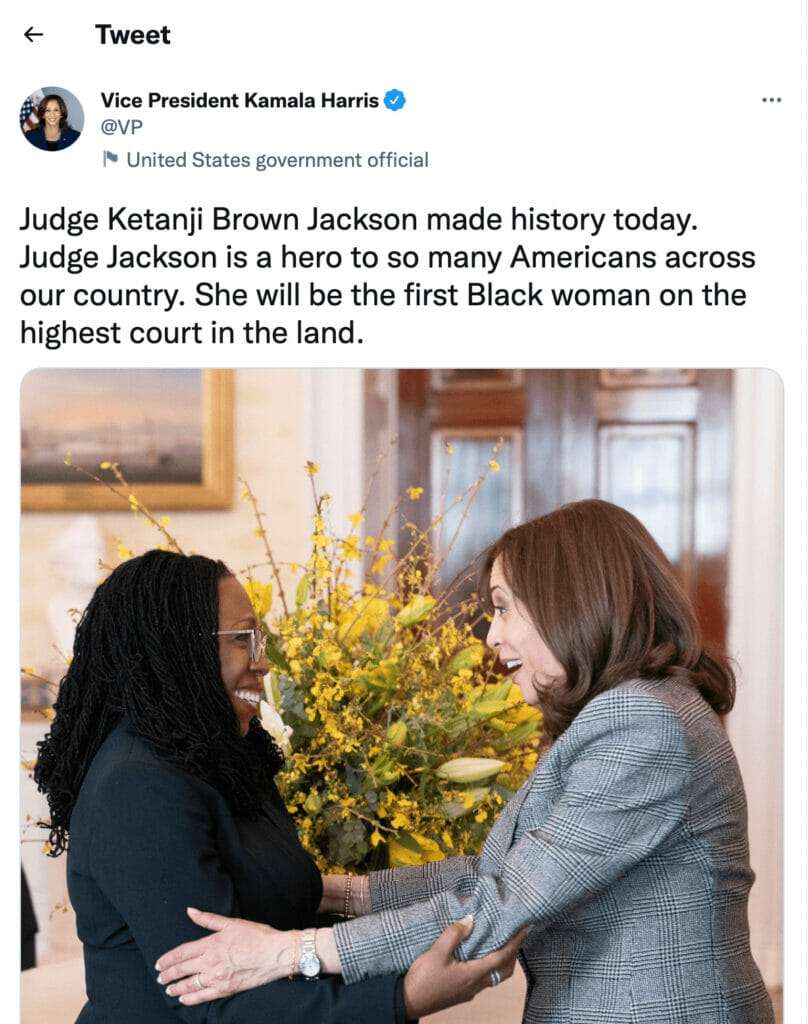 The Pro-Life Generation takes Madame Vice President's criticism of the Oklahoma Life at Conception Act to heart as a sign that we are on the right path—the path to life, dignity, and justice for the preborn—and we thank Harris for her unintentional encouragement along the way. Here's to producing many more pieces of pro-life legislation that she will consider to be shameful!