From the SFLA Blog
Tabling Against Chemical Abortion Pills at George Washington University: Meeting Pro-Abortion Rage & A Pro-Life Doc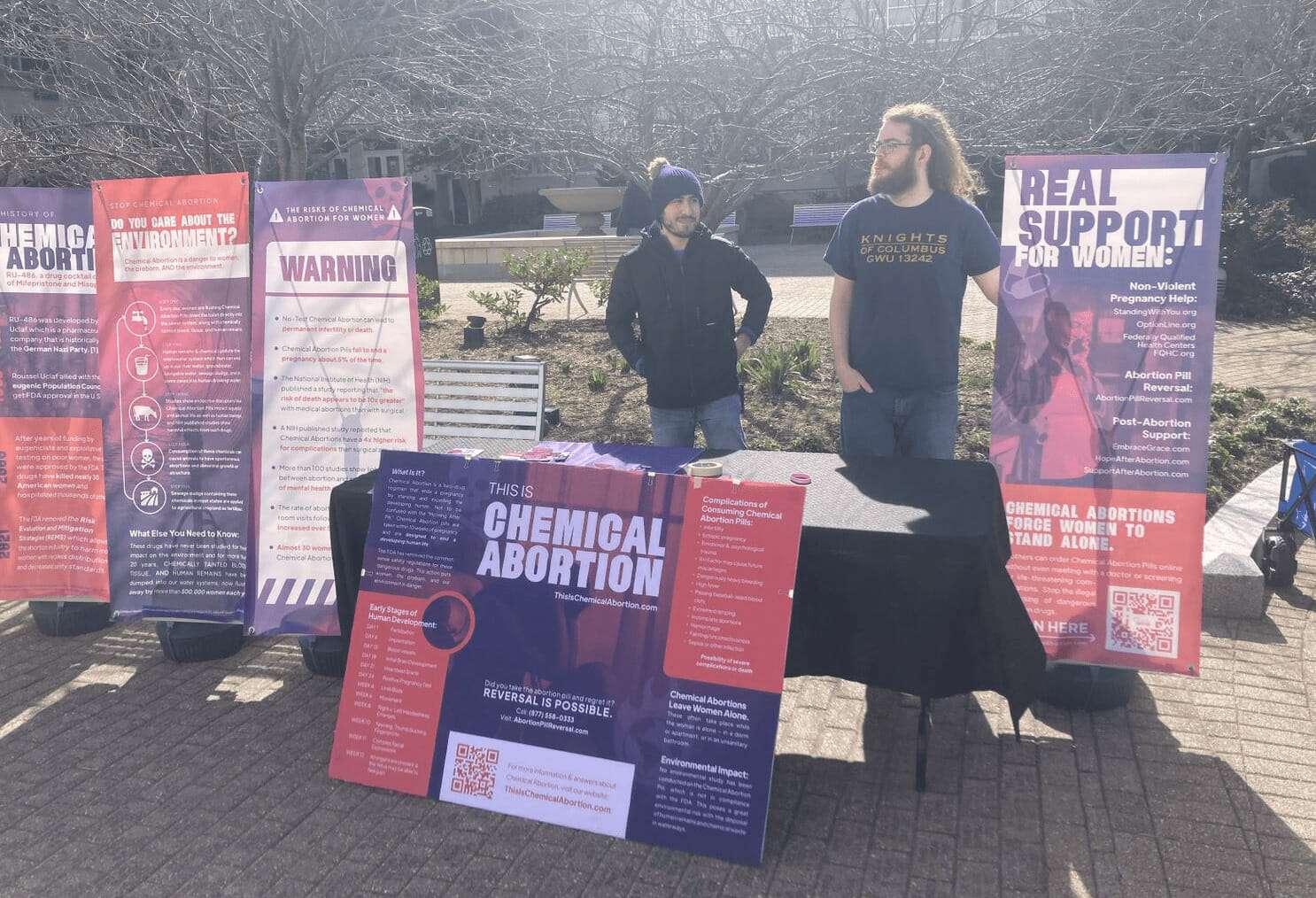 Caroline Wharton - 15 Feb 2023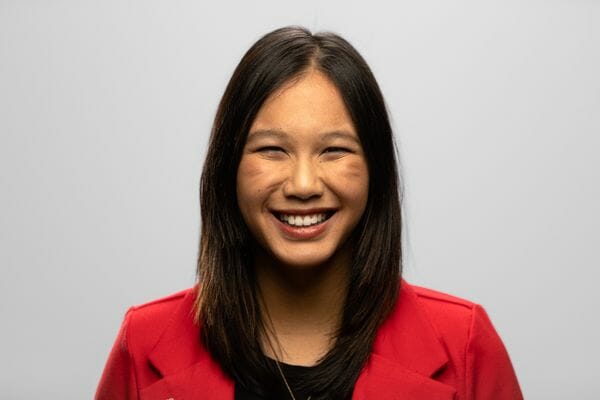 GUEST POST: Students for Life of America's (SFLA) spring campus tour entitled This Is Chemical Abortion kicked off recently in Washington, D.C. at George Washington University, and the tour's maiden voyage was a success! With the display, we had a lot of great conversations with individuals who had never heard about the dangers of Chemical Abortion Pills, and it wouldn't be a pro-life tour stop without some controversy, of course. We were also protested by the pro-abortion group called 'GW Rage.'
A fitting title for a pro-abortion group, the abortion supporters handed out condoms to students in Kogan Plaza as a form of protest (they must not have known SFLA has nothing against contraception — just against killing babies). We did try to engage them in conversation about their position, but they refused to have any sort of productive conversation. 
(Click HERE to read another SFLA blog entitled "Dear Women Considering Chemical Abortion Pills, Please Get a Free Ultrasound at a PRC.")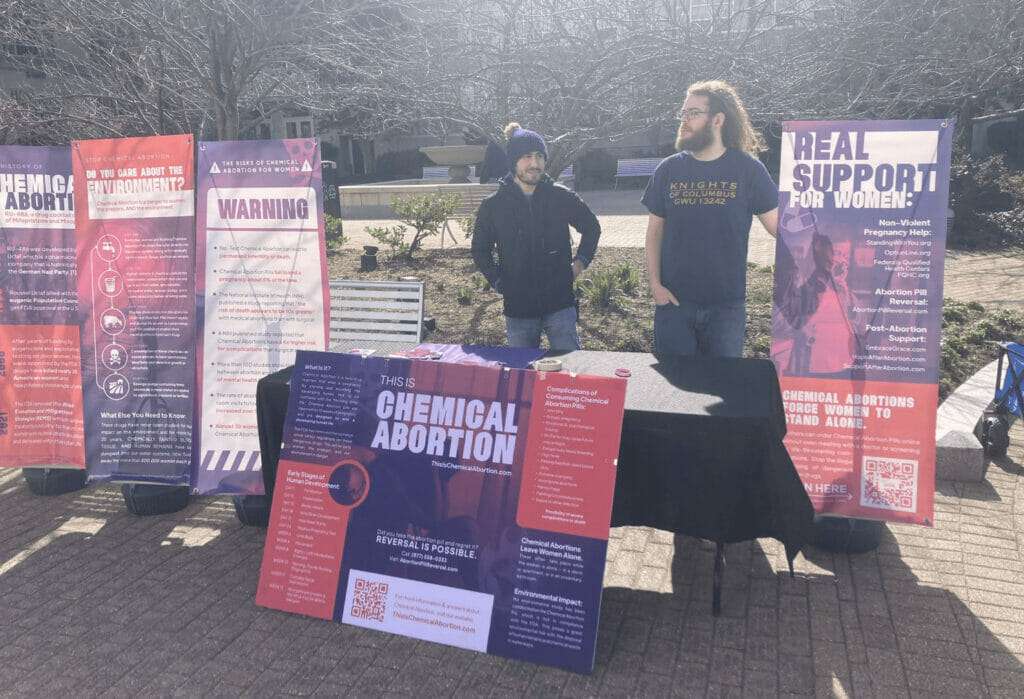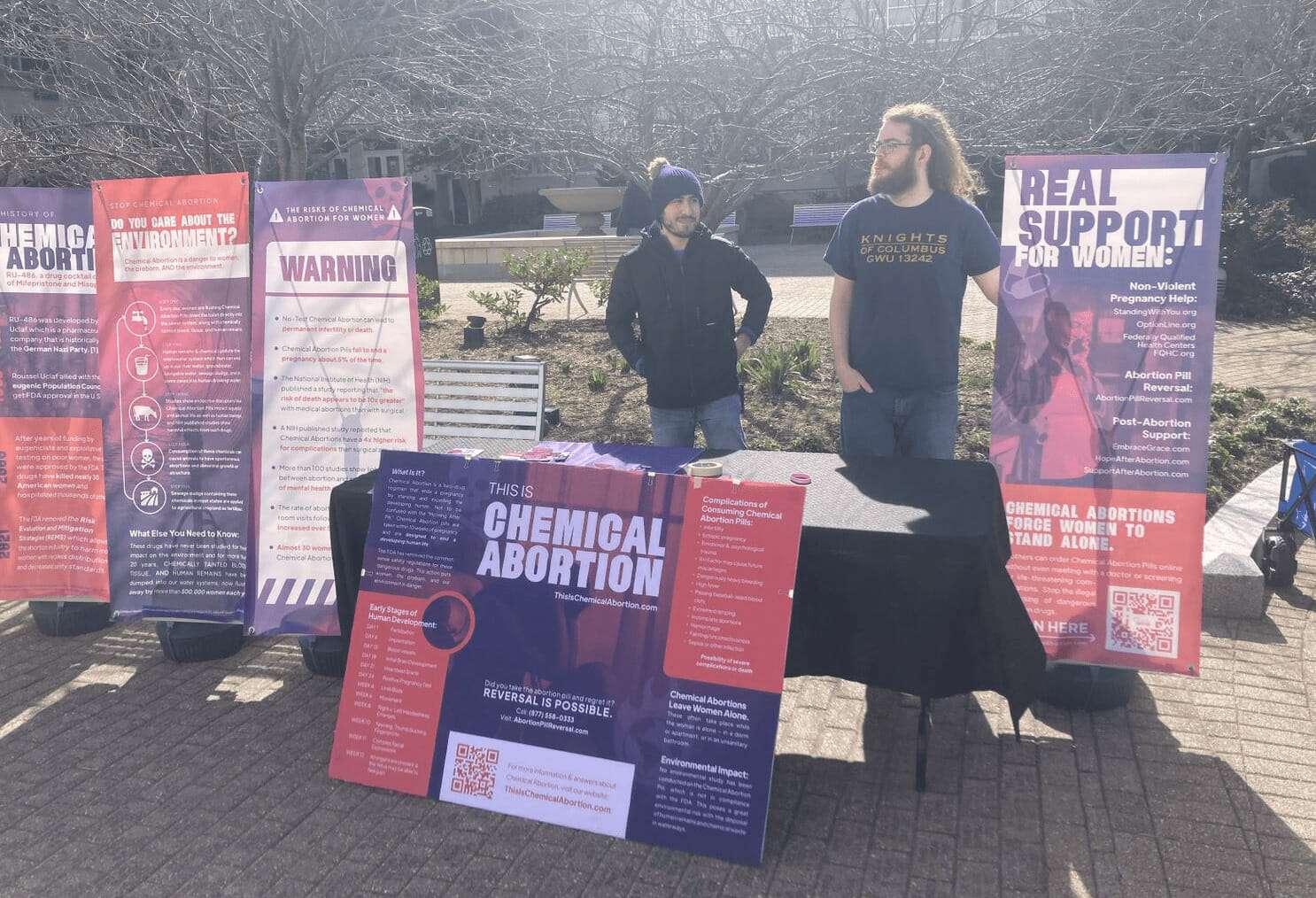 While we were promoting a petition to protect women from dangerous Chemical Abortion Pills, GW Rage was also asking students to sign a petition — but theirs, however, was not life-affirming. They wanted students to ask the administration for "free and accessible" Plan B, despite the fact that the university already has a Plan B vending machine which dispenses these drugs for $30 and promotes these abortifacients with the same readiness as candy.   
Regardless, I was encouraged by multiple conversations we had that day. While I was handing out topic cards to anyone willing to take some information, an international student took one but kept walking. Five minutes later, he returned to the display curious to know more and asked me some questions about the bullet points on the topic card. After chatting for a few minutes, he said:
"I don't think this [Chemical Abortion] should be happening." 
(Click HERE to read another SFLA blog entitled "Opting in for Chemical Abortion Pills? Walgreens Apparently Learned Zip from the Opioid Crisis.")
We also spoke with a doctor who worked in one of the local hospitals and happened to be walking by. He asked us if we were for or against abortion, and when we explained that we were against abortion and trying to communicate the harms of Chemical Abortion Pills to the students in the area, he thanked us for our work. He said that he appreciated people sharing the scientific facts that life begins at fertilization, and that a pre-born child is a separate entity that should also have human rights. Clearly, he believed in treating mothers and preborn children as two patients; both unique and deserving of protection.
READ NEXT: The ERA Sequel No One Asked For: Fighting the "Everything Related to Abortion" Act…Again