From the SFLA Blog
This Spring, Make Sure That No Woman Stands Alone on Your Campus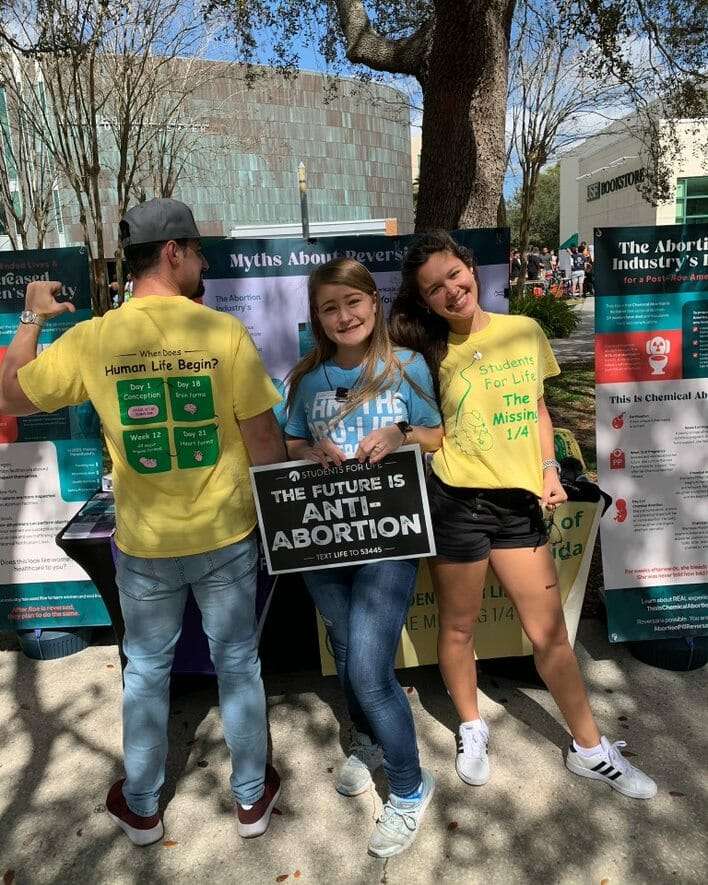 Caroline Wharton - 28 Feb 2022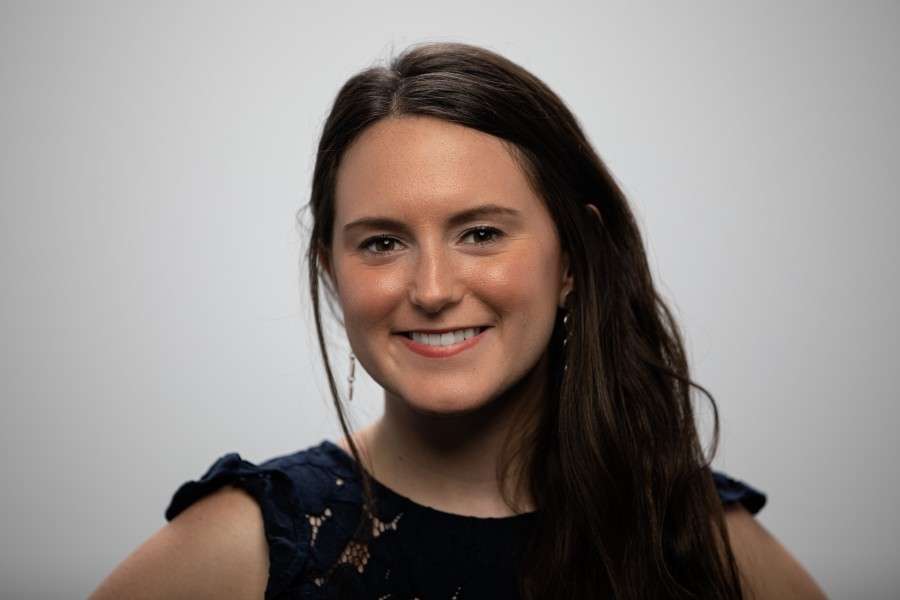 GUEST POST: It's springtime, and you know what that means: Students for Life of America (SFLA) is launching a new campus tour. This year is a huge year for the pro-life movement, and the 2022 Spring Tour, entitled "No Woman Stands Alone… In A Post-Roe America" reflects that as it empowers SFLA student groups to get in on the action.
As we wait for the United States Supreme Court to decide on the Dobbs v. Jackson case (a 15-week abortion ban in Mississippi that is being challenged), we understand that Dobbs will decide if pre-viability bans on abortion are considered constitutional and, if upheld, could undermine Roe v. Wade's already weak foundation. With such an important decision coming up, now is the time to prepare for a Post-Roe America –and this tour is taking our student groups on that journey.
The three goals of the No Woman Stands Alone in a Post-Roe America Spring Tour are to expose the destruction Roe has caused, uncover the abortion industry's own dangerous Post-Roe plans, and share what SFLA is doing to authentically support children, women, and families. The tour includes 4 panels and an interactive tabletop to discuss and educate on these three topics. If your SFLA group wants to help create a Post-Roe culture on your campus and raise awareness for the amazing resources available to women in need, you can host our No Woman Stands Alone Spring Tour! Sign up to host the tour by connecting with your Regional Coordinator here.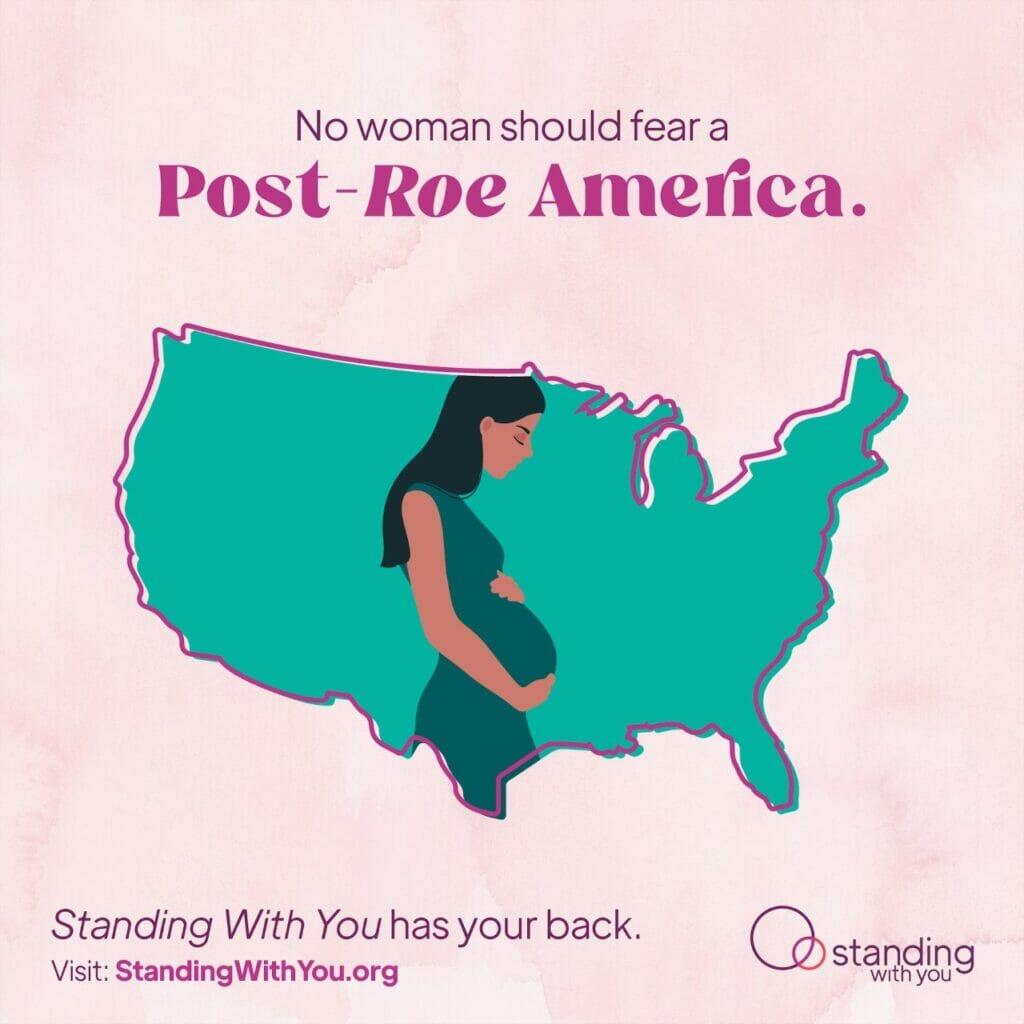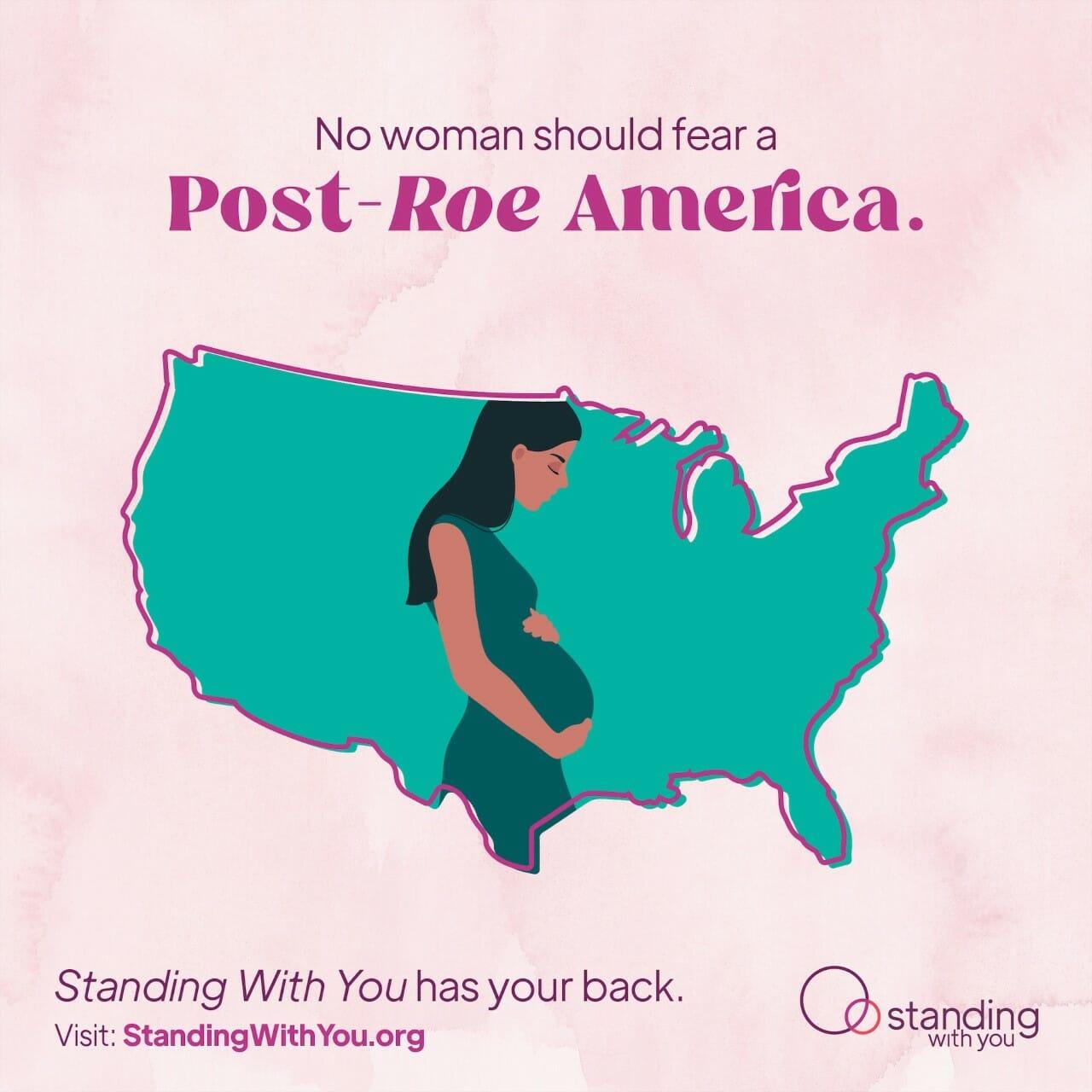 The No Woman Stands Alone Spring Tour is already making a huge impact on campus. As of last week, the tour had already reached ten campuses, and the feedback was incredible. Here are some amazing updates from the tour so far:
University of Missouri at Saint Louis: 
SFLA's Missouri and Arkansas Regional Coordinator Lucy Gonzalez had an amazing experience with changing someone's mind. The SFLA group's university advisor was on the fence about reversing Roe and not fully pro-life. She was personally against abortion but was worried about making abortion illegal and "telling women what to do." However, after listening to our apologetics training, the No Woman Stands Alone training, and seeing the tour display, the group advisor had a radical shift in thought. She was so impressed by all the pro-life resources available to women in need that she stood in front of the display reading with her jaw dropped. She is now very pro-life and has her heart fully in the movement.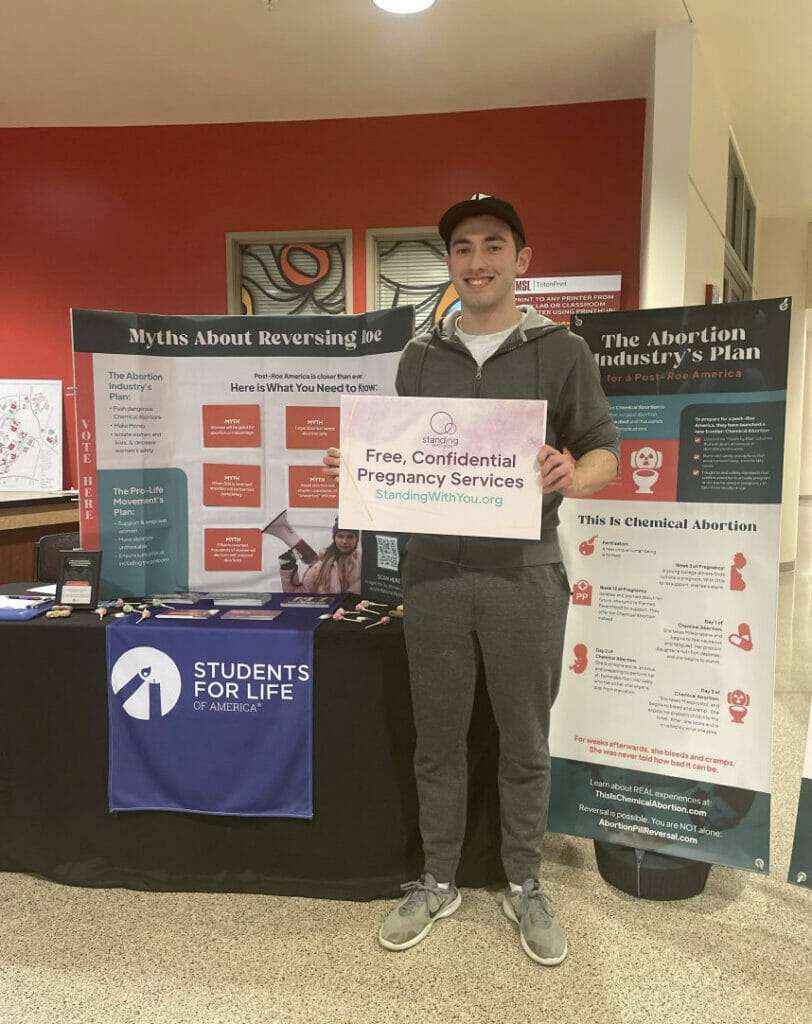 University of Arizona:  
It was pouring down rain when SFLA Pacific Southwest Regional Coordinator Jordan Brittain and her students wanted to set up their display, but they found a way. The group found a tent to keep the display dry, and they were rewarded for their diligence. A group of six pro-abortion students came to the display and talked with them for more than an hour and a half. Pro-life seeds were definitely planted in their hearts!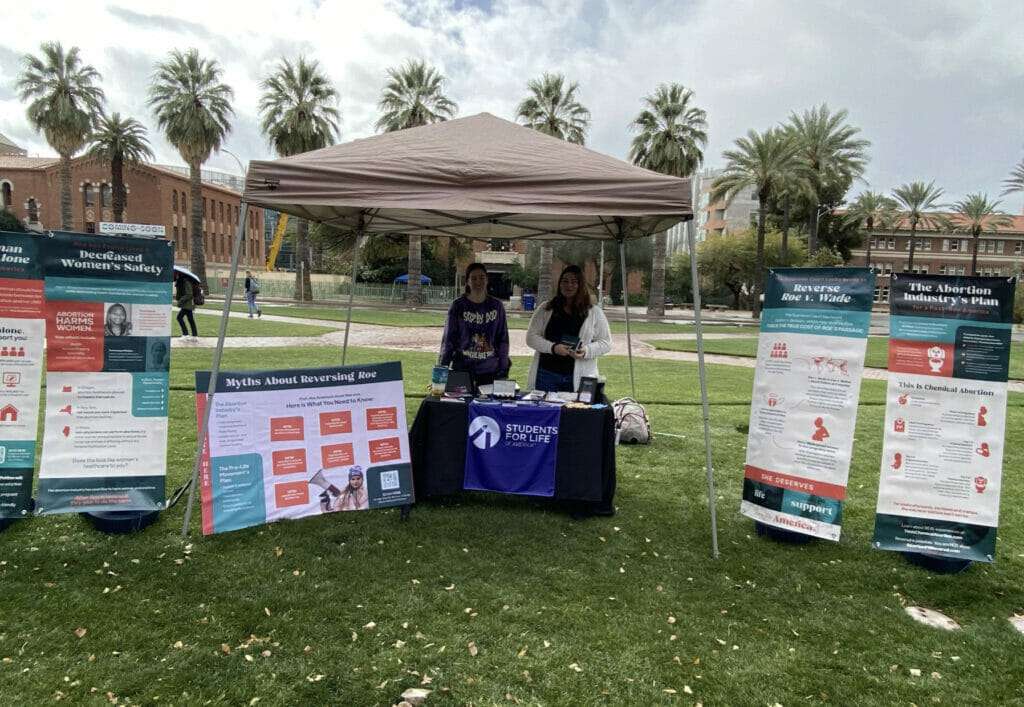 University of Florida South Tampa: 
SFLA Florida Regional Coordinator Andy Secola had some amazing mind-changing conversations, as well. A pro-abortion student came up to the display with the mindset that abortion through all nine months was acceptable. The student threw all the pro-abortion arguments their way, and after learning about the amazing support of the pro-life movement and the humanity of the preborn, Andy asked, "Do you think you're a little more pro-life now?"
She responded "Pro-life… yeah, I think I am pro-life now!"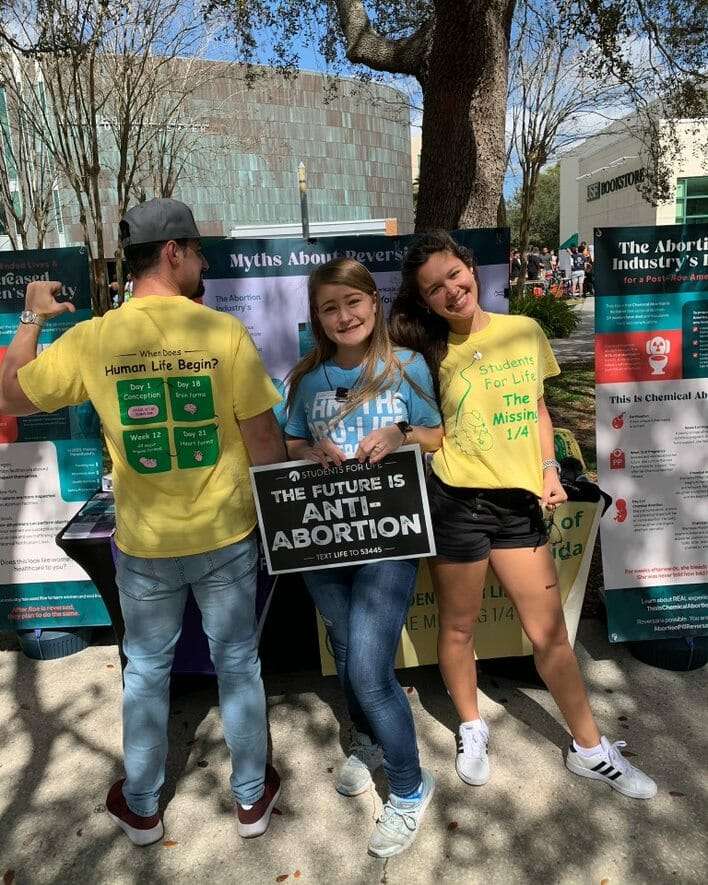 Another student also came up to the display saying he had always been pro-choice but wondered what actually happened in an abortion. Andy explained how each method of abortion killed a human life in violent ways, and the student was shocked. He wondered how abortions could ever be allowed because they sound like just murder (because they are). This student came to the tour display pro-abortion and walked away convicted that abortion is violent and wrong.  
Your campus can be a part of this mind-changing and culture-shaping experience, too. Click HERE to request that the No Woman Stands Alone… In a Post-Roe America Spring Tour come to your campus. Your SFLA group can ensure that no woman stands alone on your campus or in your community!