From the SFLA Blog
WATCH: No Way, KBJ! Pro-Lifers Assaulted as Screaming Abortion Agitators Turn Violent
Caroline Wharton - 21 Mar 2022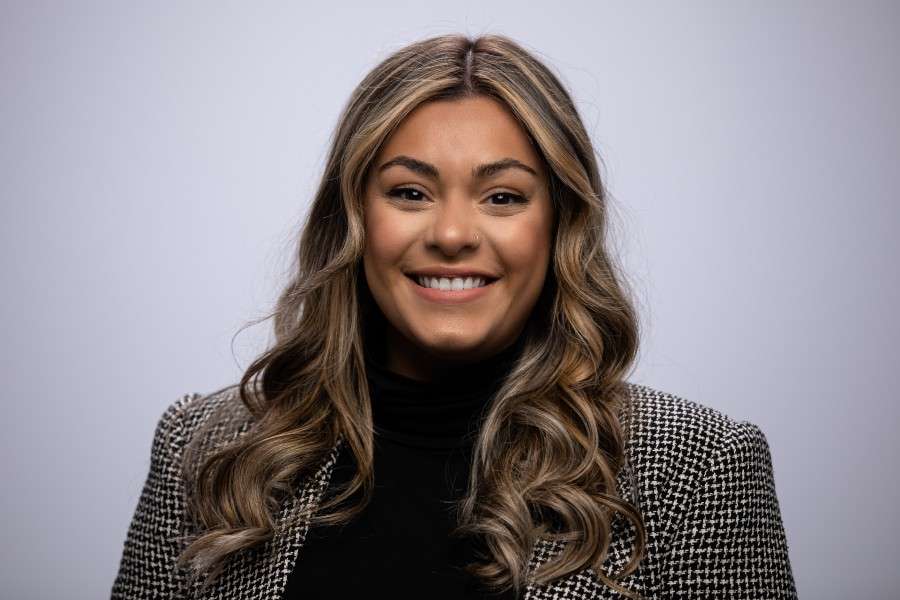 GUEST POST:On the first day of Senate Judiciary Hearings on the nomination of Judge Ketanji Brown Jackson to the Supreme Court (SCOTUS), Students for Life Action (SFLAction) rallied in front of the high court urging U.S. Senators to vote NO because of her radical record of supporting what is NOT in the Constitution (Partial Birth Abortion) while she opposed what is (Free Speech Rights for Pro-Life Americans). But we were not alone.
While we rallied to love them both — mother and preborn child — a brutish and bullying abortion lobby showed up in force showing they definitely aren't pro-love. Loud, Lewd, and Thuggish abortion zealots took their fury out on peaceful protestors … a living word picture for the assault against peaceful infants attacked in the womb.
Watch our wrap-up video below:
The Pro-Life Generation has seen a lot of conflict at the Supreme Court, but this protest on the first day of hearings on a potential Supreme Court justice was one for the books.
Our students and staff were shoved, berated, punched, and degraded all due to our stance on life. This did not come as a shock to us as the abortion lobby has become progressively more aggressive. With Roe v. Wade potentially on the chopping block, abortion supporters are both quivering in fear and striking out in violence. However, while SFLAction has much experience with violence, what we faced at this protest marks a violent change from those who agitate for the violence of abortion.
Here's what a few of our students and staff had to say about the abuse they suffered at the protest: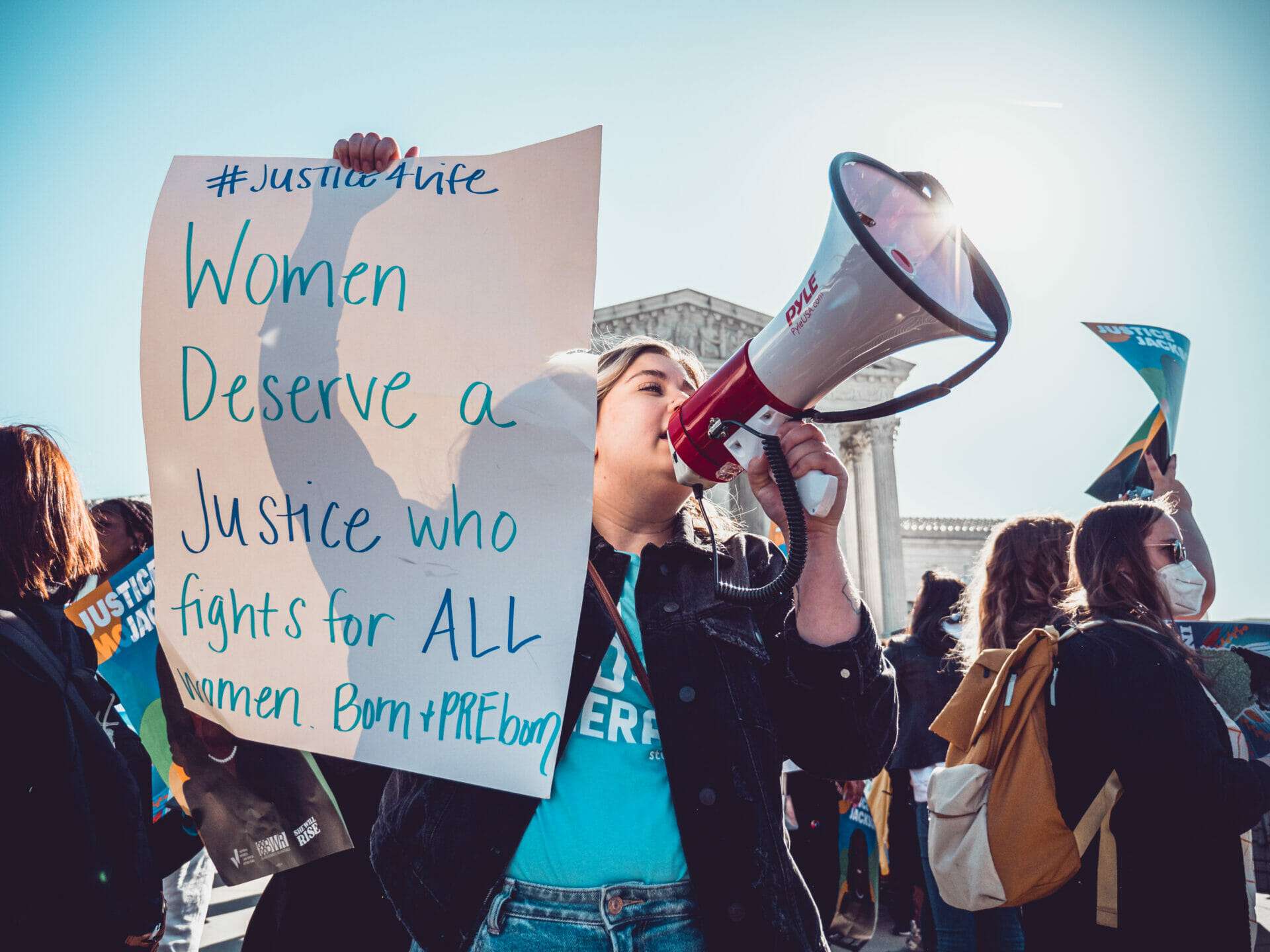 Hannah Wolfe, the Capital Area Regional Coordinator for Students for Life of America, said:
"I've never in my life experienced such hostility at the hands of others simply because my opinion differed from their own. I was pushed, shoved, screamed at, and even twerked on. I was called racist, fat, ugly, and a million other things I don't even dare repeat. At one point, I was so surrounded by people yelling in my face that I could not move enough to even put my arms down and instead had to hold them in the air, clutching onto my sign for dear life.
The most baffling thing to me was the people who heard me say how badly I wanted all women to be represented and supported and then used that as the fuel to determine that I was "anti-woman." At the end of the day, I'm so thankful we were there to show another viewpoint and make it clear that we deserve a much better nomination than Ketanji Brown Jackson to the Supreme Court of the United States."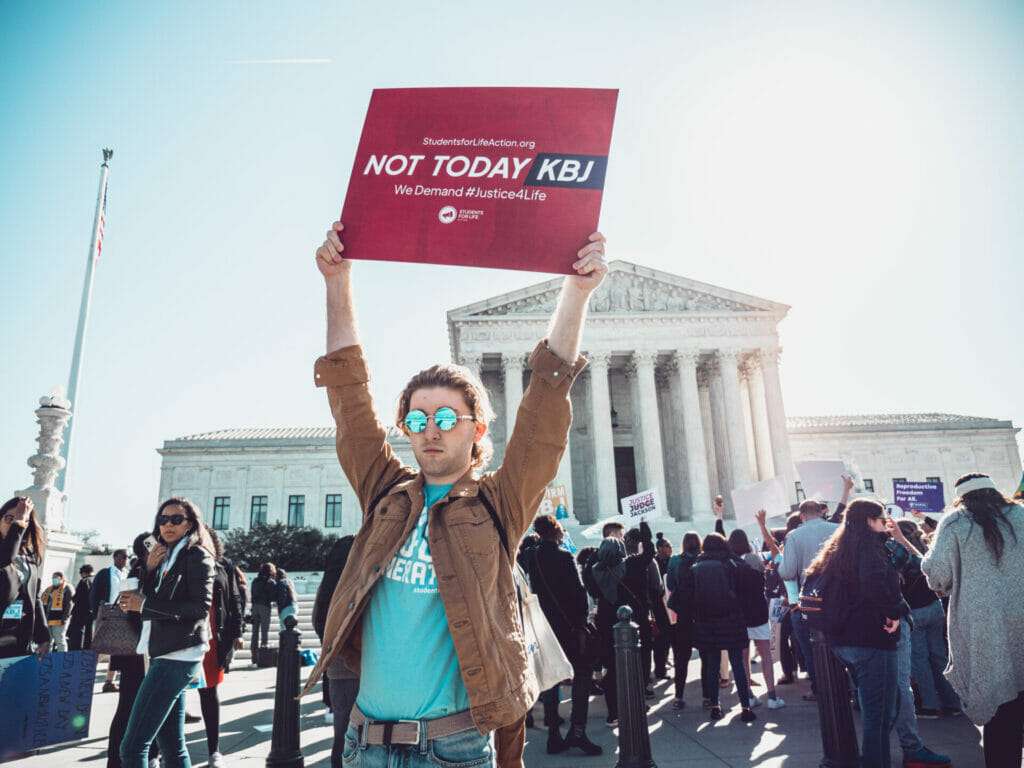 Noah Slayter, a member of SFLAction's SCOTUS Squad (a group of students in the Washington D.C. area that rapidly respond to all protests and events at the Supreme Court), said, "Today, I was punched in the face while protecting my friend from being tackled. I was lifted off the ground while trying to prevent someone from kicking me. I was screamed and yelled at so to say it was a hectic day is an understatement."
Click HERE to watch a video from the Washington Examiner that show abortion supporters trying to silence the Pro-Life Movement.
One SFLAction staff member, Anna Lulis, was shoved all the way into the street by a protestor. After being pushed into the street, she was followed by protestors who persisted to push things in the her face. She noted, "This is one of the most aggressive rallies I have ever been to. My megaphone was shoved against me, and they were hitting me with my own megaphone. It got so bad that the pro-abortion event coordinators had to tell their own attendees to stop, and the police had to get involved."
Watch below to see Anna shoved in a sneak attack from behind.
Norvilia Etienne, Students for Life of America's Fellowship and Impact Coordinator, was berated by women of color telling her that she had been brainwashed by the pro-life movement, and they even went as far as to tell her that she needed to go get her "nappy hair done." Additionally, when Norvilia shared her story about how her mother almost chose to abort her but instead chose life, abortion supporters screamed, "You should have been aborted" at her.
Click HERE to watch Norvilia talk with an abortion supporter about protecting life at the protest.
After she was shoved to the ground, Lauren Marlowe, Students for Life of America's Social Media Coordinator, said, "There were multiple women who followed me around the Supreme Court taking close up photos of my face while saying, 'I'm going to f*ck you up.' One woman went as far to say, 'Get ready to put your life and your body on the line' just before she shoved me to the ground."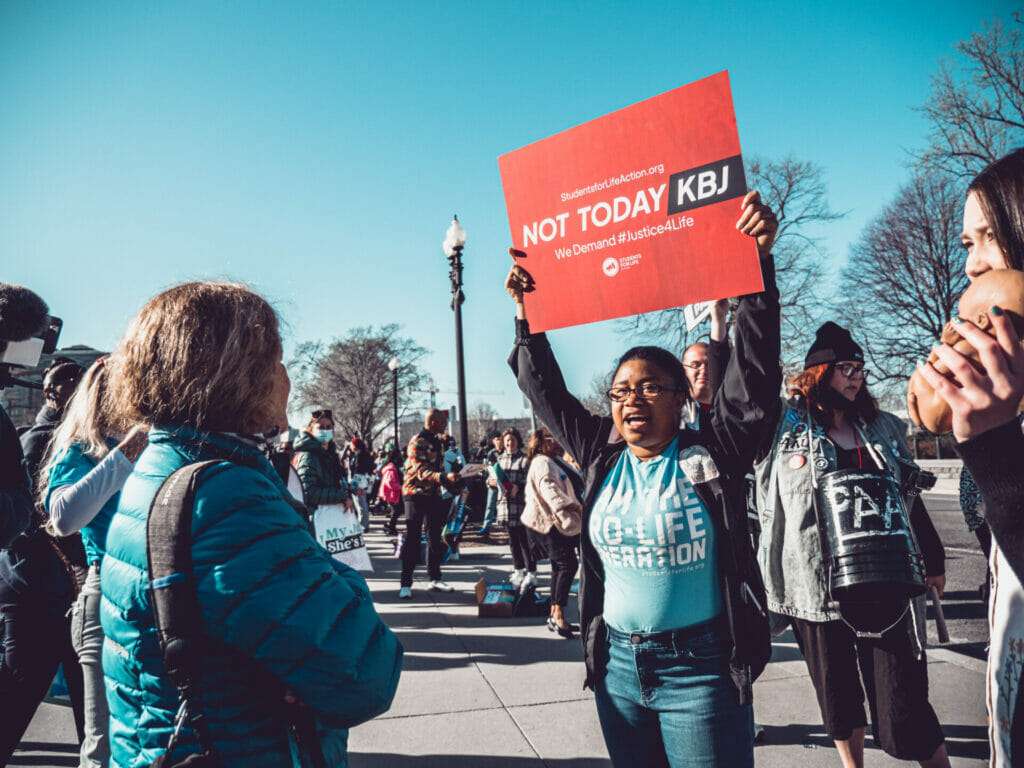 Regardless of the violence, we aren't backing down, and we're not discouraged—we actually feel even more motivated. We must use that motivation to continue to come out to the Supreme Court to stand our ground and make it known that we will not stop until abortion is not only illegal but also unthinkable in America.
These pro-abortion protesters made it clear they are not pro-woman. Between the racist comments, the punching and shoving, along with the constant berating, they have more than proved that they want one thing and one thing only: abortion. They do not want a Supreme Court Justice that is pro-Constitution and pro-life for all—instead, they want an operator for their dangerous political agenda.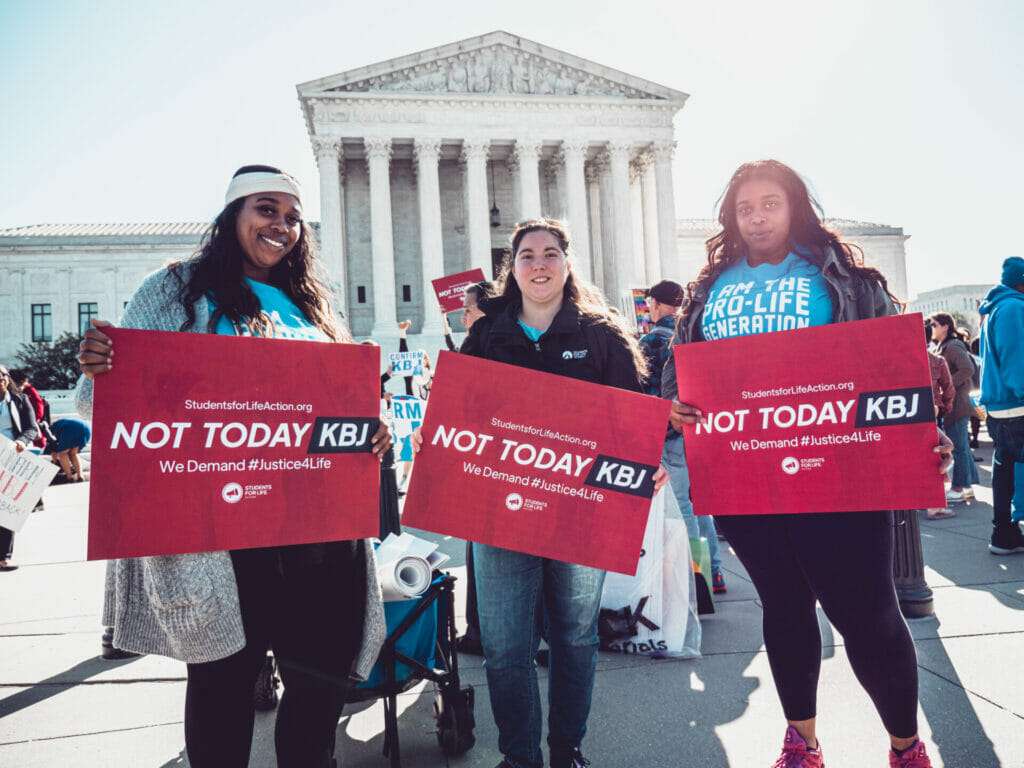 This has been a monumental time for pro-life Americans. We have geared up to prepare ourselves for a Post-Roe America, and we refuse to accept anything less. Go to ProLifeJustice.com to urge the U.S. Senators to support pro-life justices and say NO to Judge Ketanji Brown Jackson.
To learn more about Ketanji Brown Jackson's Constitutional Issues as she opposes Free Speech for Pro-Life Americans while defending late-term, barbaric Partial Birth Abortion, click here to read more at Fox and here to read more at the Washington Examiner.