From the SFLA Blog
VIOLENCE Towards Students for Life at Women's Marches!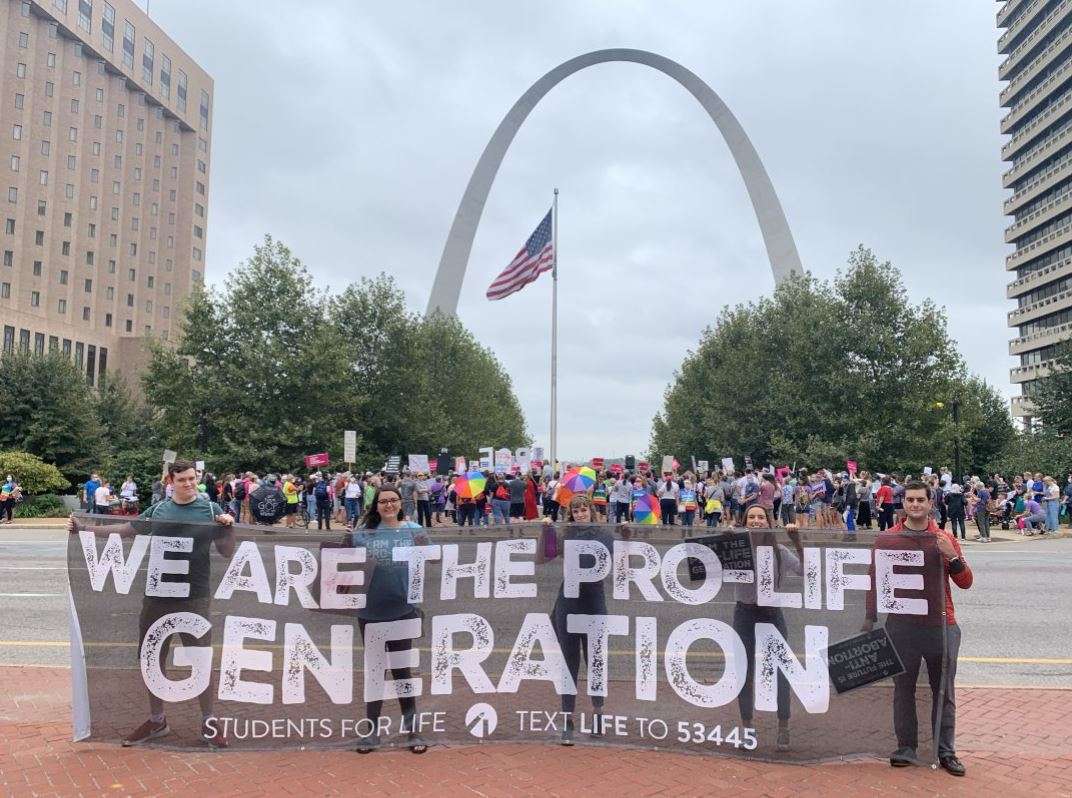 Brenna Lewis - 02 Oct 2021
Women's Marches (many re-named "Rallies for Abortion Justice," which is a lot more honest) descended upon many cities this weekend, bringing with them overtired abortion rhetoric and even violence towards us. The fearless Pro-Life Generation attended the events in 24 different cities nationwide to supply a much-needed pro-life voice. In fact, just shy of 700 members of the Pro-Life Generation showed up nationwide.
Read more about why we countered these events here.
Click each image below (discretion advised) to see some of the signs we saw Women's Marchers carrying…
Stories of Violence
In many cities, our counter-protests went as planned. But it wasn't the case across the board as our team returned with some very intense stories of violence suffered at the hands of Women's Marchers.
Sadly, Denver took the prize for most violent abortion supporters as a posse of them harshly shoved 5-6 Students for Life members. One of them, Brei Brooke, is eight months pregnant. The abortion supporters laughed as they did it.
The honorable mention for 'Most Violence' is Minneapolis, where student Jamie Scherdin and others were physically assaulted in various ways. Aggressive pro-choice women hit a female student in the head, then rammed Jamie and knocked her to the ground. The event's "security" was actively disrespectful to the pro-life group, surrounding them and refusing to let them move – including to get to the police to identify the assailants (eventually, this was done and they pressed charges).
Later, men with megaphones screeched  at the Minneapolis Students for Life crew saying they were "pedophiles," the "KKK," and that "no one loved them." Jamie was called a c**t by a pro-abortion man. The same man ripped the sign out of the hands of a pro-life girl and hit Jamie's megaphone.
In New York, a Women's Marcher snatched the cellphone out of the hand of SFLA's Mariah McCarron and threw it on the ground. She was also shoved, verbally harassed, and had her pro-life signs stolen. Police had to step in and intervene against the pro-abortion aggressor. 
In Phoenix, SFLA's Jordan Brittain was mobbed and hit with signs by abortion supporters.
In Portland, ANTIFA showed up with batons. Thankfully, no one was hurt.
In Naples, SFLA's Andy Secola had a female abortion supporter approach him and threaten to 'impregnate him.' It was as mean-spirited as it was confusing.
In Dallas, SFLA's Erin Quinn had a package of Plan B thrown at her.
In St. Louis, a Women's Marcher cornered SFLA's Reagan Barklage and told her that she 'hoped [Reagan] would be raped.' But it wasn't all bad there. A family that was staying at hotel near the Women's March joined in while vacationing because they saw the pro-life group.
Below, view just a few of our photos from the day (click each to enlarge). Some images may contain profanity.
In Cincinnati, Women's Marchers hovered around the pro-life group, sneering personal insults about physical appearances and covering the pro-life banner with a large rainbow parachute that looked like it was maybe taken from a grade school's gym class. SFLA's Brenna Lewis asked the parachuters, "Why cover up the message? Afraid someone might agree?" The rude dissenters had no response.
Though these types of events are often challenging when it comes to initiating dialogue about the actual issue, it's promising that not every interaction was fully hostile. Hostility is certainly on the rise as abortion not only pits women against children but women against women, too. Our team and the students we serve will continue to stand up for the defenseless at every opportunity – even ones we're very much not invited to.
More stories from each individual event will be posted – check the Students for Life blog!