From the SFLA Blog
Victory! Texas Puts Restrictive Ban on Chemical Abortions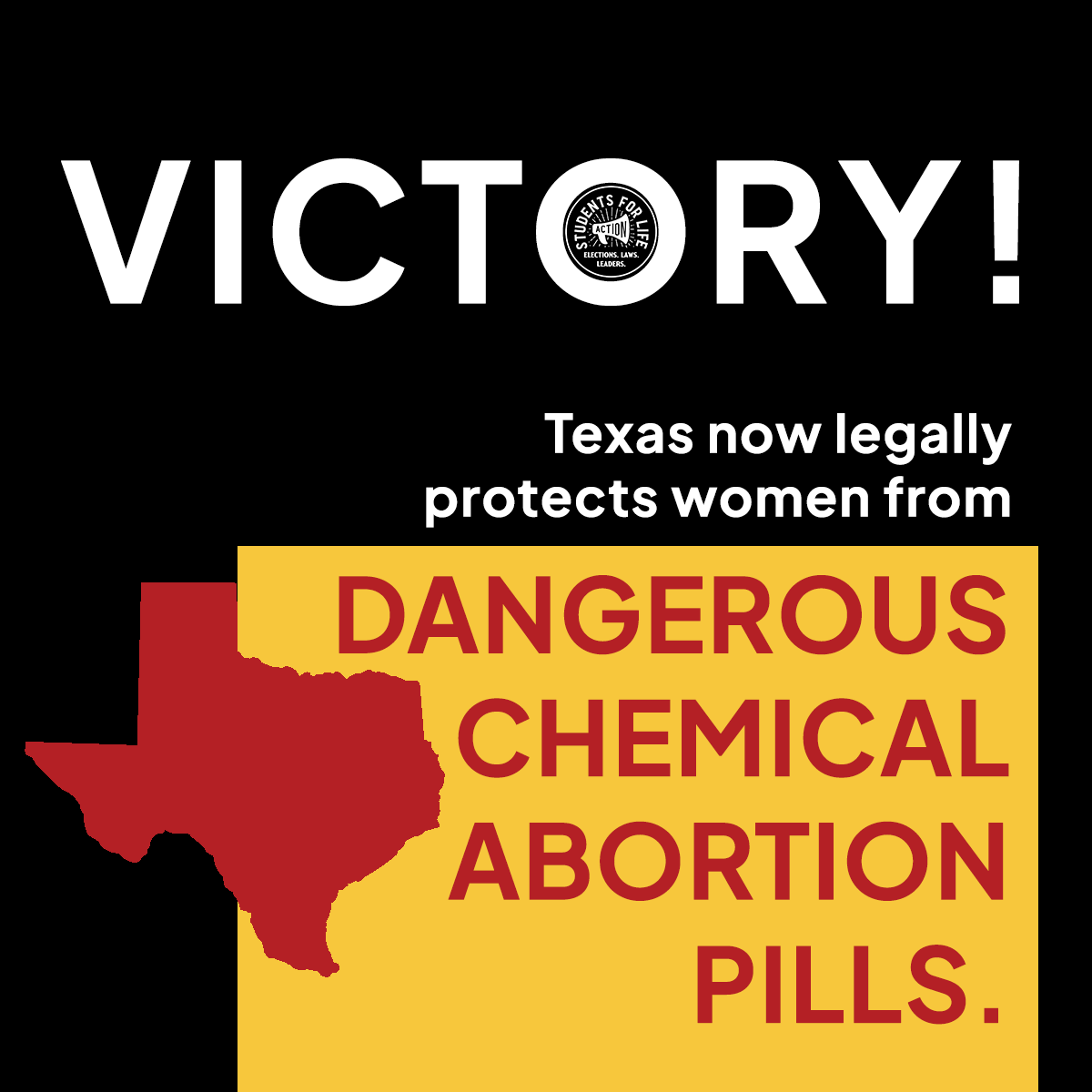 Caroline Wharton - 08 Dec 2021
In case you missed it, Texas is going off on the abortion industry yet again with new legislation that just about curtails chemical abortions within Texas. This law is significant because, not only are abortions further restricted in Texas, but clever measures were put within the law in order to clamp down on the sneakiness of the abortion industry. Remember Students for Life of America's post-Roe strategy? This is it in action.
On December 2nd, a new law went into effect in Texas that made it a felony to give women chemical abortion pills after 7 weeks of pregnancy. The law doesn't stop there, though. It also criminalizes sending these pills through the mail. The abortion industry has been demanding the ability to send death by mail—we saw it most recently at the Supreme Court when four nonpregnant, pro-abortion women took chemical abortion pills as a part of a demonstration. The women wanted to "'usher in a new paradigm,' where people can end their pregnancies with a pill that is delivered directly to their mailbox", according to the Washington Post.
However, this implies that chemical abortion pills are safe and easy when the reality is just the opposite. The Texas Chemical Abortion law cites 27 specific complications of chemical abortions as reasoning for such restrictions. One such complication is potential death as a result of using chemical abortion pills. The safety of women is at stake as the abortion lobby throws these dangerous, life-ending pills at them in an effort to preserve their violent, money-making empire. And yet, the abortion industry wants to frame chemical abortion as "women's empowerment?"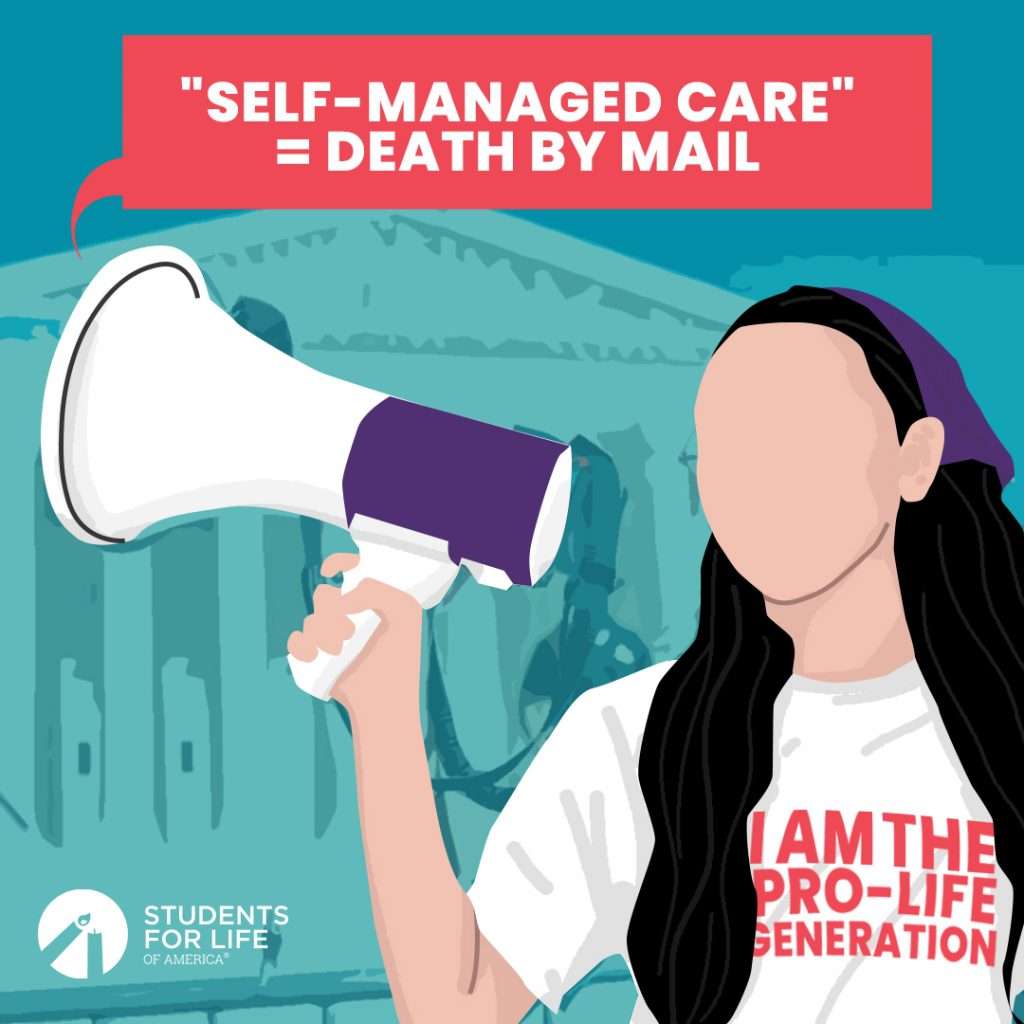 Students for Life Action has been working arm-in-arm with legislators to create and support this kind of legislation against chemical abortion. Indiana is another victory, as there is a ban against chemical abortions starting at 10 weeks. As SFLA president Kristan Hawkins told Fox News recently, SFLAction is currently pursuing Chemical Abortions Bans in 8 different states.
We know that chemical abortion is the post-Roe plan of the abortion lobby, but what Texas has done is a part of our post-Roe plan. SFLAction will continue to fight for the protection of life through laws—and that's exactly what's happening with the Texas Chemical Abortion law. Chemical abortion is the sneaky way for the abortion industry to get into states like Texas, who are trying to shut down abortion. However, if states take measures to restrict the usage of chemical abortion pills and to keep these pills out of their postal service, we can checkmate the abortion industry.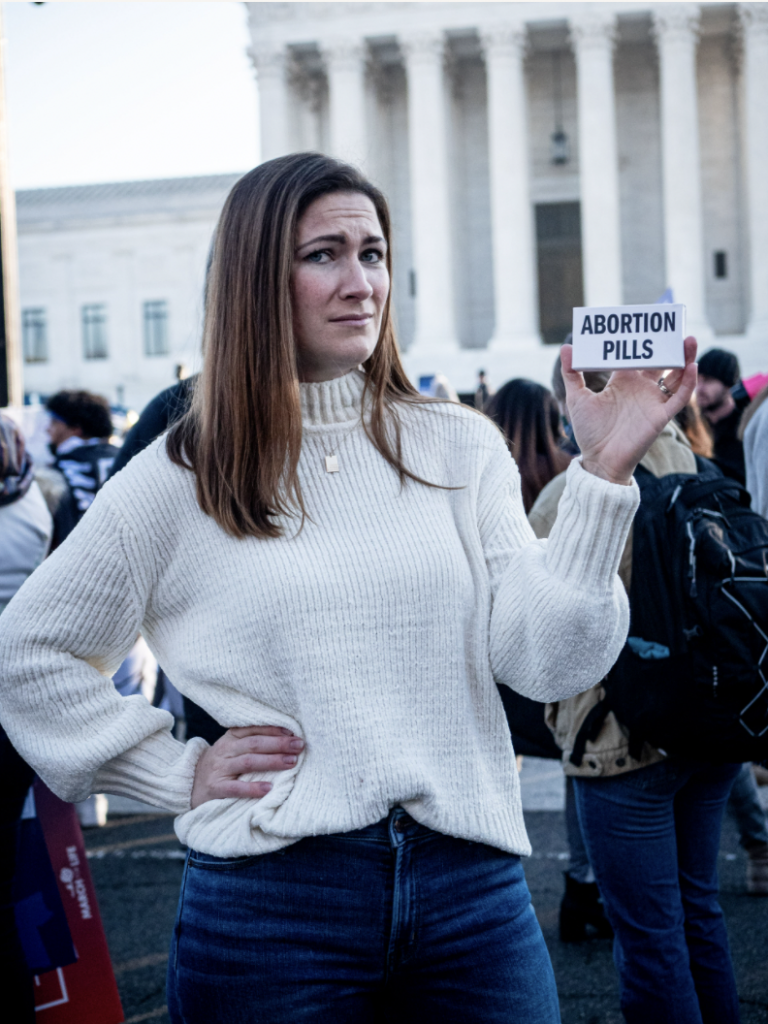 Great states, like Texas and Indiana, are proof that our strategy is already winning, and, just like we saw with the Texas Heartbeat Bill, other states will soon make copycat chemical abortion ban legislation. Nice job, Texas; you're executing the plan perfectly!
To read more about chemical abortion pills, click HERE.