From the SFLA Blog
We Knocked on an Abortionist's Door!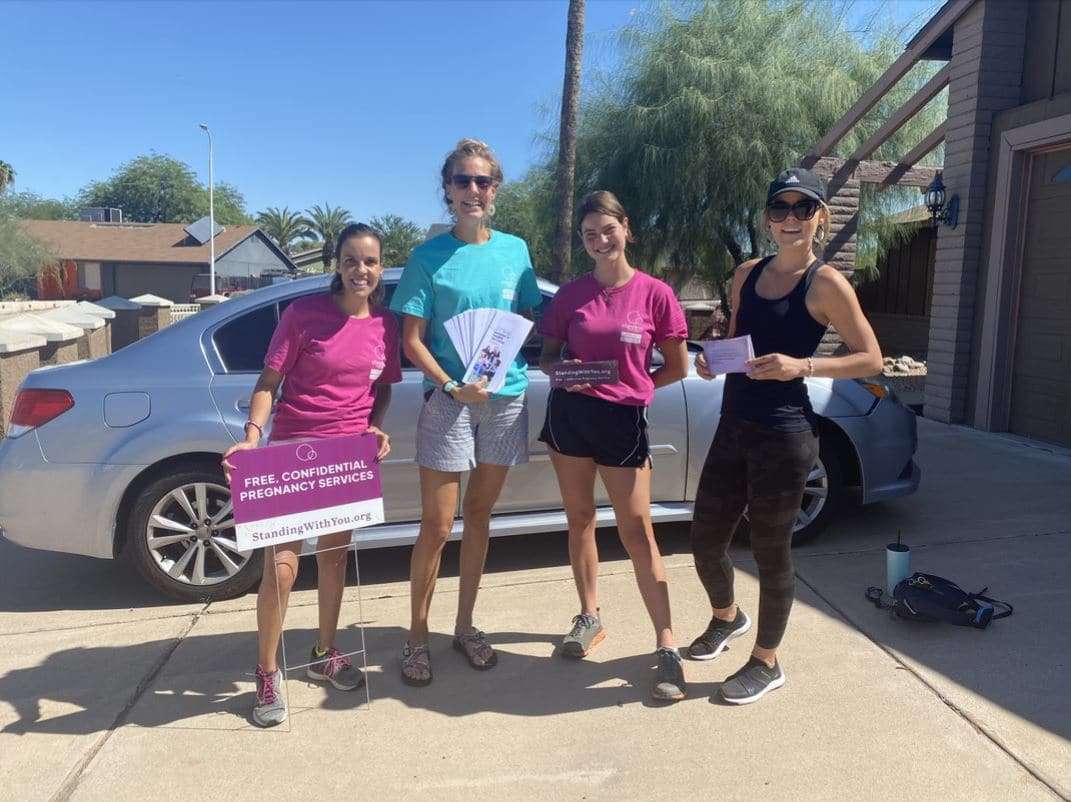 Brenna Lewis - 28 Sep 2021
Our mission at Students for Life of America is to abolish abortion. That mission drives every single thing we do. But it's not just a tagline or gimmick; we are literally working to make our nation 100% abortion free. That core mission is the driving force behind our brand-new Campaign for Abortion Free Cities.  And this past weekend was the very first one since the Campaign's September 21st launch!
A BIG reason why our Campaign for Abortion Free Cities is so crucial is the tendency of Big Tech to play whack-a-mole with pro-life voices online. It's imperative that we be on the ground having face-to-face conversations with our neighbors. Not only does this evade online censorship, but we all know that a one-on-one conversation is more powerful and persuasive than an online interaction.
As part of the Campaign, pro-life students and community members in 20 different target cities nationwide engage in a variety of efforts to change hearts and minds about abortion as well as directly reduce the abortion rate. With the reality of jobs and school, these efforts largely take part on the weekends. Volunteers knock doors with pregnancy help resources while encouraging pro-choice neighbors to challenge their abortion views and activating pro-life neighbors to do more to abolish abortion.
During the Campaign's "inaugural" weekend, volunteers nationwide…
knocked on 2,049 doors in 12 cities
had 226 productive conversations about abortion
helped 30 pro-choice neighbors change their minds about abortion
activated 140 pro-life neighbors to get more involved
Click each photo to enlarge…

In charge of making sure each city's Campaign for Abortion Free Cities efforts are running smoothly are SFLA's Community Organizers. These passionate young people are on the front lines of directly impacting the abortion industry at the local level. After this past weekend, they had some stories of interesting door knocking encounters to share…
A House Full of Doctors in California
"On Saturday, we spoke with two medical doctors at a door and their friend (who may also have been a doctor). These medical doctors were very science-oriented and requested ALL of our sources.
The conversation was very long, but it led to important topics. The craziest part is that we learned that one of the doctors helped with abortions. That was so sad to hear, but he still listened to our points.
At one point, one of the doctors posed the question, "So let me ask you – what do you think about old white men making decisions decisions for a woman?" I responded, "Well, it was two men who made the decision to start NARAL, seven men who handed down Roe v. Wade, and countless other men who have passed pro-abortion laws in the states." Though I also mentioned that abortion is a human rights issue and gender doesn't allow or disallow taking action.
They seemed to think that abortion should be allowed until there is "consciousness," but they couldn't define when an exact cut off date was for abortion. It was interesting because I was saying that they didn't consider a life valuable until consciousness, and they didn't like my use of the word "valuable." The third person came along at the end of the conversation, and he noted that he would not personally advocate for abortion in a relationship, but when we asked why, he didn't know."
– Lea Kalinowski, SFLA Northern California Regional Coordinator
Providing Actual Help to Pregnant Mothers
"I knocked on a door and a young woman answered. She was visibly pregnant and spoke little English, but I was able to congratulate her, connect her to the free classes offered at Community Pregnancy Clinic in Naples, and arrange to have a Love Box sent to her. She was smiling and thankful!"
– Julia DeLuce, SFLA Mid-East Field Operations Coordinator
"In Indianapolis, we knocked on the door of a gentleman who informed us that his sister is currently six months pregnant. He really appreciated what we were doing and requested materials to send her way!"
– Mary Carmen, SFLA Indiana Regional Coordinator
Truth be told, the Pro-Life Generation has already been participating in the Campaign prior to the formal launch on September 21st. Since March 2021, SFLA staffers, students, and community volunteers have…
knocked on 74,589 doors
had 5,516 conversations about abortion
activated 749 pro-life advocates to get more involved
changed 247 minds about abortion
saved more than 10 babies
Read More About The Campaign for Abortion Free Cities…