From the SFLA Blog
High Schooler Discovered She's Pregnant MOMENTS Before We Knocked on Her Door with Resources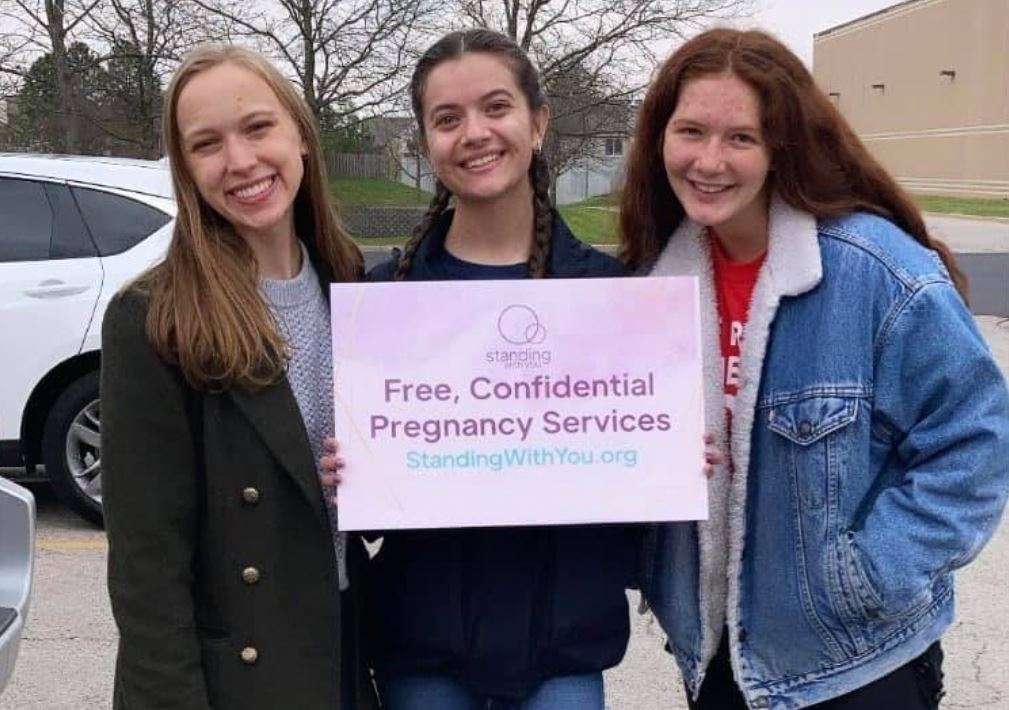 Brenna Lewis - 05 May 2021
The team at Students for Life of America is assembling pro-life activists to launch the multi-faceted Campaign for Abortion Free Cities in 20 select cities. In each of these cities, our goal is to directly reduce the abortion rate by increasing awareness of non-violent abortion alternatives, decreasing support of the predatory abortion industry, and changing hearts and minds about abortion.
One major aspect of the Campaign is knocking on the doors of our community and sharing information about local, life-affirming pregnancy help. Already, Students for Life team members and students have knocked on nearly 36,000 doors since March 2021! Here are just a few of the incredible encounters we've had…
Incredible Timing in Portland, Oregon
The launch of the door knocking campaign throughout the U.S. has already proven to be fruitful, including in fundamentally pro-choice Portland, Oregon. Consistent to their mission, Columbia Willamette Planned Parenthood in Oregon markets to many clientele who are young, vulnerable, alone, and confident that they have 'no other option' than to abort their child.
Because of the influence Planned Parenthood has in Portland, there is a certain urgency in our mission to reach our communities with the life-affirming resources our local Pregnancy Resource Centers have to offer. The beautiful neighborhoods we visit one weekend per month house a variety of faces and responses behind every door, but one in particular stood out.
Lizzie was about 17 and appeared visibly shaken when she answered the door. I wasn't sure how to respond to her disposition, but decided to present my materials anyways. Within a moment of speaking with her, she shared with me that she had just discovered that she was pregnant only moments before I arrived, and I was the first to know. "I'm not sure what I'm going to do," she told me tearfully. "I can't believe you're here."
I was able to pray with Lizzie and share my resources and information with her, assuring her that support was nearby, and any needs she had could be met with love and grace at Portland Pregnancy Center. She didn't confirm the decision she might make in regards to her child, but she was visibly encouraged and inspired by the things I shared with her. Our interaction struck me not only because of its imminent importance, but because of the reminder that this is why we are doing what we are doing – to meet immediate and vital needs for support and resources within our communities.
-Lucia Morud, SFLA Pacific Northwest Regional Coordinator
Baby SAVED in Aurora, Illinois
This past weekend, a handful of dedicated students joined me in our door knocking efforts in the Aurora, Illinois community. Illinois pro-life student leaders have a heart for women in need and their preborn children. On this door knocking trip, my students were faced with an opportunity to lovingly support a mom in need.
After door knocking for a few hours, two student leaders from the College of Lake County Students for Life, Zoe and Shawna, knocked on the door of an older woman who was avidly pro-life. They explained our goal of supporting pregnant and parenting women and they asked her if she knew any pregnant women who might need support. The grandmother informed the students that her granddaughter is pregnant and that she needs support.
Here is an account of the conversation: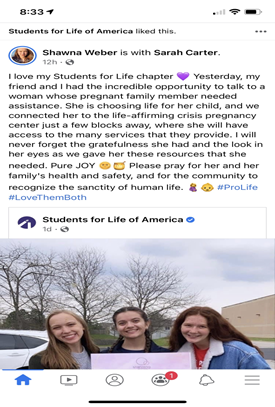 Immediately, the pro-life students connected her to our Standing With You pregnancy support resources and the local Waterleaf Women's Center. This young woman chose life, but she needed support. In Illinois, abortions are committed until the day of birth… which means that every child in utero is vulnerable to abortion. When a woman chooses life, our responsibility is to support her in her decision and if she is contemplating abortion our responsibly is to show her options. 

Appointment Overload in Denver, Colorado
The Denver Campaign has been very successful here in Colorado. Since our first door knocking day in March, Alternatives Pregnancy Center has booked over 15 appointments along with their helpline being flooded due to our conversations and materials distributed while door knocking! Alternatives Pregnancy Center has been so grateful for our efforts, as have the other pregnancy resource centers in the surrounding areas. Our volunteers make these amazing stories possible with their willingness to get involved and become a part of the Campaign.