From the SFLA Blog
Justice4Life and Activism Tours Across 10 States a Resounding Success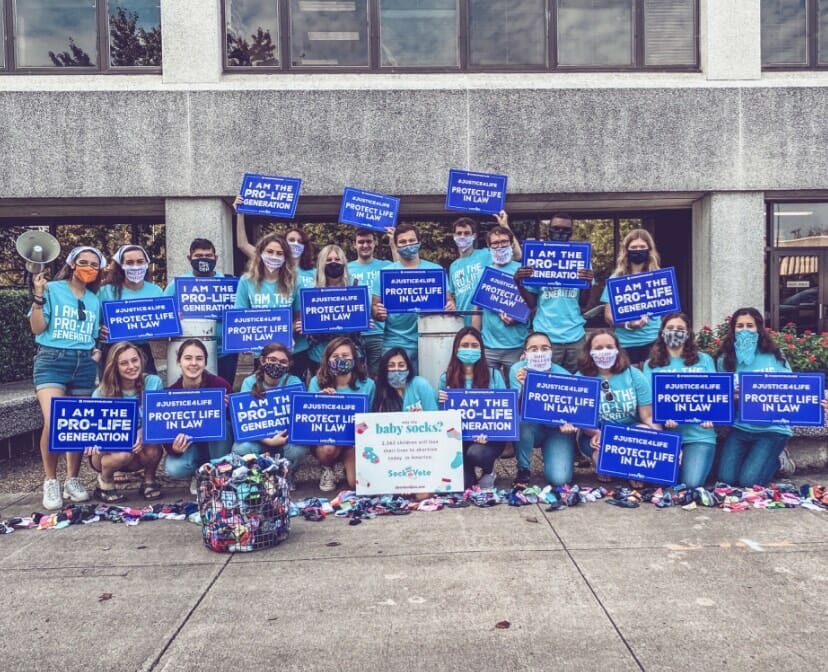 Brenna Lewis - 27 Oct 2020
On Monday night, Amy Coney Barrett was confirmed by the U.S. Senate to the Supreme Court of the United States in a vote of 52-48.  She was sworn in that very night by Justice Clarence Thomas. In addition to efforts from our SCOTUS Squad members, Students for Life took part in a Justice4Life tour in ten states.

Students and team members made their voices heard last week when it comes to this crucially important election when it comes to protecting life in law. In addition to door knocking efforts on the ground, in multiple cities, we made an astounding amount of calls and text messages encouraging voters to Vote Pro-Life First. All of this took place to the tune of contacting 33,005 voters through door-knocking, 44,816 voters through phone calls, and 653,656 voters through text messages.
Weekend events took place in Arizona, Colorado, Texas, Florida, North Carolina, Pennsylvania, Michigan, and Minnesota. On Friday morning, our teams rallied outside Senate offices to encourage senators to confirm Judge Amy Coney Barrett as part of our Justice4Life campaign. From there, these deployments informed voters on where their federal candidates stood on life.
Earlier last week we also had students on the ground in West Virginia and Alaska, calling on Senators Joe Manchin and Lisa Murkowski to vote to confirm Judge Barrett.
Even while on the ground in eight different cities across multiple time zones, we were still able to provide our viewers with a live stream showing several of the rallies, hosted by Student for Life Action's Autumn Schimmer and Governor Scott Walker.
During the live-stream, Governor Walker pointed to Judge Barrett being qualified to sit on the Supreme Court.
Autumn likewise called her "an excellent choice" and "an amazing role model for all American women."
Philadelphia, Pennsylvania
The first live-stream event that morning took place outside Senator Bob Casey Jr.'s Philadelphia office, where Students for Life of America's President Kristan Hawkins was there to urge Senator Casey to do his job and fill that Supreme Court vacancy with Judge Barrett. As Hawkins pointed out, Senator Casey had campaigned as a pro-life Democrat, though he currently holds a mixed record on the issue.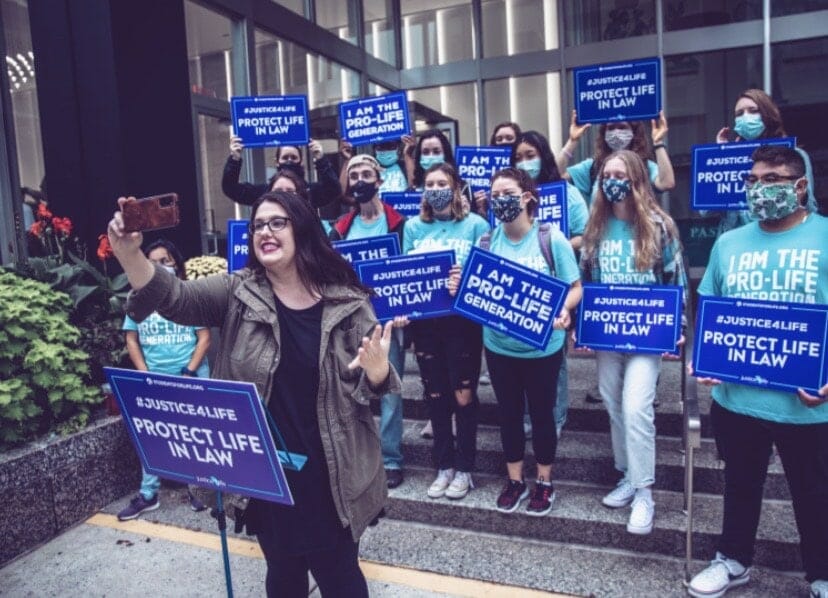 The tour stop received coverage from the Daily Caller News Foundation in an article featuring Mid-Atlantic Regional Coordinator Liana Hollendonner who shared that they "specifically chose senators who claim to be pro-life, but their voting record doesn't reflect that."
Students chalked positive, life-affirming messages on the public sidewalk. The Philadelphia's Civil Affairs Unit confirmed that they were doing so on public property, which the police also told our team. Nevertheless, the building immediately washed the messages away.
🚨Knocking on doors in PHILLY!🚨

We're reminding everyone to #VoteProLifeFirst! pic.twitter.com/ROGUrIIZJu

— Students for Life Action (@SFLaction) October 23, 2020

For the rest of the day and the next, students door knocked to educate voters and encourage them to vote for President Donald Trump due to his clear pro-life record.
Lansing, Michigan
Students and team members also gathered outside Senator Gary Peters' office in Lansing, Michigan. Great Lakes Regional Coordinator, Emily Stumpo, was there urging support for Judge Amy Coney Barrett, as they "trust she's going to be fair and impartial."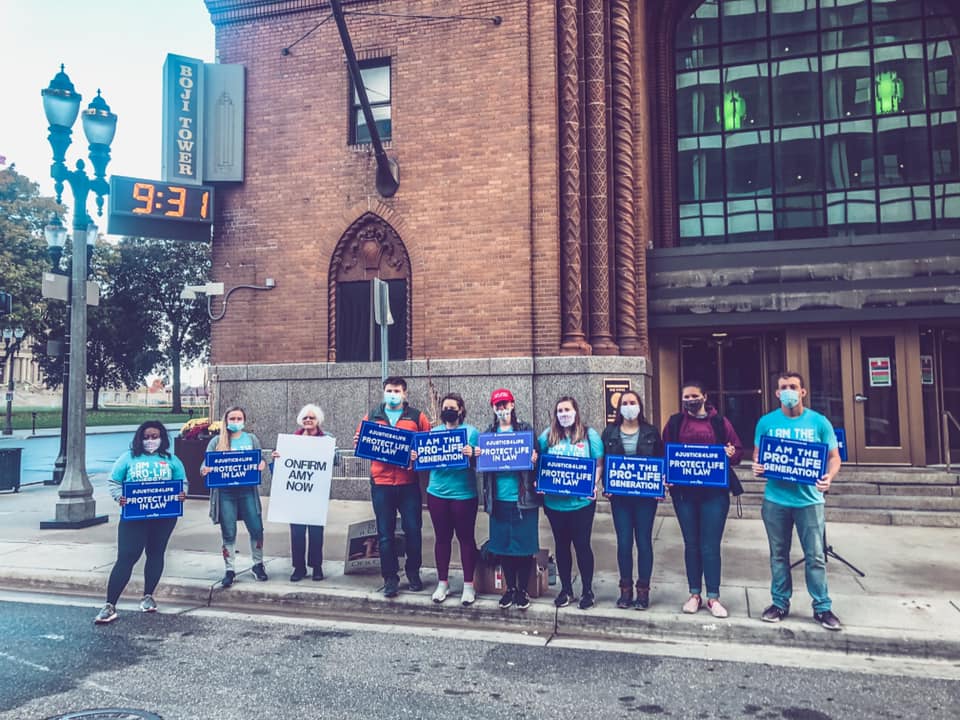 During the live stream, Autumn not only echoed Emily's words, but emphasized that it was "time to celebrate achievements of women," even with "feminists opposing this nominee" because they "don't want embodiment of a conservative female constitutionalist on the court."
Governor Walker reminded viewers that Senator Peters is in a tough re-election battle against John James. Students canvassed for James, for Representative Tim Wahlberg, and for President Trump.
Raleigh, North Carolina
The next stop took place at Senator Thom Tillis' office in Raleigh, where Southeast Regional Coordinator Brooke Larkin and Northeast Regional Coordinator Kate Maloney led 30 students in thanking Senator Tillis for doing his job as a pro-life senator in his steadfast support for confirming Judge Barrett. In addition to celebratory cheers, the rally additionally featured 2,362 socks to represent those preborn children who lose their lives to abortion each day in the United States.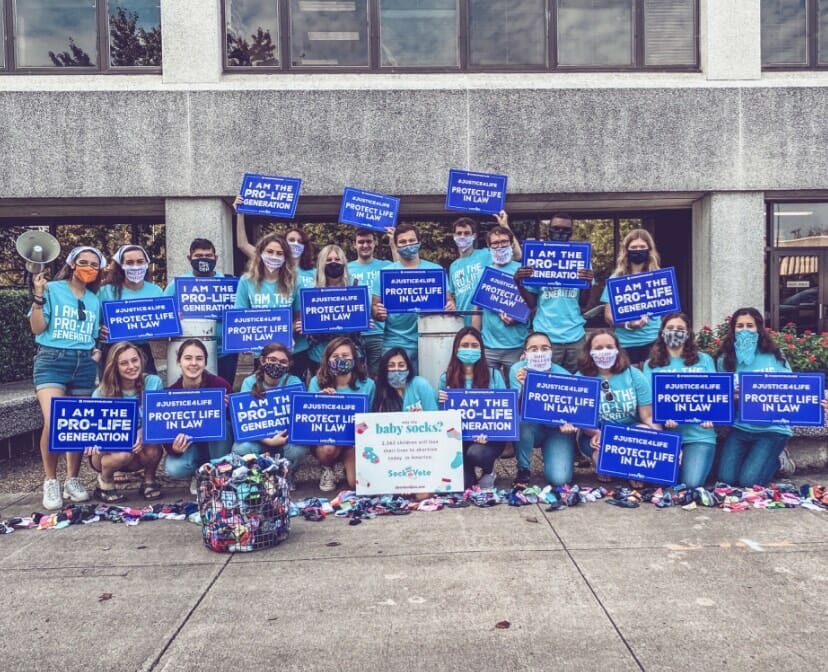 Students also stood outside Governor Roy Cooper's mansion to remind him of the importance of the pro-life issue. Governor Cooper had vetoed legislation which would protect babies born-alive following abortion attempts in North Carolina from abortions from being left to die.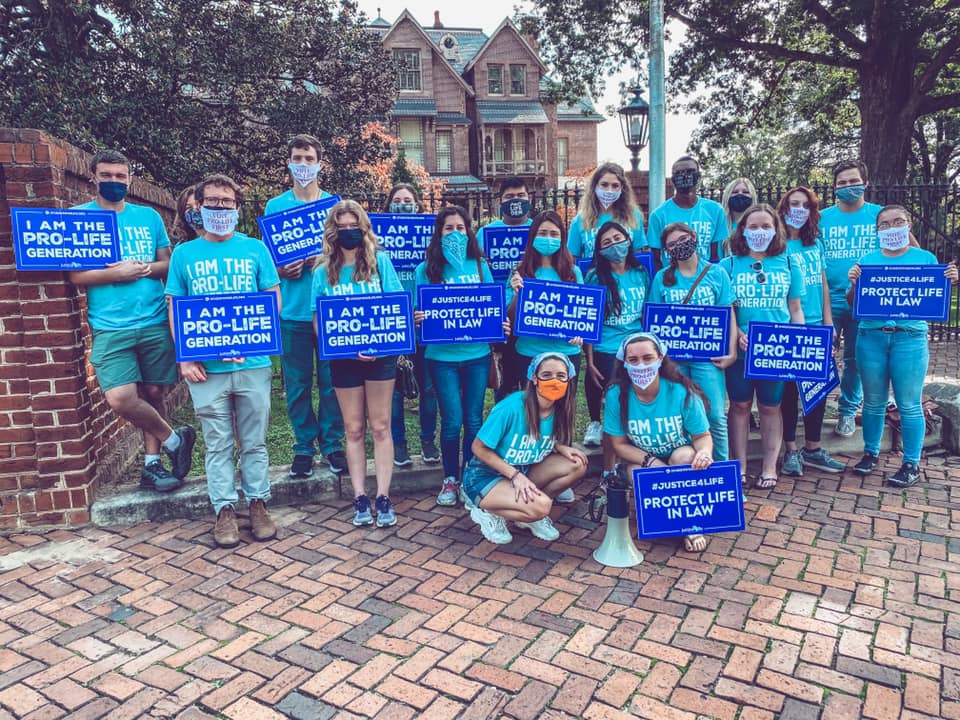 Across the street, students and team members also chalked life-affirming messages on the public sidewalk.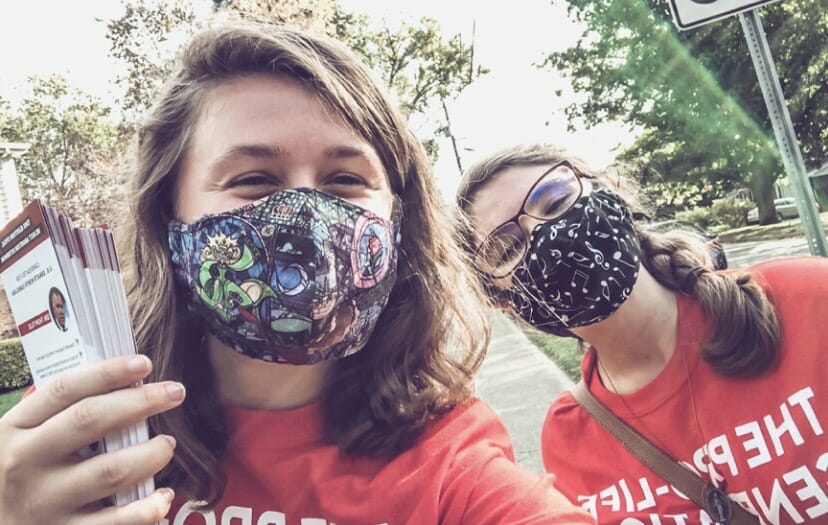 Students canvassed for President Trump, Senator Tillis in his re-election battle against Cal Cunningham, and for Governor Cooper's opponent, Dan Forest.
Jacksonville, Florida
In Jacksonville, Florida, Students for Life's Executive Vice-President Tina Whittington prayed outside of Senator Marco Rubio's office where students were also present.
Thankful for pro-life Senator @marcorubio who protects life in law!#Justice4Life pic.twitter.com/Yu88HFKA9B

— studentsforlife (@StudentsforLife) October 23, 2020
Student leader Julia DeLuce, the Florida Regional Coordinator, reminded viewers that "Florida is pivotal in the political landscape of the United States." She shared that they were there with their presence "as the pro-life generation to be voice for the voiceless and protect life in law."
Later that day and on Saturday, students canvassed for President Trump and Representative John Rutherford.
Pre-Recorded Portion of West Virginia
Hawkins also had traveled to cities throughout West Virginia to point out that West Virginians want Judge Barrett on the Supreme Court, and that it is a pro-life state. She noted Senator Manchin has this "opportunity" to show what a pro-life Democrat he is.
Today is the day!#ConfirmACB #Justice4Life pic.twitter.com/yPZhrucWRB

— studentsforlife (@StudentsforLife) October 26, 2020

Walker called Manchin "one of the key votes out there." He also pointed out Manchin has cast the right votes before but that "we can't let up to make sure he follows through with the last time he campaigned when he was up for re-election in the state of West Virginia."
Pre-Recorded video of Fairbanks, Alaska
Students earlier last week called into Senator Lisa Murkowski's office with cheers to urge the senator to confirm Judge Barrett.
The next day, Senator Murkowski agreed to meet with Judge Barrett, with Autumn pointing out on the live stream that it "prove[s] how important the work that we do is" and that "it's amazing to see such a quick turnaround."
BREAKING:

After we asked Alaska Senator @lisamurkowski at her offices to confirm Amy Coney Barrett to the Supreme Court, she has agreed to do just that.

Thank you Sen. Murkowski! #ACB will make an amazing Supreme Court Justice. pic.twitter.com/4v9CkeCpMW

— studentsforlife (@StudentsforLife) October 24, 2020
Governor Walker added that this activism effort "shows that the power in our students being active across the country and recruiting other students can really make a difference."
Further proving that these campaigns not only have real-life consequences, but successes, Senator Murkowski has also shared that she will vote to confirm Judge Barrett.
AMAZING! Thank you @lisamurkowski for vowing to vote in favor of Judge Barrett! #Justice4Life https://t.co/T1GGcozKcJ

— Students for Life Action (@SFLaction) October 24, 2020
Within days later, Senator Murkowski shared she would vote to confirm Judge Barrett, showing that these campaigns have not only real-life consequences, but successes.
St. Paul & Minneapolis, Minnesota
A group of 40 students in St. Paul, Minnesota braved the snow and the cold in their efforts to protect life in law. As Sarah Minnich, the Upper Midwest Regional Coordinator, spoke outside of Senator Amy Klobuchar's office, not only were students and team members present, but pro-life community members and local media networks.
Governor Walker pointed out that "even the weather's not going to deter our students."
The cold won't stop us from reminding @amyklobuchar that she was once a preborn child and #justice4life is ALL that matters this election.

Also, psst: #ConfirmAmy! pic.twitter.com/eLsnKwktro

— studentsforlife (@StudentsforLife) October 23, 2020
Students canvassed later that day and on Saturday for President Trump and for Tyler Kistner, a candidate for U.S. Representative of Minnesota's 2nd district.
Phoenix, Arizona
Brooke Karmie, the Pacific Southwest Regional Coordinator, hopped onto the livestream to let viewers know she and a group of 30 students would be heading to outside of Senator Martha McSally's office. The rally was celebratory in nature, as Senator McSally to thank her for meeting with Judge Barrett and for vowing to vote to confirm her to the Supreme Court.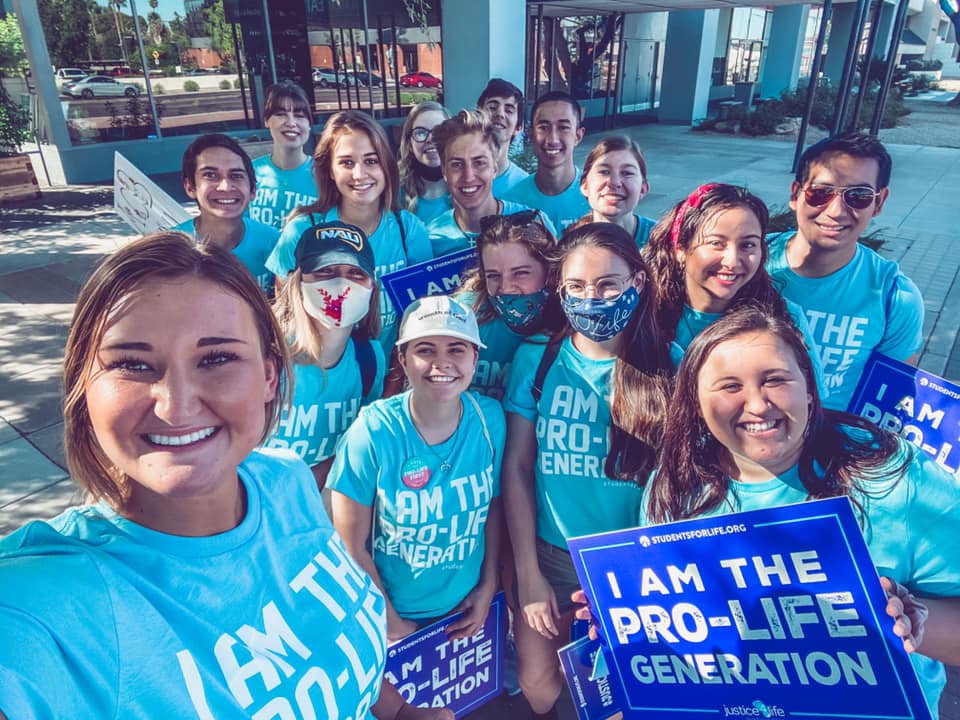 Walker also took the opportunity to remind viewers of how there's a difference to be made not just in celebrating support from those like Senator McSally, but "then reminding people in that state both in the Senate and in the presidential election there couldn't be a clearer choice when it comes to the pro-life point of view." He also spoke of the importance to "find voters who share that belief and encourage them to vote pro-life and make that the top of their list."
Students canvassed for President Donald Trump, for Senator McSally in her re-election bid against Mark Kelly, and for Representative Debbie Lesko.
Denver, Colorado
Students also traveled to Denver, Colorado, to thank Senator Cory Gardner for his commitment to voting to confirm Judge Barrett.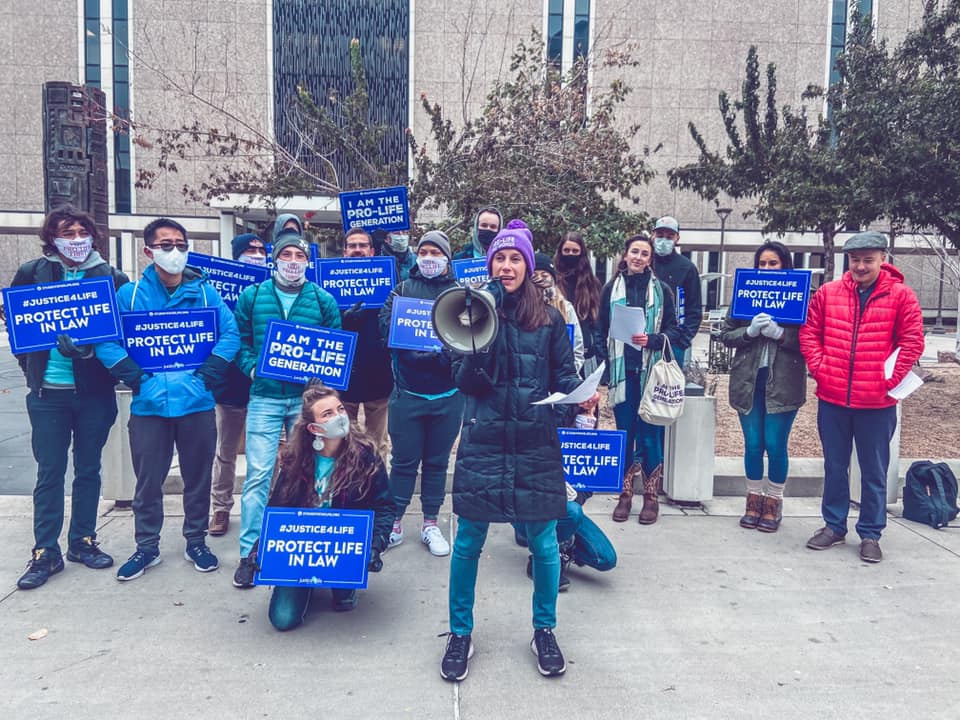 In addition to canvassing for Senator Gardner in his re-election campaign against John Hickenlooper, students and team members knocked doors urging voters to support Proposition 115, which would ban abortions past 22-weeks gestation in Colorado. The United States is one of just seven nations in the world which allows for elective abortions past 20-weeks and Colorado is one of just seven states in the country which allows for elective abortions, for any reason, up until birth.
Students for Life team member, Lauren Castillo, has been particularly instrumental in informing voters about the need for Proposition 115 and encouraging them to vote yes.
San Antonio, Texas
In San Antonio, Texas, a group of over 30 students stood outside of Senator Ted Cruz's office to thank him for his commitment to vote to confirm Judge Barrett to the Supreme Court. In addition to Sarah Zarr, the Texas and Southern Regional Manager, Victoria Avelar, a senior at Texas A&M University, who is also an officer for Pro-Life Aggies was there to speak about her pregnancy.
Victoria became pregnant as a freshman and despite calls from the father of her child to have an abortion, she chose life for her daughter. He told me that having this baby was going to ruin my chances of being successful and I refused to believe that lie," she declared. "It wasn't my unborn child's fault that she was conceived in the middle of a college student's life. It was now my responsibility to defend and protect her, even if I was going to do it alone." As Victoria reminded viewers, however, she wasn't alone, as she had help from other students, churches, and pregnancy resource centers. She was also awarded a scholarship from the Pro-Life Aggies.
While speaking, Victoria also brought her story back to her views on Judge Barrett. "Women like Amy Coney Barrett are living proof that women can reach their goals without sacrificing their children in the womb. Amy Coney Barrett is my hero and her appointment to the Supreme Court will inspire young women to dream big and take pride in their motherhood."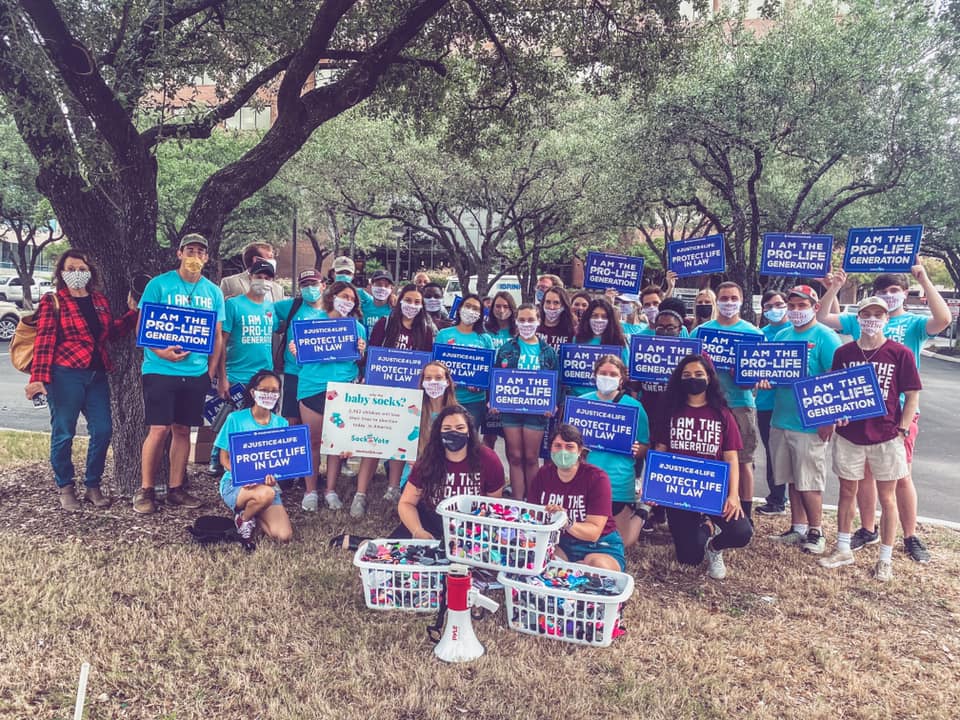 Students were there to canvass for Representative Chip Roy who is running for re-election against pro-abortion icon Wendy Davis, and for President Trump.
To close the live-stream, Governor Walker had a powerful message to remind viewers of when it comes to the importance of confirming Judge Barrett to the Supreme Court, and the efforts from the weekend:
Now is such a critical time that we've got this ability to confirm one of the most qualified most brilliant candidates we've ever had to the Supreme Court in Judge Amy Coney Barrett who is not only a great role model professionally, but is personally, with her family, with her faith, with living our her compassion, but at the same time understanding that no matter what her religious or personal beliefs are, she has to uphold the Constitution, something we don't often see from others out there who  want to push activist judges and justices. We've seen how poorly how those decisions all the back way to Roe v. Wade take place in the past. We want people who are going to uphold the law and it's time for our members of the United States Senate to do their job and our students have done a fabulous job today of getting that message out all across the country to senators all across the country and now we're going to take the next step to not just push for the confirmation, but to encourage people to vote pro-life.
Throughout this election season, Students for Life and Students for Live Action have been active in efforts to inform voters on where the candidates stand on the pro-life issue, from our Abortion Quizzes and Vote Pro-Life First projects, to our activism weekends, to our Sock the Vote projects, and now our Justice4Life tour.
Students for Life will continue to remind voters about the great importance of this upcoming election.