From the SFLA Blog
Students for Life is Making Sure This Pro-Life Democrat Comes Through for Amy Coney Barrett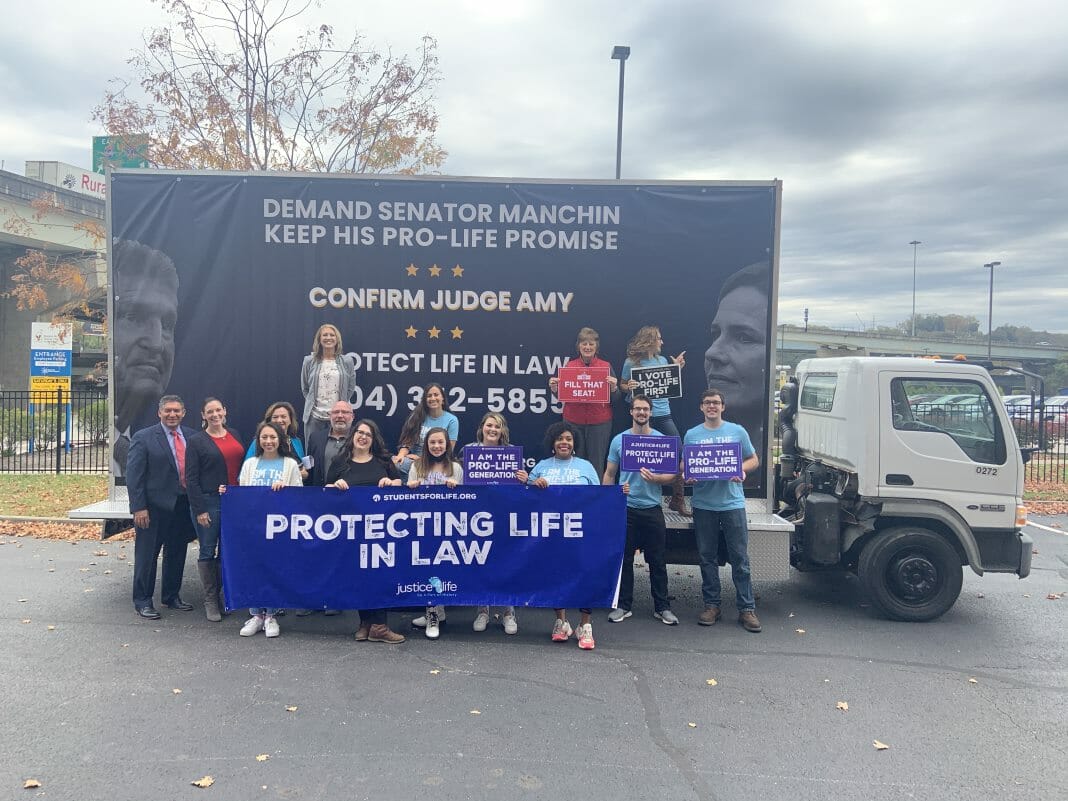 Brenna Lewis - 20 Oct 2020
This week, Students for Life of America team members traveled to several cities throughout West Virginia to urge Senator Joe Manchin to vote to confirm Judge Amy Coney Barrett to the U.S. Supreme Court. These stops kicked off our Justice4Life tour, which will take place in 10 states throughout this week, as we make our enthusiasm and support heard for this judicial nominee.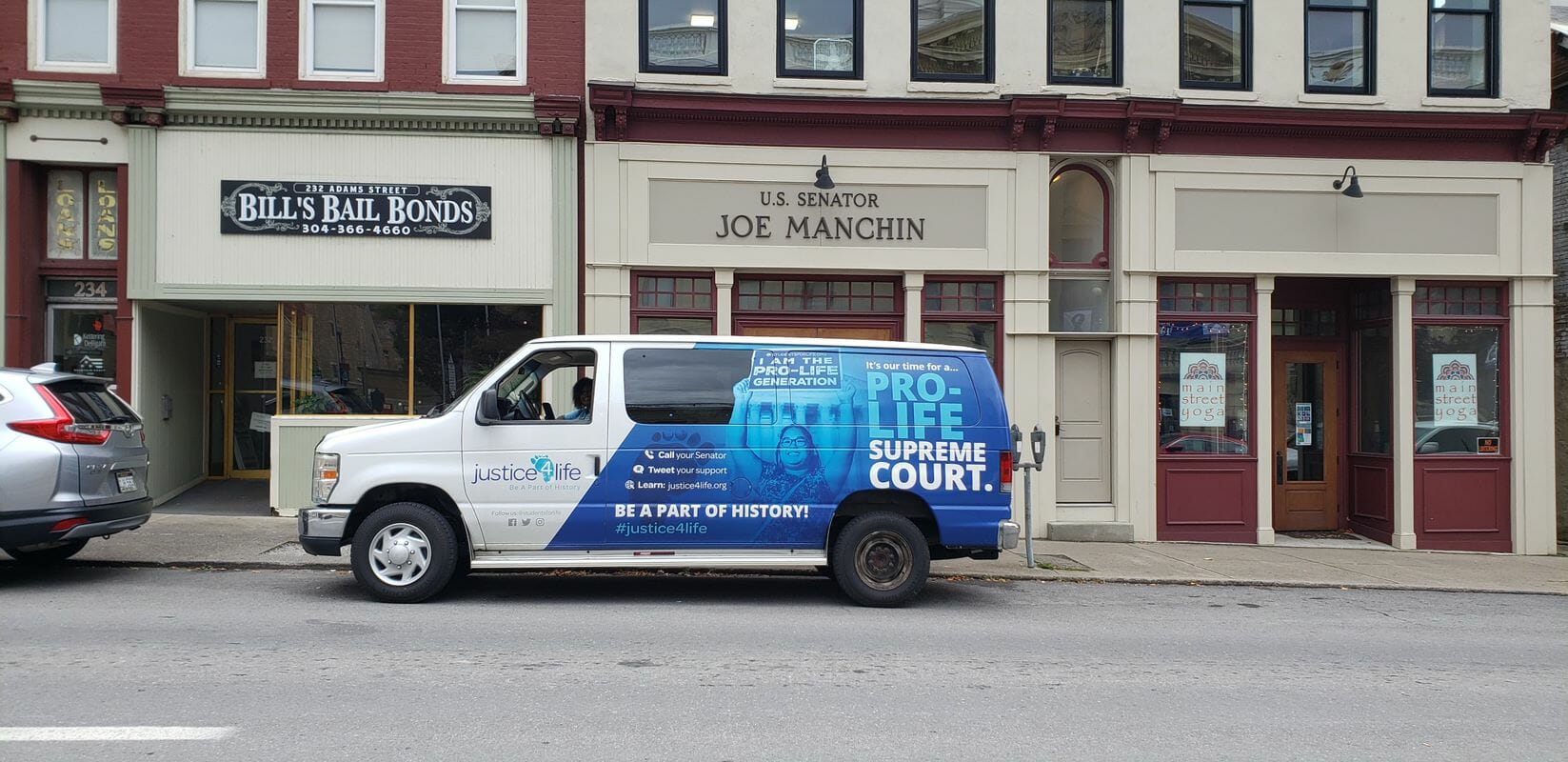 As the tour started Monday morning in Charleston, West Virginia, Kristan Hawkins of Students for Life of America began by "demand[ing] the U.S.  Senate do their job and fill that seat." Hawkins said, "as a native West Virginian" that she "couldn't think of a better state" to begin, calling specifically on Senate Joe Manchin to "live up to his pro-life promises and confirm a judge that will protect life in law at the Supreme Court."
Senator Manchin, a Democrat, was one of three Democratic senators to vote to confirm Judge Barrett to the United States Court of Appeals for the Seventh Circuit, where she has served since 2017. He likewise voted to confirm both of President Donald Trump's other Supreme Court nominees, as one of three Democrats to vote to confirm Justice Neil Gorsuch in 2017 and the only Democrat to vote to confirm Justice Brett Kavanaugh in 2018.
When Hawkins met with Manchin during her first lobbying effort on behalf of the pro-life movement, he was, as Hawkins described him, "proudly a pro-life Secretary of State" for West Virginia. Hawkins expressed concern that Manchin would listen to pro-abortion Democrats House Speaker Nancy Pelosi and Senator Chuck Schumer, rather than pro-life West Virginian constituents, especially as he has said he plans to vote against Judge Barrett's confirmation to the Supreme Court.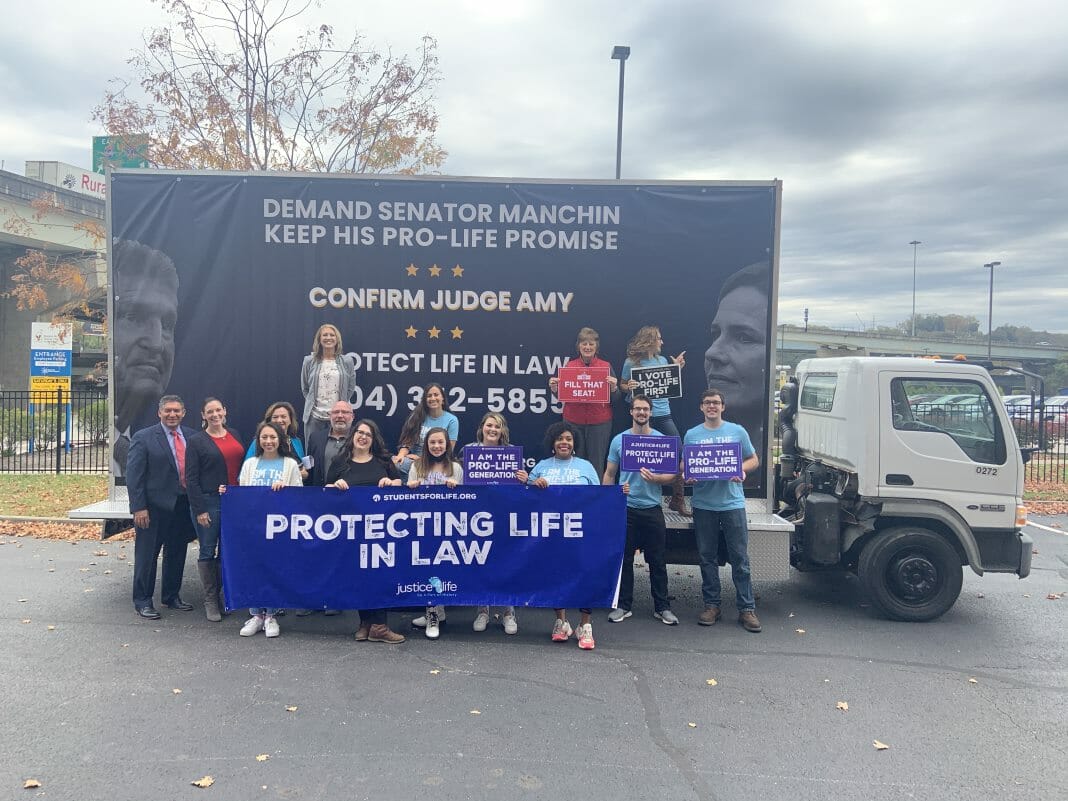 For greater context on how far the rights of women have come, Hawkins particularly urged support for confirming Judge Barrett, a mother of seven who would be the first justice of school-aged children to sit on the Court, 100 years after women were granted the right to vote under the 19th amendment.
There were numerous other speakers, including student leaders. Sadie Shields, of West Virginia University Students for Life, spoke about the efforts pro-life students at her university on behalf of both students and mothers. Her group also engaged voters on campus through Students for Life campaigns about Vote Pro-Life First and with information about Judge Amy Coney Barrett. Shields spoke of how Judge Barrett "has proven to be unwavering in her service to America, to the American people, by upholding the Constitution regardless of her personal views."
Kicking off the #Justice4Life tour in West Virginia to demand that Senator Joe Manchin vote to #ConfirmAmy now!

Posted by Students for Life of America on Monday, October 19, 2020
The efforts didn't stop with our several tour stops made throughout the state. A mobile billboard followed our team members throughout the state. Our team members also took part in reaching out to Senator Joe Manchin's office by telephone.
Students for Life of America will also be going to Alaska, Minnesota, Michigan, Pennsylvania, North Carolina, Florida, Texas, Colorado and Arizona to continue our Justice4Life tour by rallying senators to confirm Judge Barrett. Students for Life Action will also assist our students and volunteers to engage with local voters about what's at stake this election when it comes to pro-life issues and candidates.