From the SFLA Blog
2023 National Pro-Life Sidewalk Day Was a Success — Here's What Happened in Cities Across the Country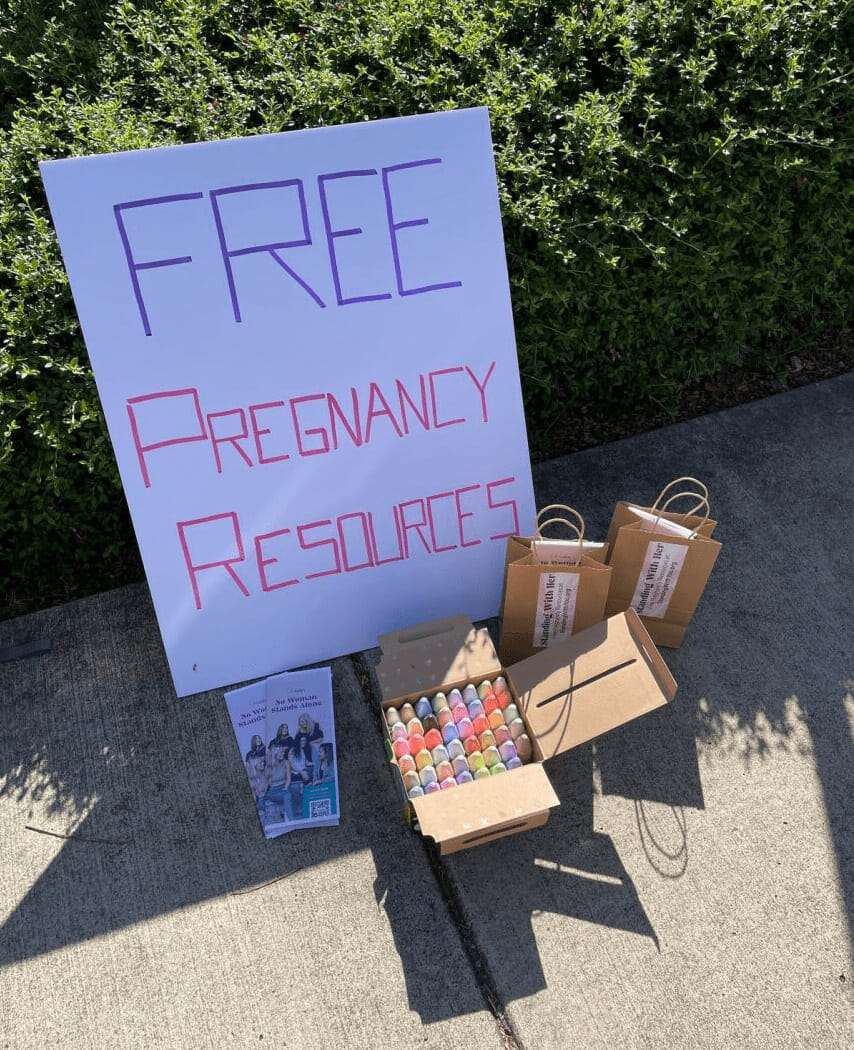 Caroline Wharton - 22 Aug 2023
The Pro-Life Generation recently celebrated National Sidewalk Day with events across the country to remind women that they don't need abortion to succeed. Planted in front of abortion facilities nationwide, our team members and students presented authentic support and resources, showing the pro-life movement cares about all life for the whole life. Surprisingly, for all the pro-life chalking and witnessing we were up to, no one walked away in handcuffs — that must only happen in Washington D.C. You can learn more about what they did experience below:
Leading the Pro-Life Generation in Arlington, Texas, SFLA Southern Campus Formation Coordinator Paul Borchard said, "We had short, friendly conversations with almost all the people walking into Planned Parenthood as we passed out blessing bags, but we were particularly thankful for one interaction. After being inside the facility for about two minutes, one couple came back outside and asked about other places they could go for help. They shared they were about 15 weeks pregnant, and the father was about to graduate from a local technical school. After talking with them for some time, they told us they appreciated we were there to direct them to life-affirming resources."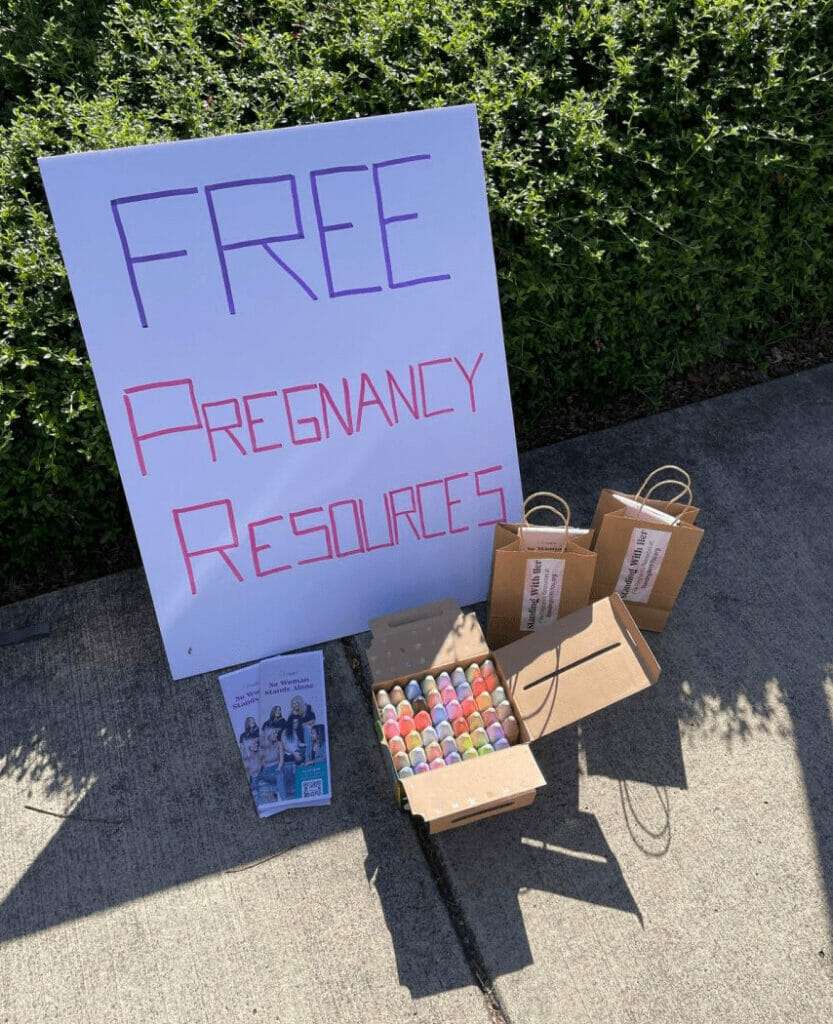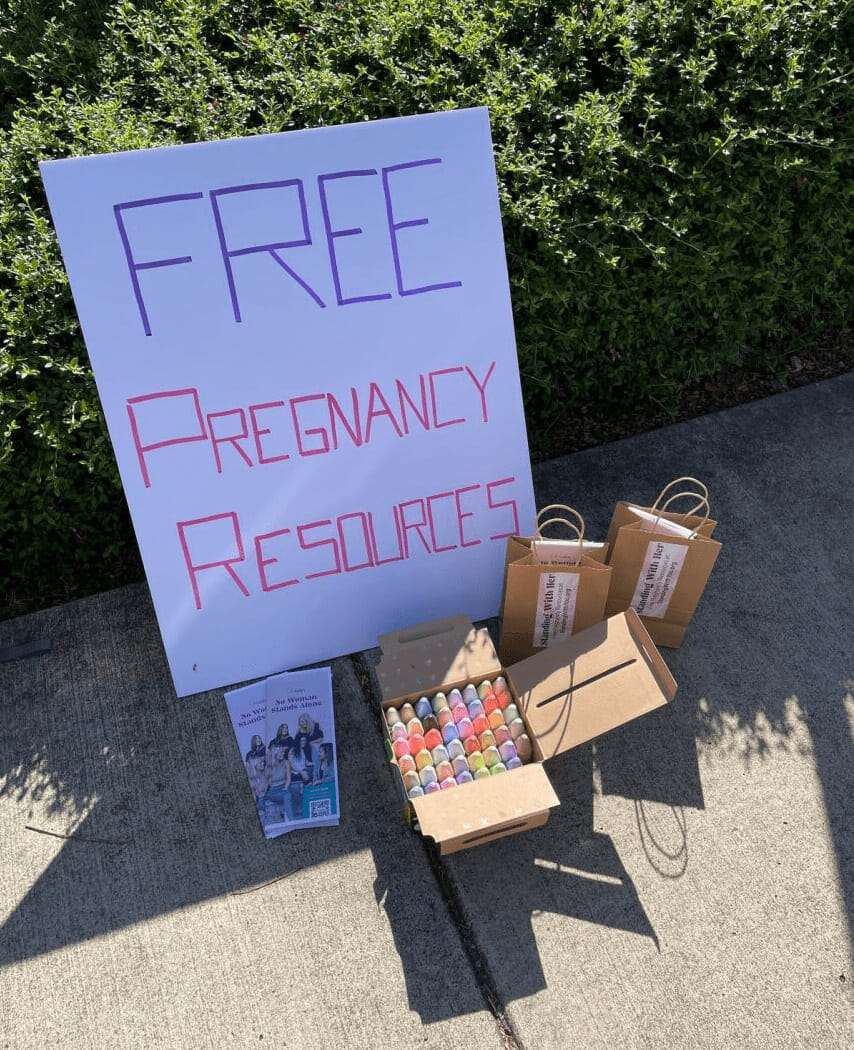 SFLA Southern Regional Coordinator Cori Woods took a stand for life in Lawrenceville, Georgia in front of another Planned Parenthood facility. She stated, "Six young girls came out of the facility that morning with brown bags that held Chemical Abortion Pills. I talked with each of them, explaining the risks of the drugs they were holding and praying I was planting a seed. I also spoke with two employees about leaving the industry of death; they can do so much more."
In Chicago, Illinois, SFLA Upper Midwest Regional Coordinator Tom Usle reported, "While more than a dozen facility escorts were corralling women into the facility, we felt little hope until the group Love Life arrived with thirty Christians from local churches. Together, we prayed for the women and children inside. It was a beautiful show for life."
 At the Planned Parenthood in Fairview Heights, Illinois, SFLA Programs Coordinator Lucy Gonzalez said, "I stood alongside Clinton County Citizens for Life president Connie Robben, and while we were a small presence, we got many positive honks and waves from passing cars. We held signs promoting the pro-life message and Standing With You. You never know the effect pro-life signs can have on hundreds of passers-by."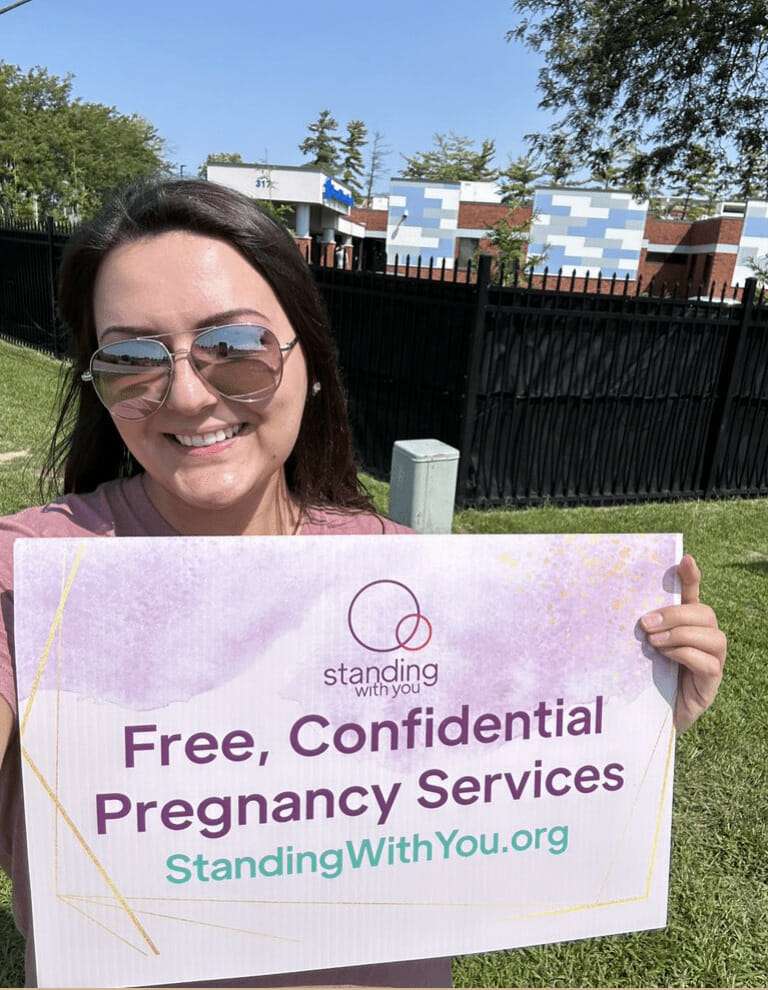 SFLA Virginias Regional Coordinator Natalee Wilson met with students and community members in Richmond, Virginia. She said, "Our group met at Richmond Medical Center for Women, which is an abortion facility that does abortions up until 22 weeks (around five months of pregnancy). We held signs advertising free pregnancy resources, Abortion Pill Reversal, and support for women. We additionally chalked pro-life messages on the sidewalk to hopefully make an impact even after we left and spoke with multiple friendly escorts to plant pro-life seeds."
In Portland, Oregon, SFLA Pacific Northwest Regional Coordinator Sophia Di Piazza said, "After chalking pro-life messages in front of the abortion facility, my group and I went around to the other side of the building briefly. When we came back ten minutes later, we found that the escorts had washed away all of our drawings. Since it was wet, we could not draw more but stayed to pray and meet women."
SFLA Florida Regional Coordinator Andy Secola described his group's time in Tampa, Florida similarly, stating: "We had blessing bags, friendly signs, and smiling faces to greet these women in crisis who were headed into the abortion facility. Having a few pleasant interactions, we are hopeful that we made a difference. Sometimes, our presence is what matters most."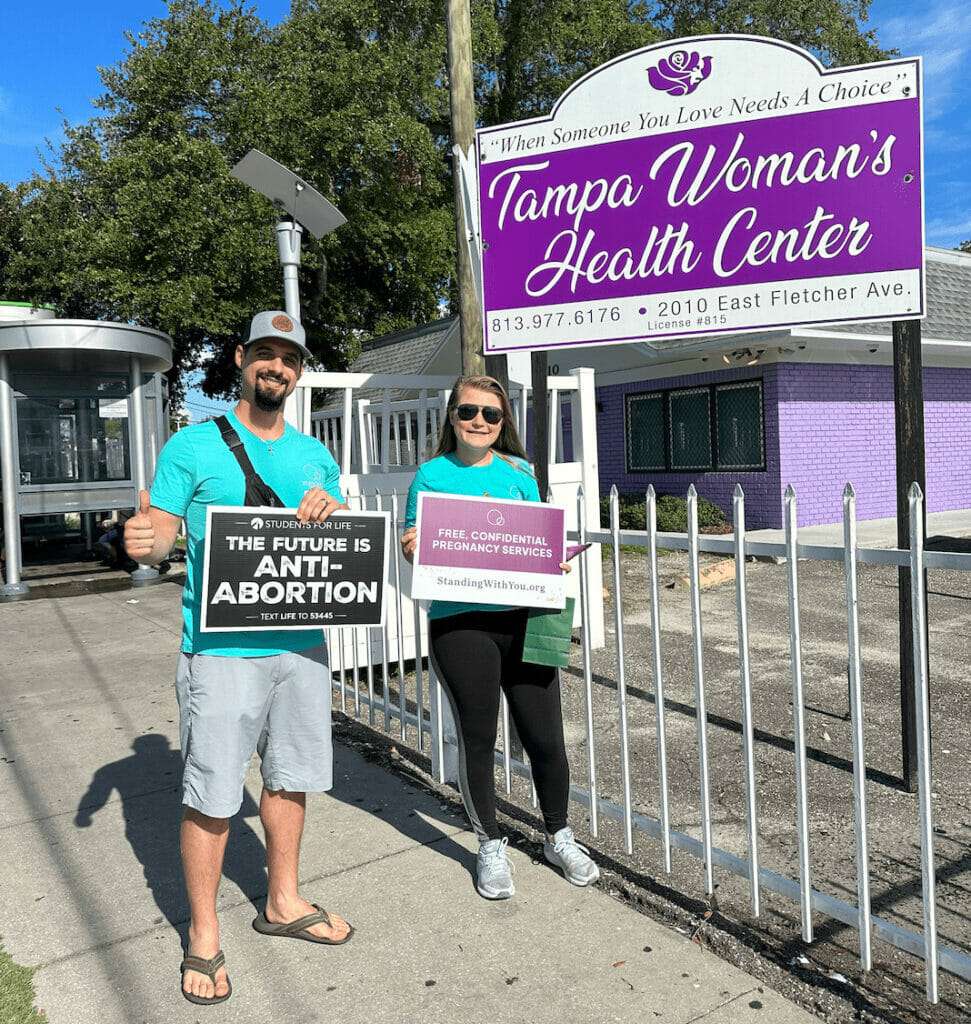 Across the country in Sacramento, California, SFLA California Field Operations Coordinator Juan Hernandez said, "We had a really nice day testifying for life outside the Planned Parenthood with a small group. We chalked pro-life messages on the ground, prayed, and kept an eye out for any possible moms looking for help. During our first hour there, the police passed by four times, parking down the street and facing us only to drive away minutes later. At one point, a Planned Parenthood volunteer came out with a very angry look to take pictures of our group. We smiled and waved."
In Austin, Texas, SFLA Texas Regional Coordinator Faith Elwonger said, "Community members gathered on the sidewalk outside of one of the only abortion referral facilities open in central Texas. Ready to hand blessing bags to incoming clients, we also held a sign saying "You Are Loved" next to our "No Woman Stands Alone" sign. Our hope is that our presence and positivity was a sign of hope to anyone passing."
SFLA Regional Coordinator of the Carolinas Alicia Foreman was "aggressively prohibited from speaking to women" during her time at an abortion facility in Charlotte, North Carolina. She reported, "At the Preferred Women's Health Center of Charlotte, an abortion mill, I was immediately met with the pro-abortion escorts who were very aggressive in preventing us from talking to the women entering the building. Despite this, I was able to give information to one family that was dropping off their daughter for an abortion.'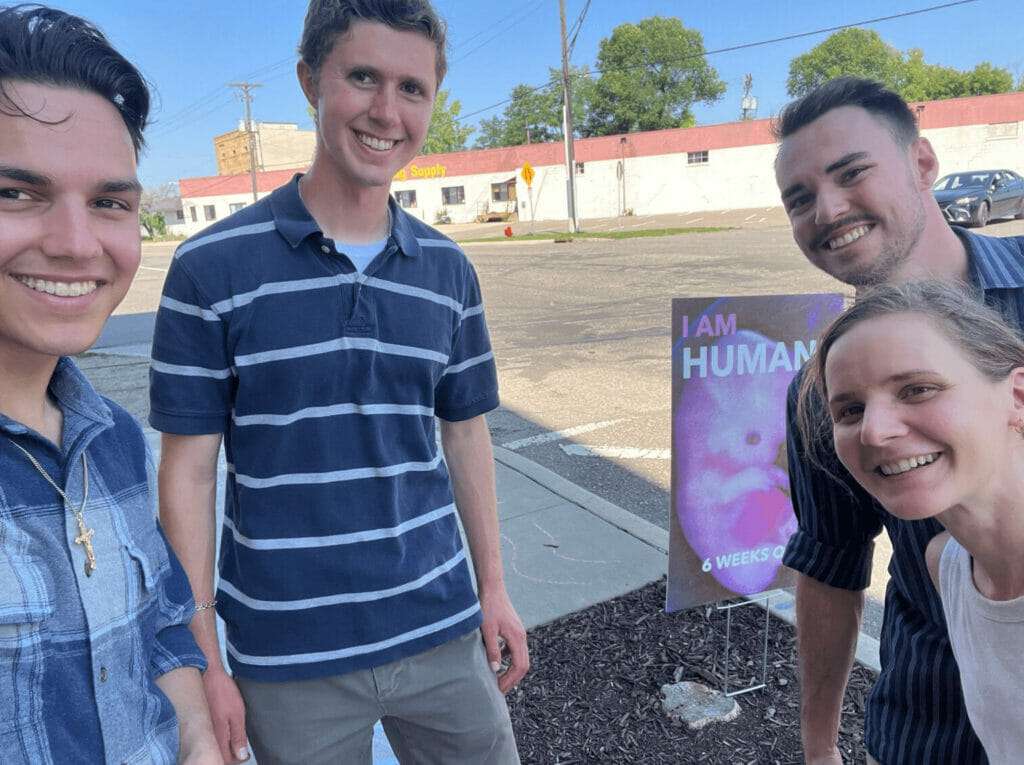 In St. Paul, Minnesota, SFLA Northern Regional Coordinator Stephen Schafer said he was met with "heavy heckling and taunting from Planned Parenthood escorts." He explained, "While this presented challenges in handing out blessing bags and literature, they could not prevent us from being a prayerful, peaceful presence in such a dark place. We were able interact with several cars and chalk encouraging messages where abortion-seeking women typically get off public transportation."
In Albuquerque, New Mexico, SFLA Rocky Mountain Regional Coordinator Victoria Trujillo said, "I teamed up with Love Life in the area who hosted more than 40 people to sidewalk counsel and pray. We also had Abortion Free New Mexico and Cherub Initiative helping us talk to abortion-seeking parents on the sidewalk outside. One post-abortive woman walking by asked how she could help because she wanted to share her experience with others so they wouldn't have the same regrets."
SFLA Missouri and Arkansas Regional Coordinator Nicole Hollmann spent National Sidewalk Day in St. Louis, Missouri, which she described as overwhelmingly positive. She reported, "While the St. Louis Planned Parenthood doesn't do abortions, they are still open and likely referring women to Illinois for abortions. We had five women stop on their way in and out to talk to us, each accepting a blessings bag and thanking us for the information about Thrive Women's Healthcare, our local pregnancy resource center. One of our artsy students also did an incredible job chalking big, beautiful supportive messages on the sidewalk while the others held signs."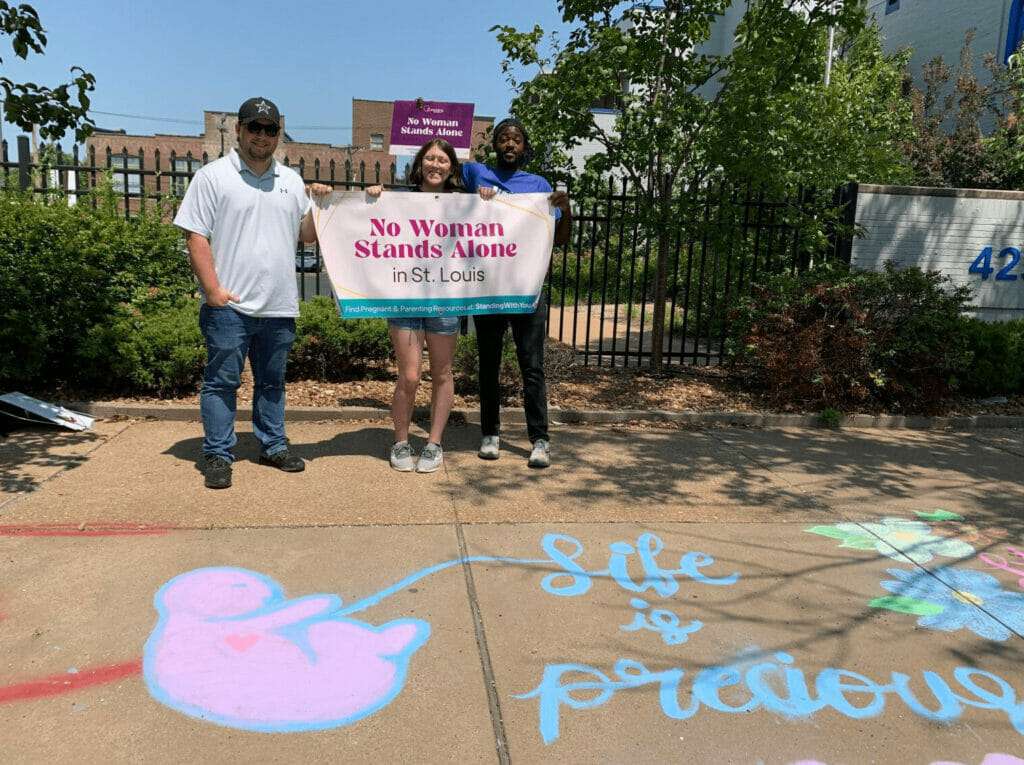 In Las Vegas, Nevada, all of the abortion facilities were closed for the weekend so SFLA California & Nevada Regional Coordinator Tristan DeZonia met with students to chalk positive, pro-life messages for women to see when they open back up. SFLA Northeast Regional Coordinator Penelope Rose experienced much the same in Newburgh, New York as no activity occurred at the local Planned Parenthood.
SFLA New England Regional Coordinator Megan Cawley stood outside the Planned Parenthood in Boston, Massachusetts, providing resource cards to individuals coming out of the facility. She said, "Several women, including one with a younger companion who had received the Chemical Abortion Pill, took my cards and seemed somewhat receptive, although the escorts did not make contact easy."
In Phoenix, Arizona, SFLA Pacific Southwest Regional Coordinator Jordan Brittain said, "The escorts were very hostile and approached every time someone stopped to talk to us. They surrounded the people entering, shouting expletives and videoing even though we were on public property and were friendly. We filled the entire sidewalk with beautiful chalking, and we were happy to be able to bless the local homeless with donuts and Starbucks."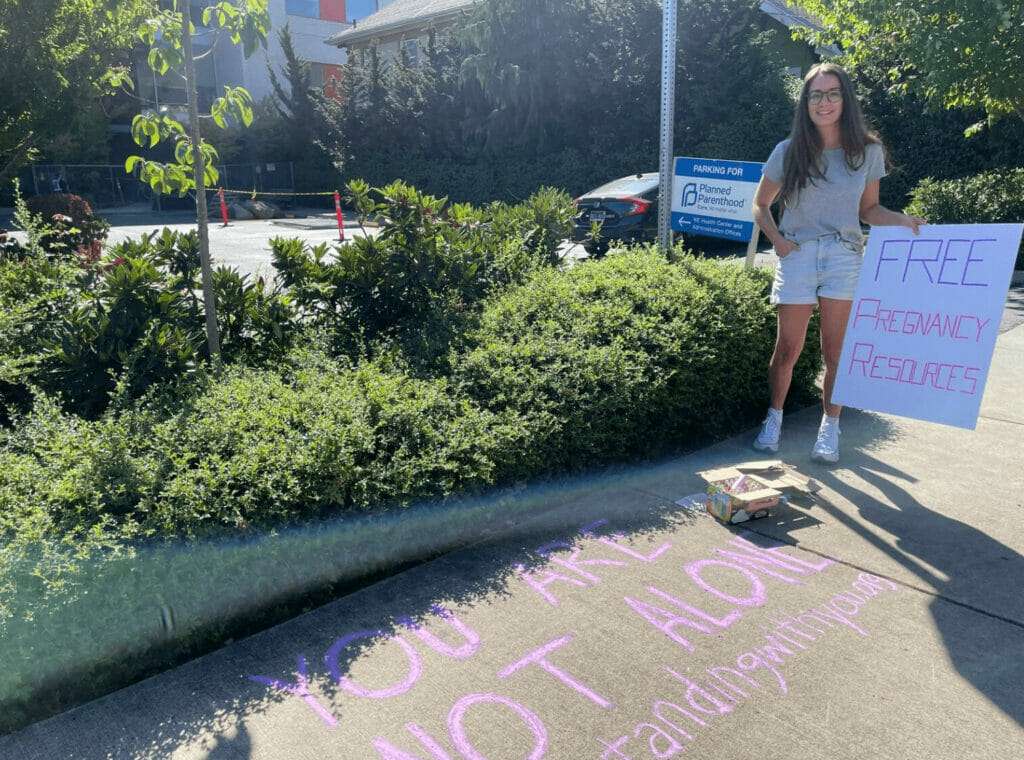 Even amidst a hurricane in Los Angeles, California, SFLA Southeast Campus Formation Coordinator Mary-Logan Miske said her Sidewalk Chalk Day was a huge success. She stated, "We wrote powerful messages outside of Planned Parenthood (like 'Love Them Both') and drew baby feet with chalk. I also encouraged women to check out Standing With You for free pregnancy support and resources. It is important to remind women in a Post-Roe America how loved and valued both they and their child are throughout pregnancy and beyond."
Did you participate in National Sidewalk Chalk Day? Let us know by posting a picture on social media and tagging @studentsforlife.
READ NEXT: Forget Asking 'What Is a Woman' — What is a CHICKEN? Biden Appointee Rachel Levine Supports Calling Mothers "Egg Producers"