From the SFLA Blog
Pro-Life Students Across the Country are Committing to Make Their Cities Abortion-Free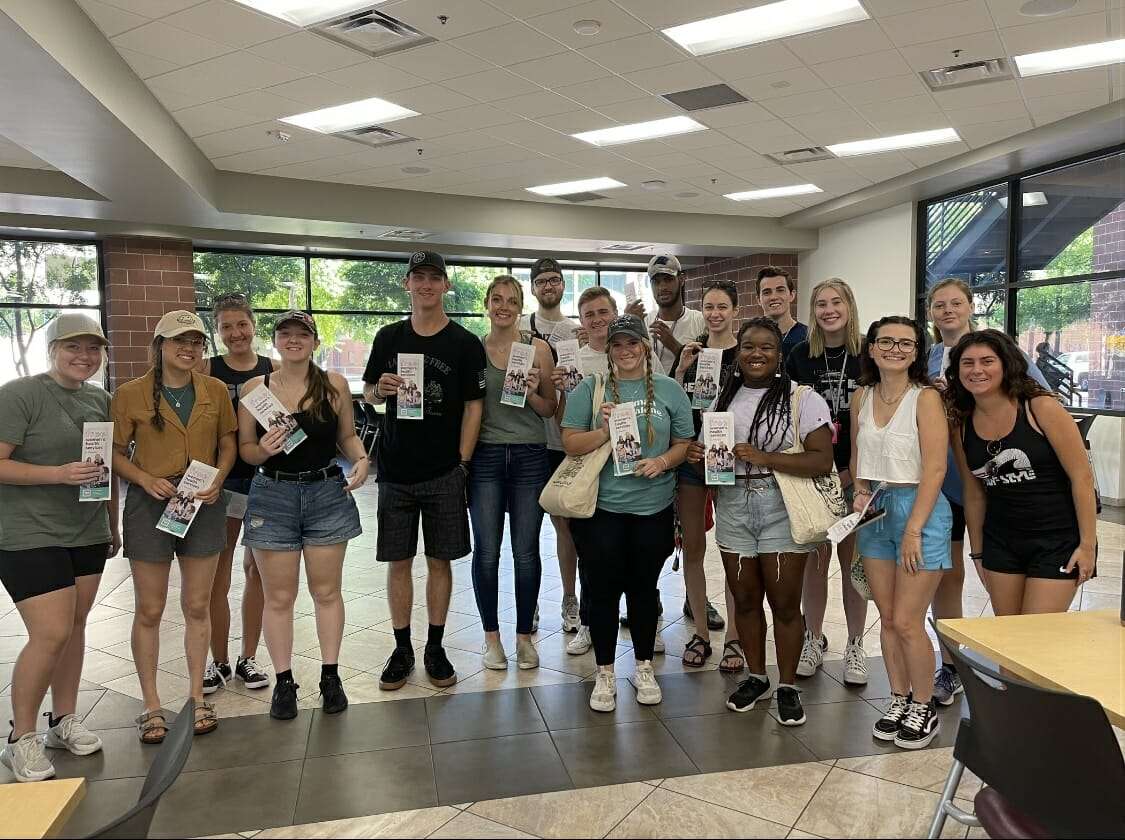 Caroline Wharton - 11 Nov 2022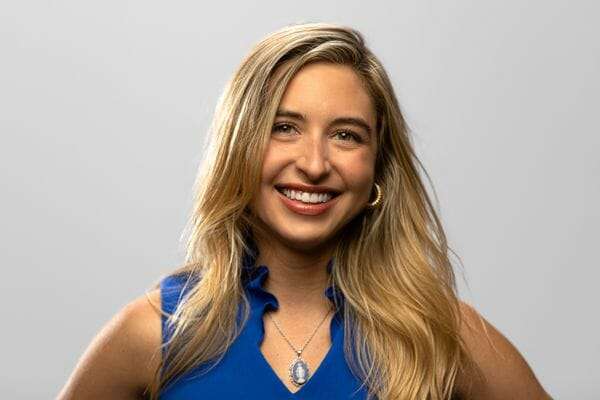 GUEST POST: Since the reversal of Roe v. Wade in June, Students for Life of America's (SFLA) Campaign for Abortion Free Cities (AFC) initiative has been active in more than 25 cities across the country, employing unique strategies to end abortion at the local level. As more campaigns start and further develop, it is our student leaders and alumni who are springing into action. Check out some of our top-notch student leaders who understand the importance of being a visible and strategic presence not only at their schools but also in their communities:
Naples, Florida
At Ave Maria University, the SFLA student group on campus (known as Ave for Life) has pledged to lead door-to-door outreach efforts every other weekend to ensure their neighbors are aware of local pregnancy help centers, and that voters know which city council members have pledged to support life. On event days when their group of volunteers is large enough, they fill a rented van from the school and commit the whole day to outreach (driving about 45 minutes to an hour away to participate in canvassing).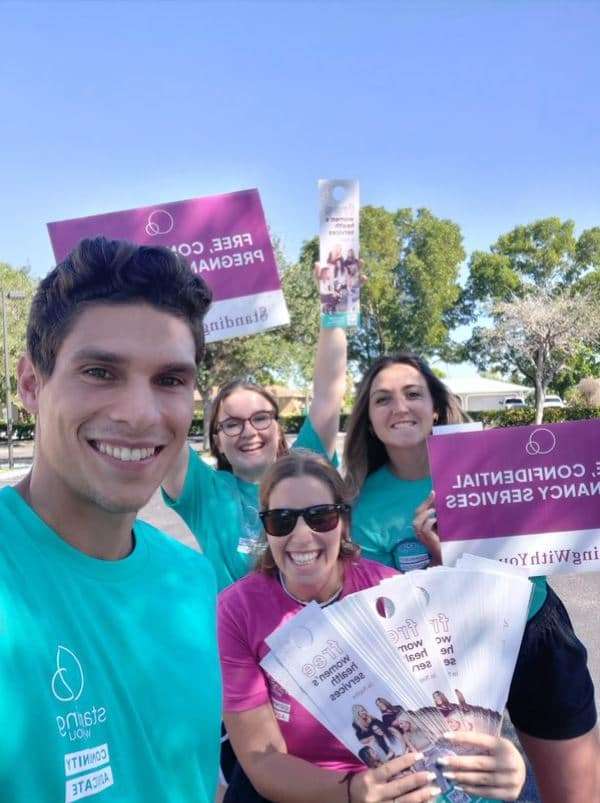 President of Ave for Life Gabriella Yankay said:
"As a group and community, our passion for the pro-life movement is rooted in the truth and passion of our faith. We have a great devotion to the human person and being involved in the Campaign for Abortion Free Cities is one avenue our group members can help in with spreading recognition on the dignity of the human person.
"The great thing about door-knocking is the way you get to connect with someone. Door-knocking really allows you to learn about the human heart and meet people where they are. Our favorite thing about canvassing is that no matter how someone may feel about abortion, you can still serve them with truth and service. In addition, we also get to dispel negative media narratives about the pro-life movement."
Phoenix, Arizona
The SFLA group at Grand Canyon University led their first outreach event last month where 19 members of their student group participated in a day of canvassing to pass out Standing With You (SWY) resource flyers. This new student group is also active in sidewalk counseling outside of both the Tempe and Glendale Planned Parenthoods, as the state awaits next steps in whether their abortion bans will go into effect. No matter how long legislation is stuck in the courts, these students know women need to be reached with non-violent options for their children.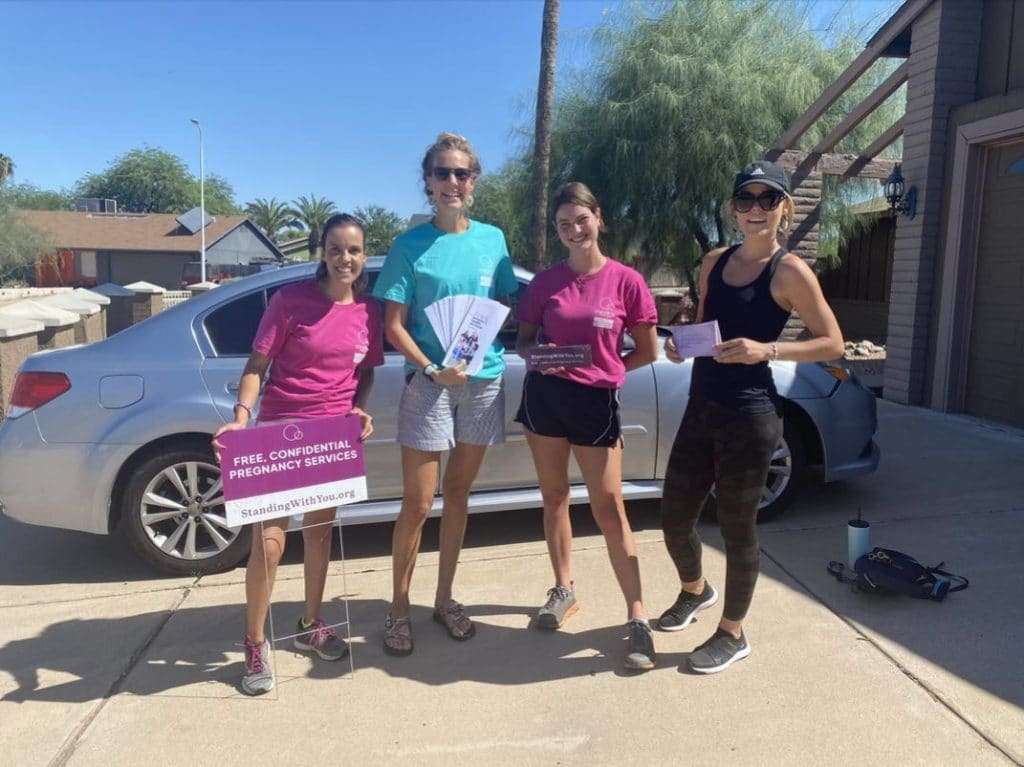 President of the SFLA group at Grand Canyon University Nicole Martin said:
"Our group loves working with the Phoenix Campaign for Abortion Free Cities because we have seen the power that pregnancy resource education can have. Last week, we were tabling on campus with SWY materials, and a student came up to us who told us she was planning on getting an abortion next week but didn't want to. Because of the SWY materials, she now plans on trying the pregnancy center before going to Planned Parenthood. Our student group at GCU has recognized AFC's work as one of the most effective ways to save lives and help women in the community."
Chapel Hill, North Carolina
The Chapel Hill Abortion Free Cities Campaign was originally started by SFLA alumni and has been growing over the last year. This fall, the University of North Carolina Chapel Hill (UNC) students have joined and are actively starting conversations on campus through displays and chalking, as well as in their community through door-to-door outreach and sidewalk counseling. They recently had their chalking vandalized, but the incident has only further motivated their group to be a larger presence for life on campus.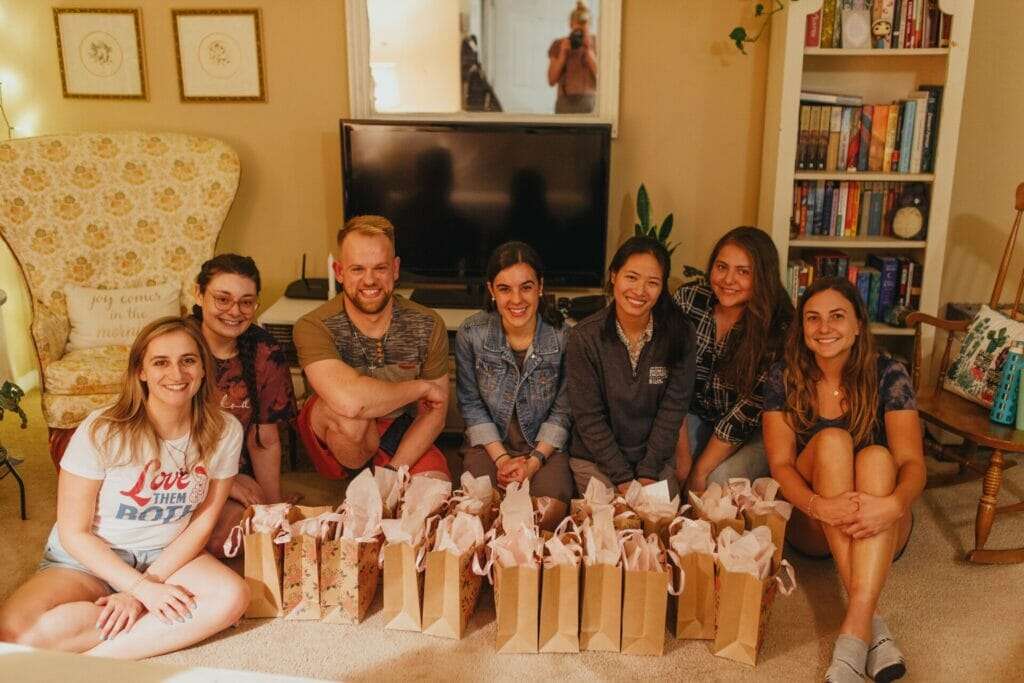 Co-President of the UNC SFLA group Brianna Shobert said:
"It has been such a rewarding experience to work alongside the AFC Campaign over the past few months. While SFLA allows me to reach my peers on campus, the AFC Campaign allows me to reach the Chapel Hill community as a whole. Many people in the Chapel Hill area are unaware of the pregnancy centers and the resources that they offer. Volunteering has given me the opportunity to share this information and help people realize that there are so many resources out there. I volunteer to provide a voice for those in the womb."
Jackson, Mississippi
With Mississippi at the heart of the abortion debate over the last year, Mississippi College Students for Life has participated in numerous events to support their Campaign for Abortion Free Cities. Knowing that their state would likely become abortion-free, this student group wasted no time in educating the community on alternatives to abortion, pointing neighbors to local pregnancy help organizations.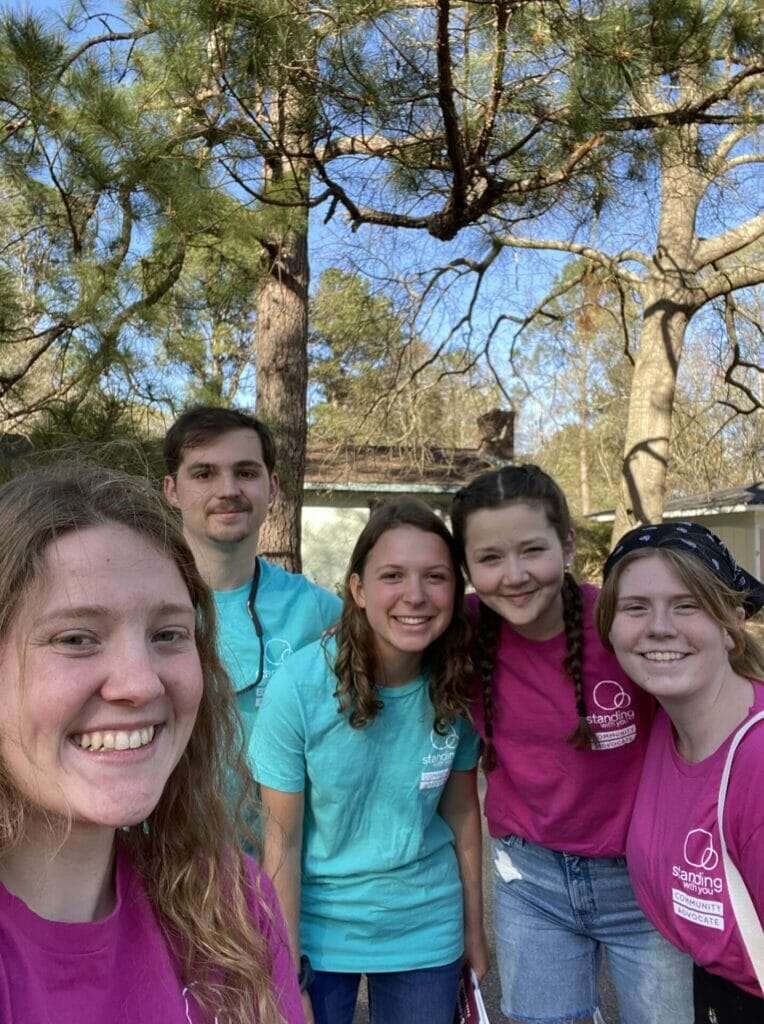 Leading up to its closure, Mississippi College students also warned neighbors about the dangers of the abortion facility that was called "The Pink House" and regularly led prayer vigils in hopes of seeing it gone forever. Thankfully, that day came, and the abortion facility closed this summer — but the work isn't over! Student leaders are still out in the community going door-to-door educating neighbors on the dangers of Chemical Abortion pills, knowing that the abortion industry has targeted abortion-free states by pushing abortion drugs through the mail.
President of Mississippi College's SFLA group Adelaide Zink said:
"My favorite part of being involved with the Campaign for Abortion Free Cities is getting to serve our community alongside other students in a tangible, hands-on way through informing our neighbors of the pregnancy services available to them. It's important that our group stays active in going door-to-door because if we are not regularly pointing women to these pregnancy help centers, then we are not backing up our words with action. Making abortion illegal is the job of lawmakers and justice. Making abortion unthinkable is the job of every one of us."
Austin, Texas
Austin Homeschool Student group put themselves on the map as the very first volunteer-led campaign. These high-school-aged students partnered with other pro-life groups in the area to lead door-to-door outreach, regular sidewalk counseling, and a Mother's Day Item Drive for their local pregnancy help center. Do not underestimate a homeschool group— this student-led team surveys their neighborhoods, visits local churches for support, and plans to table on colleges nearby in hopes of reaching their peers who are on campus.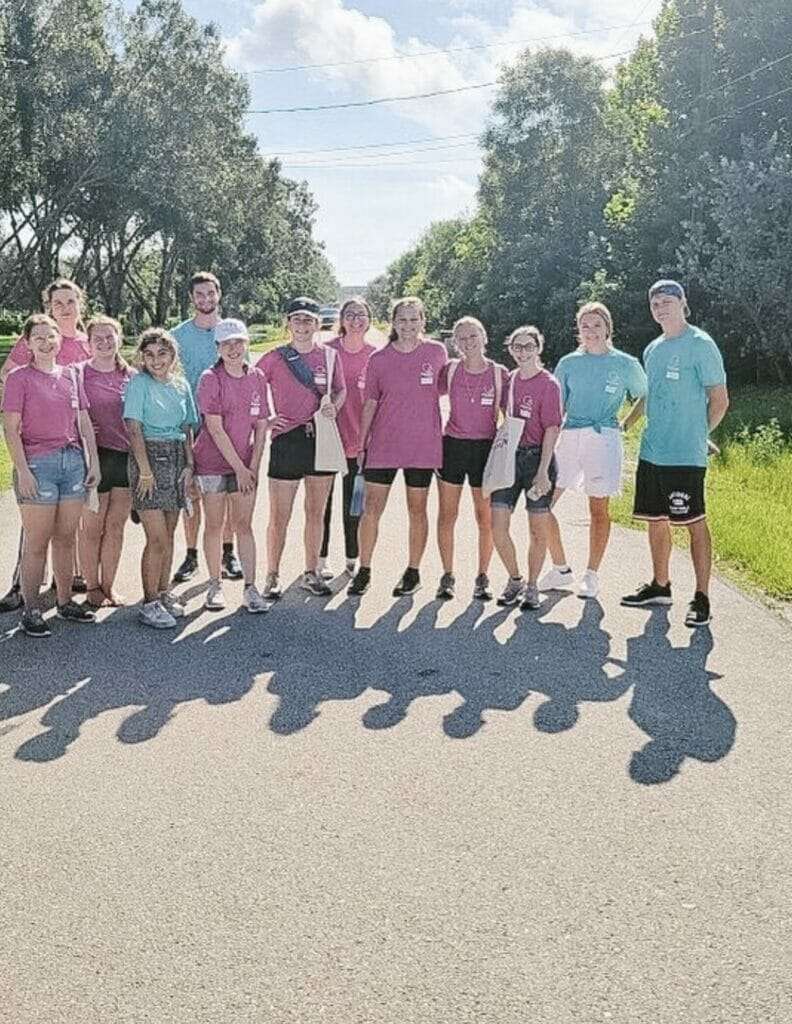 "In Texas, a small group of dedicated individuals can take on BIG challenges, which was as true at the Alamo as it is today. Help us save the tiny Texans one conversation at a time," said former President of Austin Homeschool Students for Life, Grace Hartsock.
Stevens Point, Wisconsin
Gwen Goetter, a SFLA Wilberforce Fellow and President of the SFLA group at the University of Wisconsin at Stevens Point, decided her fellowship project would be starting an Abortion Free Cities Campaign in her neighborhood. Setting objectives and involving other students in her SFLA student group was her first order of business. This group jumped right in, building a relationship with the pregnancy help center, taking part in a Life Chain, and National Day of Remembrance events. They now have 15 active volunteers who are completing their training on Chemical Abortion and door-to-door outreach so they can start canvassing this fall. This student-led team also uses our SWY Tabletop on campus and were the FIRST group to complete the Campus SWY Resource Guide.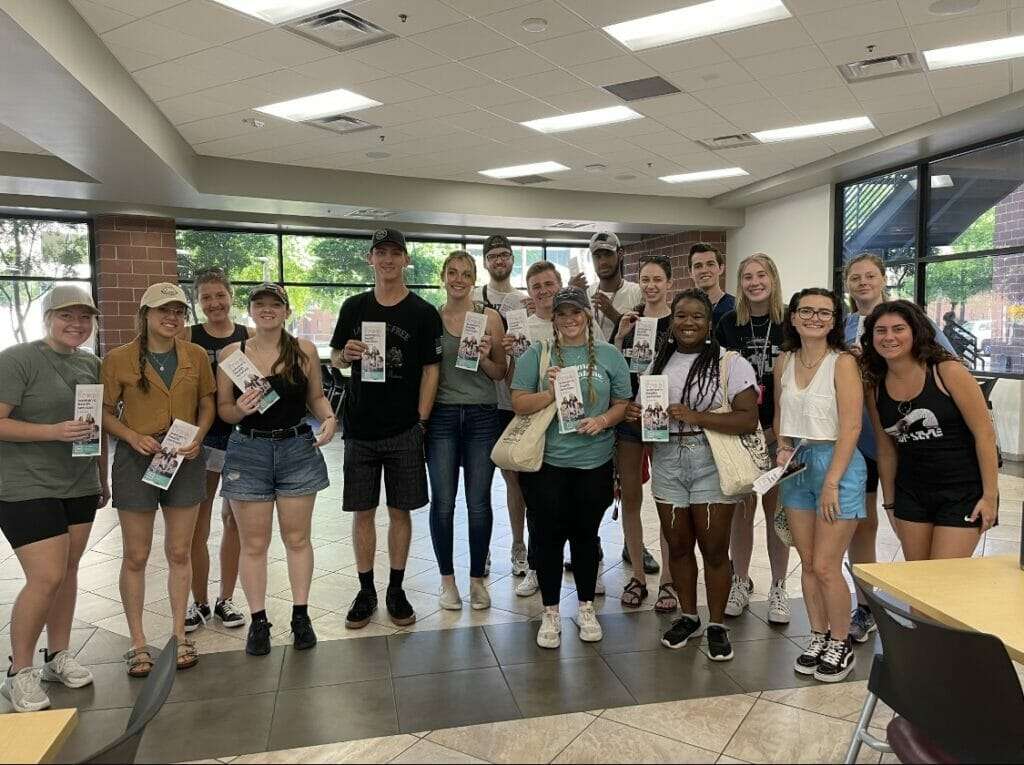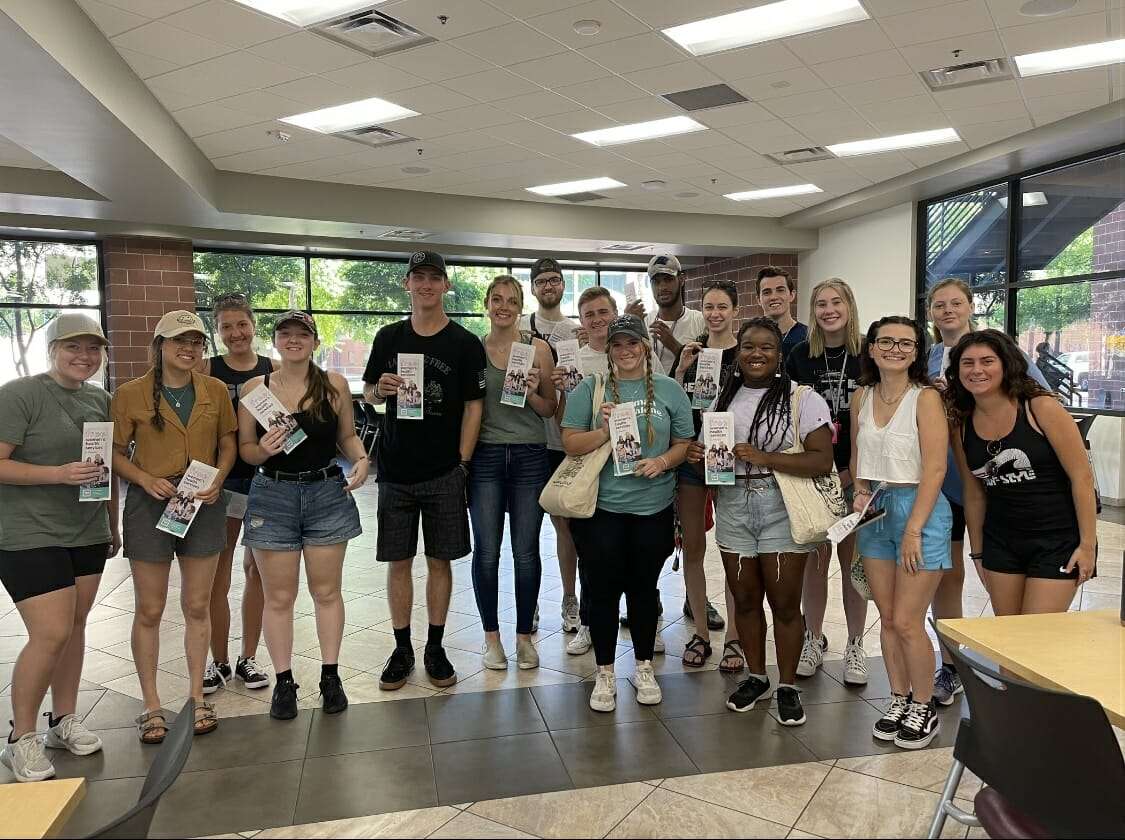 Goetter said:

"In a Post-Roe America it is ever so important that the pro-life movement shows the genuine love and support for women and families in the community. The best way to do that is through door knocking and spreading awareness of all the resources that our local pregnancy help center offers."
Lynden, Washington
As a SFLAction Captain, Chase Lindsey has been working to protect the preborn through a variety of activities. He inquired about AFC a  few months back, and after learning more, he got to work connecting with local churches, pro-life partners, and community members as well as engaging with his local city council members. He has seen first-hand how a local ordinance can have a huge impact as Bellingham WA, a neighboring community, has passed a Sanctuary City for Abortion. Not wanting to give the abortion industry the opportunity to expand into his community, Chase is ready to lead the campaign in Lynden, Washington and prepare his town as a potential Sanctuary City.
READ NEXT: Victory for Life: Pro-Abortion Ordinances in Allentown Tabled INDEFINITELY