From the SFLA Blog
These States Have Declared Abortion Non-Essential
Kristi Hamrick - 26 Mar 2020
Leave it to Planned Parenthood and company to put abortion first as the rest of the nation grapples with how to protect lives at risk to COVID-19. Across the country, states have been asking medical providers of all kinds to contribute their resources, like face mask and protection gear, to those helping coronavirus sufferers, and to prevent further risks of exposure by pausing on non-essential surgeries and procedures.
As LiveAction has been reporting, many states have moved to restrict non-essential surgeries, including abortion, while others have taken steps to protect the abortion industry even as all kinds of businesses are forced to close to protect public health.
Consider that pregnancy is not a disease cured by abortion, and yet those profiting from abortion have been arguing that they are "essential," a service that must continue at this time of crisis. Armed with a vote of confidence from abortion cheerleaders, abortion vendors have pushed to have their businesses stay open and tried to get into aid packages designed to help those struggling at this time of crisis.
Despite the fact that New York City has been the epicenter of the infections in the U.S., resources from abortion vendors have not been redirected to those with coronavirus. Meera Shah, chief medical officer for Planned Parenthood in the New York City suburbs of Long Island, Westchester, and Rockland told Buzzfeed that they wouldn't close, saying, "Pregnancy-related care, especially abortion care, is essential and life-affirming."
It's not life-affirming for the infant whose life will be lost, or for the healthcare worker fighting Covid-19 who doesn't have the safety equipment needed, which could be sent from area abortion vendors to hospitals.
Meanwhile in Texas, where state officials have called for abortion vendors to close, abortionists have refused to comply with safety concerns and have filed a federal lawsuit. One abortion vendor is complaining that 150 canceled abortion appointments is a problem … but not for the preborn.
Students for Life has been asking our supporters across the country to contact their governors, asking them to declare that abortion is "non-essential" and redirecting needed medical equipment and safety gear to life-saving efforts. It takes only a few moments at this location to let your governor know that during times like this, we must prioritize the health and well-being of vulnerable populations by ensuring the medical supplies and gear go to real healthcare providers … and not to abortion.
So how are we doing? 
The graphic here captures what we know now and will be updated as we get more information.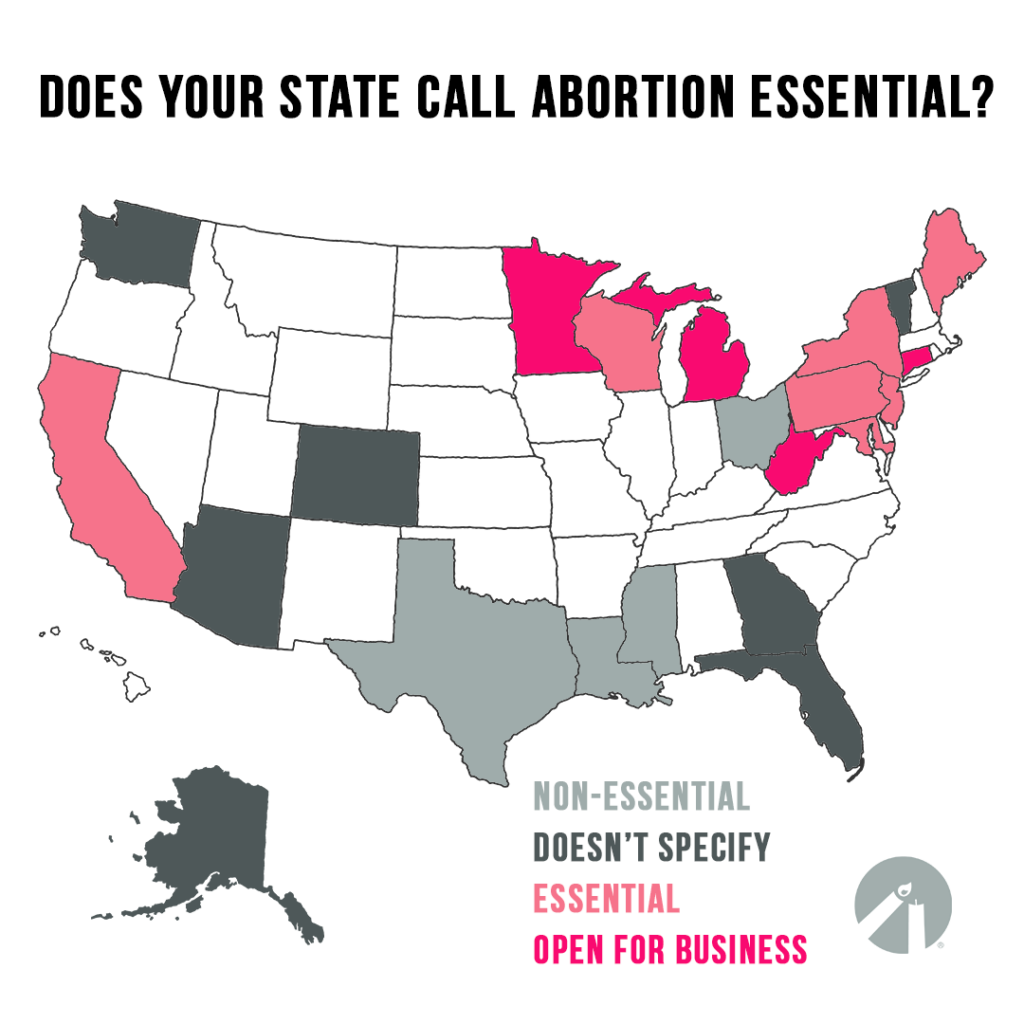 Some states – Texas, Ohio, Louisiana and Mississippi – have declared abortion NON-ESSENTIAL, meaning that they should not continue at this time. That doesn't mean the abortion vendors are complying with the law, but the states are trying to make life-affirming care the focus.
Some states have declared that abortion is ESSENTIAL, a necessary business that can remain open with business as usual.
But other states have not made it easy to know how abortion vendors are operating. There are a number of states asking that non-essential surgeries be delayed, but they DID NOT SPECIFY whether that includes abortion procedures. But the Pro-Life Generation is monitoring the abortion industry across the country, so that we know that some abortion vendors are REPORTED OPEN.
For the rest, we are waiting and watching to see what happens, updating as we learn more.
Please take the time to contact your governor, asking them to take a stand for LIFE-SAVING CARE.