From the SFLA Blog
SFLA Presents 5 Unique Ways for Pro-Lifers to Stay Engaged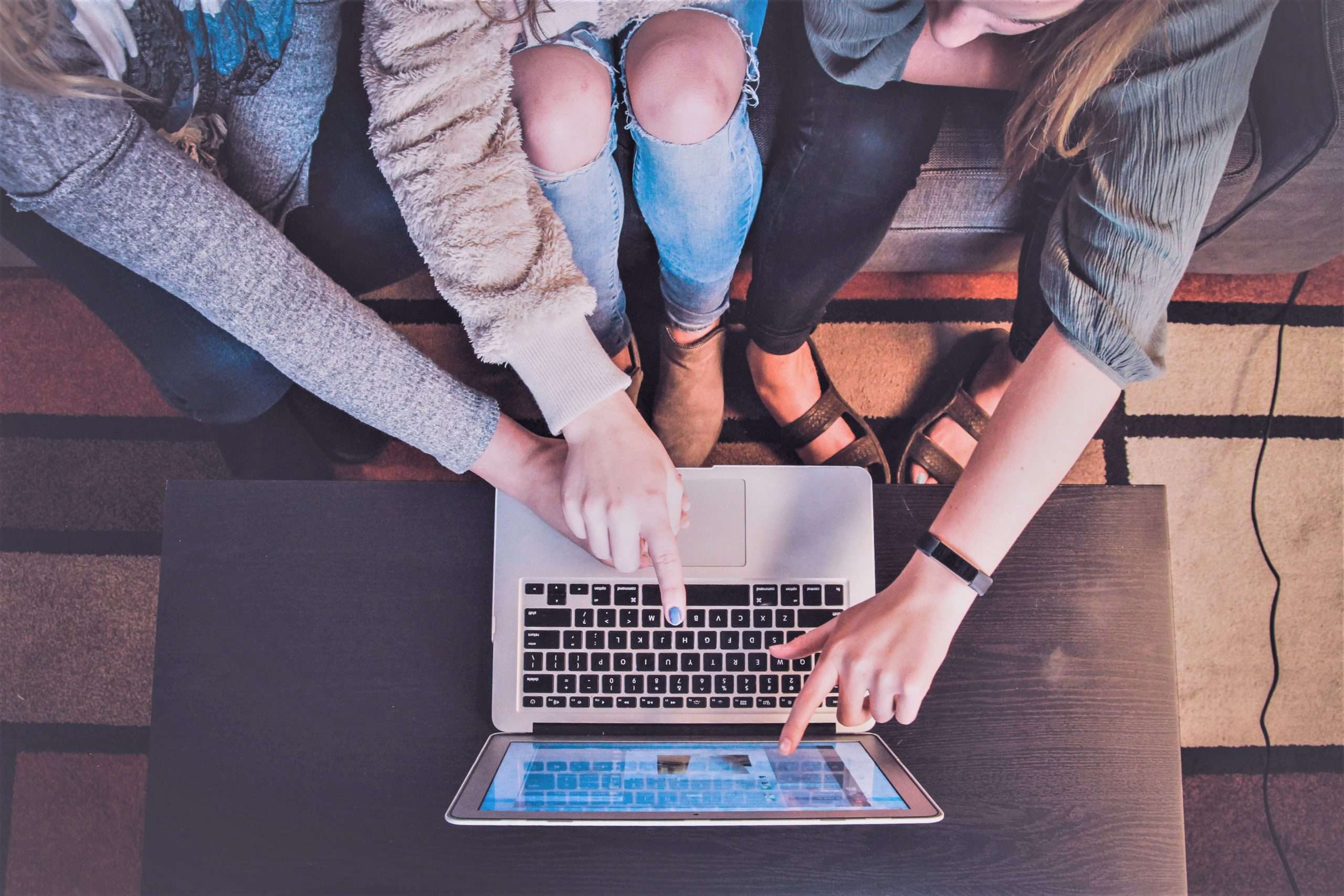 Brenna Lewis - 24 Mar 2020
"Students for Life of America is going to meet the Pro-Life Generation where they are – online and at home," said Students for Life of America's Kristan Hawkins. "For years, we've offered online education and training for pro-life young people, but, now, we are going to supersize our programming through strategic partnerships."
Students for Life of America President Kristan Hawkins said that the Pro-Life Generation and advocates from across the nation will have an expanded package of online events and trainings as Americans spend more time at home as a result of the Coronavirus. "As campuses across the country shut down or pivot to online education, Students for Life of America's team is doing the same, expanding our materials so that the Pro-Life Generation can be training for the day after Roe and for when we can return to our communities," said Hawkins. "We are sticking together! Just virtually…and with hand sanitizer."
Opportunity #1:
NATIONAL PRO-LIFE TRAININGS  via FACEBOOK LIVE
 Students for Life of America in partnership with LifeNews.com will provide virtual pro-life trainings with leading luminaries in the pro-life and Conservative movements for both those in and out of school of all ages.

Join Kristan Hawkins, the SFLA team, and special guests for an interactive, on-line program every Thursday for five weeks. Special Guests include:
Abby Johnson, former Planned Parenthood Director on Thursday, March 26th on "How to Impact Planned Parenthood's Abortion Business & Sidewalk Counsel.'
Jay Watts, founder of Merely Human Ministries on Thursday, April 2nd on "How to Change Minds Online.'
Liz Wheeler, journalist and television host at One America News Network, on Thursday, April 9th on "How to Counter Abortion Culture.'
Dr. John Bruchalski, pro-life OB/GYN and former abortionist, on Thursday, April 16th on 'How to Encourage Non-Violent Patient Care.'
TBA on Thursday, April 23rd on 'How You Can Engage in the 2020 Elections.'
Those who want to join the conversation and advance their skills can join the broadcast by going to https://www.facebook.com/studentsforlife 
Opportunity #2:
Students for Life groups and pro-life activists are encouraged to register for a 5-week training course offered in each region of the United States by Students for Life Regional Coordinators. When registering for the online video training, students will be connected to other pro-life student leaders in their region, to coordinate in greater numbers ahead of the 2020-2021 school year.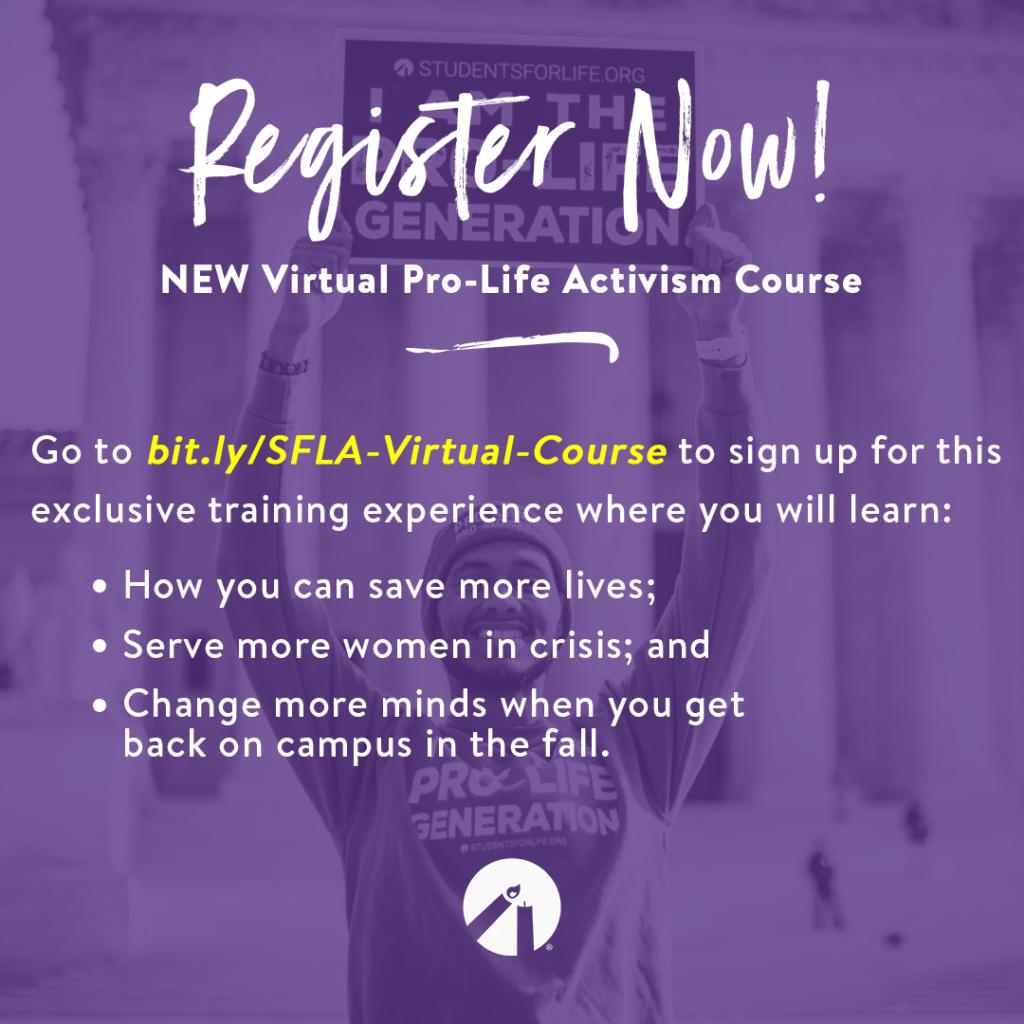 Week of March 23rd – How to Impact Planned Parenthood's Abortion Business & Sidewalk Counsel
Pro-life students can join state and regional webcasts with their SFLA Regional Coordinator exposing the truth about Planned Parenthood's business tactics and what they can do about it. Students will learn why they don't need Planned Parenthood, and how to expose their predatory business practices on campus.
Week of March 30th – How to Change Minds Online
Pro-life students will be encouraged and trained in how to engage on the abortion issue and change hearts and minds, even online!
Week of April 6th – How to Counter Abortion Culture
Anytime the abortion industry shows up, the #ProLifeGen must be there too!  Students will discover how they can counter abortion industry leaders, pro-abortion politicians, and events when they come to their campus or community.
Week of April 13th –How to Encourage Non-Violent Patient Care
Pro-life students will participate in discussions on how they can serve the vulnerable at all ages, from implementing Students for Life's Pregnant on Campus Initiative at their school, learning more about their community's Pregnancy Resource Center, and opposing the increased push for Physician Assisted Suicide.
Week of April 20th – How You Can Engage in the 2020 Elections
Students for Life members will learn what's at stake this November, why Voting Pro-Life First matters, and how they and their friends can make a huge difference for Life this fall…and get paid to do it!
Opportunity #3:
FULL ACCESS TO STUDENTS FOR LIFE HQ
To view some of SFLA's leadership and pro-life training lessons, materials, and resources, pro-life students can visit and sign-up for FREE, full access to Students for Life HQ, the online headquarters of the Pro-Life Generation for self-paced learning.  This is an on-going resource for student activists. Learn more about Students for Life HQ by clicking here.

Opportunity #4:
GET CAUGHT UP: Subscribe to the Explicitly Pro-Life Podcast
Binge listen to Kristan Hawkins' "Explicitly Pro-Life" podcast.  You'll learn great apologetics, receive political updates, and hear from pro-life heroes in every niche of the pro-life movement. Subscribe on iTunes, YouTube, or anywhere you normally listen to podcasts.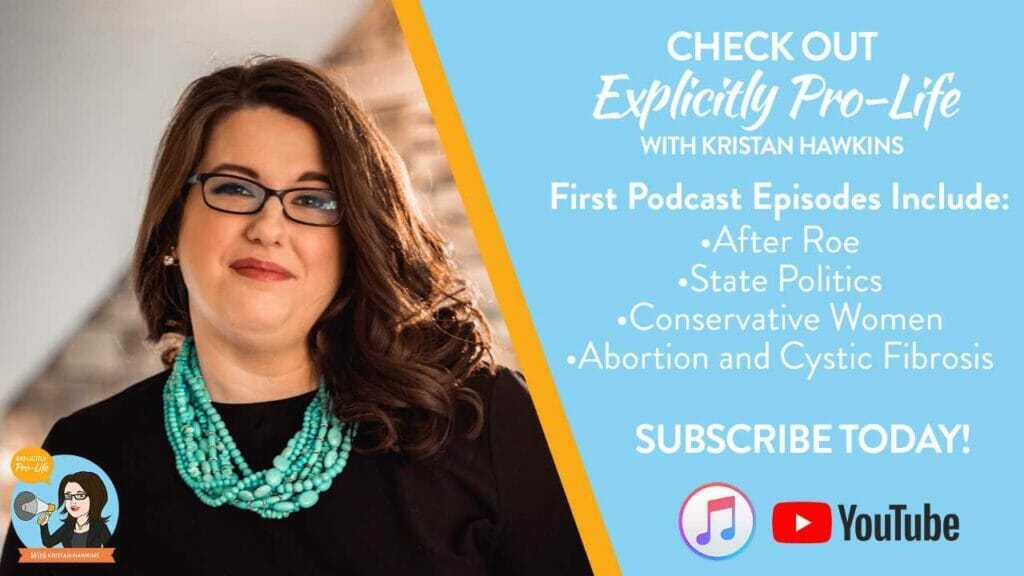 Opportunity #5:
JOIN T.A.L.K. ONLINE
This year, Students for Life of America is going to have 250,000 conversations about abortion, and we are already close to halfway there … but we are taking our efforts on-line. There are plenty of ways to continue the abortion conversation from home, even while "social distancing," using calls, texts, emails, Facebook, Instagram, Twitter, Tik Tok, and whatever else people are on these days. SFLA is getting creative with innovative tools to start a conversation. Students for Life members are encouraged to pledge and log conversations they are having in-person or online here at the TALK website. At #TALK online and for access to graphics, content, videos and visuals that can help you begin talking.
To increase conservations with young people undecided about abortion and ensure Students for Life reaches our 250,000 conversation goal for the 2019-2020 school year, Students for Life has already revealed their brand new "Ask a Pro-Lifer" website where SFLA team members are answering any questions on weekdays from 8AM to 10PM EST about abortion and the pro-life movement via text message, online chat, and email.