From the SFLA Blog
Jane's Revenge Struck Our Pregnancy Resource Center But We're Not Letting That Stop Us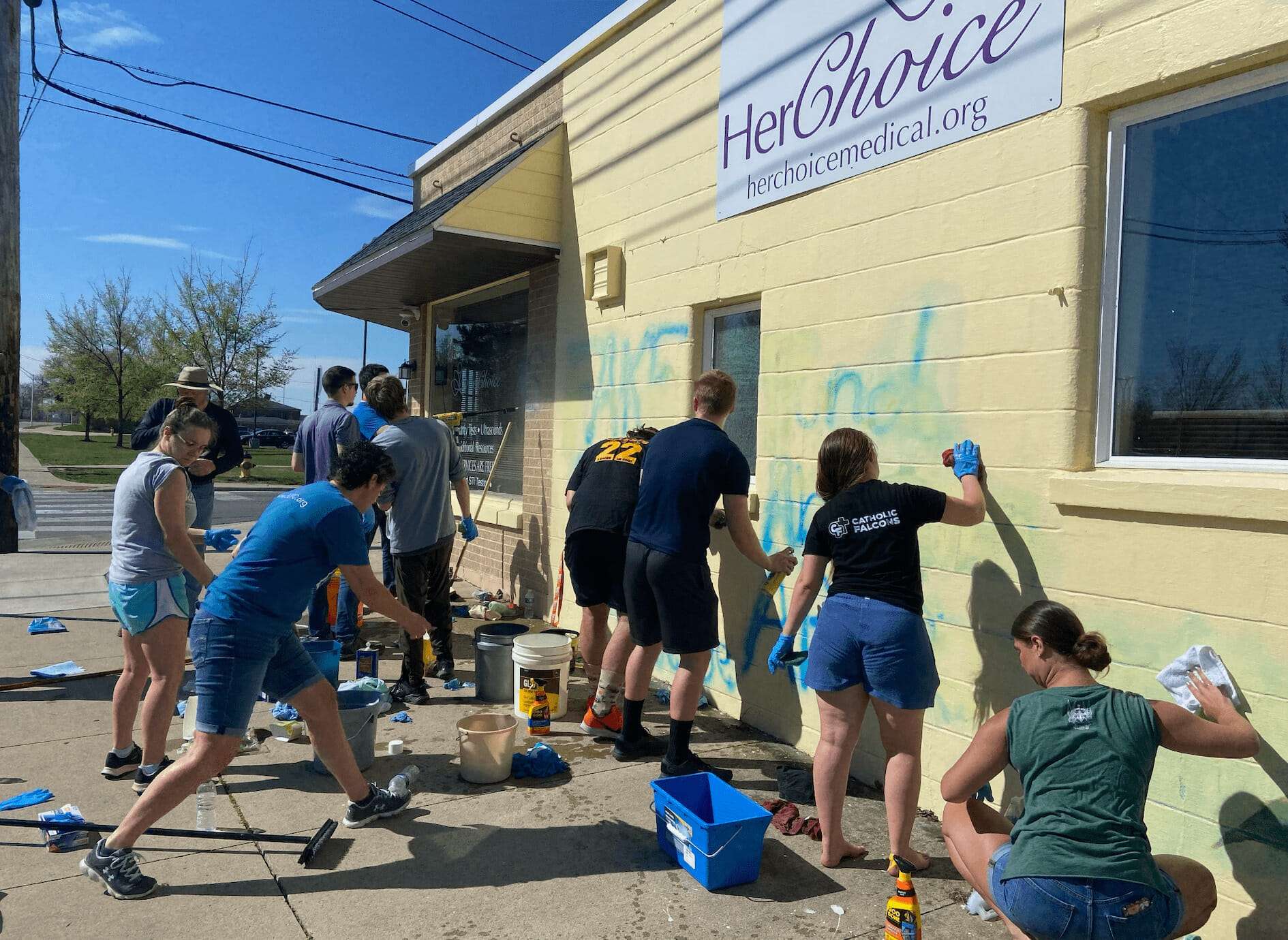 Caroline Wharton - 26 Apr 2023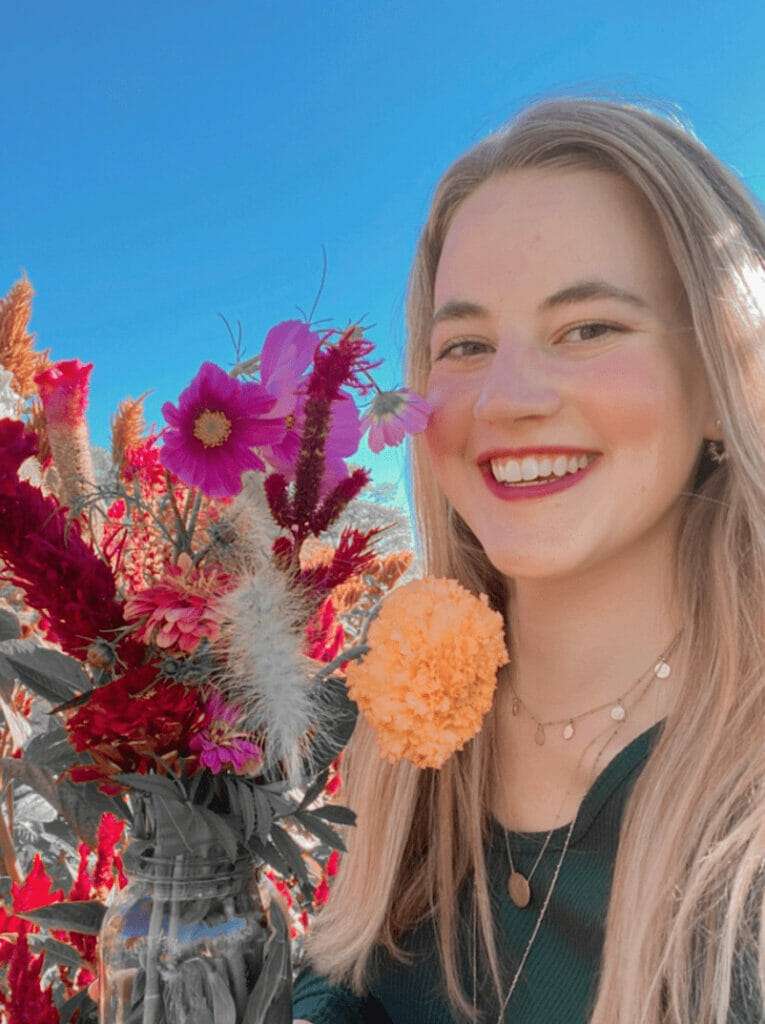 GUEST POST: In the middle of April, the pro-abortion extremist group called Jane's Revenge struck again — and per the usual routine, their action of destruction happened in the dark and to a center dedicated to helping women. This time, it was a pregnancy resource center I have volunteered at for two years, and I was struck by their lack of respect for people who are actually trying to give women the respect and help they deserve. Here's what happened:
On April 15, 2023, at around 3:30 a.m. in the morning, HerChoice Bowling Green Pregnancy Center was vandalized with ugly messages reading, "Liars," "Fake Clinic," "Fund Abortion," "Abort God," and "Jane's Revenge." Police officers saw the vandalism at around 7:00 a.m. and notified the owners — and it only took a couple hours for a coalition of pro-lifers to show up and help clean.  
Before 11:00 a.m., my Students for Life of America (SFLA) chapter at Bowling Green State University — called the Falcons for Life — were on the scene, along with representatives of the Knights of Columbus and parishioners from St. Thomas More University Parish. Armed with sponges, cleaning brushes, a pressure washer, and a plethora of other cleaning supplies, around 30 of us (with many others driving by to show their support of our efforts) worked hard to clean up the mess. After around an hour and a half, almost all the spray paint was gone, although HerChoice still needed to order yellow paint to cover up the remaining residue.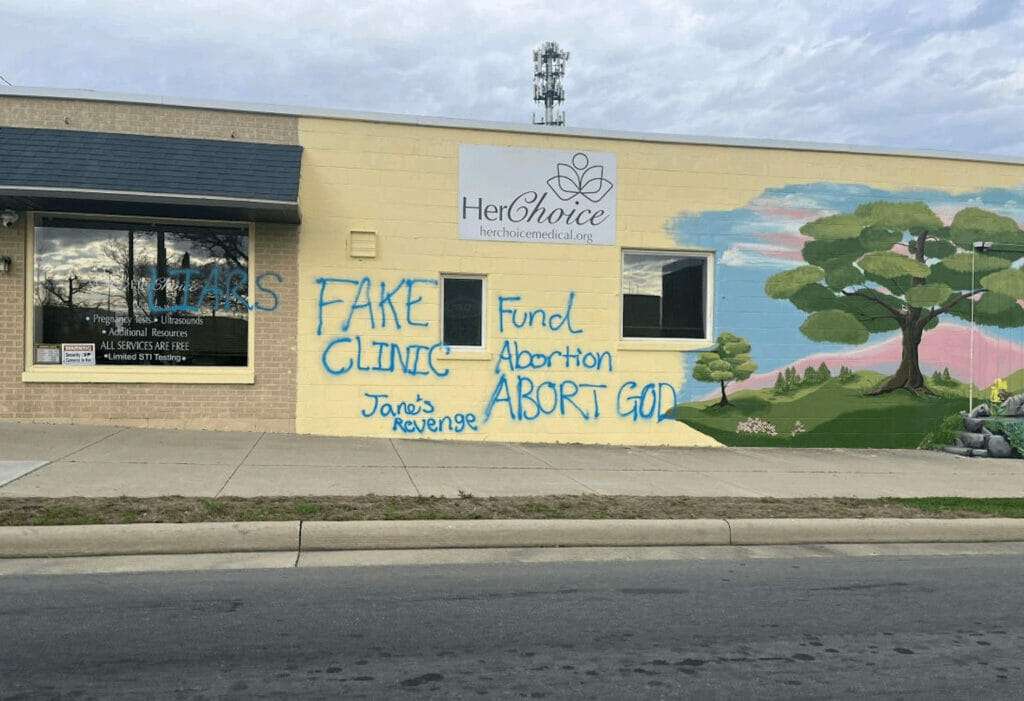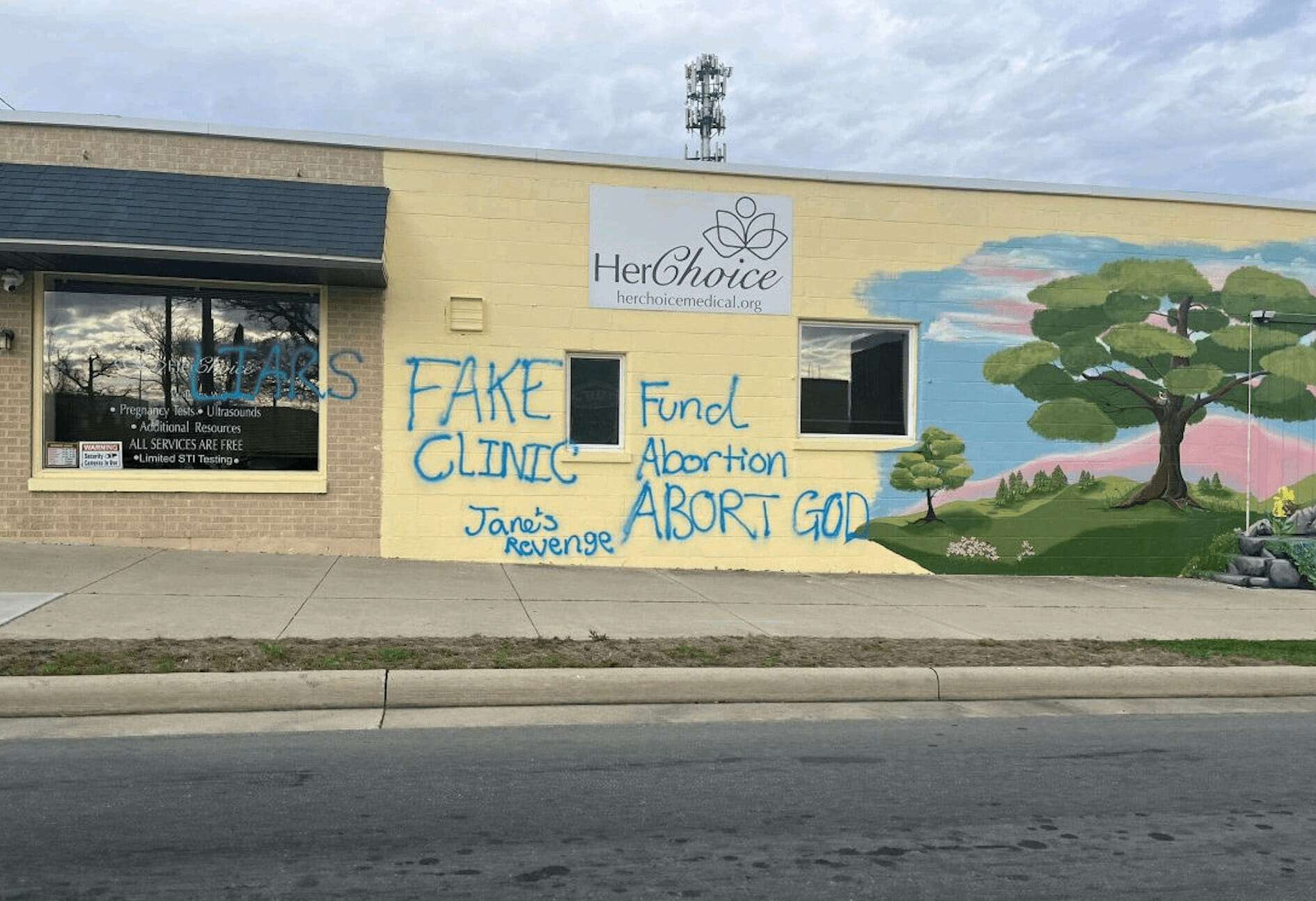 Our story very quickly made its rounds in the media. Rochelle Sikora, the Executive Director of HerChoice, was interviewed and featured in a segment on ABC News. She was also interviewed on Fox News Digital, saying:
"This vile attack is part of a nationwide movement to intimidate, threaten, and terrorize pregnancy centers. These tactics are not only anti-American, they are based on misconceptions, misinformation, and outright lies." 
As someone who has volunteered at the Bowling Green Pregnancy Center for a couple years now, I can confidently tell you there is no misinformation or lies coming out of this center. Instead, we are focused on uplifting women and the preborn by revealing the truth about abortion — and while the truth about abortion can be hard to hear, that doesn't make it false. 
It's heartbreaking but not surprising that the abortion lobby wants to deter women from going to a life-affirming center that provides free baby items, parenting classes, counseling, educational resources, and more. It says a lot about them. Clearly, they're not pro-woman and not pro-choice. Instead, they are flat-out pro-abortion and anti-women.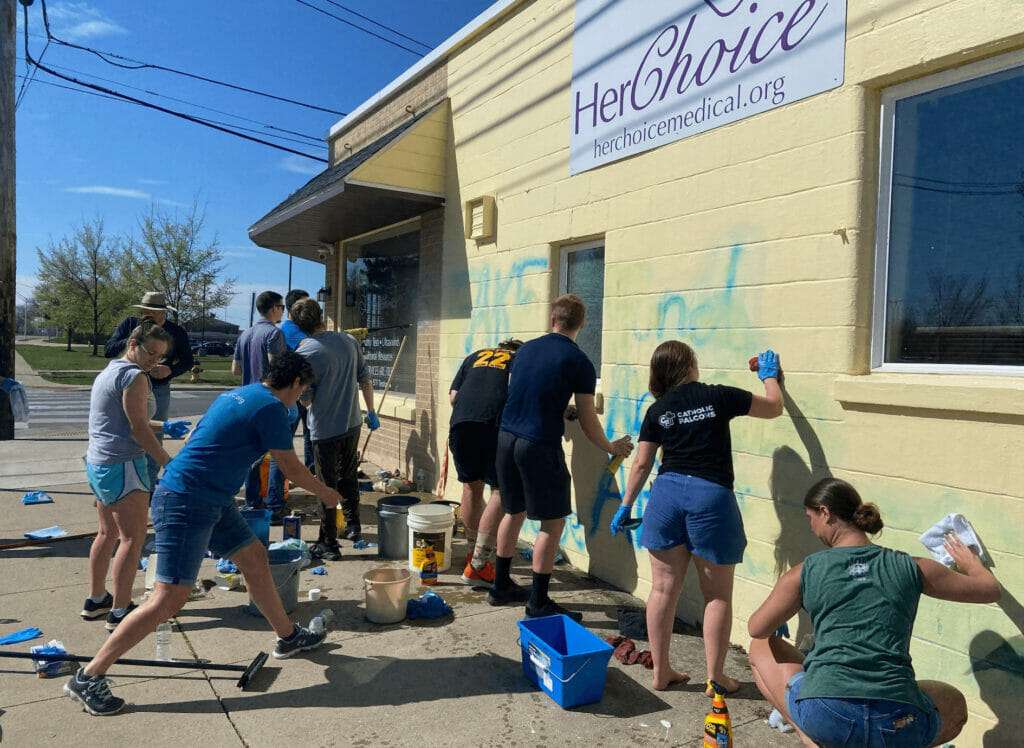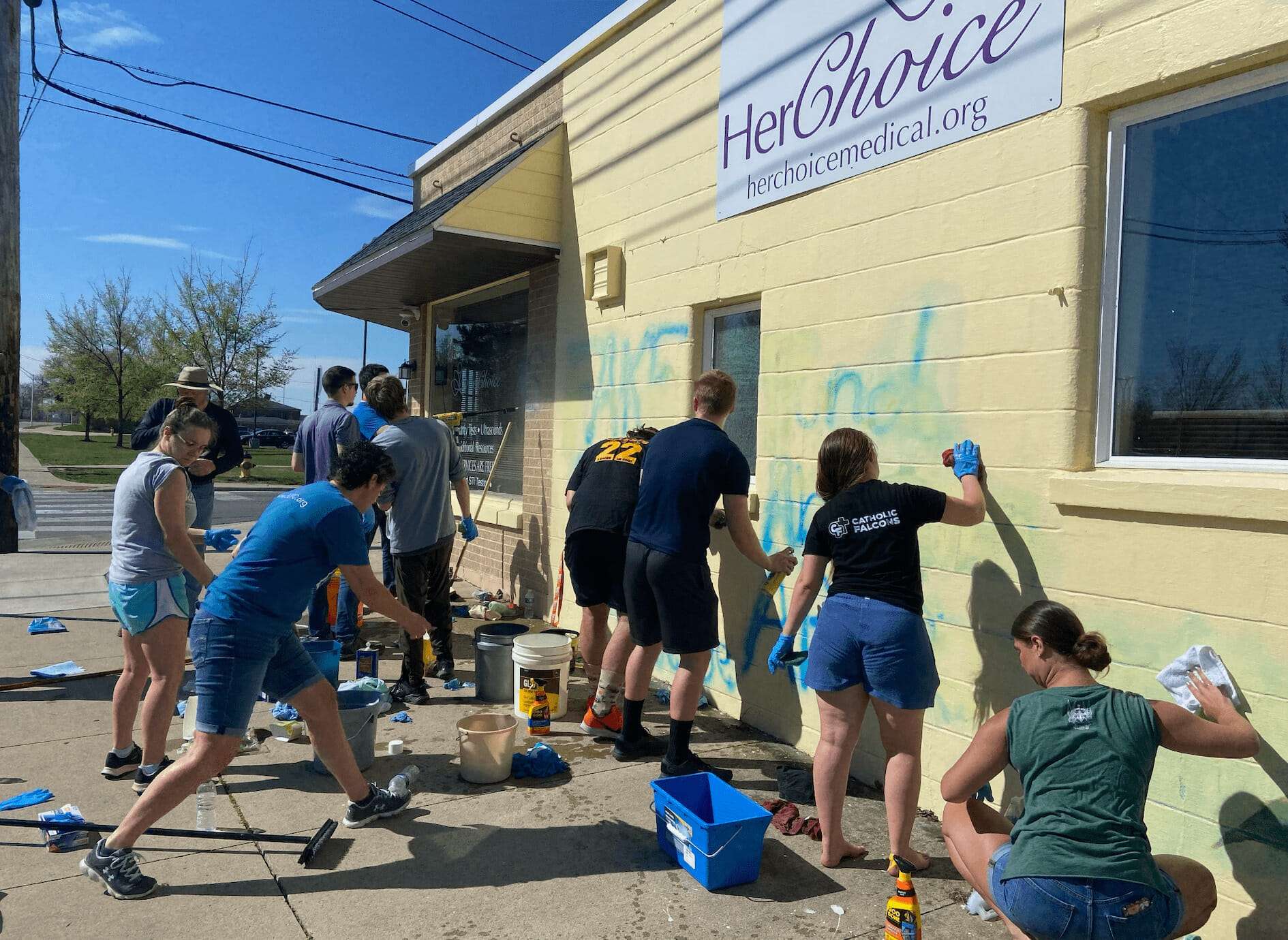 Despite there being well more than 100 attacks on pregnancy centers just in the last year, these centers, like HerChoice in Bowling Green, are more motivated than ever to continue providing free material assistance, medical services, educational resources, and all kinds of support to their clients. We are proud of how our work impacts expecting women — indeed, Sikora told Fox, "Through the network of pregnancy centers across Ohio, families have access to over $15.1 million worth of services and materials."
We will continue to provide excellent service and love to every woman in Ohio, and we look forward to justice for this situation. The perpetrator was caught on video, and the police are still investigating. Stay tuned to the SFLA blog for updates on this case.
READ NEXT: "Jesus Loves Abortion" Says Georgetown University Students in Protest to Kristan Hawkins Event