From the SFLA Blog
NEW DETAILS: Arrests Made & EMTs Called In Night of Antifa and Transgender Violence at VCU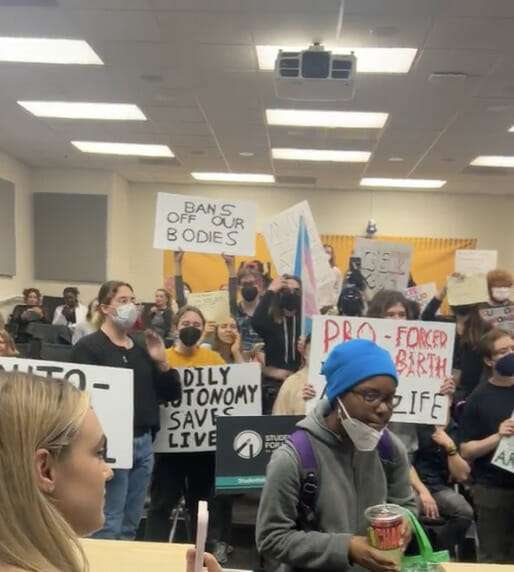 Caroline Wharton - 30 Mar 2023
Dialogue suffered an ugly death last night at Virginia Commonwealth University (VCU) when angry abortion protestors and Antifa members silenced a Students for Life of America (SFLA) event through physical violence and screaming. The event was shut down, materials and equipment were damaged and stolen, and multiple SFLA staff and students were assaulted with Emergency Medical Services called to the scene — could this have been prevented through VCU police action? Here are further details on what happened:
(Click HERE to read our press release.)
The Police Didn't Step In to Protect Free Speech
As a scheduled stop on the "Lies Pro-Choicers Believe" Tour, SFLA President Kristan Hawkins and Student Ambassador Isabel Brown's event was initially hijacked by screaming abortion supporters who refused to converse and or be quiet. They chanted 'Fascists Go Home;' 'Nazis Go Home;' and 'F**k Pro-lifers.'
Despite this, campus police refused to address the general din that prevented the event speakers from being heard, choosing to ignore the pro-abortion shouting and shoving in order to ask Hawkins to leave and stop the event. She refused, saying: "You would have to arrest me. I'm not leaving."
According to SFLA Legal Correspondent Olivia Garza, this is a pattern she's observed with the campus police. She said, "I have worked closely with VCU Students for Life all school year. This group has reported vandalisms, threats, theft, and now assaults, and yet the campus police has consistently failed to protect their free speech rights and basic safety."
As the police continued to disregard the pro-abortion upset, the screaming soon spiraled into violence.
Hear It From Those Who Got Hurt
Autumn Walser, the President of the Students for Life at VCU, was hurt to the extent that Emergency Medical Services were required. She stated: "When my group attempted to host Kristan and Isabel to speak, I had no idea that it would become extremely violent, and that I would end up getting hurt during one of the altercations. While I was recording on my phone, one of the aggressive pro-abortion protesters had to be taken out of the room by our security guard since VCU police were not helping. The protestor was kicking and resisting so aggressively that I ended up getting shoved full force into a table against the wall.
"While in intense pain, I limped to a safe room where I discovered a golf ball size welt and a growing bruise on my leg. We called the EMTs to examine my leg to see if I needed to go to the hospital. Thankfully, they confirmed that it was not broken but told me I have severe bone and muscle bruising, as well as swelling."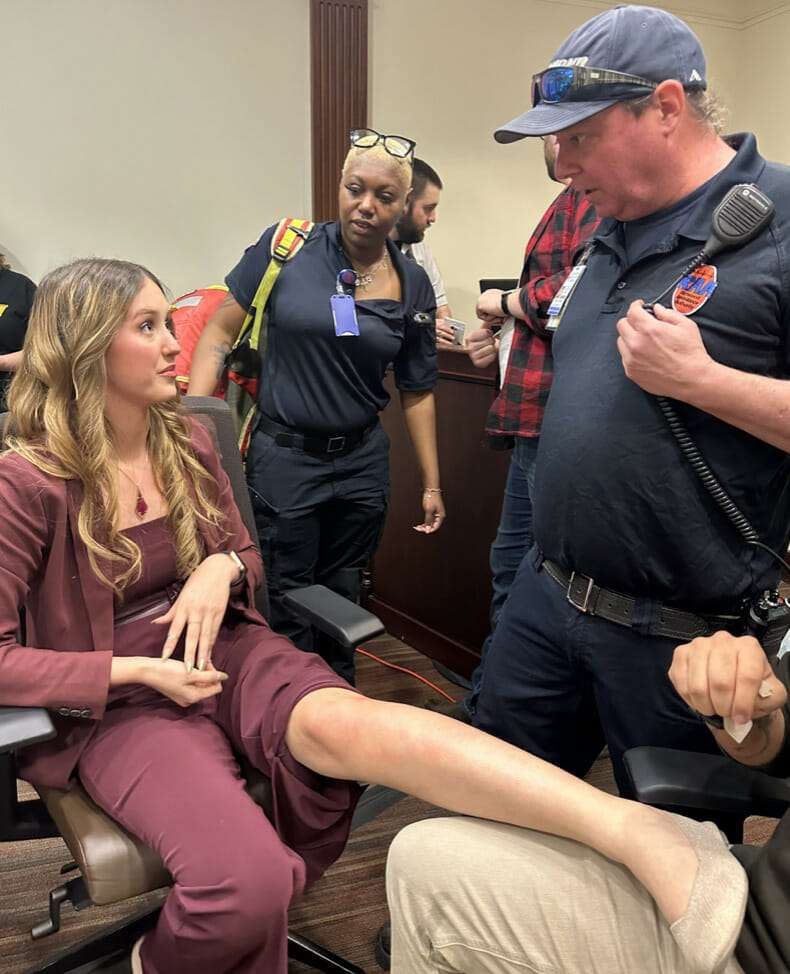 SFLA Documentarian Kevin Feliciano was also assaulted and pressed charges. Present at the event to film just as he does on campuses across the country, he was interrupted by a protestor who was mad at him for just doing his job. Feliciano said:
"I was in the room filming the event when one of the protestors who was shouting at Kristan Hawkins and Isabel Brown saw me and walked over. He said, 'What are you going to do? Going to dox us?' I asked, 'What?' — and then he swung his megaphone at me, hitting my camera and hand. When he hit me, our security and the police took the person out of the room and arrested them. I was taken out of the room, as well, to be questioned about the attack, and I was able to show the police officers footage of the attack that confirmed my story. I pressed charges immediately."
To learn about two arrests made due to pro-abortion violence, click HERE.
Antifa Previewed the Event:
The domestic terrorist group Antifa knew Hawkins and Brown were coming to campus — one self-proclaimed member posted about it on Twitter with a selfie in front of a ram statute to make him "look like a baphomet" (a goat-headed pagan god used symbolically with the Church of Satan, as well as The Satanic Temple).
Identified by his Twitter background as an "activist, supporter, and adherent of ANTIFA," he was upset that Hawkins had asked the police to calm the "unruly crowd." After all, how dare she want to be given the chance to speak when she was actually invited there to speak — the audacity. And how dare she ask the VCU campus police to provide a safe environment for discussion when their own department mission statement is to "provide a safe and secure…environment"— it's just too much to ask.
What Are We Doing About It?
Since we don't feel confident in protection from campus police, we're ensuring that the student president Walser has security for the rest of the semester on campus. We want her safety guaranteed — but we're not letting VCU off the hook entirely. We're also currently in discussion with our legal counsel, considering what actions need to be taken to rectify the situation at VCU.
For updates on this story, stay tuned to the SFLA blog.
READ NEXT: New Wall Street Journal Poll Highlights How Abortion Mentality Has Harmed Our Country's Values