From the SFLA Blog
Kristan Hawkins Remarks at the No Woman Stands Alone Press Conference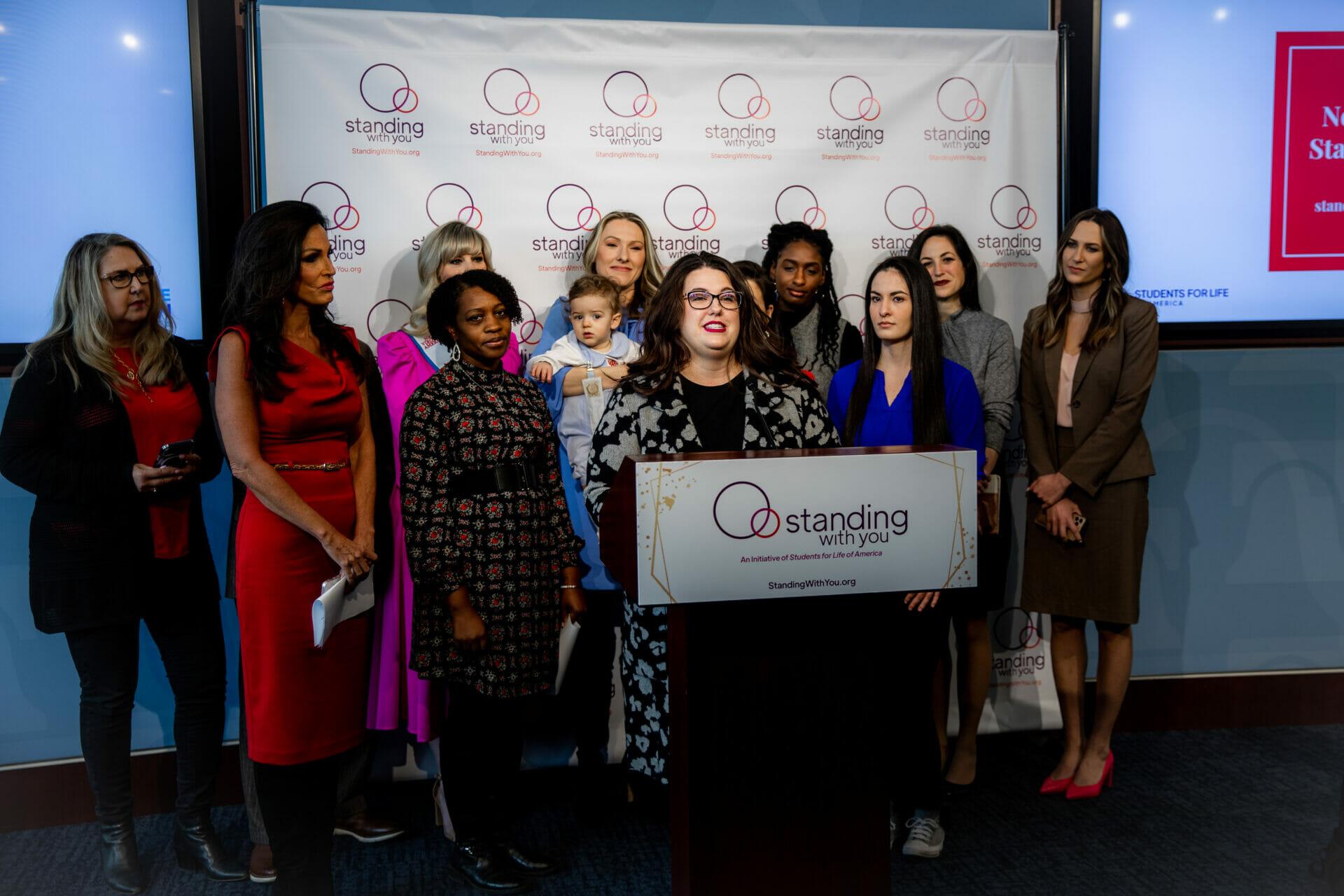 Caroline Wharton - 15 Feb 2022
On this Valentine's Day 2022, we gather to say that pro-life is pro-love, and love looks like caring for women and children in need. The shared goals of those of us here, every signee on our open letter to women, and the pro-life movement as a whole is to ensure that no woman in an unexpected pregnancy stands alone, and every woman in crisis is connected to the life-giving, non-violent alternatives to abortion available in her area.
These alternatives to abortion have been operating in communities for decades, without government funding. Now, on the precipice of the historic Dobbs v. Jackson decision, we are doing all we can to promote these resources to the women they seek to serve. Our goal is to help women connect with real people who understand what an unexpected pregnancy feels like, people who know first-hand that peer-to-peer support can be priceless, and people who empower women to choose both their child and their dreams.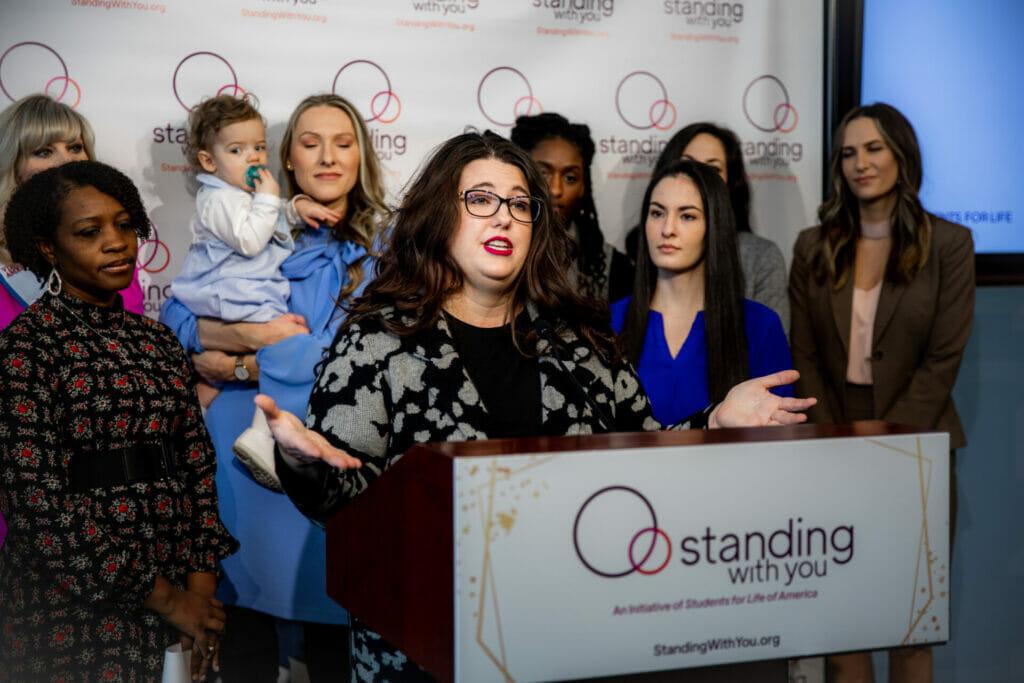 In a recent Students for Life Demetree Institute for Pro-Life Advancement poll, Millennials and Gen Z said that services for women are what they are looking for in a post-Roe America, with 8 in 10 asking to vote on life-related issues. In fact, 7 of 10 Americans overall want limits on abortion. And as we protect life in law, we will also work to protect life in service. But the sad reality is that we know through Students for Life's Campaign for Abortion Free Cities nationwide door-knocking efforts nearly 72% of Americans cannot name their local pregnancy resource center. In a Post-Roe America, that must change.
Today you will hear from some amazing leaders, who I am so grateful to for joining today. But first I want to unveil our StandingWithYou.org site.
Our home page is beautifully designed to welcome women into the site. No political messaging. Simply that you are not alone. There is a chat feature right away, that connects a user directly with Heartbeat International and a real person. We have a way to call or text for help immediately. In the navigation bar, you'll also see drop downs for resources for pregnant women, parents, your rights on campus, and ways to become an advocate to help women even more. Simply enter your zipcode and see the list of resources near you.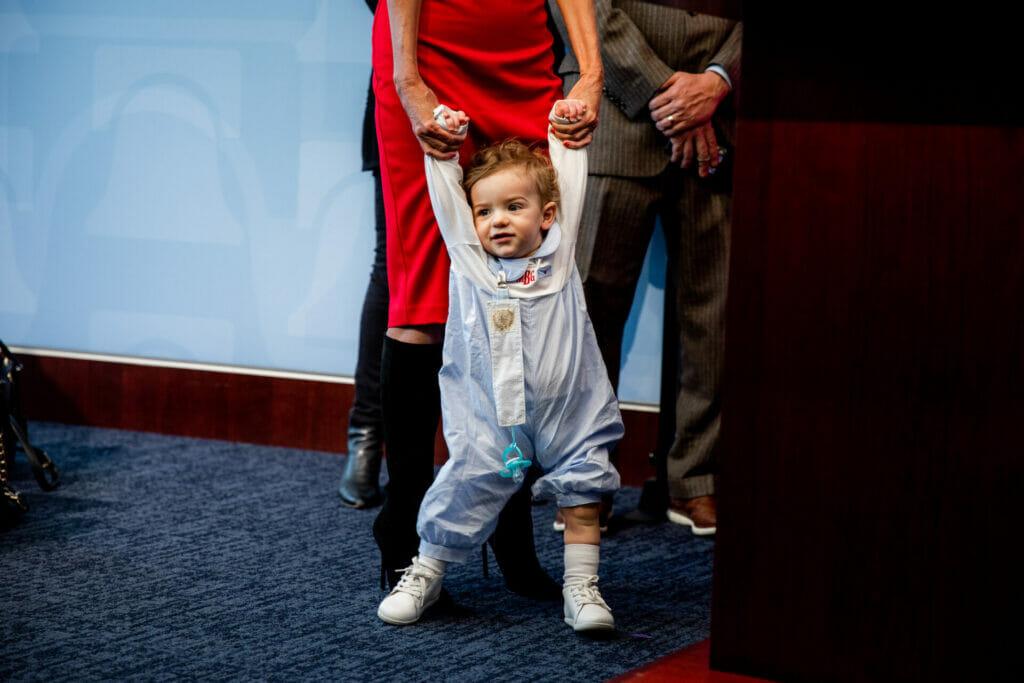 We continue to work to connect women to immediate human help…. And then show powerful stories of women who were able to choose life and continue their education or work because people like us here Stood with Them. Today you will hear powerful stories of choosing life because of support from organizations and communities ready to help.
We also have easy access buttons to learn more about your rights as a pregnant or parenting individual…..how to create additional support on campus….and supportive information to encourage users as they stand together. In the workplace, we want to ensure women know about the Family Medical Leave Act, The Pregnancy Discrimination Act, and Title 7 of the Civil Rights Act.
Our campus resource page shows ways to connect with PRCS – and encouragement on how to affect positive change on campus. We've seen countless times schools have policies that discourage keeping your child and finishing your education. We are working and have seen success in advocating for better policies on campus. It also provides resources about Title 9, which ensures that any school (e.g. high school) or university that receives federal funding cannot discriminate against students who are pregnant and/or parenting. Most students are simply unaware of their rights on campus and we are here to help educate and protect.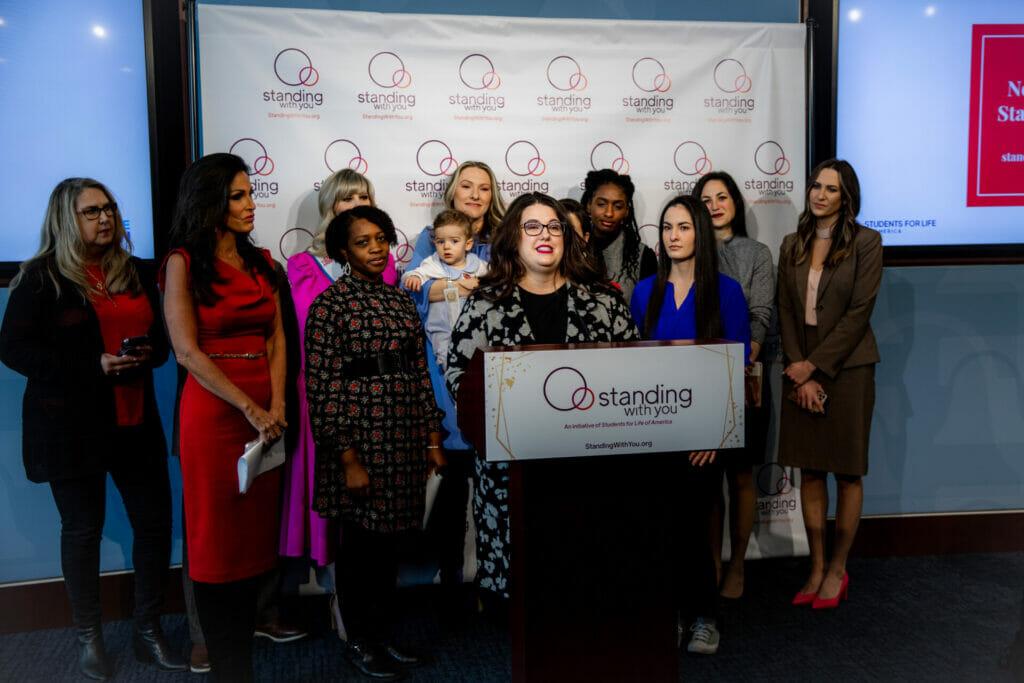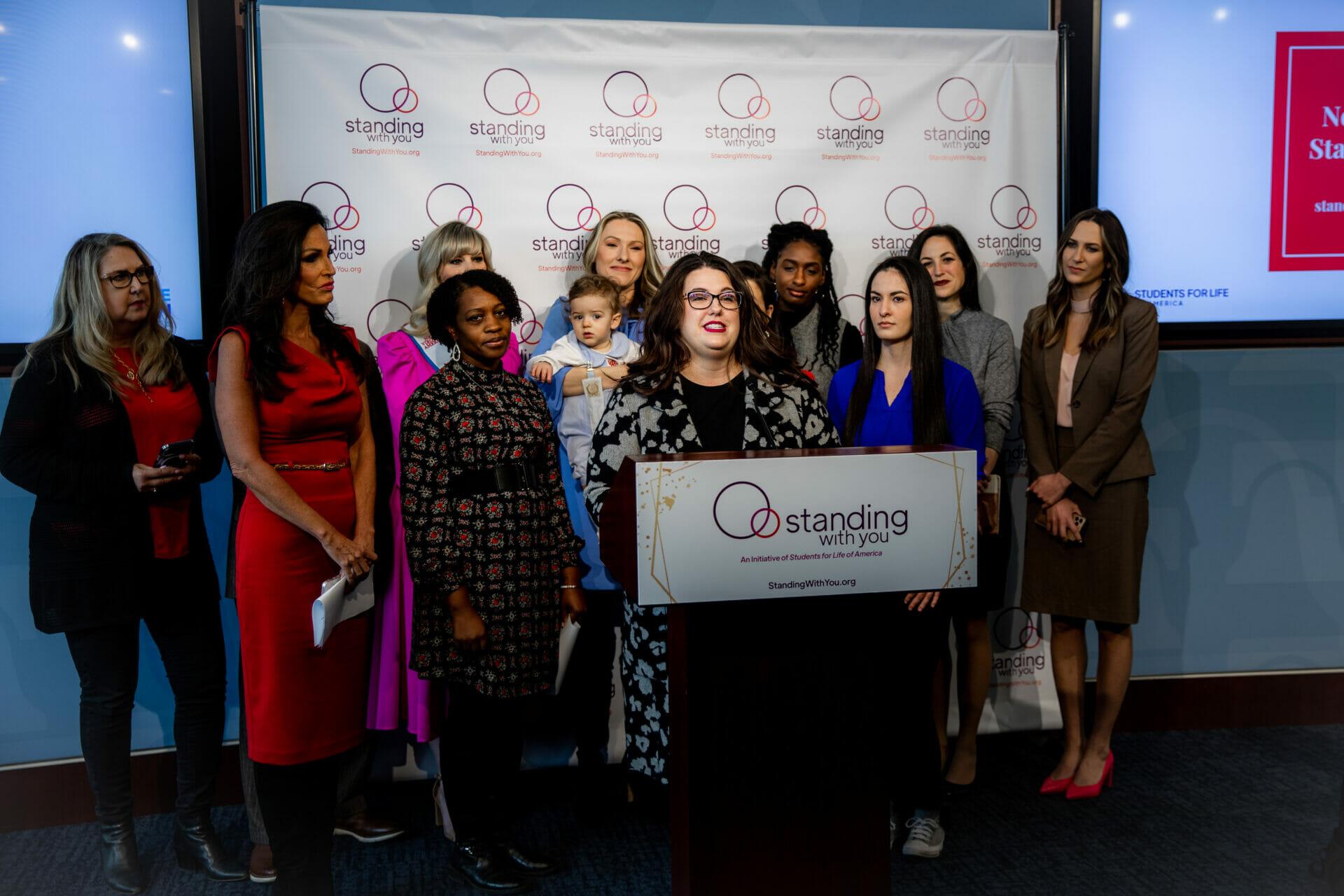 Our "You are Not Alone" tab continues to provide encouraging blogs, resources, and stories to help foster an environment of conversation and togetherness in this new journey. Today, on that page, we are encouraging Americans to add their name to a powerful open letter to women, published at National Review and on our website committing to using resources like these to help empower women and families. Notable names include Ben Watson, James Dobson, Allie Stuckey, Kristen Day of Democrats for Life, and many more.
The homepage wraps up by making sure people can continue to stand with women – providing a few examples of what we are doing in terms of policy work to help stand with women. SFLA is working on pro woman policy work that encourages campuses to better support women and parenting individuals
We also have our new line of Standing With You/No Woman Stands Alone merchandise for our student leaders and national activists in the movement to wear on campus, in churches, and communities nationwide.
I am so excited for what the movement has built out and my team has compiled for women. We are actively working to lower the barrier to entry into care service systems.
To learn more about the press conference, click HERE.
To learn more about Standing with You, click HERE.