From the SFLA Blog
Abortion Supporters' Ironic Accusations at This Christian School and Beyond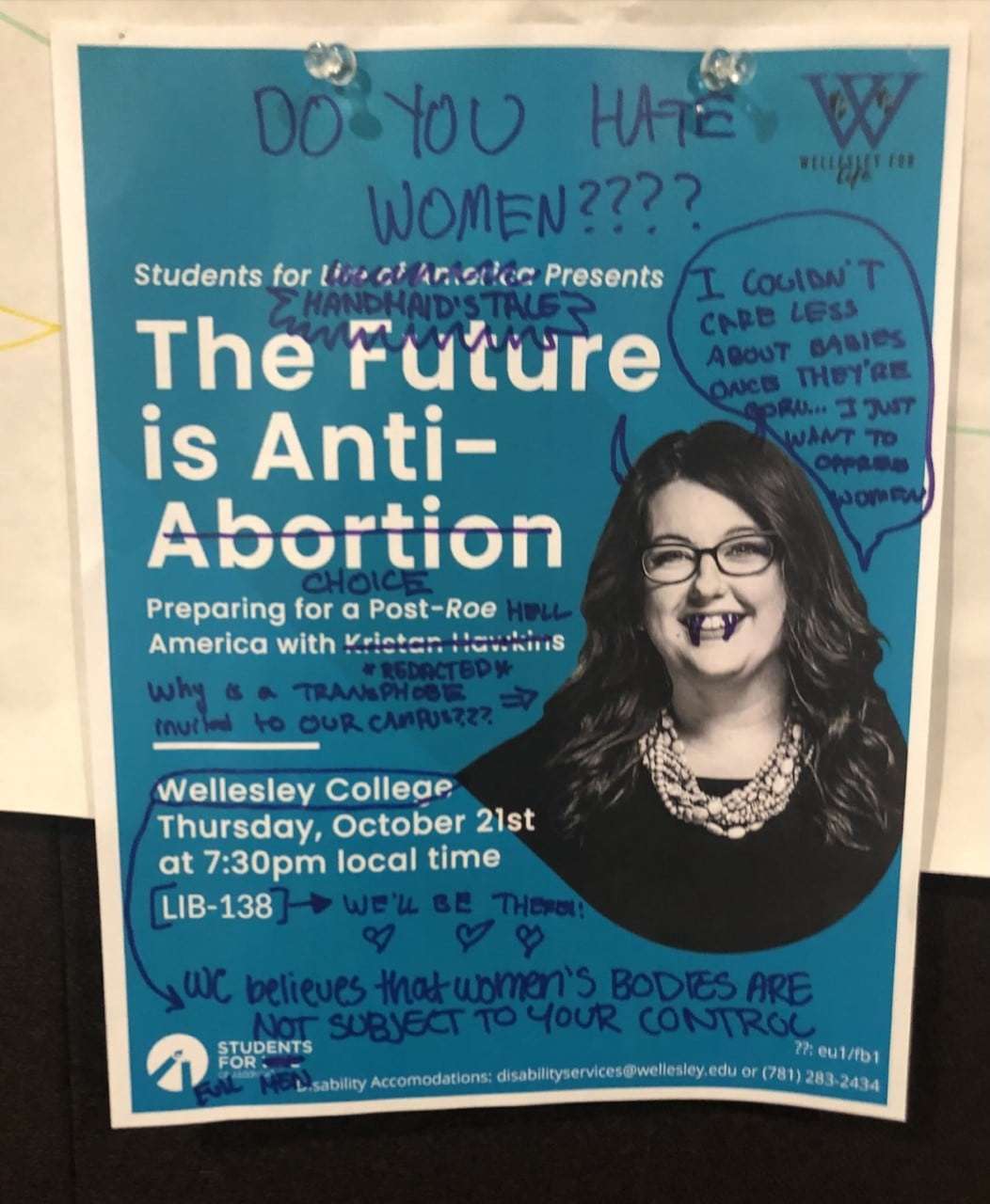 Caroline Wharton - 28 Oct 2021
Students for Life of America's 2021 fall tour has started off with a bang- and a bit of irony. The tour, entitled The Future Is Anti-Abortion: Preparing For A Post-Roe America, features SFLA president, Kristan Hawkins, as she discusses the game plan needed to reverse the Roe v. Wade decision. This tour promises to be an interesting one, and the first stop at Wellesley College did not disappoint.  
After hearing news of Hawkins's upcoming speech on the Massachusetts campus, Wellesley students called for Hawkins to be barred from campus, as they also discredited her with hostile misinformation. Event posters were vandalized with accusations and crude drawings, showing Hawkins with fangs and devil horns. A document, which called Hawkins "ableist" and "racist," was circulated on social media with the names of over 700 Wellesley students who were unhappy with the Wellesley administration's decision to allow Hawkins to speak on campus. It has since been changed to a private setting. An article was also published in the Wellesley student newspaper, making the same erroneous claims about Hawkins.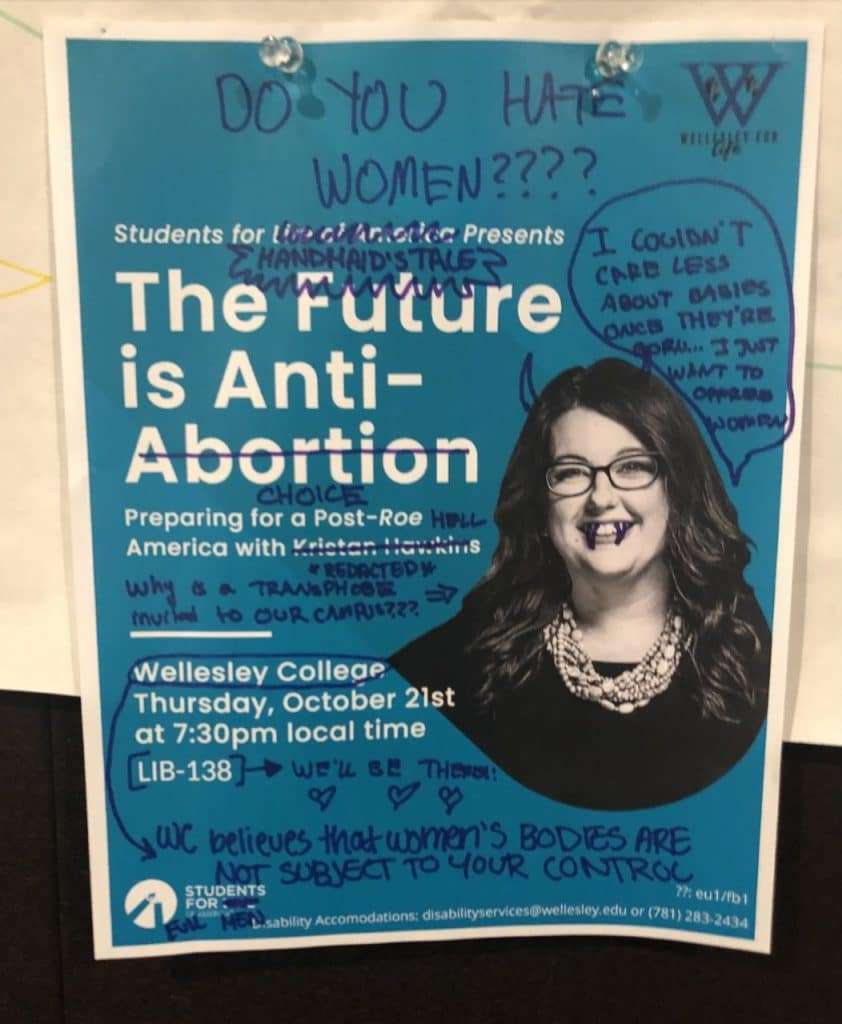 Despite the students' attempts to silence, intimidate, and keep her off campus, Hawkins did not allow the Pro-Life Generation's voice to be suppressed and went through with her speech at Wellesley. While presenting to the students, Hawkins made the point that there was so much hypocrisy and irony to their protesting.  
Her point was not limited to the Wellesley audience. It extends to every abortion supporter who has ever tried to undermine the Pro-Life Generation by calling us "racist," "ableist," "uncaring," etc. There is such extreme paradox and projection in these accusations, and the Pro-life Generation needs to understand this in order to fight it: the abortion industry is hypocritical. Here are three reasons why:  
1. Abortion is ableist.
Preborn children are people who, depending on their stage of development, cannot speak, facilitate brain activity the way we do, survive on their own, and many other physical feats that born people can. But their differing physical abilities don't mean that preborn children are not alive and should not be equally valued as human beings.
Their inability to express themselves in the same ways older children do allows for them to be trampled on by the abortion industry. In this way, the abortion industry capitalizes on the inability of preborn children for their own benefits. Who's really the ableist here? 
2. Margaret Sanger, the founder of Planned Parenthood and for whom a Wellesley library room is named, was a racist.
When Hawkins went to speak at Wellesley, she discovered that the school actually has a library room named after and honoring the infamous eugenicist, Margaret Sanger. It has been well documented that Sanger was a white supremacist. In her autobiography, she wrote about attending and speaking at a Ku Klux Klan meeting. Sanger also wrote positively about eugenics, writing,  
"The gradual suppression, elimination and eventual extinction, of defective stocks — those human weeds which threaten the blooming of the finest flowers of American civilization." 
Sanger also started a controversial project, called the 'Negro Project,' that aimed birth control at Black women in order to control the population size of Americans she deemed unfit to live. In a letter to a friend about the project, Sanger wrote,  
"We do not want word to go out that we want to exterminate the Negro population, and the minister is the man who can straighten out that idea if it ever occurs to any of their more rebellious members."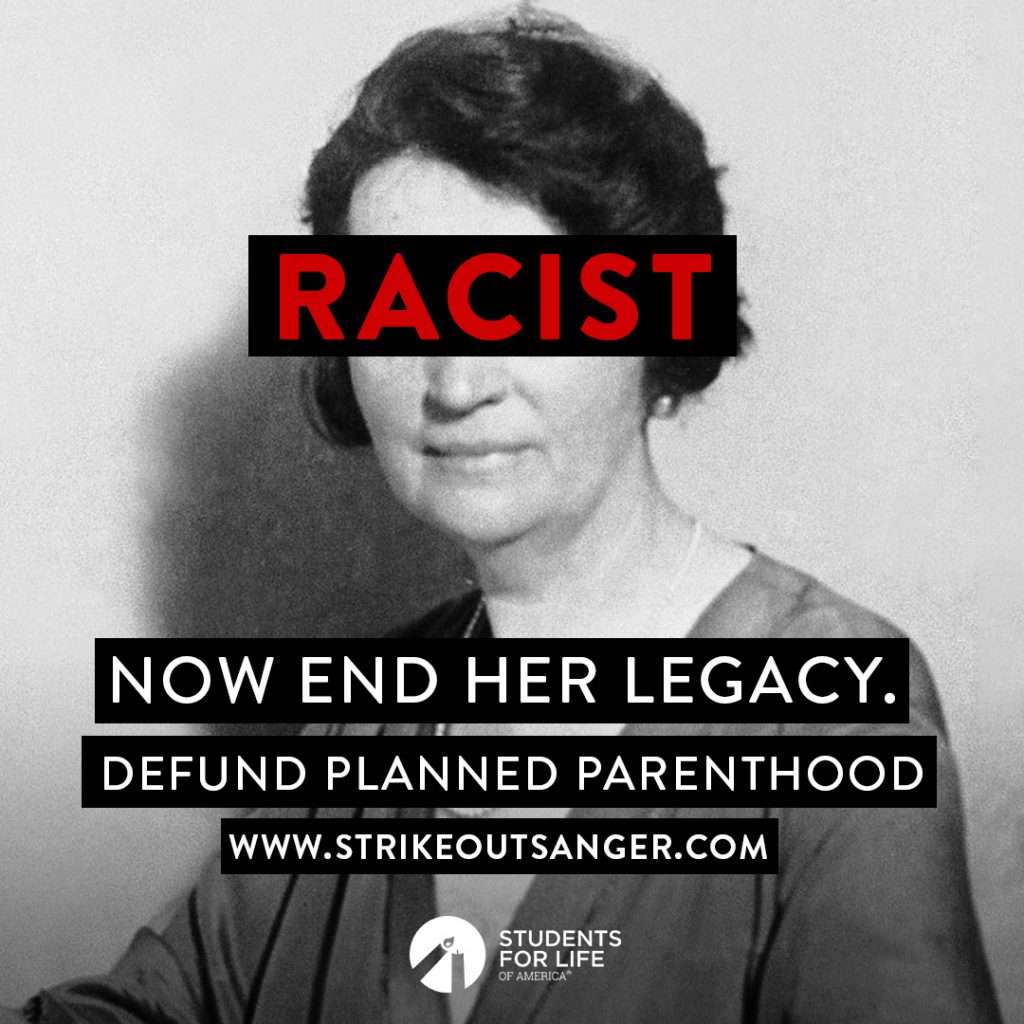 Additionally, Sanger worked to have abortion facilities in the heart of Black communities, beginning with Harlem in New York. This plan would effectively target and kill generations of Black Americans. Planned Parenthood, the brainchild of Sanger, continues this practice today, as the organization takes advantage of vulnerable communities, killing their children and pocketing their money in exchange. Instead of owning up to the racism of their founder, Planned Parenthood also makes excuses for her racism. So, who's really the racist?  
3. The abortion industry and Wellesley won't support pregnant students.
Abortion supporters, despite telling the pro-life movement that "they don't care about children after they are born," don't really support pregnant women at all. Planned Parenthood, which likes to call itself a "women's health organization," has scarcely any resources or information available for pregnant women or mothers. They do, however, have a large arsenal of misleading information on abortion in order to encourage women that abortion is the only option. This information includes a warning from Planned Parenthood about Pregnancy Resource Centers, organizations which exist for the sole purpose of helping pregnant women. Not content with only Planned Parenthood not helping pregnant mothers, Planned Parenthood doesn't want anyone else to help them either.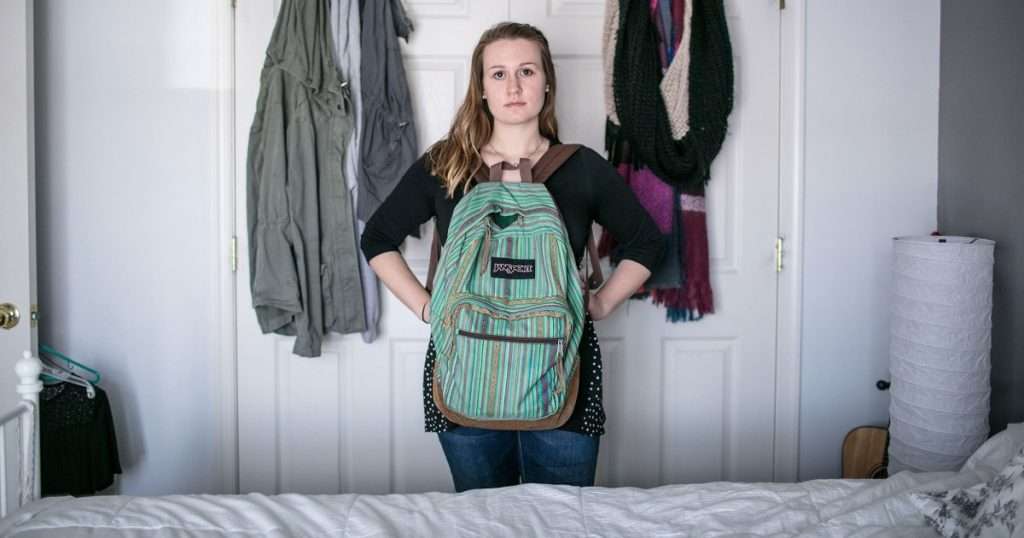 Wellesley also contributes to this problem by having a record of discrimination against pregnant students. The school has a shameful history of forcing pregnant students out of campus housing. By having policies in place which do not support pregnant students, female students may feel as though they must have an abortion in order to continue on with their lives and education. So, who really doesn't care about pregnant students and their babies? 
In contrast, the Pro-Life Generation believes in women and their children.
That's why SFLA and other pro-life organizations offer countless resources to pregnant women, mothers, and their children, like SFLA's initiative Standing With You. It's also why Hawkins continues to speak at college campuses, despite being continually harassed. Hawkins wrote:
"I cannot overstate the importance of having face-to-face conversations about abortion in our communities, on campuses, and in our churches. This is why we make sure my speaking tours happen."
Her mission— and the Pro-Life Generation's mission— is to eradicate abortion, no matter how hard the fight gets. The speaking tour must go on!  
Find Kristan's next stops on The Future is Anti-Abortion tour HERE.