From the SFLA Blog
Police Forced to Protect Pro-Life Students from Enraged Women's Marchers in Chicago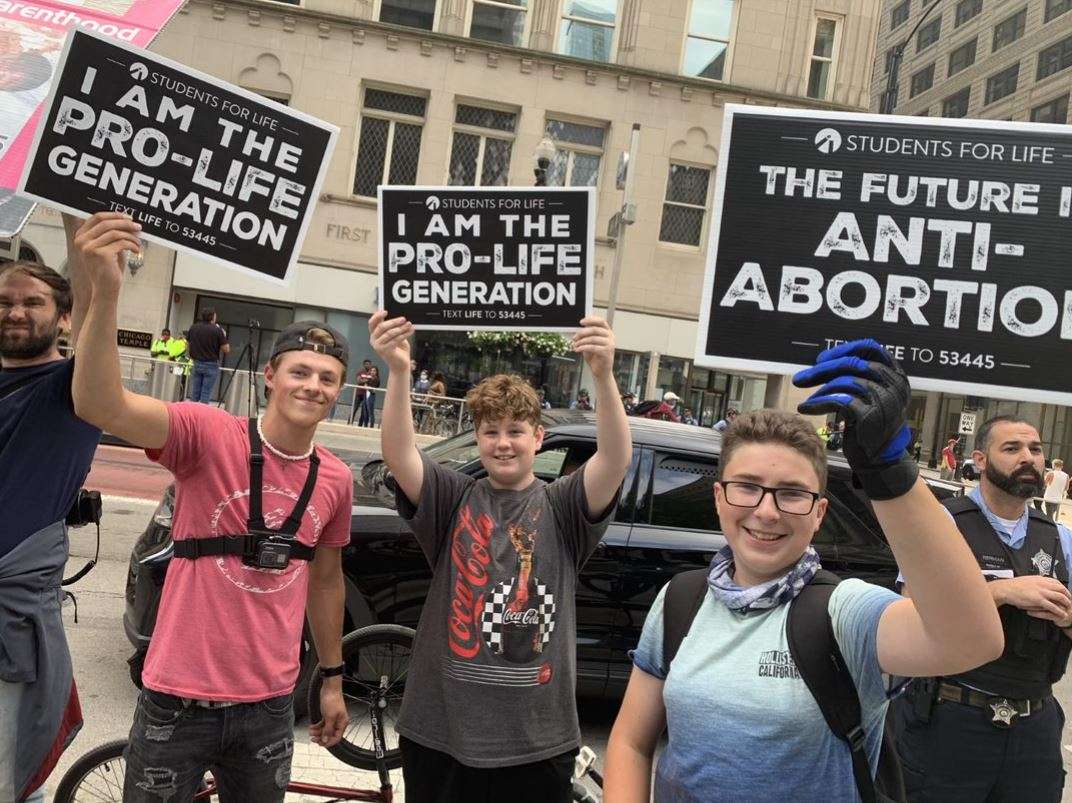 Brenna Lewis - 19 Oct 2021
On October 2nd, Women's Marches (many re-named "Rallies for Abortion Justice," which is a lot more honest) descended upon many cities, bringing with them overtired abortion rhetoric and even violence towards pro-life attendees. The fearless Pro-Life Generation attended the events in 24 different cities nationwide to supply a much-needed pro-life voice. In fact, just shy of 700 members of the Pro-Life Generation showed up nationwide. 
Read more about why we countered these events here. 
Click each image below (discretion advised) to see some of the signs we saw Women's Marchers carrying… 
In Chicago, SFLA's Veronica Lamlech gathered local students and community members to share the truth: abortion betrays women and women's rights are not paid for with the blood of our children. At its essence, abortion is profoundly anti-women. Veronica shared her account of the experience… 
A Message of Love in a Sea of Hate
"This was my first time attending a Women's March. I knew they would hate us. I knew they would cuss and scream. I was ready and I was prepared. I had a team of four joining me and a fire to stand up for truth.
As we approached the event, we scoped out the space amongst the Women's Marchers before proudly unzipping our jackets to reveal pro-life shirts and unrolling our huge "Abortion Betrays Women" sign. I was immediately told that "I didn't know what I was talking about" and that we were idiots. Women called us names and cussed at us, trying to cover up our sign.
Shortly after, the police had to escort us to a safer spot. After all, this was no  Women's March. These events had one agenda: abortion. As we moved to our safer spot, Women's Marchers hissed at us: "The Satanic temple can save you – it's not too late," and "I'm sorry that you have not experienced good sex and fetus deletus."
After an hour of peacefully standing and rallying there, we encountered four more pro-life advocates who joined us in holding our "Abortion Betrays Women" sign LOUD AND PROUD!
This further enraged the pro-abortion crowd. In fact, I've never encountered such rage. The worst part was seeing women who brought their children to this abortion march and made them hold signs while they yelled and screamed at us to "stay out of their vaginas."
At the end of the day, being pro-life is being authentically pro-woman. We were not there to yell or scream but to have conversations and peacefully share the truth. Abortion DOES betray women.  Abortion is the biggest human rights issue of our time. And until women and men start realizing that abortion hurts everyone, they will continue to lash out in anger. Overall, I was really proud of our presence there. A woman came up to us after it was all said and done and said, "Thank you. Thank you for standing up for life." We never know what our presence can do for one person.