From the SFLA Blog
Local News in Naples Says Pro-Lifers "Took Over" the Pro-Abortion Women's March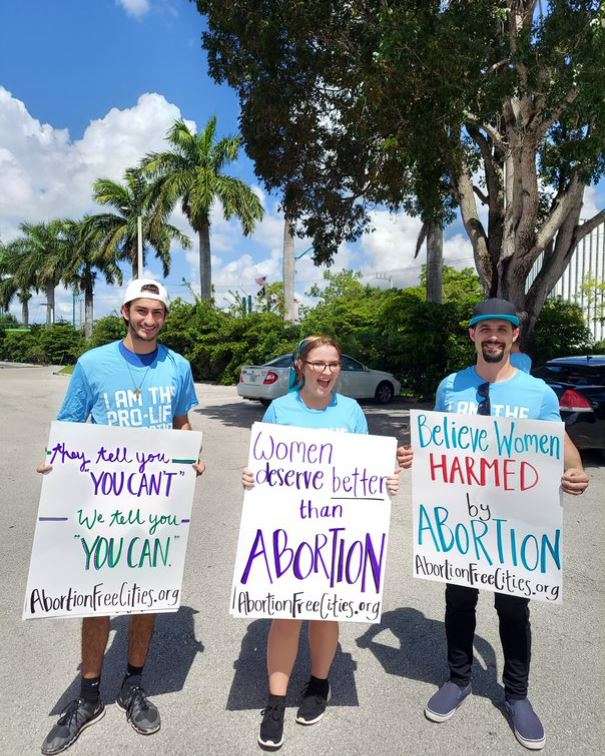 Brenna Lewis - 07 Oct 2021
On October 2nd, Women's Marches (many re-named "Rallies for Abortion Justice," which is a lot more honest) descended upon many cities, bringing with them overtired abortion rhetoric and even violence towards pro-life attendees. The fearless Pro-Life Generation attended the events in 24 different cities nationwide to supply a much-needed pro-life voice. In fact, just shy of 700 members of the Pro-Life Generation showed up nationwide. 
Read more about why we countered these events here. 
Click each image below (discretion advised) to see some of the signs we saw Women's Marchers carrying… 
In Naples, Florida, SFLA's Andy Secola gathered local students and community members to share the truth: abortion betrays women and women's rights are not paid for with the blood of our children. At its essence, abortion is profoundly anti-women. Andy shared his account of the experience… 
The Naples Women's March
"As we approached the Women's March at the Naples courthouse, we saw about 30 people or so advocating for abortion with signs, Handmaid's Tale costumes, megaphones, etc. We had about 20 Naples community members with us, and about 35-40 students from Ave Maria University. Initially, the abortion supporters tried to block us from getting in front of the courthouse, but the students were persistent.
We ended up going around the side and made it to the top of the steps and our presence was now known. We started our peaceful protest with chants such as "We are the Pro-Life Generation", "Roe v. Wade has got to go," "Pro-Life Pro-Woman," and even the national anthem.
The police officers there, who were very supportive of us, helped our students feel safe as we continued to peacefully protest. We got yelled at, pushed, had signs shoved in our faces, and one of our female students was even elbowed by an angry female abortion supporter! Despite all this, we remained peaceful  and open to conversation. Sadly, other than two decently civil conversations while we were trying to interview people, the rest of the "conversations" were really just abortion supporters yelling at us.
The news reporter present asked us how we felt that our presence "took over" the Women's March, which was really gratifying. The Pro-Life Generation showed up strong and showed the world that Naples, Florida, wants to be an Abortion Free City."
Want to get more involved in Florida's pro-life work? Email Andy.