From the SFLA Blog
We Went to Pro-Abortion Marches and Helped THREE Pregnant Women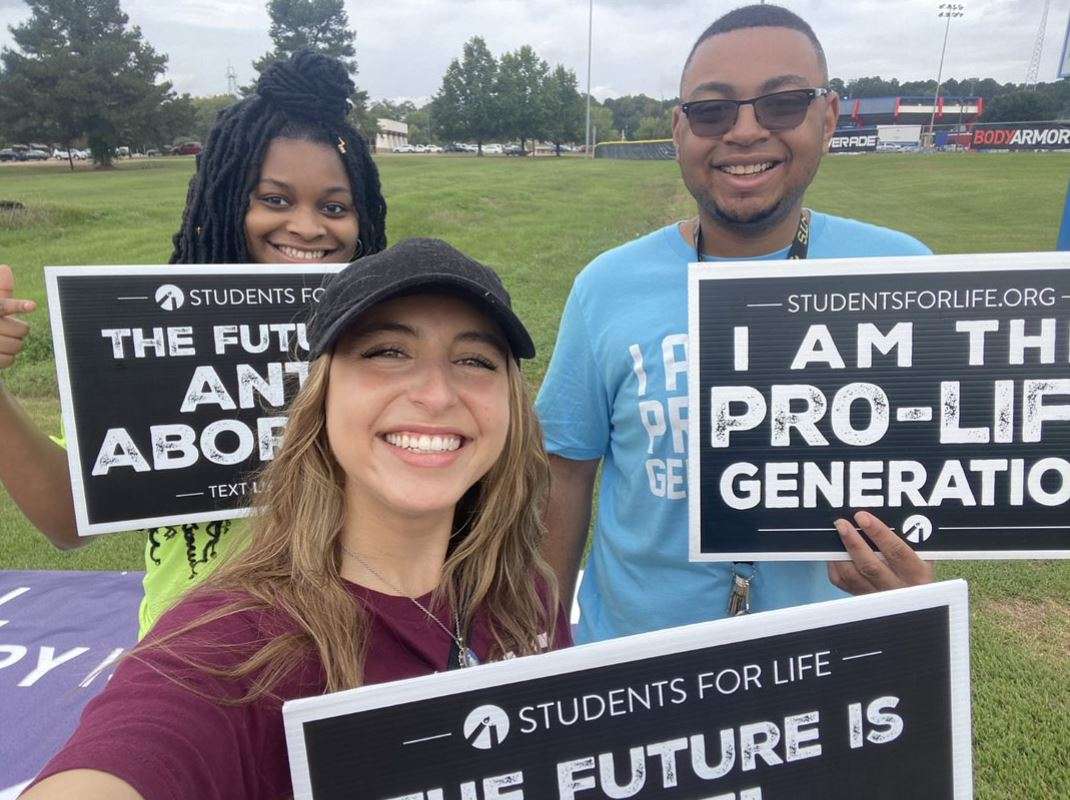 Brenna Lewis - 06 Oct 2021
The Students for Life team countered Women's Marches nationwide on October 2nd. Unfortunately, an unprecedented amount of violence was directed towards us and the students we serve… but it wasn't all bad. Despite a heavy load of negativity, we're happy to report a few mamas helped and even some minds changed about abortion.
Amidst Chaos, Three Pregnant Women Helped
At two different Women's March locations, in the middle of the counter-protesting chaos, our team was actually able to help at least three pregnant women by offering them real help with their pregnancy and parenting journeys.
In Allentown, Pennsylvania
While several members of the Students for Life group were paying for parking, a young woman turned to the rest of the group and said, "If you all have time to protest, how about you actually support women in need. I'm 5 months* pregnant right now, and the father of my baby just moved and hasn't made contact with me."
Two girls in the group, Maria and Olivia, said, "I'm so sorry" and offered congratulations at the news of her pregnancy. Maria said, "I'm so glad you stopped to talk with us. Supporting women as you described is actually what we do! I totally get what you mean about protesting as "pro-life" in name only, but we are here to actually help."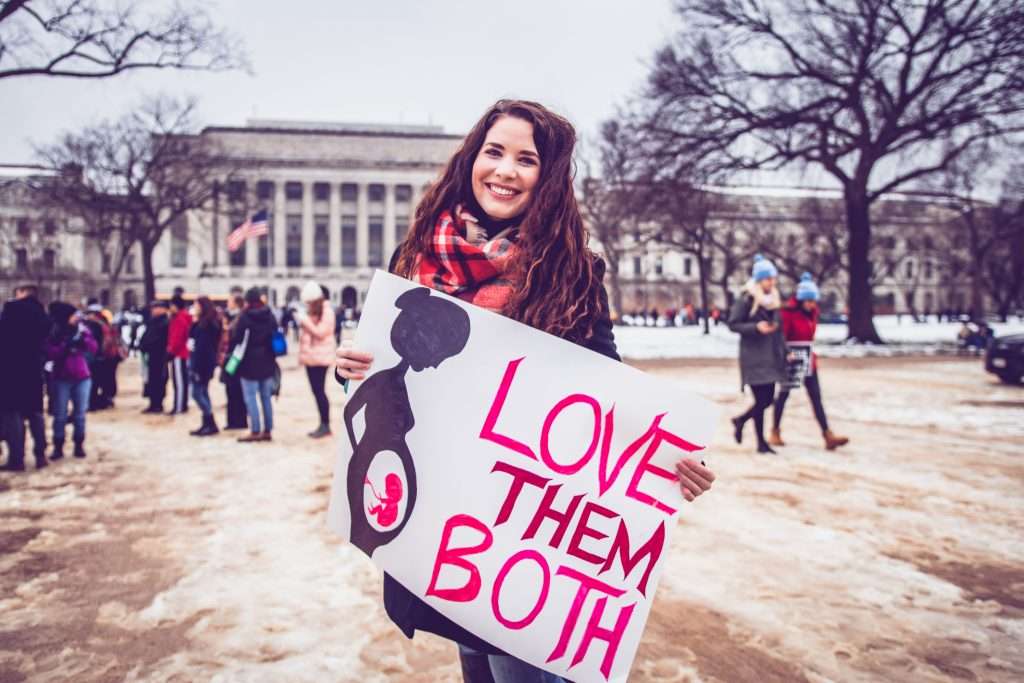 Maria pulled from her bag the postcard for SFLA's Standing With You Initiative and explained how it supports women with real resources. Maria asked if Hannah (actual name protected for anonymity) knew about Bright Hope, the local pregnancy resource center in Allentown, to which Hannah said, "No." Maria went back to the car and grabbed a blessing bag, which is typically handed to women who make appointments at Planned Parenthood by sidewalk counselors.
Maria said, "I'm happy that some of the information in the bag does not apply to your situation, but I'll give the whole thing to you anyway," and then pointed out particular information about Bright Hope. Maria explained how Bright Hope can support Hannah, even after she gives birth. Hannah expressed so much gratitude and explained that while her situation is difficult, she has faith in providence, beyond her understanding– that somehow, this will all work for her good.
Maria reflected this back, using the imagery of how we are on the backside of a beautiful tapestry, and the strands of string that don't make sense to us or are messy now are actually in the working of creating something so beautiful on the other side. Maria affirmed Hannah– her courage and her strength! Lastly, Maria asked if there is anything we can do to support Hannah now and if she is living in a safe place. Hannah said that she is making ends meet and doesn't need anything at the moment but will check out Bright Hope.
Also in Allentown, during the actual Women's March, a woman walked by and said she supported what Students for Life was doing and continued on her way. A member of the pro-life group, Anna, ran up to her before she got too far and began to explain to her what we do. She showed her our Standing With You resources that explain everything Allentown offers to women and families.
What she said next was completely unexpected; she told Anna she was currently pregnant and the man who got her pregnant was pressuring her into abortion (which, incidentally, is illegal). She said she didn't want an abortion. Anna checked with her to see if there was anything the group could do to help. She said that if she needs help, she will reach out through Standing With You!
In Indianapolis, Indiana
At the Women's March in Indiana's capital, SFLA Regional Coordinator Mary Carmen Zakrajsek was also able to help a mother in need. She shared:
"When we were marching in Indianapolis, we saw a homeless woman who had a sign saying she was pregnant! We gave her Standing With You supportive resources we had on hand and I told her the number to call!"
Even at unexpected events, the Students for Life team and students are always ready to assist women in need by guiding them to actual help. After all, abortion doesn't solve any of the problems that leads a mother to Planned Parenthood's doorstep. It doesn't find her a job, get her out of an abusive situation, give her more money in the checking account, or improve her living situation. Community support can do those things – without pitting her against her child.
Changing Minds in Unlikely Places
Some members of the Students for Life protesters in Phoenix managed to change a very unlikely mind about abortion. Amongst the Women's Marchers, a young woman was shouting over a bullhorn in support of abortion. A few of the Students for Life crew approached and chatted with her for about 20 minutes, and she ended up completely changing her mind about abortion. 
A little ways north in Bellingham, Washington, a slightly smaller heart change took place. The sister of one of our team members spent time conversing with a Women's Marcher who supported abortion up until the moment of birth (an extremely radical stance). After hearing more about fetal development and the philosophy behind why humans are valuable at every age, she "re-drew" her line of support to end at viability, which is around 21 weeks. Convincing a stranger at a pro-abortion event to go from supporting due date abortions to cutting that support timeline in half isn't a full victory – but it's a great start.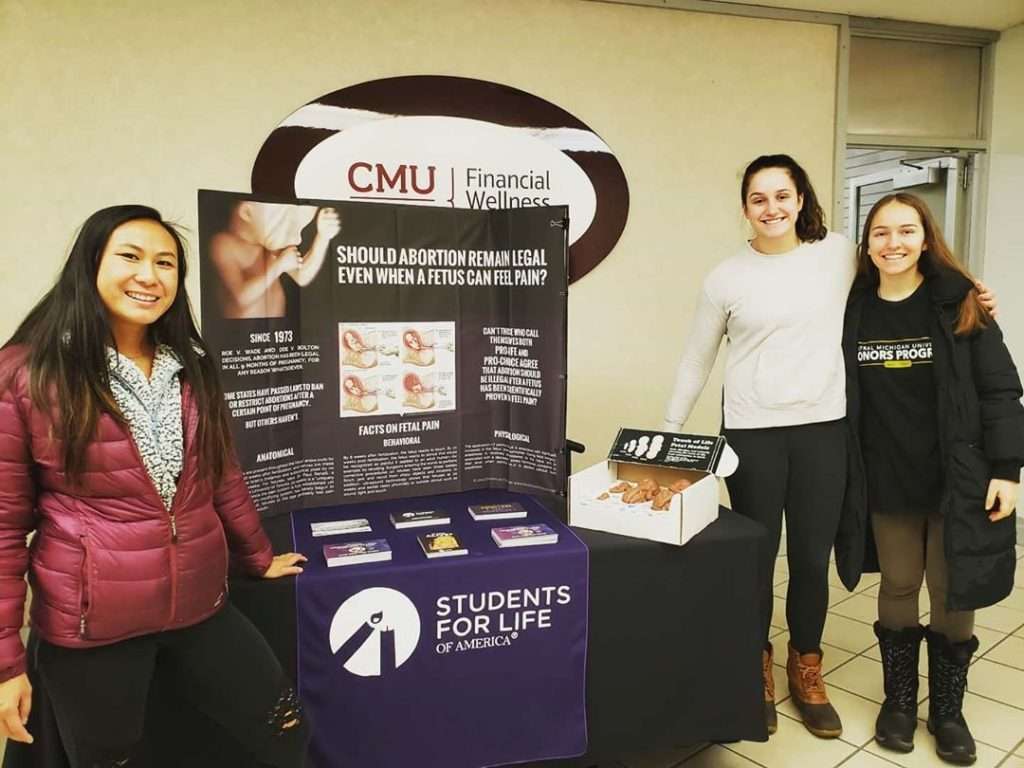 Students for Life are not strangers to changing minds about abortion. During the 2020-2021 school year, our team reported just shy of 1,500 minds changed about abortion. Since March 2021, as part of our Campaign for Abortion Free Cities, volunteers and team members have changed 305 minds.
Last October, SFLA had 17,180 online conversations and a conversion (mind changed) rate of 19% through Digital Conversion Quizzes geared towards changing public perception on Justice Amy Coney Barrett. The following month, there were 99,440 minds changed and an average conversion rate of 19.6% during the entire digital campaign leading up to the November election. Needless to say… we're in it to win it.