From the SFLA Blog
Pro-Abortion Mob Attacks Our Display, Does Nearly $300 Worth of Damage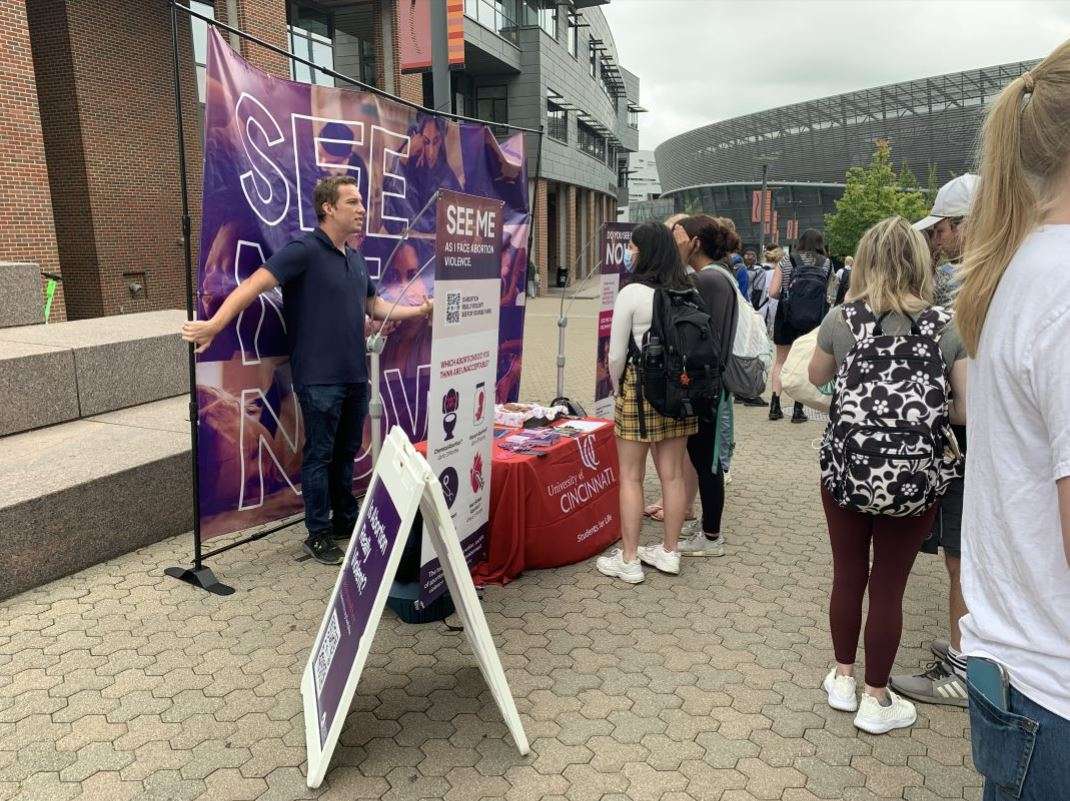 Stephanie Stone - 16 Sep 2021
Students for Life of America's See Me Now Tour is in full swing and making stops at campuses nationwide to expose the grim truth about first trimester abortion and its victims. At a stop at the University of Cincinnati, things took a turn for the worse as a pro-abortion mob formed and attacked SFLA's Jordan Moorman and the display materials. 
Moorman, SFLA's Ohio Regional Coordinator, brought the See Me Now Tour to the University of Cincinnati and, for the first few hours, Jordan and the Students for Life group there had some amazing mind changing conversations. Then, the mob descended. Jordan was overwhelmed with the sudden confrontation and determined to keep the mob from stealing/destroying all of SFLA's materials, and so was unable to film the experience. But, watch his post-event recap below…
It started when a man began shouting at the Students for Life group, saying they 'could not be pro-life' unless they were pro-vaccine, anti-gun, and a myriad of other things that were not related to the issue of abortion (click here to read more about how to respond to this argument). He was, of course, making assumptions about all of these things as the group was only discussing abortion. The man's behavior drew attention, and before long, a pro-abortion mob had formed. 
The intimidating nature of an aggressive crowd caused some of the pro-life students to vacate, but Jordan was able to courageously stand his ground. SFLA Regional Coordinators are the ultimate example to the amazing students we serve. Though he was extremely outnumbered by the protestors, he continued trying to have fruitful conversations and speaking truth. Unfortunately, the mob did not want to talk or have meaningful dialogue; chaos was the goal. 
Because he was so outnumbered, abortion supporters managed to steal Jordan's fetal models (which were a part of the See Me Now display and will cost nearly $300 to replace) and tried to steal more of the display. The students were aggressive, angry, and obviously aiming to vandalize our display rather than have a conversation. Luckily, no one was hurt, but this is the kind of backlash our students face on campus every day. 
Jordan shared:
"There were particularly gruesome comments made…people were stealing things, taking my sample abortion tools, and more. One girl picked up the forceps and said she wanted to "practice being an abortionist." There were plenty of obscenities thrown our way. Shoutout to Students for Life of Cincinnati for hosting the tour. We changed more than ten minds about abortion that day. That mob was hoping they could scare us into packing up and going home. But when it comes to sharing the truth about abortion… running from opposition just isn't going to happen." 
Unfortunately, we see this kind of extremism all too often among the pro-abortion crowd, and we are seeing even more of this across America ever since the Texas Heartbeat Act was enacted. But the insanity is not new, and our Regional Coordinators are out on the front lines every day trying to set the record straight that abortion ends a human life. 
Stay tuned for more stories from the road as the See Me Now Tour continues to shed light on the violence of abortion and bring to the forefront the true stories of women who need help and support along with those in the womb who are so often forgotten.