From the SFLA Blog
A Baby Saved in One City (And Our Stuff Stolen in Another)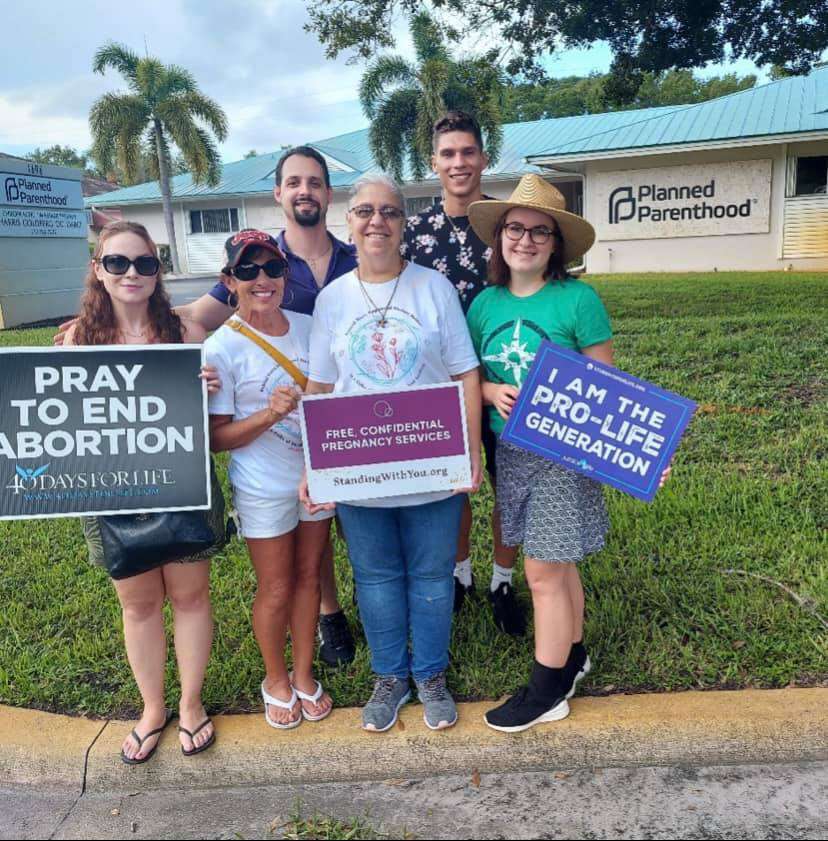 Brenna Lewis - 11 Aug 2021
This past Saturday, August 7th, was the annual National Pro-Life Generation Sidewalk Day. For the sixth year in a row, we called on the Pro-Life Generation to be on the front lines, reaching out to women and saving lives. Students and community members in cities across the nation hit the sidewalks outside of their nearest abortion facilities. 
In Illinois, we even witnessed a confirmed baby save! 
Reagan Barklage, National Field Director for Students for Life of America, accompanied students on the sidewalk outside of Hope Clinic in Granite City, Illinois. Reagan shared:
"Our day at Hope Clinic began with a woman leaving the facility in a beach towel; our guess was a botched abortion that dirtied the clothes she arrived in. Though sad and discouraged by this, we continued sidewalk counseling and offering pregnancy resources to mothers until the end of our time there when a van with a father and three children arrived…." click here to read the rest. 
Unfortunately, not all encounters were good. In Phoenix, Planned Parenthood escorts were caught stealing from pro-life sidewalk advocates. They were seen using umbrellas to make sure abortion clients can't see the pregnancy center next door AND stole the pregnancy help resources pro-lifers were handing out. Clearly, they don't want women to know all of their choices. READ MORE HERE. 
Some of our Regional Coordinators shared…
"Sidewalk Day in Richmond was amazing! We started out with prayer in front of the local Planned Parenthood facility, and then ended up going to Richmond Medical Center for Women, where they commit chemical, surgical, and even late-term abortions. It was pouring rain, and everyone was soaked, but we were able to speak with some women on their way into their appointments and get some information in their hands on the local resources that were free and right at their fingertips. There were so many pro-choice escorts from the facility outside and they seemed intimidating at first, but the students were incredible and boldly stepped forward to speak out and care for those women anyway."
Hannah Wolfe, Capital Area Regional Coordinator
"The students and I got to the abortion facility around 8am with our signs and blessing bags. It was very rainy and the wind nearly blew the materials out of our hands. The layout of the facility is poor (counselors can only reach out to women in their cars as they approach – the facility doors are not accessible), but we were able to promote Students for Life's Standing With You program to some of the other pro-life counselors."
Matt Murphy, Northern Regional Coordinator
"One student from the Standing With You Retreat in Sacramento, Wynette Sills (Director of Californians for Life), and I went to the sidewalk where we joined members of my student's church. Members of their group aim to reduce the abortion rate on Saturdays. We handed out materials and spoke with women and men. Overall, the event went well, and hopefully we planted some seeds."
Lea Kalinowski, Northern California & Nevada Regional Coordinator
As a witness on the sidewalks in front of abortion facilities, we are the last face women see before they enter. We are their final hope; the last opportunity to turn around. Many have already made up their minds, but we have the potential to impact them in such a way that they may reconsider. 
The young women (and men) who are entering abortion facilities need to see someone on the sidewalk they can relate to. The turnaround rate is even higher when there are counselors who look like peers. That's why we need the Pro-Life Generation out there. 
Thank you to everyone who participated!
Have a sidewalk counseling story? Submit it to [email protected]!