From the SFLA Blog
VIDEO: The Nation's Most Dangerous Abortion Facility Calls Their 81st Ambulance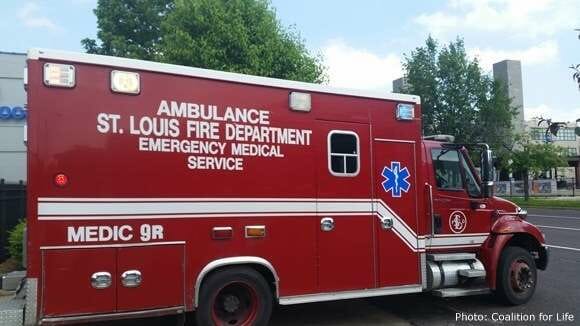 Brenna Lewis - 18 Mar 2021
It didn't take long for the St. Louis Planned Parenthood to call 911 again following COVID. On March 15, 2021, the 81st ambulance was called to the facility since January 1, 2009. St. Louis Planned Parenthood had a small break in medical emergencies, due to sending all abortion patients to the Fairview Heights facility during COVID. Read more here.  According to a statement from the Archdiocese of St. Louis' Respect Life Apostolate, Planned Parenthood of St. Louis did not commit any abortions in December of 2020.  This left many wondering if they would slowly close or start committing abortions again when COVID subsides.
Individuals who have been witnessing outside of the facility as part of the local 40 Days for Life campaign have noticed since February an influx of cars in the parking lot of Planned Parenthood as well as a more continual presence of pro-choice escorts outside of the facility.  
We know in the past that St. Louis Planned Parenthood has called 80 ambulances to the facility, with 76 of them being confirmed medical emergencies. View records of the calls below. An additional records request has been filed to learn more about this latest emergency. While Planned Parenthood of St. Louis thought they could quietly sell abortions to women, their silence is not so deafening. This "silence" was broken on Monday, March 15th at about 2:52 pm. A witness captured video an ambulance outside of Planned Parenthood where a woman on a stretcher was placed inside the vehicle.  
Moreover, another source learned from a woman while praying outside the facility that St. Louis Planned Parenthood is booked up for abortions in March and April and is selling surgical abortions. They are still referring women to the Fairview Heights abortion facility just over the border in Illinois in order to bypass Missouri's 72-hour waiting period. They sell surgical and chemical abortions at the Fairview Heights facility up to 24 weeks. 
We must continue to expose St. Louis Planned Parenthood as they continue to harm women. We do not know how the woman was harmed on Monday, but we do know that this facility continues to leave women in pain. The footage and the facts show that women are NOT SAFE at Planned Parenthood. Planned Parenthood does not care about women, but rather betrays them.  
Use arrows at bottom of document to view second page of 911 calls.
Sunshine Request 1

Sunshine Request 2