From the SFLA Blog
Another Video Exposing Planned Parenthood Was Just Released – And It's a Doozy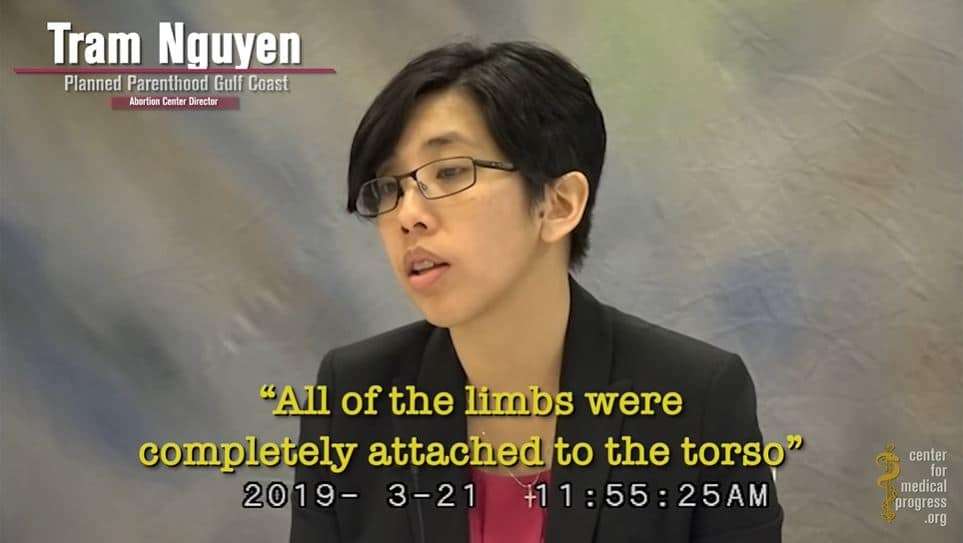 Brenna Lewis - 26 Aug 2020
Most of the country, both pro-life and pro-choice alike, remember back in 2015 when David Daleiden and his Center for Medical Progress (CMP) began releasing their undercover videos of Planned Parenthood officials discussing the sale of fetal body parts. Pro-life undercover journalists in California had gathered hours of footage exposing how the abortion giant profits from the sale of body parts to research entities. Yesterday, CMP released another new video of a Planned Parenthood executive admitting that they deliver babies alive and dissect them.
All of CMP's videos are housed here on their website.
Then-president of Planned Parenthood Cecile Richards went on news show after news show spouting the same bogus line: Those videos were highly edited. After all… what else could she say? Her own employees were caught red-handed, on film, discussing eyeballs falling into laps and how much a baby liver was selling for these days.
Fast-forward five years. Since the videos were released:
Then-attorney general for California Kamala Harris met with Planned Parenthood in secret, then ordered an illegal armed raid of David Daleiden's home to try to recover any other footage/evidence he had. Watch David discuss this insane abuse of power below. 
David was tried by the state of California as a felon, thanks to Planned Parenthood's immense influence. The fact that a citizen journalist was tried this way was, to say the least, improper.
David and CMP were sued by Planned Parenthood and spent months in court… during which time, Planned Parenthood officials never refuted a thing that was on those tapes.
America's most prolific abortionist, Dr. Forrest Smith, testified that based on what body parts Planned Parenthood was selling, they must be delivering babies and dissecting them alive.
They're Dissecting Babies Alive?
Even without their direct admission, it's a simple math equation. Other abortionists and medical professionals note that the heart must still be beating, must still be pumping blood through the living body, in order to successfully harvest the best (most profitable) organs.
Planned Parenthood loves money. They sell baby organs. And they have no qualms about changing the method of abortion to suit their needs.
But, in case that wasn't proof enough, we also have them on tape admitting that they enter the uterus, turn the baby feet-first, deliver him/her alive, then dissect them for organs. This was admitted under oath by Dr. Deborah Nucatola, a Planned Parenthood senior executive, and backed up by others.
The Center for Medical Progress reported:
Dr. Nucatola famously described Planned Parenthood's fetal tissue research programs, casually over wine and salad at a crowded Los Angeles restaurant, in CMP's first undercover video release in 2015. In the undercover video, Dr. Nucatola described using ultrasound guidance to flip a fetus to a feet-first position for intact extraction and successful organ harvesting at Planned Parenthood. Yet when questioned by Congressional investigators, Dr. Nucatola denied that such abortions were used in Planned Parenthood's fetal tissue research programs.
But under oath in her deposition, Dr. Nucatola confirms, "If I was aware that it was a donation case, yes" she would change where she grasped the fetus with her forceps in order not to crush certain organs. When asked about her description of flipping a fetus to breech position in order to obtain intact organs, Dr. Nucatola first seems to deny doing so. But when confronted with her conclusion on the undercover tape, "We've been pretty successful with that," Dr. Nucatola admits, "I was referring to PPLA." Asked if that included herself, Dr. Nucatola testifies, "Yes, including me, I worked at PPLA."
[…]
The new video also includes testimony from Dr. Mary Gatter, former medical director for PPLA, admitting that after internal debate in the organization, she "evolved" in her thinking to believe that changing abortion "techniques" in order to harvest higher quality fetal tissue was acceptable. Dr. Gatter testifies that Planned Parenthood makes a distinction between the abortion "technique" and the abortion "procedure," and that changing the former is allowed while changing the latter is not. The federal law at 42 U.S.C. 289g-1 prohibits any changes to the "procedures used to terminate the pregnancy," and not simply "the procedure" as a singular category.
Planned Parenthood is Crumbling
The abortion giant has not said anything about this video exposing their fetal trafficking. They know the jig is up and there's no amount of smooth-talking rhetoric that can get them out of this one. Thus, it's better for them to ignore it. Planned Parenthood has had an abysmal decade. The country is finally calling them out for their racist past – which is a quick bridge to their racist present. Roe v. Wade is on the chopping block. And they're going down. 
Click here to sign a petition to Defund Planned Parenthood of our tax dollars.
Contact Katie Lodjic (

[email protected]

) for help kicking Planned Parenthood out of your school.
Click here to sign on to Students for Life's "Post-Roe Blueprint," which is an ambitious game-plan to achieve an America without abortion & without Planned Parenthood.