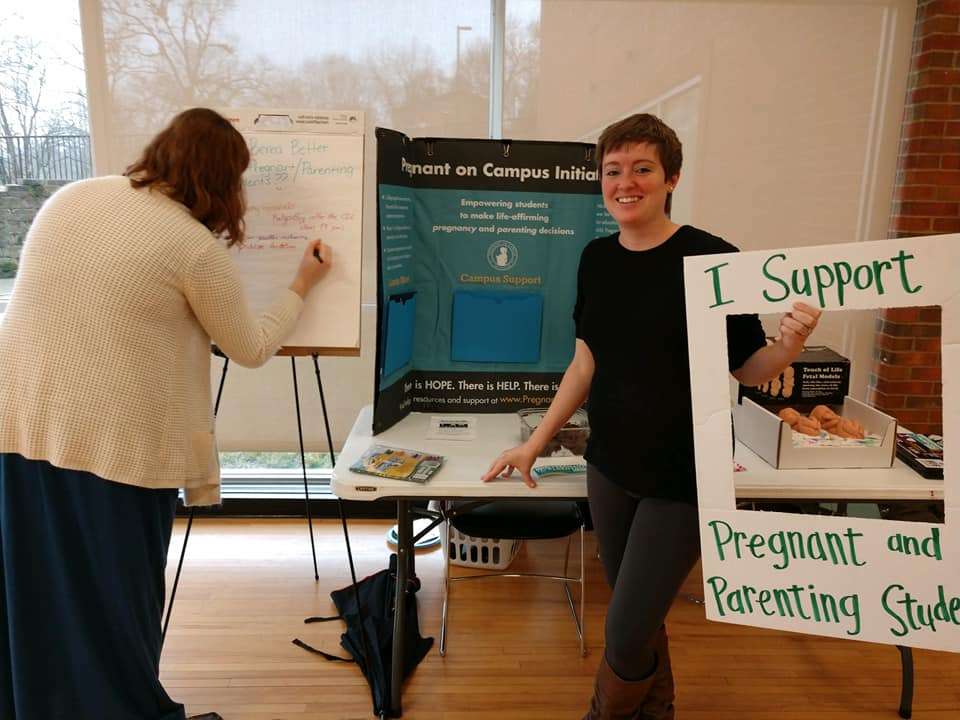 Is your group looking for a simple way to bring awareness to your campus about pregnancy resources on and off campus? If so, tabling is just what you need! Tabling provides an opportunity for your group to educate your peers about resources for pregnant and parenting students or discuss the reality of unplanned pregnancy as a student. It's a great time to talk to your peers about ideas for improving campus support, too. You can even make it interactive!
SFLA Resources to Request from your Regional Coordinator:
"Pregnant on Campus" postcard
"Pregnant? Need Help?" drop cards
"Pregnant on Campus" tabletop display
"Building a Better Future" training
"Pregnant on Campus Applied" training
Steps:
Pick a date and time.

Pick a period of a least 2 hours to allow for good exposure of your table. Lunch hours are great to reach more students!

Reserve space on campus.

Pick a high-traffic place such as the Student Union, quad, or cafeteria.

Gather your materials.

Request materials at least one week before your tabling event. Ask your Regional Coordinator and local Pregnancy Resource Center for information for pregnant, parenting, and post-abortive students.
Assign at least 2 group members to host the table during the entire shift.
Set up a table on campus to promote your Pregnant on Campus Initiative/ Building a Beter Future. Here are some ideas for your tabling event:
Content for your Table:
Local PRC pamphlets
Post-Abortion Healing pamphlets
Title IX Rights
Your school's policy on pregnant students
Creative signage (optional)
Dry erase or post-it board and markers (optional)
Signage:
Make table signs easy to read. Recommended slogans and messaging includes:
Pregnant? Parenting? We support YOU!
We support pregnant and parenting students!
Students for Life supports pregnant & parenting students!
Free resources for pregnant and parenting students!
Ask us about pregnant and parenting resources!
How can we better support pregnant and parenting students?
Interactive Elements:
Host an "I Support" photo frame booth.
Encourage students to post a sticky note message on a Free Speech Board.
Write a question or fun parenting fact on the dry erase board to get people engaged!
Write a letter of support to local moms.
Check out www.pregnantoncampus.studentsforlife.org for more ideas!
Questions? Contact your Regional Coordinator at [yourstate]@studentsforlife.org for more information.