Disclaimer: medical illustration of abortion present on this page. 
Over fifty-two percent of Millennials are in favor of banning abortions after 20 weeks gestation, according to National Journal. Clearly, they understand that abortions at five months along are inhumane and wrong for multiple reasons.
One of those reasons is that babies at this stage have been scientifically proven to feel pain. Recent studies show it might even be as early as 12 weeks. That means that as their lives are ending through abortion, they feel every prick, pull, and ultimately dismemberment of their little bodies. It is truly horrific.
Students for Life of America has a simple display that educates students on the topic of fetal pain. Several states have moved to ban abortions after 20 weeks and the U.S. House of Representatives has voted to do the same (via the Pain-Capable Unborn Child Act) but a national ban has yet to be signed.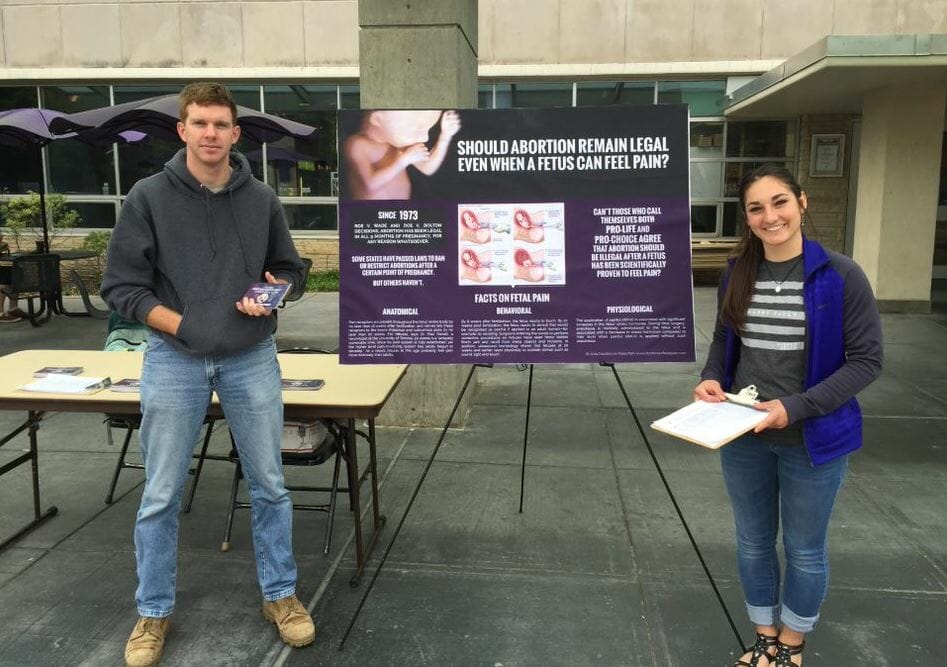 What kinds of images are used in the display?
There are no graphic abortion victim photos. The images used are from medical textbooks and show what an abortion at 20+ weeks looks like; the images are illustrated.
The diagram used is a 23 week Dilation and Evacuation Abortion (D&E Abortion).
What are the facts?
Pain receptors are present throughout the fetus' entire body by no later than 16 weeks after fertilization, and nerves link these receptors to the brain's thalamus and subcortical plate by no later than 20 weeks.
Scientifically proven that by 20 weeks, babies react to painful stimuli by jerking, recoiling and flinching.
Scientifically proven that by 20 weeks, fetuses that are exposed to painful stimuli during surgery have an increase in stress hormones if anesthesia is not applied.
Facts taken from www.doctorsonfetalpain.com.

I want this display at my campus. How can that happen?
Email your SFLA Regional Coordinator at [yourstate]@studentsforlife.org to request the Fetal Pain Display. This display has been created as both a tabletop (featured above) and a larger banner display (featured below). Talk to your Regional Coordinator about which may be available for your group!