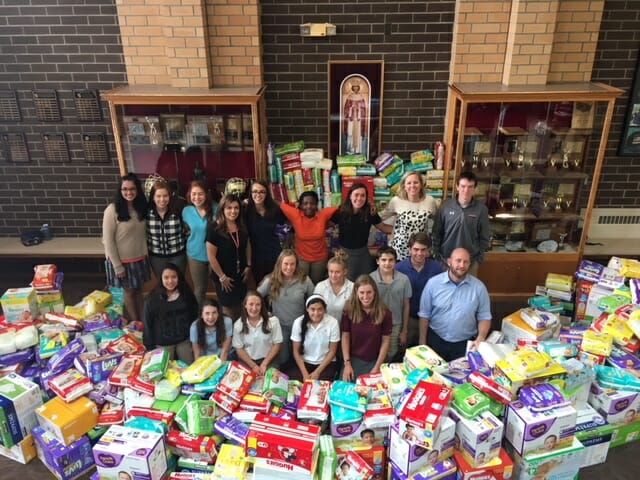 Hosting a baby item drive is a great way for your group to tangibly support your local pregnancy and parenting support organizations (i.e. pregnancy help organizations, maternity homes). They're commonly called "Diaper Drives," but diapers only scratch the surface of what can be donated to moms in need. You can choose to collect and donate the items to your local pregnancy help organization, or keep the items to then be distributed to pregnant and parenting students whom you meet in your outreach.
Baby item drives are easy and fun! Start planning your drive today with these steps.
Step-by-Step Guide
Locate a maternity home or pregnancy help organization in your area to send your donations and find out what they need.

Google can help you find a local center.
Tell the center about your event and ask what they need most.

Post these flyers around campus.

Be sure to write the details of the event on the bottom of the flyer.
Post flyer in conspicuous places around campus.
Sample Flyers: Community Baby Shower, Diaper Drive

Ask for donations from area churches.

Place an ad in the church bulletin.
Ask to make an announcement at the end of Mass or service.
Ask if you can set up a table at the church exits or if you can collect donations from parishioners exiting services.

Leave 'drop boxes' in dorms and busy buildings.

Ask for permission to leave boxes where people can drop off items in busy buildings (like bookstore, library, cafeteria, etc.).
Be sure to note on flyers where the 'drop boxes' are located.
Have someone assigned to place the boxes and check them regularly for donations.

Invite other like-minded campus groups to participate:

Conservative groups
Social welfare groups
Christian groups

Tabling Setup

Setup on busy days, during busy times.
Setup in high traffic areas – in quad, in or near Student Center, in or near Bookstore, etc.
Make table attractive with sign/banner.
Table should not have any chairs – attendants should stand in front of table to appear more approachable and enable better communication.

Basic Necessities

Pens
Sign-up sheet
Candy to garner interest
Flyer with group info – meeting details, contact information, website, etc.
Something eye-catching – balloons, fetal models, stacks of diapers, etc.

Procedure

Actively solicit
Don't wait for someone to approach – make eye contact with people who walk past and smile to create a welcoming feel.
Make sure to get the contact information for anyone who donates so that you can send a 'thank you' and also sign them up for your listserv/email list.
Need help? Contact your SFLA Regional Coordinator at [yourstate]@studentsforlife.org.