Is your school hosting a Sex Week? Your Students for Life group needs to respond. These events are typically pro-abortion and degrading to women. You can turn the week into something positive by sharing the pro-life take on the issues presented.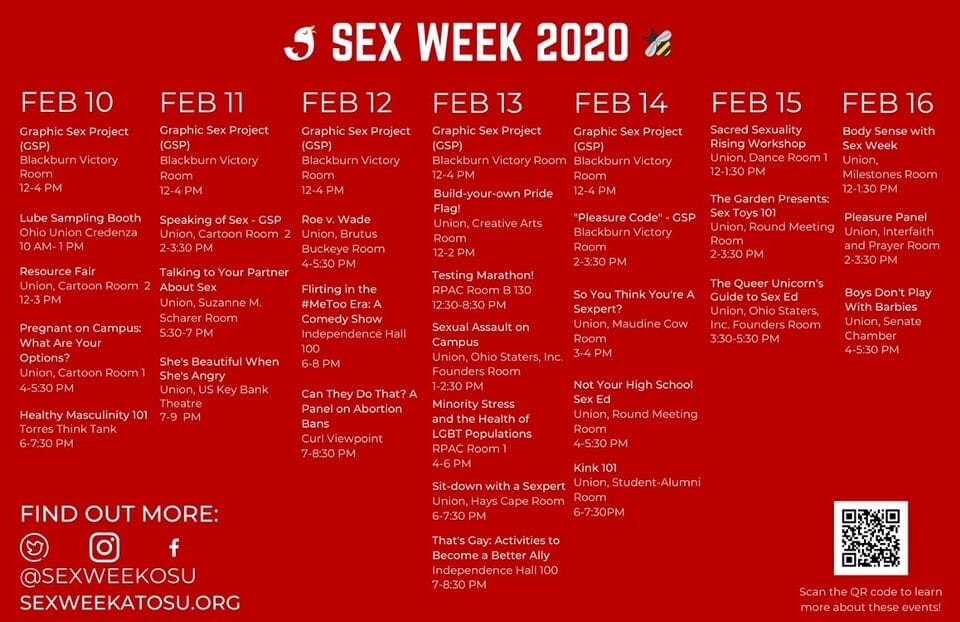 Sample SFLA Resources to Request from your Regional Coordinator:
"Pregnant on Campus" drop cards
"Debunking the Myths of Safe Sex" topic cards
Host your Regional Coordinator to train you on "Rapid Response" training
Steps:
Find out when and where your school's Sex Week is.
If you don't know ahead of time when the Sex Week is…
Hand out Debunking the Myths of Safe Sex and Pregnant on Campus info cards around the where the Sex Week events are taking place.
Create a "I Support" Photo booth and host it near the Sex Week events!
If you know ahead of time when the Sex Week is…
Sign up to counter table next to where any Sex Week tabling will be with Pregnant on Campus and Debunking the Myths of Safe Sex cards.
Plan a counter "Real Sex Week". Here's some events you could do:

Monday: "What They Didn't Tell You in Sex-Ed: A Provocative Sex Talk"
Tuesday: "Green is the New Pink: Birth Control and STI Education"
Wednesday: "Pregnant and Parenting Support: Can You Go To School and Be a Parent?" and an "I Support Pregnant and Parenting Students" Photo Booth
Thursday: "What Comes After Sexual Assault or Abortion?" Featuring the Rape Crisis Center and a Post-Abortion Counselor
Friday: "Self-Defense Training for Women Featuring MMA Fighter, Jesonna Ollis"
Monday-Friday: Free & Confidential Mobile Unit (STD & pregnancy testing: 8-5pm in a parking lot)

Reserve the rooms or locations with your school and contact your local pregnancy help organization (for their mobile unit and a post-abortion speaker), and the other groups you want to participate (self-defense group, etc.).
Organize workers for the events.

Ask members to sign-up in shifts to work the display. Ask at least two members to be present at all times. Set-up at least an hour early.
Ask your Regional Coordinator to give your group a "Helping Her" training so your members are prepared if they meet a pregnant girl considering abortion.

Work the display.

Today is the day! Your hard work is about to pay off! When you hand out the flyers to students as they walk pass, smile and say, "Here's some information on our display!" If someone is upset and angry, stay calm. Remember, you don't know their story. They may have abortion in their past. You are representing your group, Students for Life of America, and the pro-life movement. Be loving, be kind, be truthful and your display will touch many people.
Be confident and take courage!
It's important to counter toxic attitudes about sex and abortion with a positive message. Our society is working overtime to create a disconnect between sex and procreation, and this plays heavily into abortion culture.
These ideas aren't the only ways to respond to a Sex Week. Contact your Regional Coordinator at [yourstate]@studentsforlife.org for more help.