From the SFLA Blog
NEVER BACK DOWN: SFLA Brought a Pro-Life Display to the Machete Professor's New School…Here's How it Went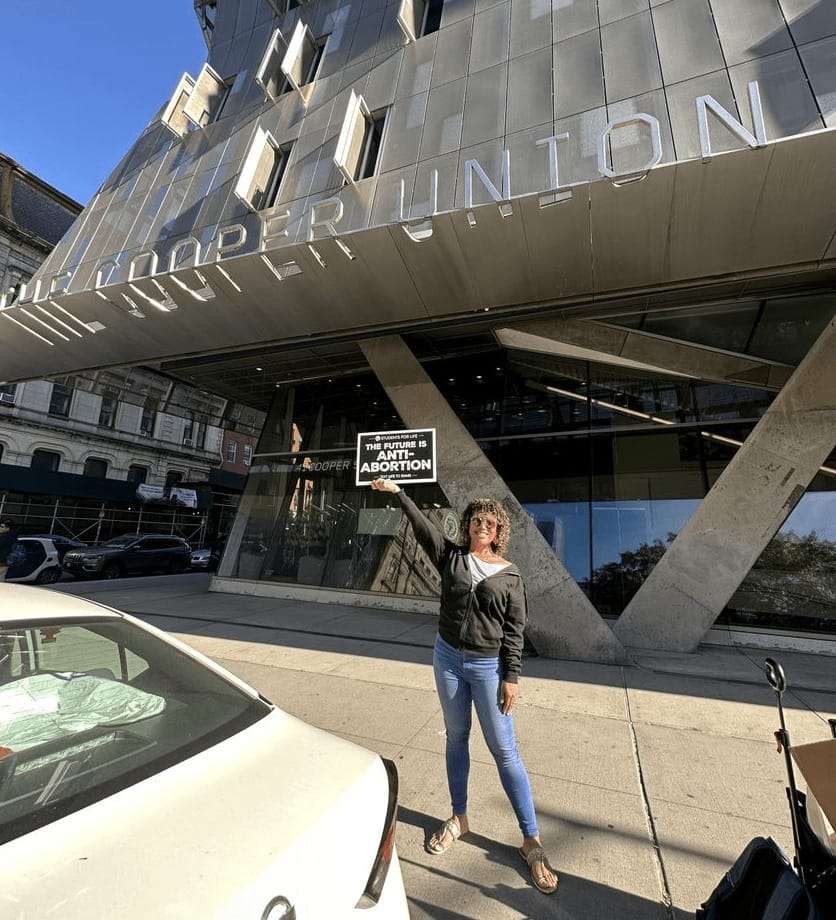 Caroline Wharton - 30 Oct 2023
Despite the horrifying pictures of Jewish students barricaded, surrounded, and subjected to fear of violence – not only in a war zone but also at an American school in New York City —Students for Life of America (SFLA) recently held a campus event at The Cooper Union, the location of the pro-terrorist protest. While the school has downplayed the incident (a "tense scene" which warranted a New York Times report), The Cooper Union did make a willing choice to hire the controversial instructor dubbed "The Machete Professor" earlier this year.
For background, Shellyne Rodriquez used to be a professor at Hunter College which also in New York — but that was before she was fired in spring 2023 for verbally abusing pro-life students, destroying a SFLA display, and chasing a New York Post reporter around with a machete for asking her about it. For more information, click HERE to see a round-up of all the media coverage when this occurred. 
While Rodriquez was rightfully let go from Hunter College, The Cooper Union decided to hire her onto faculty — so SFLA came to the school recently to both educate the campus on the humanity of the preborn and protest the administration's decision.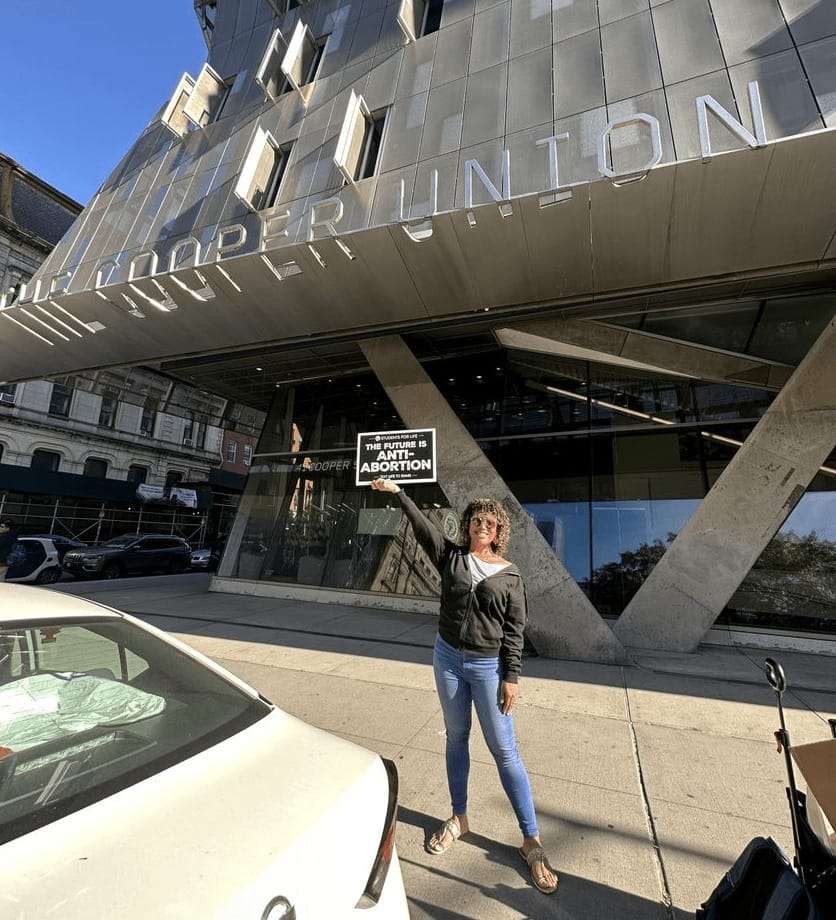 SFLA Northeast Field Operations Coordinator Savannah Craven, who was at Hunter College when Rodriquez initially flipped out, brought the What Is A Person? Tour Display right outside campus with pro-life students. While the group had been a little concerned that Cooper Union students would again throw civility to the wayside upon seeing their display (and the school administration would do nothing about it), they were immensely grateful for the New York City Police officers who kept them safe.
With eight officers around their table keeping the peace, Craven and the Pro-Life Generation were able to have many productive conversations with students and passerby about the incident and abortion in general. When Craven asked them to vote on when they thought human life should begin to be protected, the majority said at conception or the universal sign of life: the heartbeat. And these were New Yorkers — while typically thought of as very liberal, even they agreed about commonsense protections for the preborn.
(According to a 2023 You-Gov Vinea poll, nearly seven in 10 Millennials and Gen Z support limits on abortion based on a baby's stage of development – with strong support for Life at Conception Protections and Heartbeat Protections. Find out more HERE.)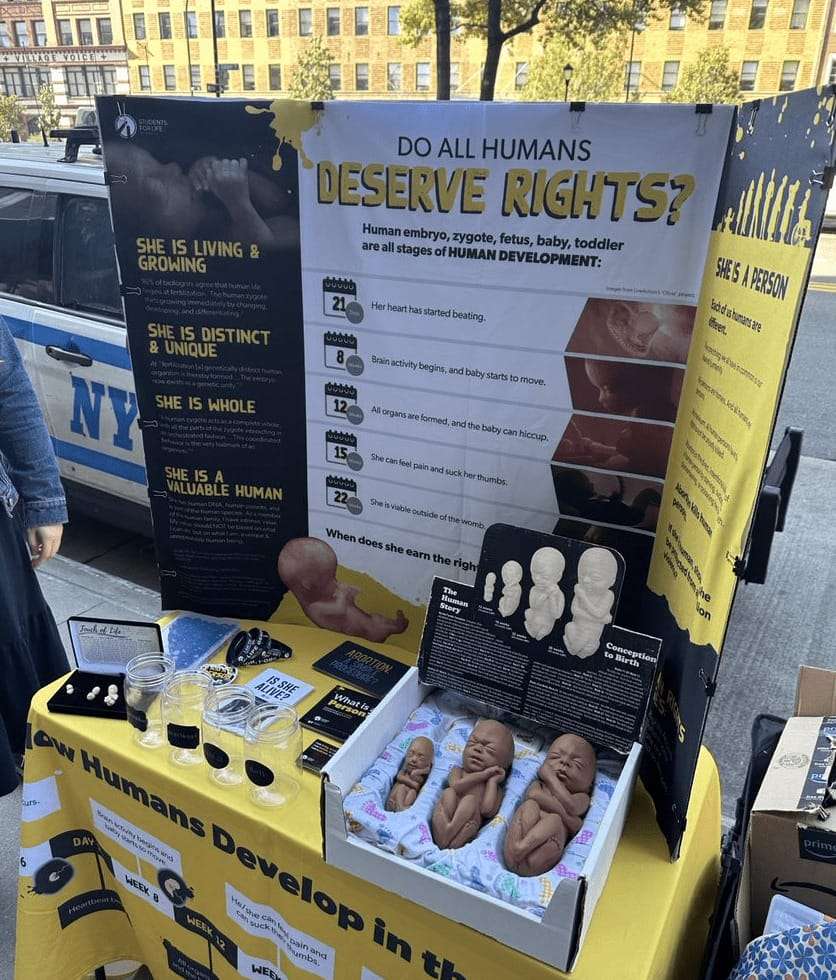 In fact, only one woman said she believed human life should start being protected at birth…and she revealed it was because her son was an abortionist in the city.
SFLA President Kristan Hawkins commented on the event, saying:
"The commitment of school leadership to student safety at Cooper Union was already in question, but we will not be silent. Choosing to hire a controversial professor who, in a fit of rage, verbally assaulted students and vandalized a Students for Life pro-life display before taking a machete to the neck of a reporter shows extremely bad judgment on their part, but police assured us that they would stand with our students and team.
"The pictures of Jewish students barricaded in the library as pro-Hamas and pro-Palestinian students and protestors screamed vile threats shows a break down in campus life. But we were at Cooper Union to make the case for mothers and their preborn children, exercising our free speech rights and love for mothers and their children, born and preborn. At this pivotal moment in our nation, I pray we respect each other and the free speech rights and need for safety of all Americans, including those in the womb."
READ NEXT: Celebrities Like Torrey DeVitto Need to Tell the Truth: A Miscarriage is Not an Abortion