From the SFLA Blog
The Faces of Exceptions: 7 Celebrities You May Not Have Known Were Conceived in Rape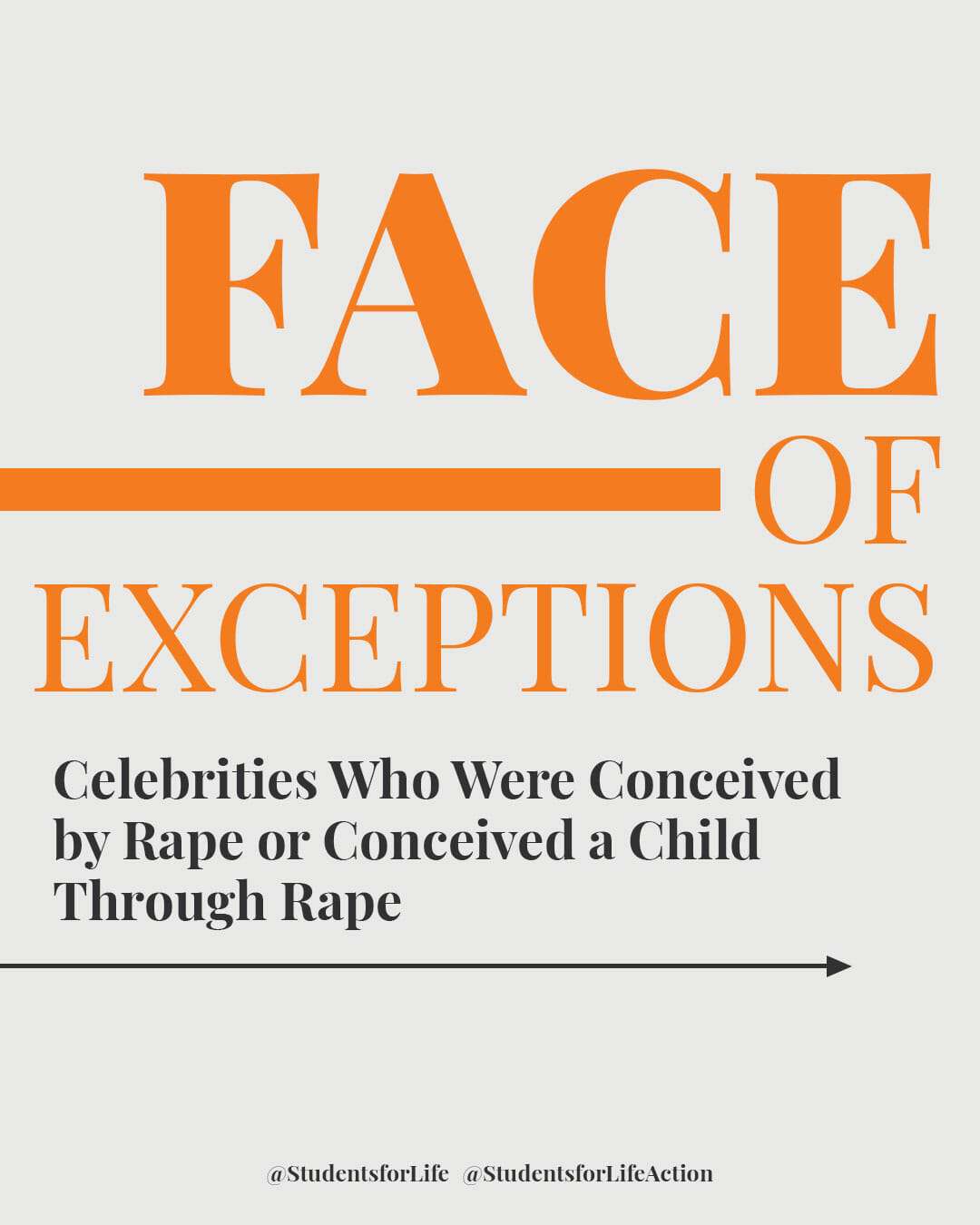 Caroline Wharton - 24 May 2023
If you've had a discussion with abortion supporters on life-affirming policy before, you've heard this at least once: "But what about rape and incest exceptions?" This is a common retort to the pro-life position that abortion should be made unavailable and unthinkable, and it is usually framed in a way so as to make pro-lifers seem uncaring. In reality, however, this argument is turned on its head because abortion does not remove the pain of sexual assault — and the question to ask in response would be but aren't the people conceived through rape/incest still valuable? Maybe the problem is a lack of visibility — so here are seven people you may know who were conceived or bore a child out of sexual assault:
Zahara Jolie-Pitt – Daughter of Angelina Jolie and Brad Pitt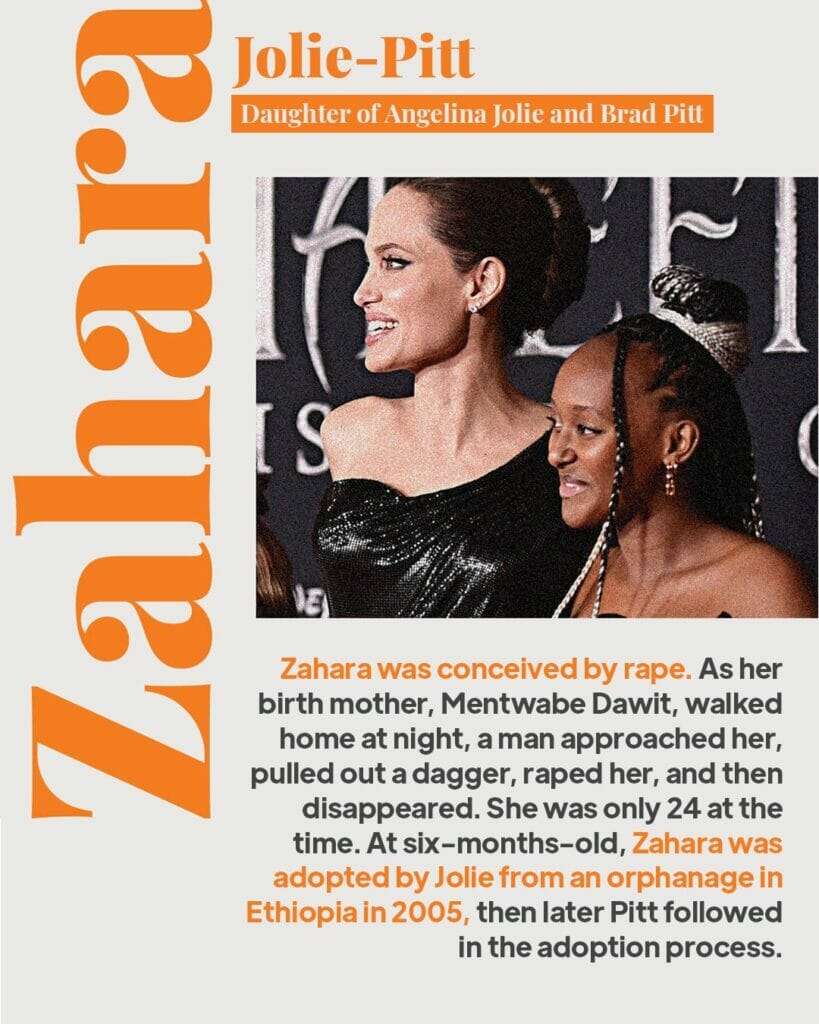 Later adopted by famous actress and actor Angelina Jolie and Brad Pitt, Zahara Jolie-Pitt was conceived through rape when her biological mother, Mentwabe Dawit, was 24-years old. When walking home from work one evening, Dawit was assaulted at knife point and bore Zahara who was later put up for adoption in Ethiopia. At six-months-old, she was adopted by Jolie and later by Pitt, as well. Zahara now has five siblings, has now appeared in two movies (including Kung Fu Panda 3) and is attending college.  
Jesse Jackson – Civil Rights Activist
Jesse Jackson, a prominent civil rights activist, was conceived out of rape when his 16-year-old mother, Helen Burns, was statutorily raped by a 33-year-old neighbor. While Burns was pressured to abort, she decided to keep her baby — and just a year later, she married Charles Henry Jackson who adopted him and gave him his last name. Sadly, Jackson now uses his gift of life to speak out against others having that same opportunity.  
Layne Beachley – Australian Surfer
Surfer sensation and seven-time world champion, Layne Beachley was conceived out of rape when her biological mother was 17 and date-raped after a dinner out. Beachley was adopted by a couple in Australia and later connected with her birth mother. Beyond surfing, Beachley is now an author and inspirational speaker.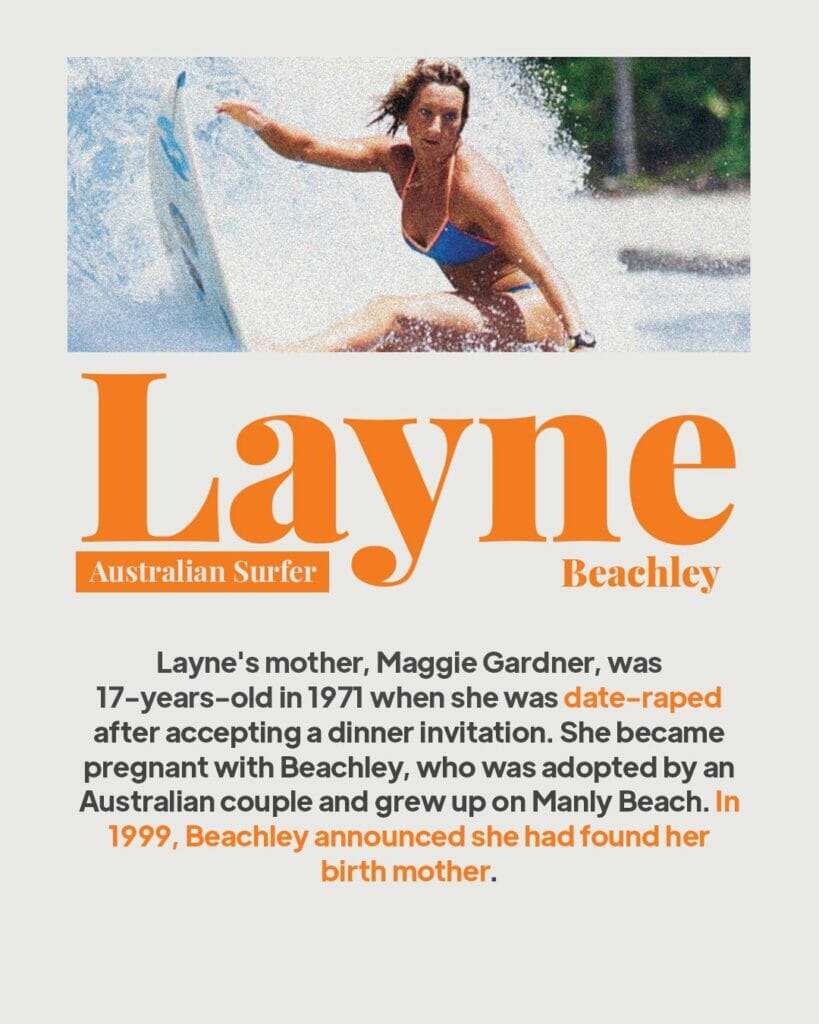 Speaking of her birth mother's choice to put her up for adoption, she said, "It was a great decision. I am 100% grateful for it, because I was adopted into a beach loving family with the surname Beachley, and became a pro surfer. How much better can it get?"
Kelly Wright – Former Fox & Friends Weekend Co-Anchor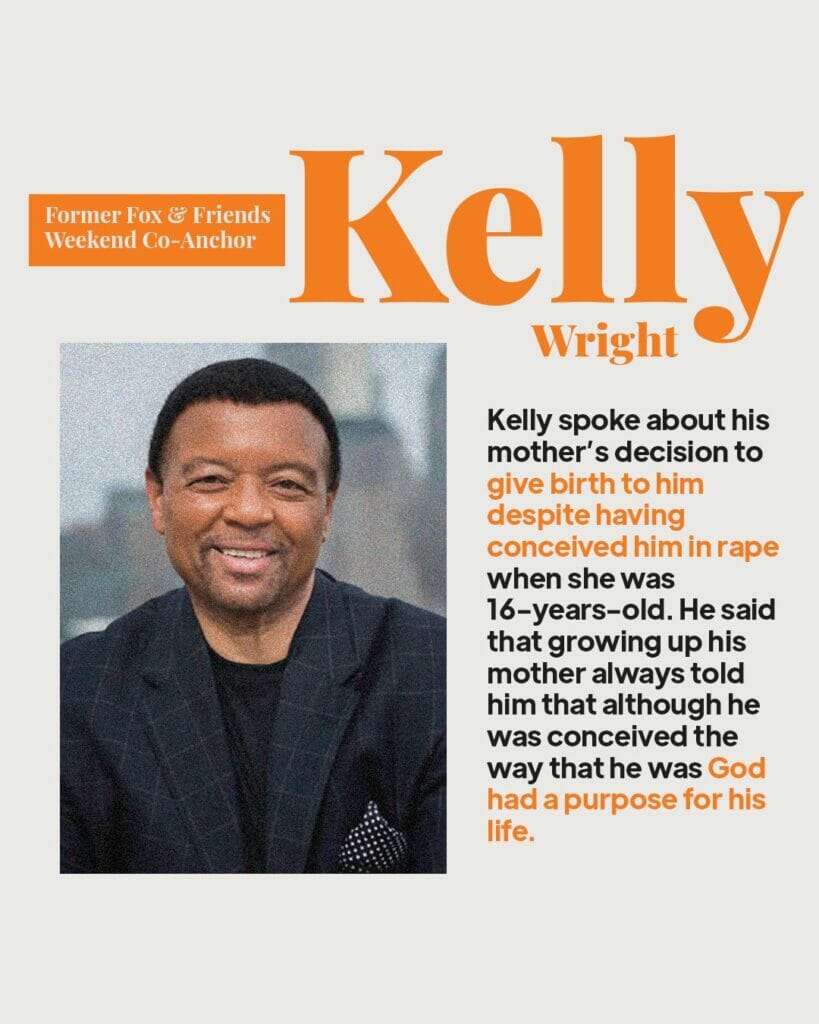 Kelly Wright, an acclaimed journalist, has been open about his conception through rape, particularly through his book entitled "America's Hope in Troubled Times." Wright explained that his mother was 16 years old when she was raped and gave birth to him. Beautifully, he has shared that growing up his mother said that despite the way he was conceived, God had a purpose for his life. In addition to being a journalist, Wright is also a pastor. He's honored his mother as being his biggest life influence.  
Faith Daniels – TV Personality
Faith Daniels, who has worked as a TV personality for NBC News, CBS News, and Dateline, revealed that she had been conceived through rape when her mother was 17 years old after being beat-up and assaulted. At less than a year old, Daniels was adopted through a Catholic orphanage to a family; an adoption that Daniels says was "the best thing that ever happened to her." She described her adoptive family as "the most loving environment any child can enter."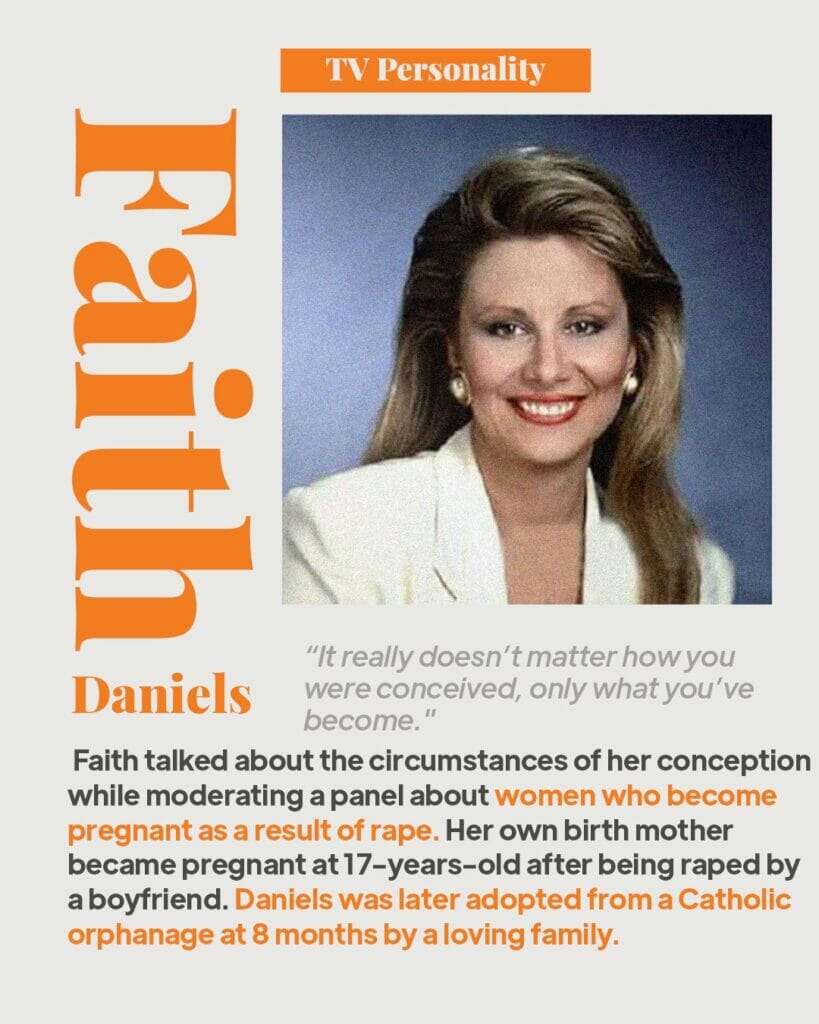 Beyond a successful career, Daniels married and had three children. She told the Chicago Tribune, "There is nothing like having a baby. It gives you a whole new outlook on life. You could take the job away tomorrow and I still would be fine. You cannot take my family away and leave me whole."  
Valerie Gatto – Miss Pennsylvania 2014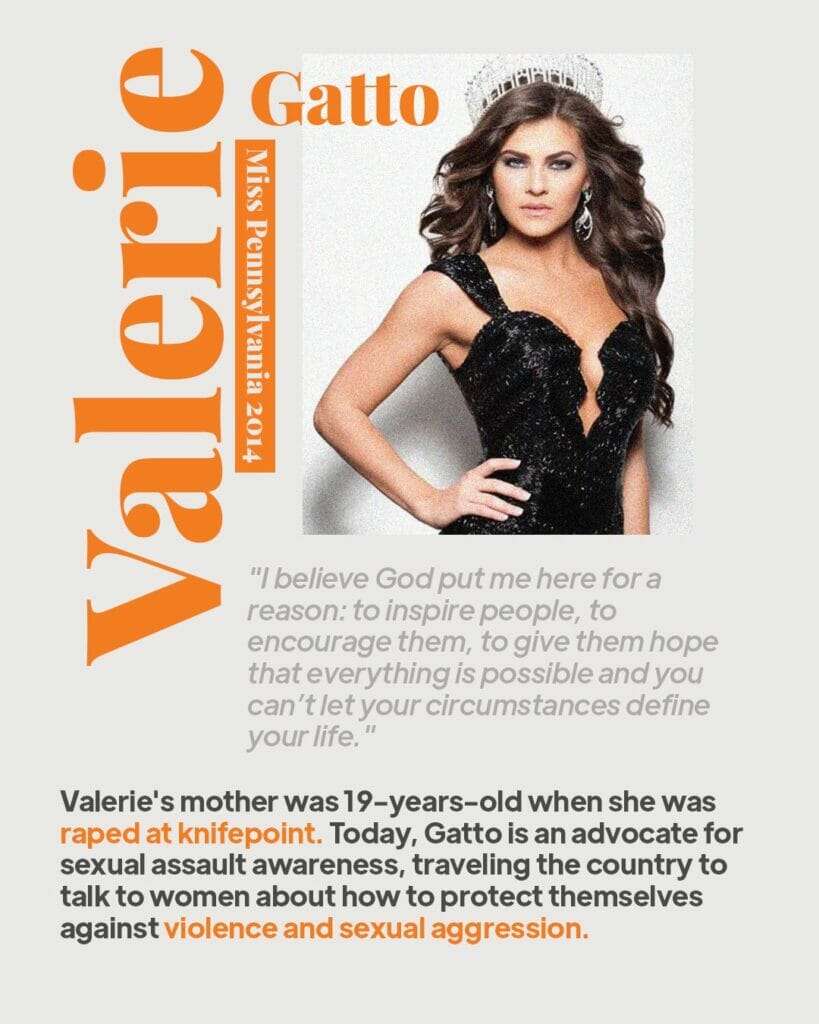 Valerie Gatto was conceived through rape when her mother was assaulted at 14 years old at knifepoint. Today, Gatto is an advocate for sexual assault awareness, traveling the country to talk to women about how to protect themselves against violence and sexual aggression. On the Today Show, she said, "I believe God put me here for a reason: to inspire people, to encourage them, to give them hope that everything is possible and you can't let your circumstances define your life." 
Kayla Braxton – WWE Anchor
Kayla Braxton, an anchor for WWE, shared on Twitter that she was conceived through rape after her mother was assaulted by a stranger. Unfortunately, while Braxton has had the opportunity to have a very full life following her mother's choice to give her life, she does not support this right for all babies.  
Each one of these people didn't choose their circumstance of conception, and they certainly don't deserve to be valued less because of it — so why treat preborn babies any differently?
READ NEXT: Students for Life of America to GQ: Abortion is Not Manly