From the SFLA Blog
Kristan Hawkins' 2023 Spring Speaking Tour "Lies Pro-Choicers Believe" Launches on 10 University Campuses … and Counting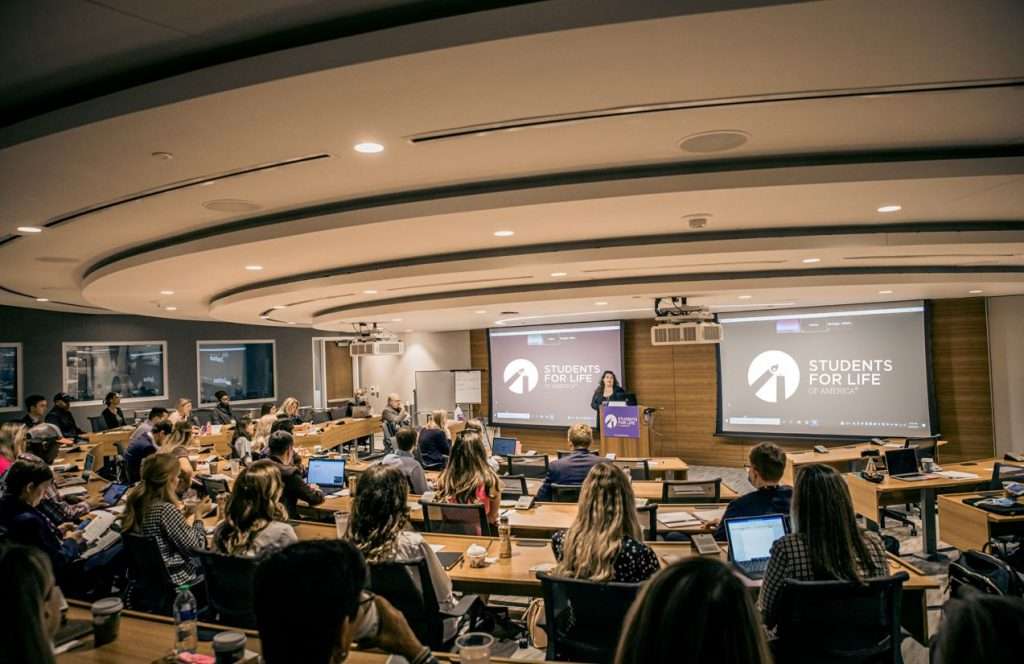 Caroline Wharton - 17 Mar 2023
"Many college students that call themselves 'pro-choice' were fed misinformation from the abortion lobby, and their acceptance of abortion has been based on lies," said Kristan Hawkins, President of Students for Life of America. "Many have never challenged the myths that they were sold, and that is the express purpose of this tour — to debunk the underpinnings of pro-abortion thought. If you're not sure what's in the womb and who can get pregnant, you're going to want to hear this speech."
WASHINGTON D.C. (03-17-2023) – Students for Life of America President Kristan Hawkins begins an 10-campus speaking tour next week, though more dates may be added. A dynamic presenter, Hawkins will engage students on the top ten lies that abortion supporters believe, and Isabel Brown, a pro-life podcaster, author, and speaker, will be joining Hawkins as a special guest on several of the stops.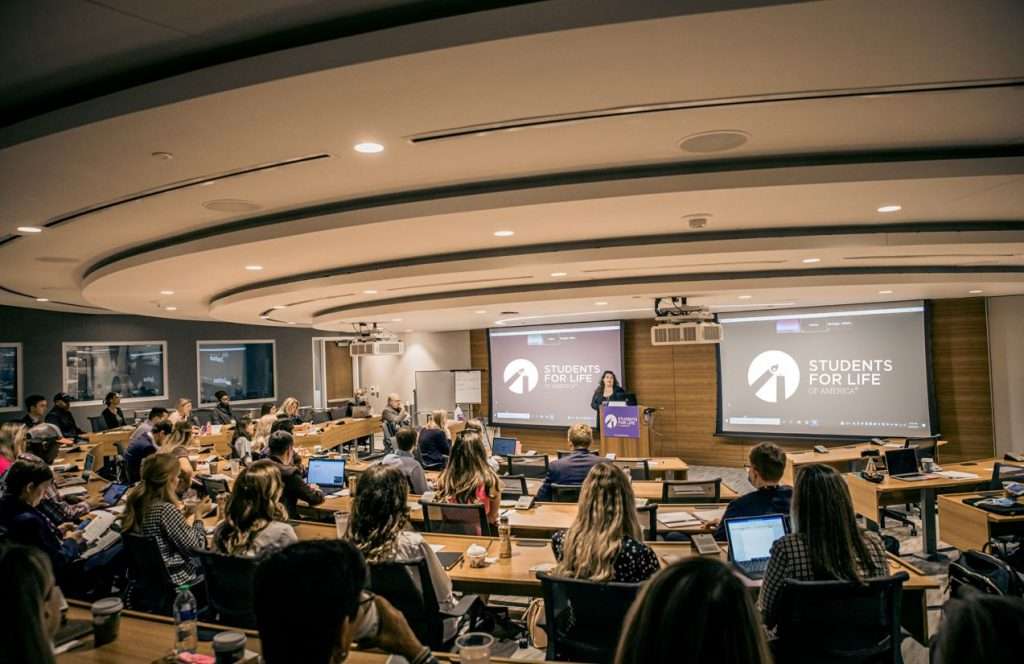 The top ten lies that Hawkins will be tackling in this tour include 1) Chemical Abortion Pills are Safe, 2) Women Need Abortion to Succeed, 3) Babies are Just "Clumps of Cells," 4) Planned Parenthood Cares about Women, 5) Hormonal Birth Control Prevents Abortion, 6) Men Can Have Babies, 7) Miscarriages and Ectopic Pregnancy Treatment is Abortion, 8) Pro-lifers Don't Care about Women, 9) All Pro-lifers are Religious, and 10) the Pro-Abortion Slogan 'My Body, My Choice.'
VIDEO: Hawkins' tour stops include back and forth debate with students. Watch some of Hawkins' best takedowns HERE and here for the video that went viral from her last speaking tour in fall 2022.
MEDIA ADVISORY: Times and locations can change for these events. Please check the Facebook Event link available for each tour stop for the most updated details before making travel plans. For more information, contact [email protected]
The 'Lies Pro-Choicers Believe' Tour includes the following:
For more details on 'The Lies Pro-Choicers Believe' Speaking Tour stops, stay tuned for individual tour stop press releases.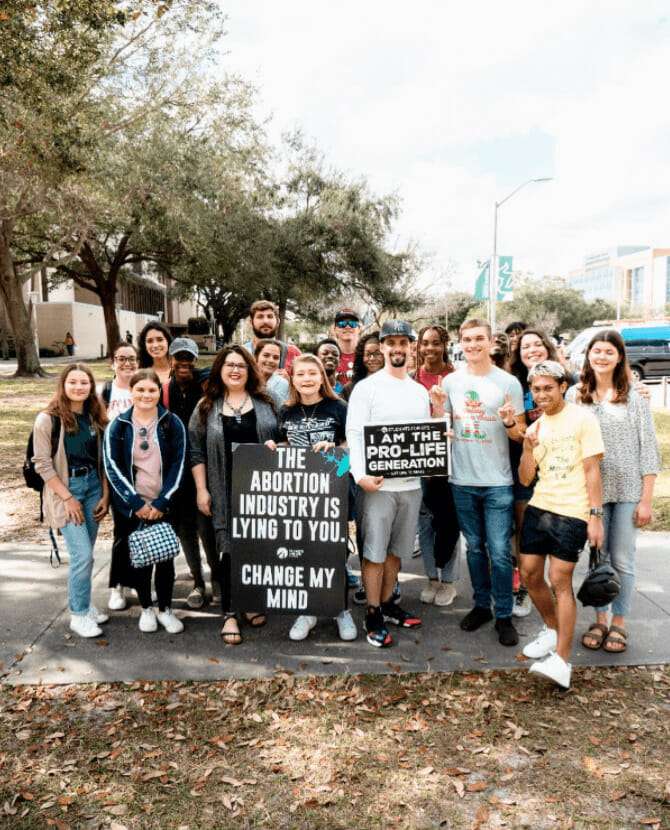 In exercising our free speech rights on behalf of the preborn and their mothers, Students for Life of America team members often face opposition and even violence.
To learn more about the hostile environment on campus towards pro-lifers, read SFLA Regional Coordinator Stephanie Luiz's National Review op-ed entitled "The Harassment of Pro-Life College Students Is Getting Worse."
Hawkins also wrote about this recently for CNN News, noting:
"We're battling 50-year-old talking points and assumptions to reopen conversations. We're not running away from that. We plan to have one million conversations this year alone – many of which have already started and are focused on engaging younger voters whose voices need to be heard – because you can't build new law and new services without new consensus. And we need new consensus that rejects Roe's outdated and prejudiced legacy.
"We're not afraid to speak up – though we have good reason to fear. Our team faces threats but is resolved nonetheless to present a message of hope for the future…We still have a tough climb, but nothing will stop our resolve to protect the humanity of people born and preborn."
Click HERE to read SFLA's top free speech violations on campus from Fall 2022.
Reporters wishing to attend the events, email: [email protected]
–30–
Students for Life Action (SFLAction), a 501c4, along with its 501c3 sister organization, Students for Life of America (SFLA), make up the nation's largest pro-life youth organization and a political and policy operation engaging people of all ages. Together they work to end abortion — the human rights issue of our day — and provide political, legal, and community support for women and their children, born and preborn. Headquartered in Fredericksburg, VA, SFLA has more than 1,300 groups on middle, high school, college, university, medical, and law school campuses in all 50 states. SFLA creates strategy, policy, and programming to connect those most targeted for abortion with people ready to help and builds a framework for political engagement on their behalf. SFLA and SFLAction have more conversations with those most targeted by the abortion industry than any other pro-life outreach in the world, reaching more than 2 million people across social media platforms each week and engaging in approximately 100,000 digital conversations per month. Over more than 16 years, President Kristan Hawkins has grown SFLAction/SFLA into an $18 million organization preparing for a Post-Roe America.