From the SFLA Blog
Peaceful Pro-Lifers Assaulted as Screaming Abortion Agitators Turn Violent at KBJ SCOTUS Protest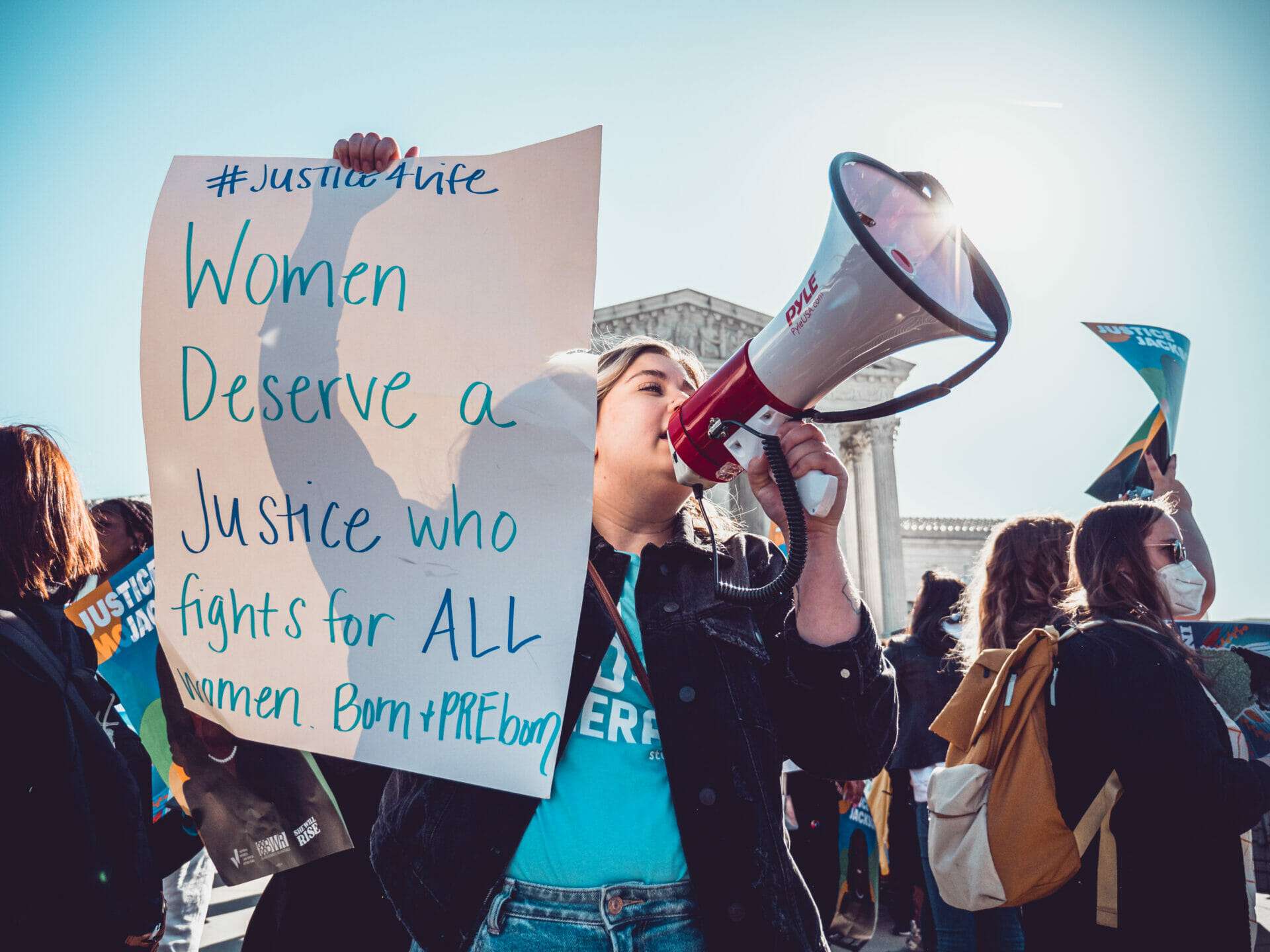 Caroline Wharton - 22 Mar 2022
Loud, Lewd, and Thuggish abortion zealots took their fury out on peaceful protestors … a living word picture for the assault against peaceful infants attacked in the womb.
"Violent abortion agitators are taking their frustrations out on peaceful pro-life protestors, proving once again that they don't have anything to offer America but the violence of abortion aimed at everyone in their reach," said SFLAction's Kristan Hawkins.
WASHINGTON D.C. (03-22-2022) – Students for Life Action President Kristan Hawkins again called on the U.S. Senate to vote NO on the confirmation of Judge Ketanji Brown Jackson to the Supreme Court, given her record of ignoring the free speech rights of Pro-Life Americans while working to defend barbaric late-term Partial Birth Abortion, a record she detailed in opinion pieces at Fox News and the Washington Examiner. SFLAction will also be lobbying on the Hill today as the hearings enter day two.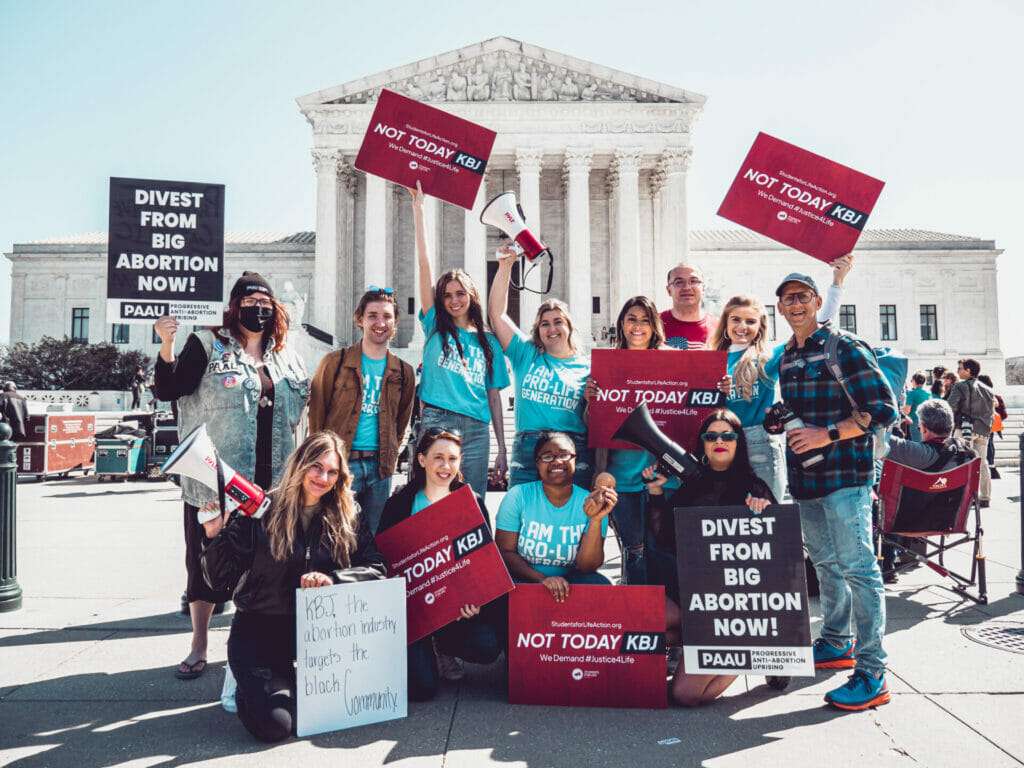 Students for Life Action staff and SCOTUS Squad, students who commit to a presence at the Supreme Court during news events, were on-hand at the Supreme Court during the first day of hearings in opposition to Judge Jackson. And what we met was unprecedented.
READ MORE AND WATCH VIDEO HERE At Students for Life's Blog. As we report:
Our students and staff were shoved, berated, punched, and degraded all due to our stance on life. This did not come as a shock to us as the abortion lobby has become progressively more aggressive. With Roe v. Wade potentially on the chopping block, abortion supporters are both quivering in fear and striking out in violence. However, while SFLAction has much experience with violence, what we faced at this protest marks a violent change from those who agitate for the violence of abortion.
Here's what a few of our students and staff had to say about the abuse they suffered at the protest, reported by SFLA: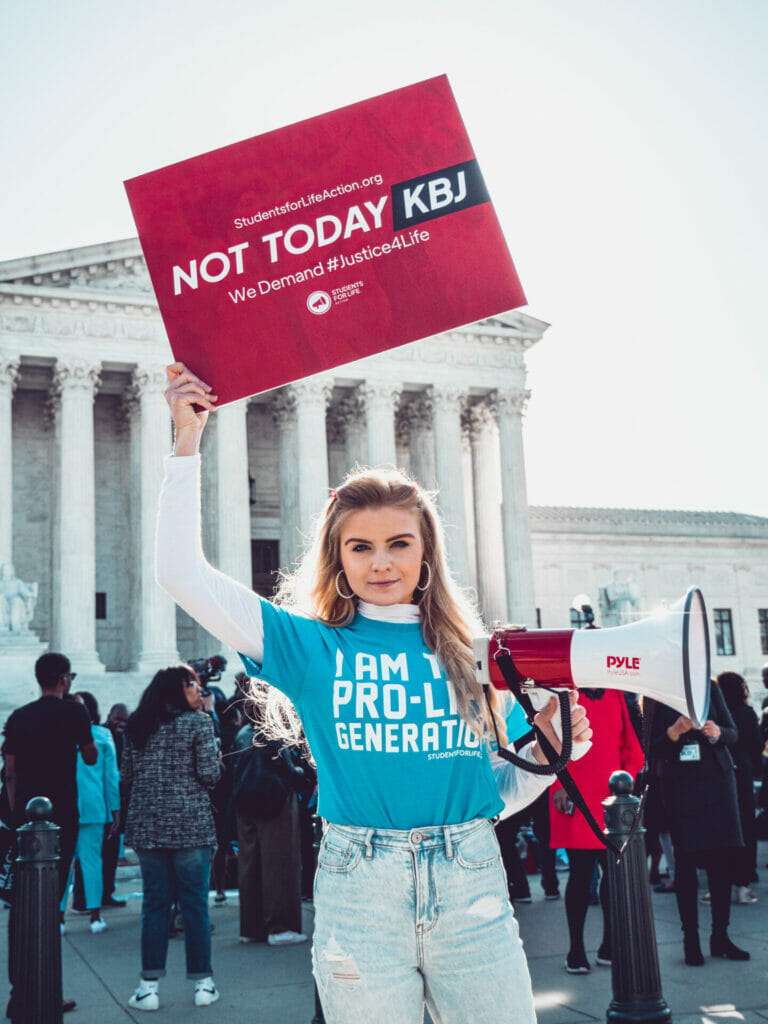 Hannah Wolfe, the Capital Area Regional Coordinator for Students for Life of America, said:
"I've never in my life experienced such hostility at the hands of others simply because my opinion differed from their own. I was pushed, shoved, screamed at, and even twerked on. I was called racist, fat, ugly, and a million other things I don't even dare repeat. At one point, I was so surrounded by people yelling in my face that I could not move enough to even put my arms down and instead had to hold them in the air, clutching onto my sign for dear life.
The most baffling thing to me was the people who heard me say how badly I wanted all women to be represented and supported and then used that as the fuel to determine that I was "anti-woman." At the end of the day, I'm so thankful we were there to show another viewpoint and make it clear that we deserve a much better nomination than Ketanji Brown Jackson to the Supreme Court of the United States."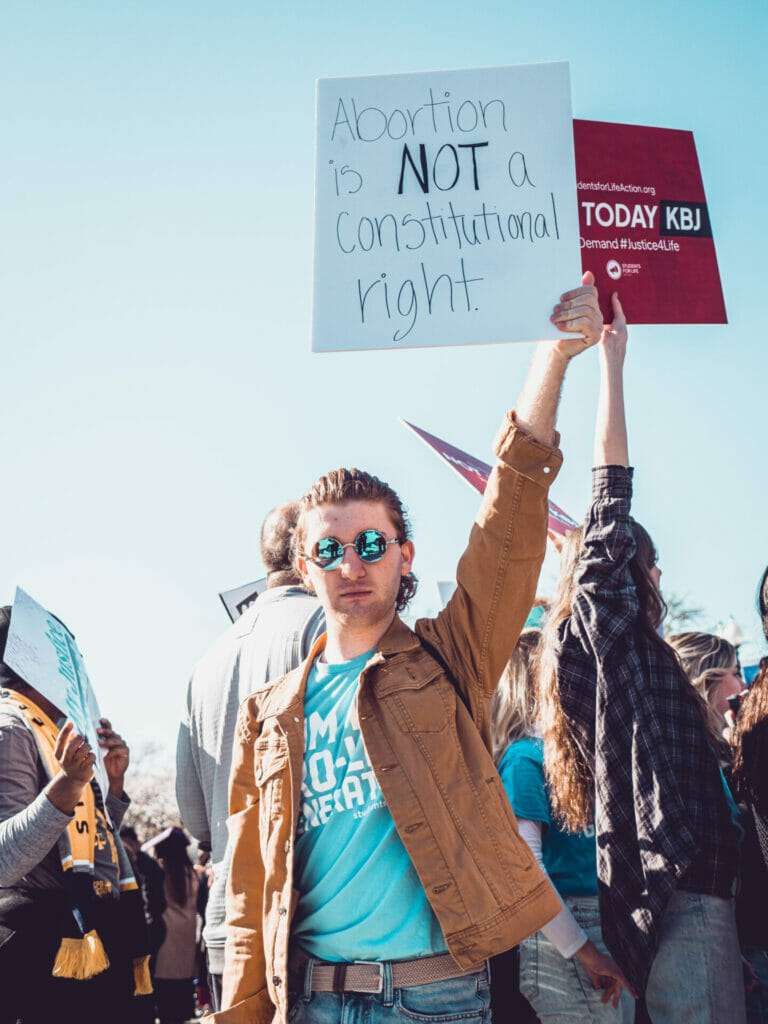 Noah Slayter, a member of SFLAction's SCOTUS Squad (a group of students in the Washington D.C. area that rapidly respond to all protests and events at the Supreme Court), said, "Today, I waspunched in the face while protecting my friend from being tackled. I was lifted off the ground while trying to prevent someone from kicking me. I was screamed and yelled at so to say it was a hectic day is an understatement."
Click HERE to watch a video from the Washington Examiner that show abortion supporters trying to silence the Pro-Life Movement.
One SFLAction staff member, Anna Lulis, was shoved all the way into the street by a protestor. After being pushed into the street, she was followed by protestors who persisted to push things in her face. She noted, "This is one of the most aggressive rallies I have ever been to. My megaphone was shoved against me, and they were hitting me with my own megaphone. It got so bad that the pro-abortion event coordinators had to tell their own attendees to stop, and the police had to get involved."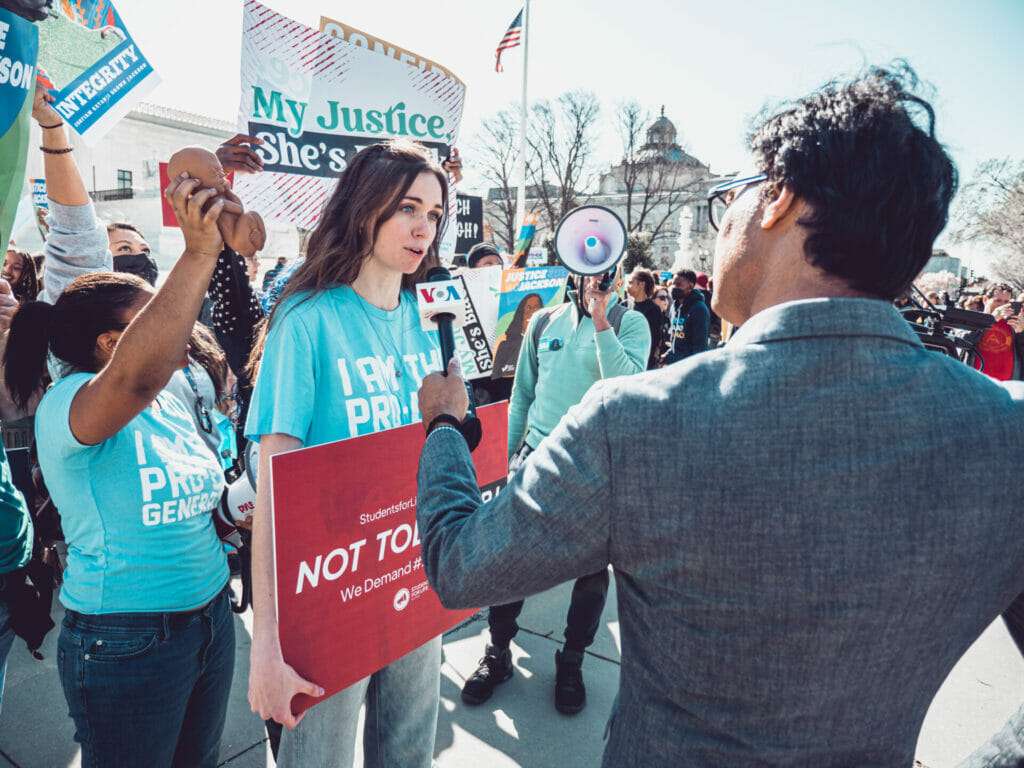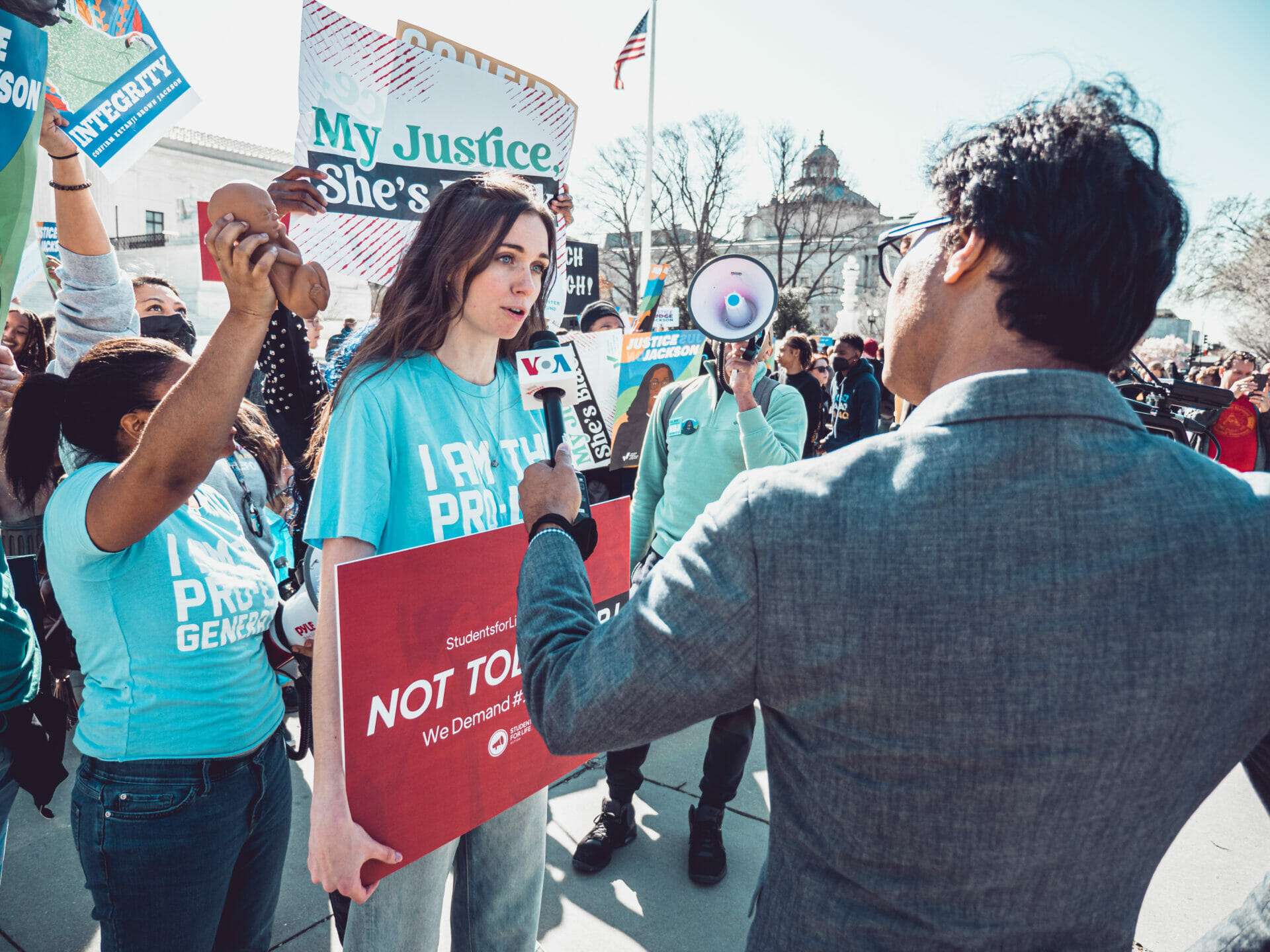 Norvilia Etienne, Students for Life of America's Fellowship and Impact Coordinator, was berated by women of color telling her that she had been brainwashed by the pro-life movement, and they even went as far as to tell her that she needed to go get her "nappy hair done." Additionally, when Norvilia shared her story about how her mother almost chose to abort her but instead chose life, abortion supporters screamed, "You should have been aborted" at her.
Click HERE to watch Norvilia talk with an abortion supporter about protecting life at the protest.
After she was shoved to the ground, Lauren Marlowe, Students for Life of America's Social Media Coordinator, said, "There were multiple women who followed me around the Supreme Court taking close up photos of my face while saying, 'I'm going to f*ck you up.' One woman went as far to say, 'Get ready to put your life and your body on the line' just before she shoved me to the ground."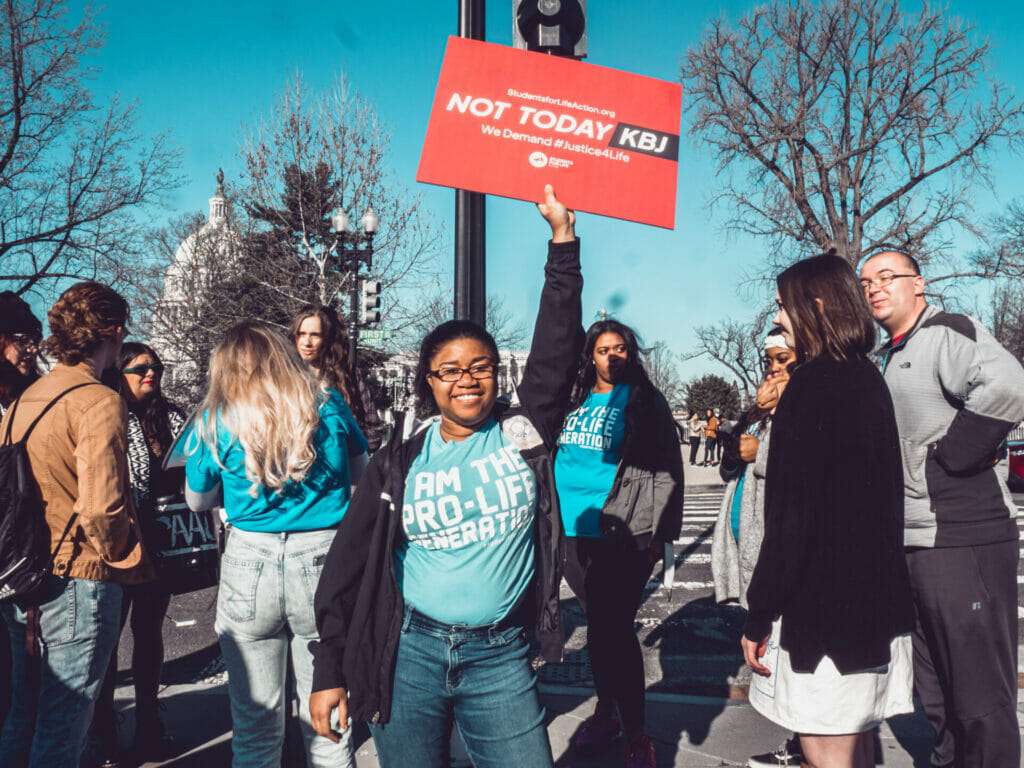 The confirmation vote for Judge Ketanji Brown Jackson will be a scored vote for Students for Life Action. Read more on that here.
For interviews, contact Kristi Hamrick at [email protected] or [email protected]
–30–
Students for Life Action (SFLAction), a 501c4, along with its 501c3 sister organization, Students for Life of America (SFLA), make up the nation's largest pro-life youth organization and a political and policy operation engaging people of all ages. Together they work to end abortion — the human rights issue of our day — and provide political, legal, and community support for women and their children, born and preborn. Headquartered in Fredericksburg, VA, SFLA has more than 1,250 groups on middle, high school, college, university, medical, and law school campuses in all 50 states. SFLA creates strategy, policy, and programming to connect those most targeted for abortion with people ready to help and builds a framework for political engagement on their behalf. SFLA and SFLAction have more conversations with those most targeted by the abortion industry than any other pro-life outreach in the world, reaching more than 2 million people across social media platforms each week and engaging in approximately 100,000 digital conversations per month. Over more than 15 years, President Kristan Hawkins has grown SFLAction/SFLA into an $18 million organization preparing for a Post-Roe America.