From the SFLA Blog
SFLA & National Partners Hold Historic Training of Pro-Life Generation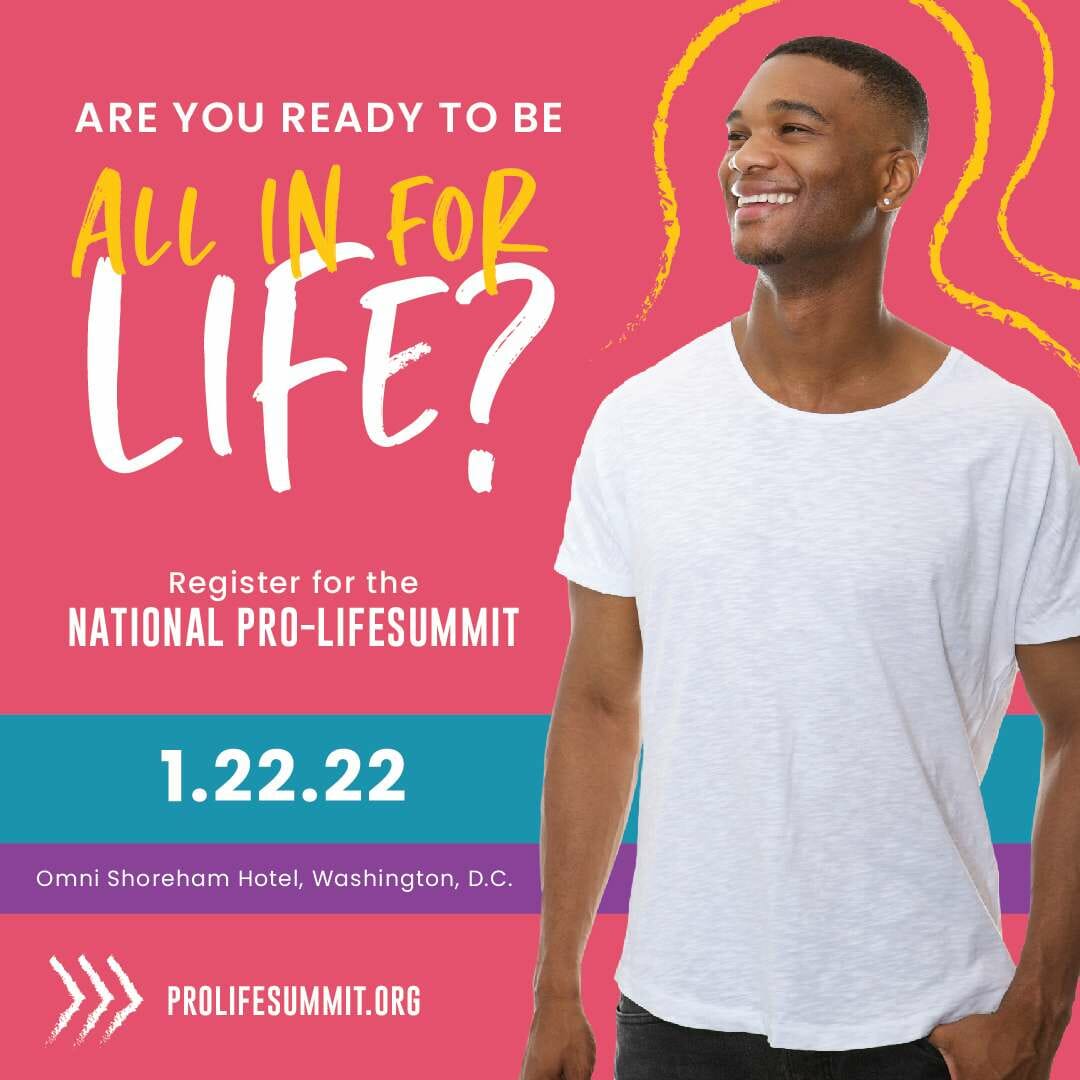 Kristi Hamrick - 03 Jan 2022
Former Vice President Mike Pence to address attendees in his only anniversary of Roe appearance in Washington D.C.   
THIS YEAR: A Straw Poll of the Pro-Life Generation – now more than 30 % of the electorate — will survey the TOP THREE ISSUES informing their vote.  
"Roe v. Wade might be turning 49, but we won't see it turn 50 as it is," said Students for Life of America President Kristan Hawkins. "Students for Life of America was founded as a Post-Roe organization, ready to protect life in law and in service in all 50 states. We've got a post-Roe plan, and we're training the next generation of Pro-Life leaders to ensure that the children who will be born will have all our support."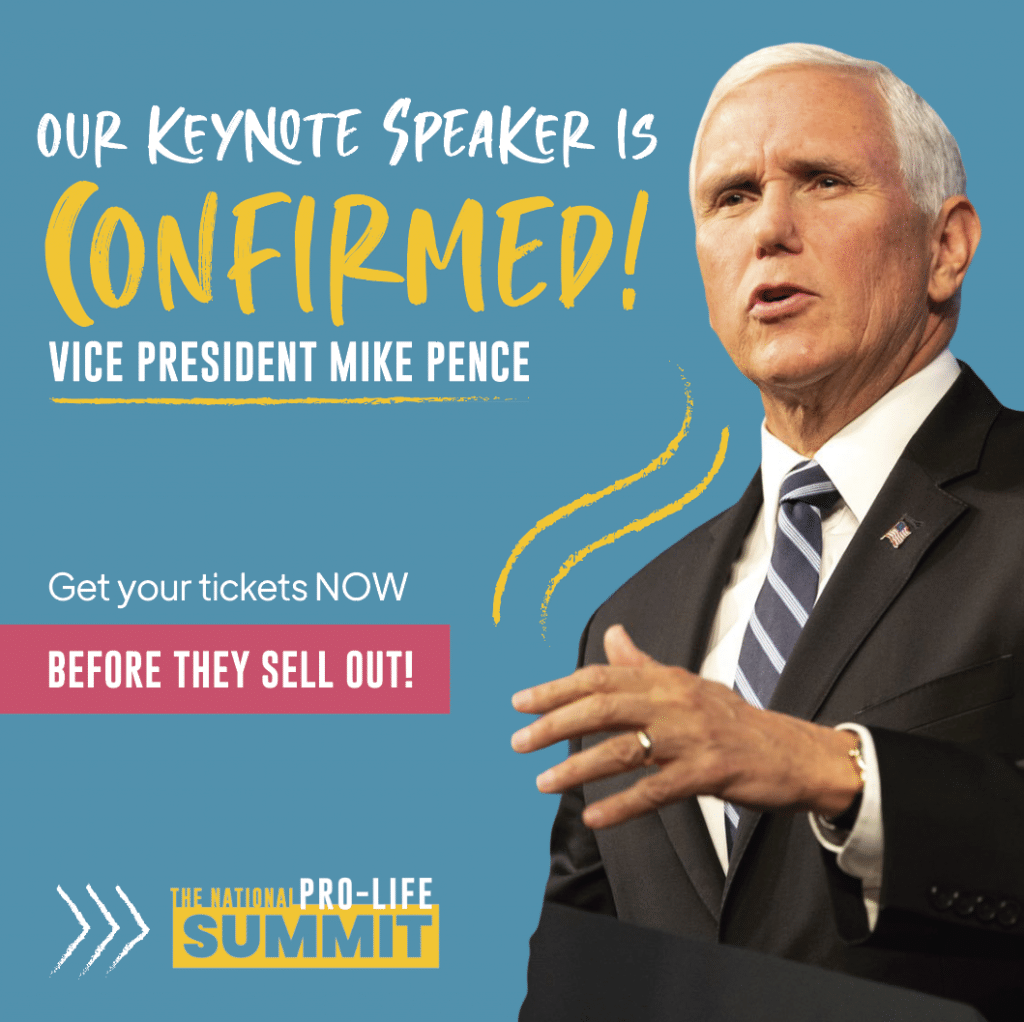 Washington D.C. (01-03-2021)—Following what may be the last pro-life march mourning Roe v. Wade as it has been, national leaders in the Pro-Life movement will hold a strategy and training conference – the National Pro-Life Summit titled All In For Life — to prepare for a post-Roe America. The world's largest pro-life conference will be held on the actual 49th anniversary of the Roe v. Wade decision: Saturday, January 22nd, 2022, from 8 a.m. to 7 p.m. EST at the Omni Shoreham Hotel at 2500 Calvert Street Northwest, Washington, D.C. 20008. SFLA is expecting to train approximately 2,000 students from across the country, preparing them to be active, single-issue voters. SFLA/SFLAction is joined by partners Alliance Defending Freedom (ADF), the Heritage Foundation, and Support After Abortion, in welcoming an all-star lineup of pro-life experts and activists.
Former Vice President Mike Pence, who founded Advancing American Freedom, will be the keynote, featured along with SFLA's Kristan Hawkins, Michael Knowles of the Daily Wire, Dr. Alveda King, OANN's Liz Wheeler, Heritage Foundation's new president Dr. Kevin Roberts, Cissie Graham Lynch of the Billy Graham Association and Samaritan's Purse, ADF's Tyson Langhofer, Dr. Brent Boles and many others. The Speaker's list can be accessed here.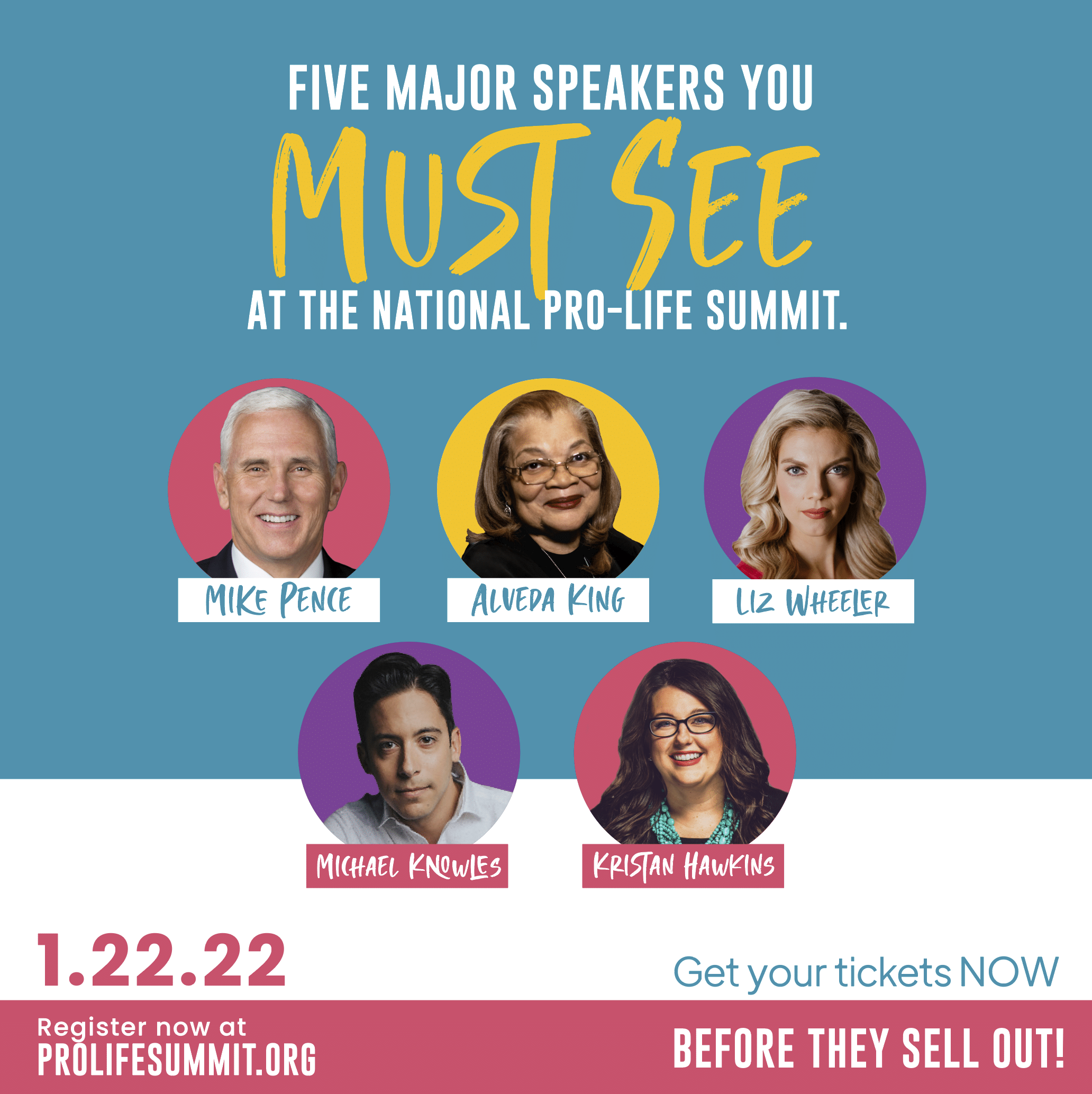 As Hawkins noted in her recent op-ed at Fox News, America needs to get ready for a world after Roe. She observed, "It will take time to confront the abortion mindset that turned babies into disposable commodities, telling a nation to eliminate those who might suffer rather than addressing the suffering. In a Post-Roe America, we must renew our commitment to helping those in crisis around us. But many like me are already hard at work, knowing that one day, Roe will be no more."
SFLA has trained more than 130,000 students nationwide, preparing single-issue voters to get to work. Click HERE to watch a recap video of the 2020 Summit.
"Our line-up of breakout training sessions and national speakers promises to be like no other Summit before," said Hawkins. "We have handpicked influential changemakers in the pro-life movement with the goal of turning our students into influential changemakers. Our student activists grow up to become lawmakers, influential news commentators, organizational leaders, faith leaders —and right now, they will be the best grassroots activists possible."
NEW THIS YEAR: During the Summit, students will participate in a straw poll examining key issues for the Pro-Life Generation. SFLAction engaged in extensive Get-Out-The-Vote (GOTV) activity in the last Presidential cycle, motivating new voters, and as Pew reported, a record number of voters engaged in the last cycle, up about 7 percent from 2016.
As Time reported on the 2020 cycle, "Young voters also had record turnout: roughly 50%, according to the Center for Information & Research on Civic Learning and Engagement (CIRCLE) at Tufts University, a jump of 11 percentage points from 2016 and likely the highest youth voter turnout since the voting age was lowered to 18. According to Harvard's annual Institute of Politics poll, 36% of young people now consider themselves politically active, up from just 24% in the year after Barack Obama was elected in what was supposed to be a watershed moment for young Americans."
That's significant as Millennials and Gen Z – the Pro-Life Generation – are now 31 % of the electorate.
Straw Poll results will be available to media for a first look at the issues motivating activated, young voters before the conclusion of the event.
Click HERE to register for the Summit as a student or adult. 
Media must be credentialed and registered to attend the event. Click HERE to register as media. 
For more information on the National Pro-Life Summit, click HERE. 
For interviews, contact  [email protected]
–30–
Students for Life Action (SFLAction), a 501c4, along with its sister organization, Students for Life of America (SFLA),a 501c3, make up the nation's largest, pro-life, youth organization as well as operating a political and policy operation engaging people of all ages. Together they work to end abortion, the human rights issue of our day, and provide political, legal, and community support for women and their children, born and preborn. Headquartered in Fredericksburg, VA, SFLA has more than 1,250groups on middle, high school, college, university, medical and law school campuses in all 50 states. SFLA creates strategy, policy and programming that connects those most targeted for abortion with people ready to help and builds a framework for political engagement on their behalf. SFLA/SFLAction has more conversations with those most targeted by the abortion industry every day, week, and year than any other pro-life outreach in the world. Every week, Students for Life entities reach more than 2 million people across social media platforms to have nearly 200,000 digital conversations. Under the leadership of SFLA/SFLAction President Kristan Hawkins, who was recruited to build the organization, SFLA has grown over the last 15 years into a $15 million organization preparing for a Post-Roe America.