From the SFLA Blog
Biden Administration's FDA Risks Women's Lives to Open New Abortion Market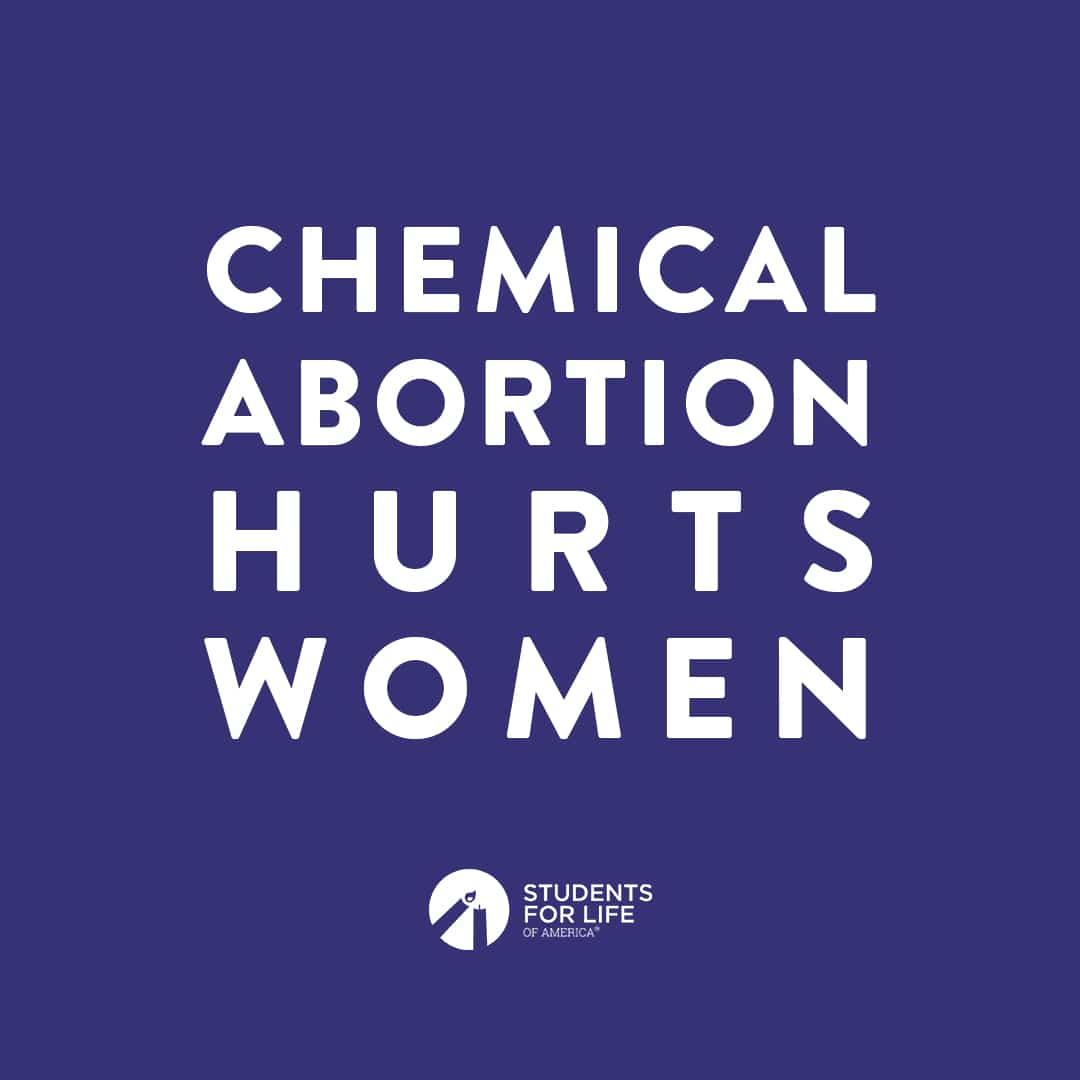 Caroline Wharton - 16 Dec 2021
"We always knew that the Biden Administration was full of abortion extremists with no regard for a preborn baby, but we hoped that they wanted women at least to survive an abortion. The FDA's change in the health and safety standards for Chemical Abortion Pills places women at great risk of injury, infertility, and even death, which doesn't seem to bother the self-proclaimed 'women's advocates' working for Joe Biden," said Students for Life Action President Kristan Hawkins.  
"This reckless change helps abortion vendors make a fast buck but does nothing to help women who may want to survive an abortion with her life and fertility intact."  
WASHINGTON D.C. (12-16-2021) – Pro-life leaders from SBA List and Americans United for Life joined Students for Life Action President Kristan Hawkins for a THESE PILLS KILL virtual news conference and live event in advance of the FDA's expected decision to reduce the health and safety standards attached to Chemical Abortion Pills. SBA List President Marjorie Dannenfelser and AUL President Catherine Glenn Foster called the coming healthcare crisis of Chemical Abortion Pills an 11 on a scale of 1 to 10, and they talked with Hawkins and Dr. C. Brent Boles, a practicing Ob-Gyn and medical director of Heartbeat, who detailed the health risks of Chemical Abortion Pills and the shoddy response of the FDA to the dangers.
"Prolife leaders have been working at the state level to pass legislation in advance of this reckless change, to prevent online, no test distribution of Chemical Abortion Pills, which puts women and the preborn in great danger," said Hawkins.
To watch today's broadcast of the THESE PILLS KILL news event and the dangers of no test, online Chemical Abortion Pill distribution, click here. 
SFLAction, SBA List, and AUL have been part of a coalition effort to pass state legislation that would prevent deadly online distribution, which is gearing up for a second round of state-based legislative efforts in 2022.
At the federal level, Rep. Bob Good has introduced H.R. 5136.00 Teleabortion Prevention Act of 2021 to codify strong medical standards that protect the lives of women and the preborn. Following the broadcast, a conversation between Hawkins and Good detailed the need for this legislation as part of today's events. Click here to learn more.
As Hawkins wrote recently for National Review, an op-ed piece titled, "The Abortion Lobby Doubles Down on Risky Chemical Abortion Pills," "getting rid of health and safety standards for chemical abortion is anti-woman and anti-science. The pills cause four times the complications as surgical abortion, with a risk of death that is ten times higher, according to a National Institute of Health Study.
"FDA reports numerous side effects. Between 5 and 7 percent of women who take Chemical Abortion Pills will need a follow-up surgery to end the pregnancy. And an Australian study noted that up to 8 percent of women who took the pills in that country ended up in an emergency room. Similar math is even reported by the abortion industry."
Students for Life of America and Students for Life Action has prioritized stopping expanded distribution of deadly Chemical Abortion Pills that have cost more than 20 women their lives, along with countless preborn babies. The life ending drugs carry the risk of infection, surgery, infertility, depression, horrifying pain, and even death for both mother and child.
As SFLA has noted before, our efforts include in part: 
Fighting California's efforts to require all publicly funded colleges and universities to distribute deadly Chemical Abortion Pills through school healthcare centers, through rallies, lobby days, community engagement, testifying, and aggressive social media and traditional media engagement.
Supporting the SFLAction inspired Legislation Introduced by U.S. Representative Chip Roy (R-TX) and U.S. Senator Steve Daines (R-MT),The Protecting Life on College Campus Act of 2021 that would prohibit federal funds from being directed to institutions of higher education that offer abortion procedures and Chemical Abortion Pills to students and faculty.
Working with a powerhouse, pro-life coalition on state-based legislation to prevent deadly, online distribution.
Developing a legislative operation to assist the 14 states where Chemical Abortion Legislation moved this session, using tools such rallies, lobby days, community engagement, testifying, and aggressive social and traditional media engagement, as well as targeted political efforts to achieve a pro-life win.
Curating the "This is Chemical Abortion" website for up-to-the-minute information and tools to confront the harms of Chemical Abortion, which includes a docuseries "This is Chemical Abortion," part of an extensive grassroots education effort, partnering with Charlotte Pence-Bond and Heartbeat International.
Highlighting the medical realities that abortion harms women's health and fertility through multiple platforms and grassroots engagement.
For interviews, contact Kristi Hamrick at [email protected] or [email protected]
–30–
Students for Life Action (SFLAction), a 501c4, along with its sister organization, Students for Life of America (SFLA),a 501c3, make up the nation's largest, pro-life, youth organization as well as operating a political and policy operation engaging people of all ages. Together they work to end abortion, the human rights issue of our day, and provide political, legal, and community support for women and their children, born and preborn. Headquartered in Fredericksburg, VA, SFLA has more than 1,250groups on middle, high school, college, university, medical and law school campuses in all 50 states. SFLA creates strategy, policy and programming that connects those most targeted for abortion with people ready to help and builds a framework for political engagement on their behalf. SFLA/SFLAction has more conversations with those most targeted by the abortion industry every day, week, and year than any other pro-life outreach in the world. Every week, Students for Life entities reach more than 2 million people across social media platforms to have nearly 200,000 digital conversations. Under the leadership of SFLA/SFLAction President Kristan Hawkins, who was recruited to build the organization, SFLA has grown over the last 15 years into a $15 million organization preparing for a Post-Roe America.