From the SFLA Blog
Pro-Abortion Students Vandalize ANOTHER Pro-Life Display at Catholic University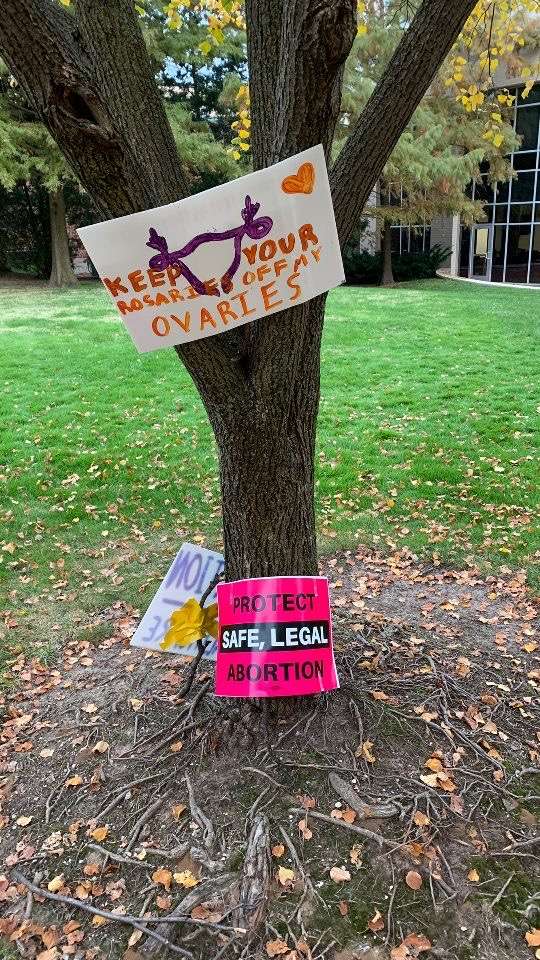 Caroline Wharton - 09 Nov 2021
Yesterday (Monday, November 8) at Saint Louis University — a Catholic school — pro-abortion advocates vandalized the SLU Students for Life group's annual Cemetery of the Innocents display. This display is a memorial to lives lost from abortion that the group organizes each year. Of course, those who constantly demand "tolerance" of their viewpoints are once again being completely intolerant of an alternative, pro-life viewpoint on abortion.
The group set up the cemetery display, which consisted of pink flags symbolizing the children killed in abortion violence, yesterday morning between 7 and 9 AM. An hour after the display was completely set up, a student noticed that the signs in front of the display had been kicked over. He put them back up. Within an hour after that, the signs had been stolen. 
The vandalism situation grew dire by the afternoon, when SFLA Greater St. Louis Area AFC Community Organizer and SLU student Nick Baker saw two young women removing display flags out of the ground and kicking them over. Baker began recording and approached the girls. The first comment they made was: "So uh… you just love disrespecting women?" Moments later a girl said, "You can go to hell." She then told Nick "You're a little b*tch," among other comments.  
See for yourself the vandalism and just how hatefully these abortion activists behaved toward the peaceful, pro-life students and display at SLU in the video below. 
Another student who approached the vandals and confronted them told SFLA: "I decided to approach them because they were defacing a memorial. While I agree with the content of the memorial's message, I wasn't trying to argue with them about that. I was trying to protect the free speech of those who had put up the memorial." The anonymous student continued: "If we are going to honestly debate the merits or morality of abortion, then we should do so in a charitable and compassionate conversation. Especially at a Catholic school, we should love our neighbors as we would ourselves. Defacing a memorial betrays those values, so I wanted to steer things in the right direction." 
For abortion cheerleaders at SLU, one instance of vandalism was not enough. Later in the evening, the Students for Life group's president, Isabelle Hotard, rushed to the display when she heard someone mention in the club's group chat that some people were acting strangely nearby. Upon arriving to the scene, she saw a handful of students kicking over the flag display flags once again. She calmly asked them to stop and to "put the flags on the ground." The vandals remained silent and slowly left the display.  
Later, pro-abortion students erected their own, disturbing pro-abortion signs on campus (photos below). The pro-life students removed their display overnight to prevent it from being stolen or further vandalized and set it up once again this morning.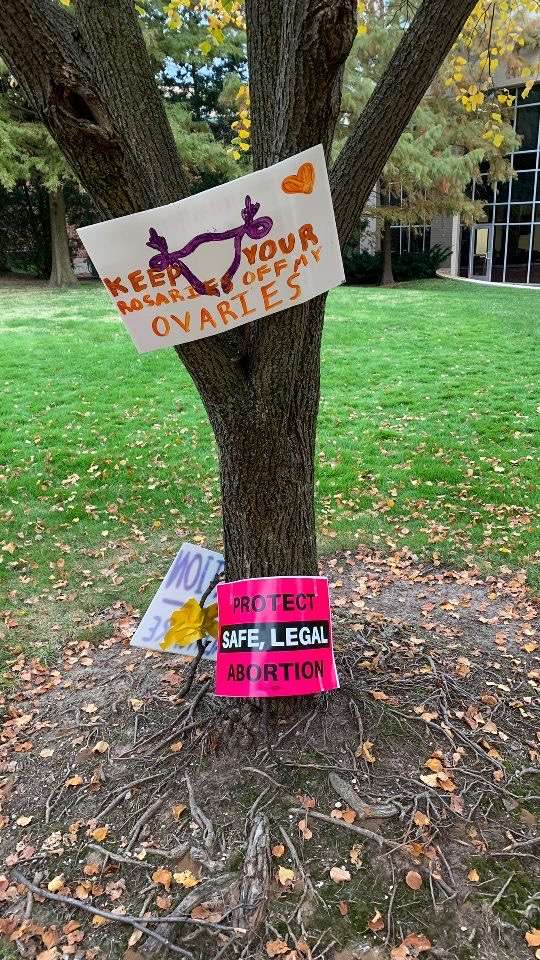 All the vandalism that has occurred toward the display in the span of a day has prompted club members to come together to take shifts near the display today, to guard it from further criminals.  
Unfortunately, the St. Louis University Students for Life cub is no stranger to bad treatment by the vicious pro-aborts. Missouri-Arkansas Regional Coordinator Lucy Gonzalez, an SLU '20 alumna herself, said: "Every year during my time as a SLU student, our annual Cemetery of the Innocents display was vandalized. One year, our entire display of 350+ wooden crosses that we staked into the ground were completely stolen."
 
"The conversation about abortion is constantly censored by pro-aborts. However, we won't stop showing up as the Pro-Life Generation to bring the Truth into light," Lucy continued. "The Pro-Life Movement is a movement of love, and we are up against a movement of darkness. How can I tell? Because a movement of love would not include those who say "you can go to hell" or call people a "little b*tch" when disagreements arise. A movement of love would not display such hatred."  
This is not the first time a Cemetery of the Innocents display has been vandalized at SLU. The university's president responded to a similar incident in 2017, and that response can be found here.