From the SFLA Blog
A Baby SAVED on the Sidewalk of an Ohio Planned Parenthood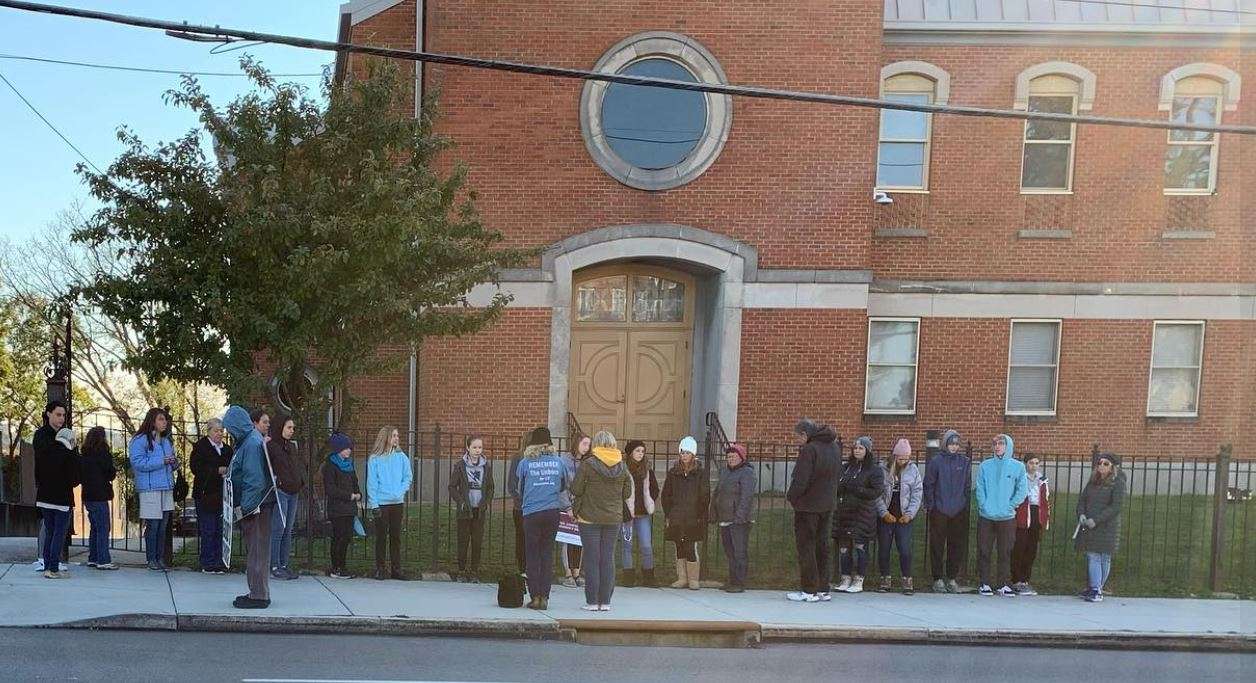 Brenna Lewis - 08 Nov 2021
As part of Students for Life's Campaign for Abortion Free Cities, pro-life advocates nationwide visit the sidewalks outside of abortion facilities to lovingly offer women non-violent pregnancy options. In Cincinnati, a life was just saved! Jordan Moorman, SFLA's Ohio Regional Coordinator, shared his experience.
A Life Saved at Planned Parenthood in Cincinnati
"I stood mere feet away as a life was saved on the sidewalk outside of an abortion facility.  
I watched a woman get dropped off outside the Planned Parenthood on Auburn Avenue in Cincinnati, Ohio. I had arrived at the abortion facility with Joanna, who works for a local pregnancy resource center, and Britt, who is a community organizer for the Abortion Free Cities Campaign.
The young woman who had just been dropped off exchanged words with a Sidewalk Advocates for Life advocate, Mary, took life-affirming literature, and went inside the abortion facility after a lengthy and tearful hug. Motivated to pray, I knelt alongside Joanna and offered up a Rosary in front of the Planned Parenthood.
It began to rain. After the Rosary, I went back to my car for an umbrella, also remembering that I had gift boxes for expecting mothers in need. On my way back to the sidewalk, I saw Britt excitedly gesturing. I noticed the woman who had tearfully entered the Planned Parenthood was back. Mary told me she had decided to keep her baby.  
Immediately, I experienced an intense wave of emotion. Witnessing Mary's work—this miracle—gave me hope. I had forgotten for a moment the state the world was in. I was only aware of this joy, and of the mother's tears, and our collective happiness overflowing. I ran—yes, ran—back to my car to get the gift box.  
The mother needed a ride to the pregnancy center. I excitedly called her a Lyft; the pregnancy center Joanna worked at was only minutes from where this mother lived. We were elated. Things could not have been more perfect. The young woman thanked Mary profusely, and she excitedly went to the pregnancy center where she received tons of free assistance.  
Sidewalk counseling, pregnancy centers, Sidewalk Advocates for Life, and the Campaign for Abortion Free Cities are all lifesaving efforts that work together. These efforts save lives. These efforts bring joy. The pro-life movement is alive and well, and this is just one example of what can happen when pro-life individuals and organizations work together.
Today, Mary was on the front lines. Joanna provided the supportive services. Britt provided a ride home. All of us hold difference positions and titles within the pro-life movement, but we acted together as a cohesive unit to save and empower a mother and her baby."