From the SFLA Blog
Kristan Hawkins Launches 'The Future is Anti-Abortion' Speaking Tour, Unpacking Strategy for Post-Roe & Post-Dobbs America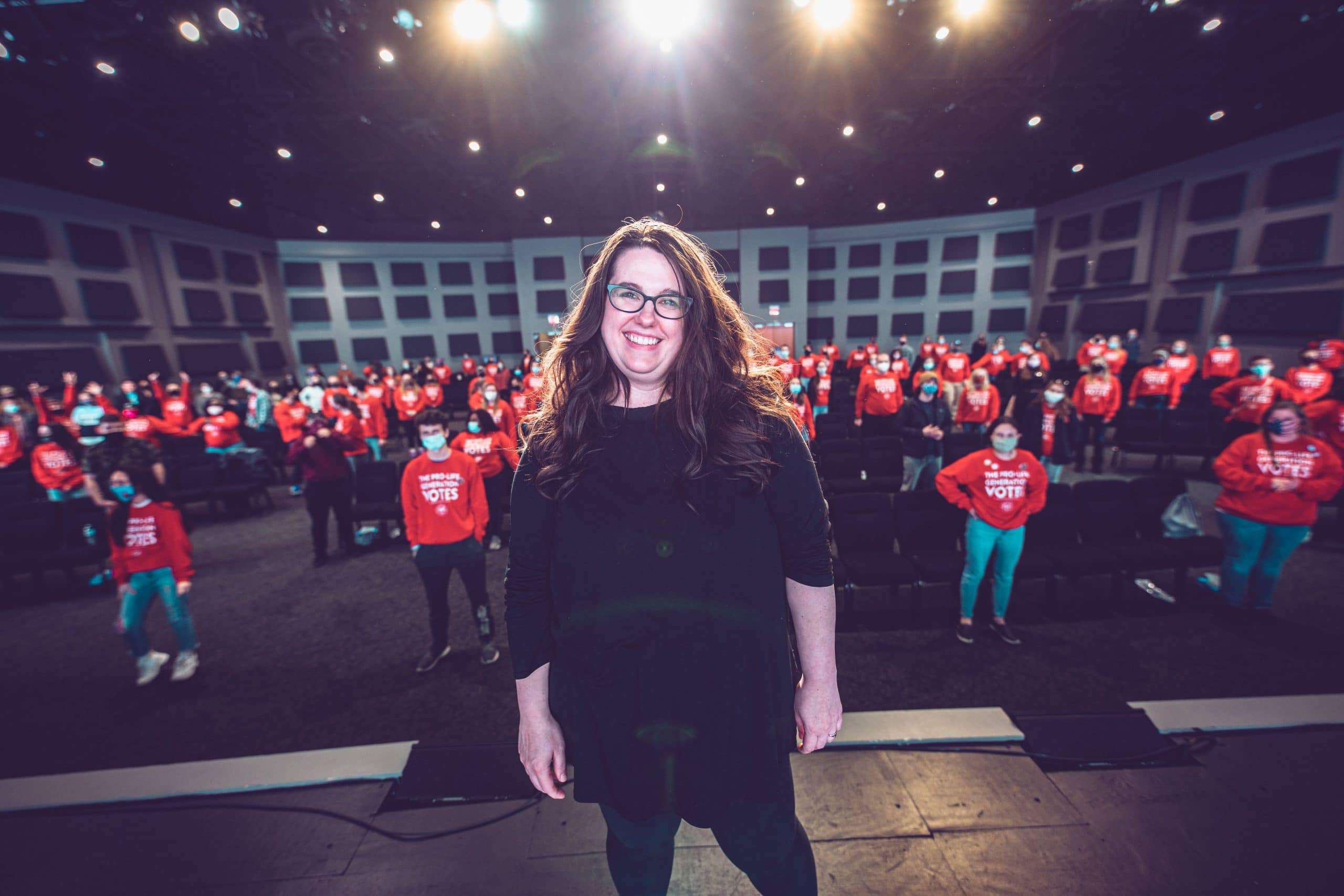 Brenna Lewis - 18 Oct 2021
"Despite efforts by the mainstream media and Big Tech to keep pro-life conversations out of the mainstream, the anti-abortion position is more popular today than ever," said Students for Life of America president Kristan Hawkins. "As the most pivotal abortion case since Roe v. Wade kicks off at the Supreme Court, the Pro-Life Generation is all grown up and working in legislatures, on courts, in communities, online, and on the ground to defend Life in Law until Roe v. Wade is consigned to the ash heap of history where it belongs. Clear-eyed citizens see the horror of abortion violence and reject it. But too often, university students are desensitized to injustice by ideologies unmoored from science and ethics. I am looking forward to engaging these students in the discussions their professors won't have."
WASHINGTON, D.C. (10-18-2021) – This week, Students for Life of America (SFLA) President Kristan Hawkins launches her Fall Speaking Tour, The Future Is Anti-Abortion: Preparing For A Post-Roe America. With oral arguments in the Dobbs v. Jackson Women's Health Supreme Court case quickly approaching, Hawkins will analyze what a post-Roe, post-Dobbs America looks like, and why Americans should be optimistic about a future where more children are welcomed in love and protected in law. Upcoming tour stops include Wellesley College, St. Mary's College, the University of San Diego, and the University of California, Irvine.
Hawkins' university speeches have sparked debate in the past, but threats of being canceled do not deter her from stating the fact that The Future Is Anti-Abortion. Hawkins recently stated:
"I know what it's like to feel silenced and written off as "fringe" for being anti-abortion. But the anti-abortion position anything but fringe. Millennials and Gen Z are trending pro-life.
"January polling commissioned by SFLA found that more than 7 in 10 Millennial and Gen Z voters support limits on abortion. About half are opposed to their tax money being used to pay for abortion. Nearly half support banning abortion as early as 6 weeks, when a child's heartbeat can be detected. By a margin of 57 % to 30 %, Millennials and Gen Z reject Roe v. Wade when they learn the ruling allows for abortion through all 9 months.
"It's actually the abortion extremists who propagate the media narrative on abortion who are out of touch and fringe. In fact, our polling found that less than 2 in 10 Millennial and Gen Z voters want what is currently the Roe v. Wade status quo: Abortion through all 9 months, for any reason, funded at times by taxpayers. The other 8 in 10 don't want what the abortion lobby is selling — and that's why the Future Is Anti-Abortion."
Speaking Tour Stops:
Wellesley College (MA)
Thursday, October 21, at 7:30pm local time
St. Mary's College (IN)
Monday, November 8, at 7pm local time
University of California Irvine
Wednesday, November 10, at 7pm local time
University of San Diego
Thursday, November 11, at 7pm local time
Learn more about Kristan Hawkins at KristanHawkins.com
For interviews, contact Lauren Enriquez at [email protected]
–30– 
Students for Life Action (SFLAction), a 501c4, along with its 501c3 sister organization, Students for Life of America (SFLA), make up the nation's largest pro-life youth organization and a political and policy operation engaging people of all ages. Together they work to end abortion — the human rights issue of our day — and provide political, legal, and community support for women and their children, born and preborn. Headquartered in Fredericksburg, VA, SFLA has more than 1,250 groups on middle, high school, college, university, medical, and law school campuses in all 50 states. SFLA creates strategy, policy, and programming to connect those most targeted for abortion with people ready to help and builds a framework for political engagement on their behalf. SFLA and SFLAction have more conversations with those most targeted by the abortion industry than any other pro-life outreach in the world, reaching more than 2 million people across social media platforms each week and engaging in approximately 100,000 digital conversations per month. Over the last 15 years, President Kristan Hawkins has grown SFLA into a $15 million organization preparing for a Post-Roe America.