From the SFLA Blog
We Don't Want Our Tax Dollars to Pay for Abortion… So We Rallied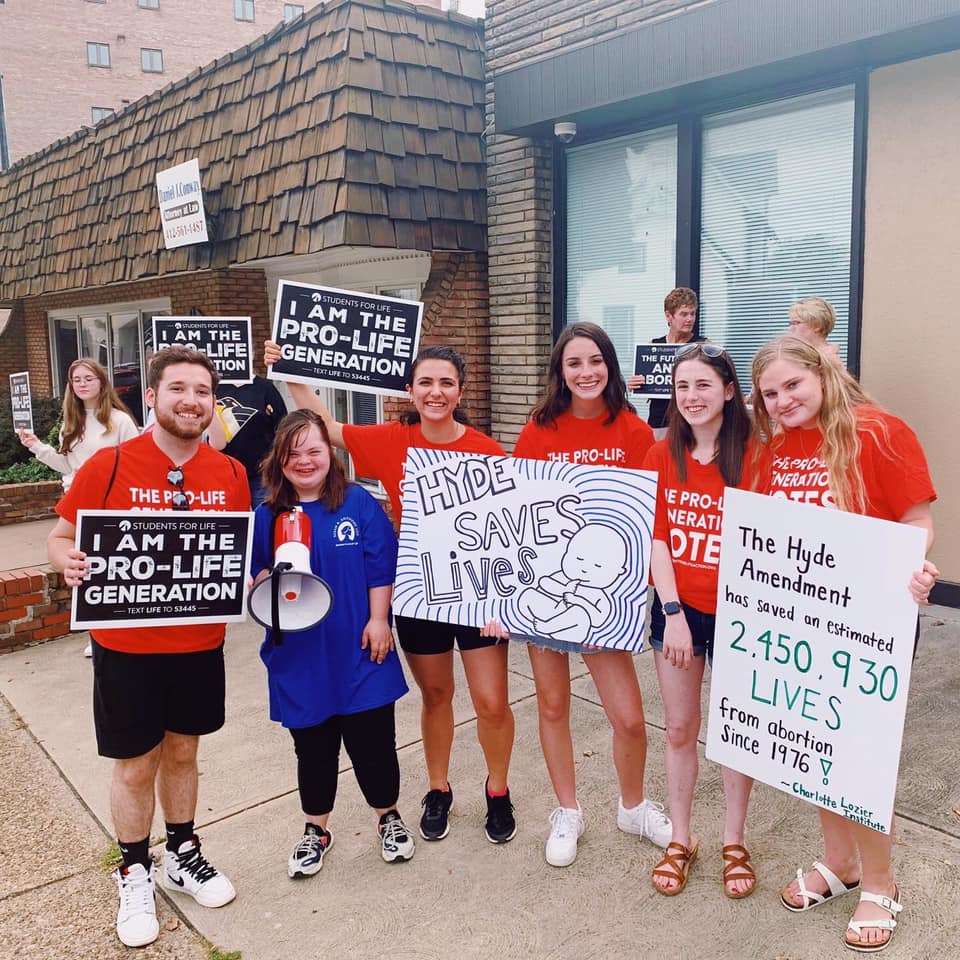 Brenna Lewis - 14 Sep 2021
On September 13th, Students for Life of America rallied outside of the offices of key legislators to encourage support of the Hyde Amendment (which protects taxpayers from being forced to fund abortion) and expose their records of pushing for public abortion funding.
The Hyde Amendment is a political "rider" that that is attached to the annual HHS Labor appropriations bill and essentially prevents taxpayer dollars from directly going towards abortion via Medicaid. It was first enacted in September of 1976 (three years after the handing down of Roe v. Wade). Now, for the first time since 1976, it is under attack. 
It's why we rallied outside these offices…
Arizona

 

– CD 1 Tom O'Halleran

 

Iowa

 

– CD – 3 Cindy Axne
Michigan

 

– CD 8 Elissa Slotkin & CD 11 – Haley Stevens

Pennsylvania

 

– CD 17 – Conor Lamb

Virginia

 

– CD 7 Abigail Spanberger
Hannah Wolfe, the SFLA Regional Coordinator in charge of the Virginia event outside of Abigail Spanberger's office, shared:
"The area surrounding was extremely quiet, so our voices carried far when we chanted "Hyde Saves Lives" and "Abortion Hurts Women, Women Deserve Better!"
We were on the sidewalk in front of her building for around 45 minutes total, chanting and waving signs as well as taking a few minutes for me to make some remarks. After that, one of our students, Therese Sanctafamilia, and I went into the building to attempt to meet with Rep. Spanberger. Her office was unfortunately closed and had a sign on the door that they were not meeting with anybody in person still due to Covid. I dropped off a copy of my remarks and I am sending a follow up email.
It overall went very well! It was hot and sweaty, but I feel it did make a huge statement to have us out on the sidewalk and it would have been impossible for anybody driving past or working in the surrounding buildings to miss!"
Not too far away, Mary Grace Byers of SFLA rallied outside of Conor Lamb's office. She noted:
"The rally was attended by a total of 47 people of all ages. I gave a short introduction and speech which was followed by speeches from Herb Geraghty, the Executive Director of Rehumanize International, Margaret Kelty, the Field Director of PA for Susan B. Anthony List, and Elena Liguori, a grad student at Pitt and the former president of the Pitt Respect Life group. Afterward, we held signs to demonstrate to anyone who passed by, took some group and individual photos, and sidewalk chalked pro-life messages.
I spoke with a couple of women who were formerly pro-choice and realized that they were on the wrong side. One of them told me that the reason she became pro-life was her own experience of having an abortion. She said that she has never been the same. Margaret Kelty, with SBA List, said that she also was formerly pro-choice. She said that she learned the truth about the horrors of abortion and "overnight I went from being a pro-choice activist to a passionate pro-life one."
In her speech, Elena said, "Representative Lamb, as a Catholic, I can tell you that our faith does not support abortion. As a scientist, I can tell you that abortion kills a living human being. And as a human person, I can tell you that the child in the womb is a life. Why else would we have baby showers, gender reveals, pregnancy announcements, if it were something that is not even alive? If it is just a clump of cells, than you and I are just as much a clump of cells. We are all just at different stages of the development process."
Codifying Roe, repealing Hyde, and a myriad of other pro-abortion actions being carried out by legislators are way of out touch with popular opinion. They may be semi- getting away with it for now as they're benefitting from the public's current ignorance of what's really going on… but that will not last. And their speechwriters had better bring their A-game when it comes time to defend their positions.