From the SFLA Blog
Can Abortion Save Gov. Gavin Newsom's Flagging Campaign?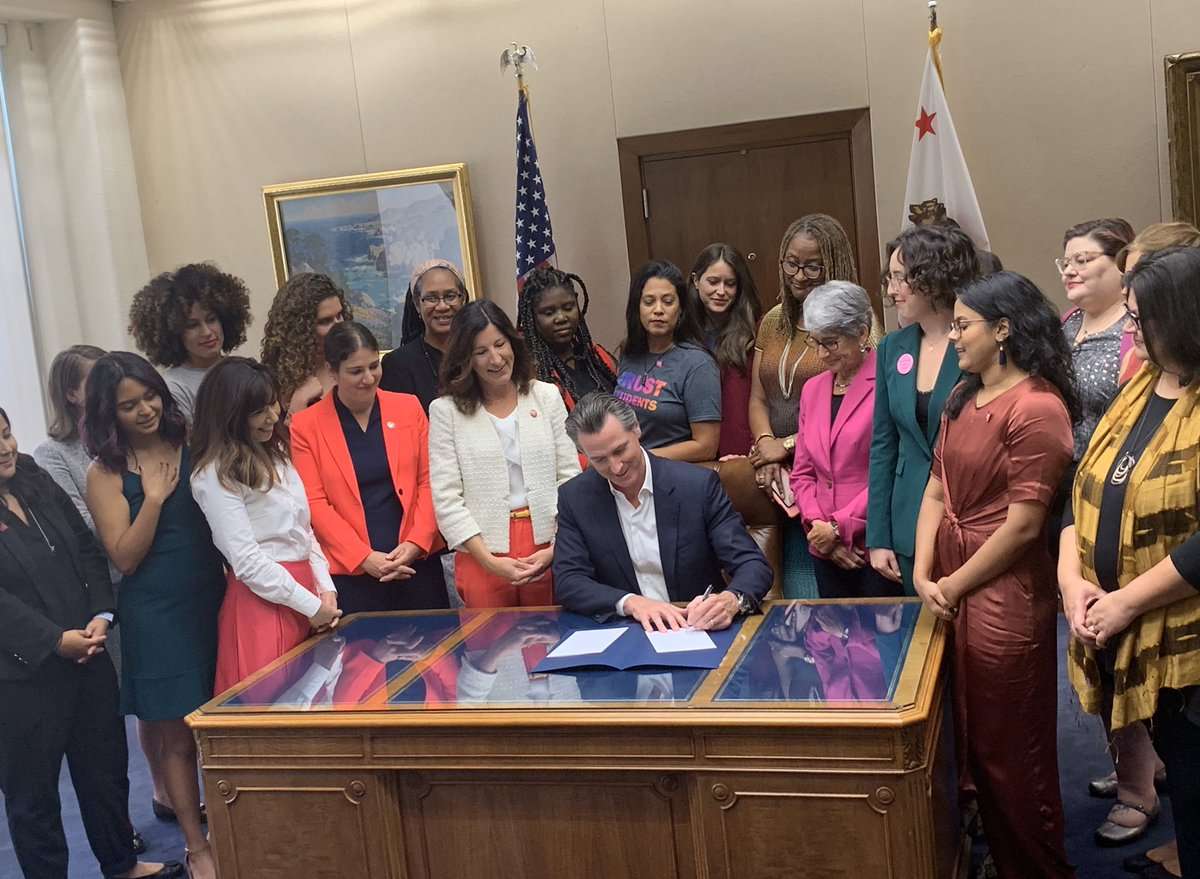 Kristan Hawkins - 09 Sep 2021
Original opinion editorial by SFLA's Kristan Hawkins & Jordan Brittain posted at Newsweek
As the NFL season begins and the California recall election nears, Governor Gavin Newsom seems to be launching his own fantasy team, deploying abortion as a political football in the hopes of getting Californians to the polls on Tuesday, September 14.
Disillusionment with Newsom hit critical mass during the COVID-19 pandemic, as he presided over one of the nation's strictest lockdown policies while simultaneously flouting his own orders, sparking charges of hypocrisy. Boasting an unimpressive record on COVID alongside a struggling economy and an unprecedented homelessness crisis, Newsom has few achievements to enthuse his voter base. He's leaning on an unlikely attribute—his support for abortion—in hopes that his record of maintaining California's highly permissive abortion laws will help him edge out his challengers.
Newsom and his political allies are painting a bleak picture of abortion rights under a potential ascendant Republican. According to Politico, abortion advocates are "phone banking, knocking on doors, posting digital ads and social media messages and holding events with Newsom and other lawmakers as ballots are mailed to voters." Planned Parenthood, Politico reports, now fears that California voters have "become a little complacent about" what it means to support the violence of abortion.
The governor, for his part, hasn't been complacent about granting the abortion industry its wish list items. After the Trump administration cut off funding that went to abortion businesses, Newsom doubled the state's payments for abortion, signed a bill forcing public universities to dispense chemical abortion pills and proclaimed California a haven for out-of-state women seeking abortions.
While Newsom plays pied piper for abortion enthusiasts, his supporters are busy accusing his most threatening challenger, Larry Elder, of making overtures to "white supremacist" voters. The LA Times stooped so low as to call Elder "the Black face of white supremacy." This despite the fact that Elder has spent decades advocating for policies to improve life for minority Americans. Newsom's hope appears to rest on abortion driving voters to the polls and Californians buying the claim that his Black opponent is a secret white supremacist.
Planned Parenthood et al. are assuring voters that Newsom's gubernatorial powers are what keep California's extreme pro-abortion status quo secure. In many ways, that's true. Although many observers posit that pro-life politics have virtually no chance under the state's Democratic supermajority, Newsom's backers argue that the governor's line-item veto and appointment power drive California's abortion regime. Newsom told the Los Angeles FOX affiliate that he can "veto everything" passed by the legislature. "You can appoint judges without any oversight and consideration." He also warned of Republican plans to "take out" Nancy Pelosi in the 2022 midterm election, saying "the consequences are pretty extraordinary."
Planned Parenthood Affiliates of California CEO Jodi Hicks endorsed Newsom in an interview with Sacramento's FOX affiliate. She cited his gubernatorial powers to protect California's cushy abortion budget, but appeared to lack any enthusiasm for Newsom himself. Planned Parenthood's overwhelming concern is that Republicans stay out of the governor's mansion.
"For us there is no question that if a Republican is elected, access to all of those things—abortion, STI testing, sex ed, birth control—it's all at stake," Hicks said. "We've seen this happen in other states across the nation when there's a Republican-led governor, and we know that this is one step away from happening here in California." Hicks noted that California has "increased funding" and "expanded access" to abortion. In fact, the same FOX affiliate reported two days earlier that Newsom "doubled California's investment for reproductive health services, funds that go to clinics like Planned Parenthood" in just his first year in office.
Hicks wasn't shy about the fact that Planned Parenthood's interest in Newsom is financial. "Our governor in charge has things like line-item veto capabilities," she said. "They oversee the budget. They have appointment-making authority for… leaders that are in charge of things like our Medicaid funding [and] people that make decisions about how that's funded." Hicks warned that Republicans will restrict abortion "through the budget."
Staking the recall vote on an abortion-access narrative may be risky business, if polling is any indication. A national survey of Millennial and Gen Z registered voters, for example, found that a plurality of 45 percent oppose taxpayer funding of abortion in most cases, and less than 2 in 10 support unlimited abortion access. Despite these findings, Newsom and his abortion allies are asking voters to rally around California's governor-led policy of taxpayer-funded abortion on demand.
With Newsom's record of failure on COVID-19, homelessness and the economy—and facing vacillating poll numbers—it is possible that this abortion enthusiasm strategy is little more than a Hail Mary pass. Will Newsom's gambit work, or is there a new status quo on the horizon for the Golden State?