From the SFLA Blog
Students for Life of America Holds National Pro-Life Generation Sidewalk Day Outside of Abortion Facilities Nationwide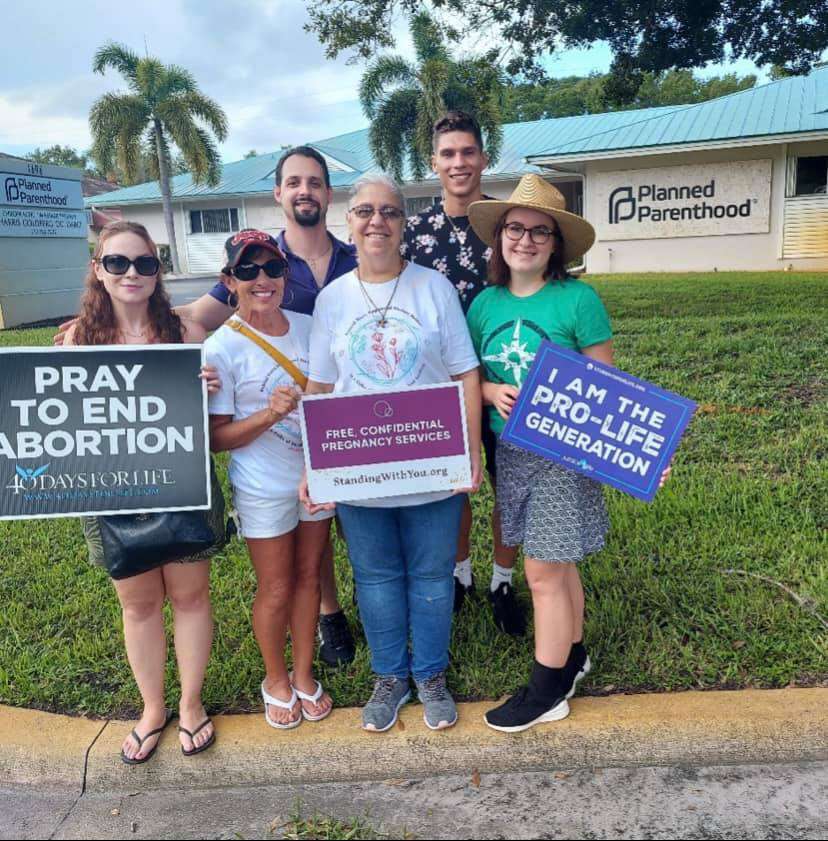 Kristi Hamrick - 12 Aug 2021
"We feel the urgency of giving preborn children a voice – especially when they are in imminent danger of abortion violence at abortion facilities," said Kristan Hawkins, President of Students for Life of America and Students for Life Action. "Furthermore, women and girls seeking abortion need to know that they do not need abortion in order to survive or thrive — and telling them that they do is a lie the abortion industry uses in order to sell abortions, not help women. We are on the front lines mobilizing young people as a presence on the sidewalk, extending real support and tangible resources to pregnant women, reducing the demand for abortion."
WASHINGTON D.C. (08-11-2021) – Over the weekend, pro-life advocates across the country gathered for the 2021 National Pro-Life Generation Sidewalk Day. Participants, trained by Sidewalk Advocates for Life and mobilized by Students for Life of America, witnessed to the humanity of preborn life on the sidewalks outside of abortion facilities across the nation.
Kristan Hawkins, President of Students for Life of America and Students for Life Action, said that the day is about saving lives and raising awareness:
"We feel the urgency of giving preborn children a voice – especially when they are in imminent danger of abortion violence at abortion facilities. Women and girls seeking abortion need to know that they do not need abortion in order to survive or thrive — and telling them that they do is a lie the abortion industry uses in order to sell abortions, not help women. we are on the front lines mobilizing young people as a presence on the sidewalk, extending real support and tangible resources to pregnant women, reducing the demand for abortion."
The goal of encouraging abortion-seeking women and those who accompany them to reject abortion and embrace life came to fruition in at least one instance, when a pregnant mother in Illinois walked out of her abortion appointment after her husband spoke to pro-life advocates outside. Reagan Barklage, National Field Director for Students for Life of America, was present at the rescue and shared about a family she encountered at the facility:
"The man stepped out of the car, texting (we assumed) his wife who was inside. One of the male pro-life volunteers who was with our group approached and spoke with him. He confirmed that his wife was inside for an abortion. The volunteer offered the father free pregnancy resources, which were received with gratitude.
"Soon after, the man drove away with the three children. While he was gone, his wife exited the abortion facility. She looked upset, so I assumed she had gone through with the abortion, though she appeared visibly pregnant. I walked up to her and asked if she was okay. In broken English, she replied, "No go through with it." She had changed her mind inside! I gave her a resource bag, a hotline to call for further help, and words of encouragement. Then she and her family left."
To learn more about the rights of pregnant women and the resources and support available to them, visit the Students for Life of America initiative, Standing With You, at StandingWithYou.org.
–30– 
Students for Life Action (SFLAction), a 501c4, along with its 501c3 sister organization, Students for Life of America (SFLA), make up the nation's largest pro-life youth organization and a political and policy operation engaging people of all ages. Together they work to end abortion — the human rights issue of our day — and provide political, legal, and community support for women and their children, born and preborn. Headquartered in Fredericksburg, VA, SFLA has more than 1,250 groups on middle, high school, college, university, medical, and law school campuses in all 50 states. SFLA creates strategy, policy, and programming to connect those most targeted for abortion with people ready to help and builds a framework for political engagement on their behalf. SFLA and SFLAction have more conversations with those most targeted by the abortion industry than any other pro-life outreach in the world, reaching more than 2 million people across social media platforms each week and engaging in approximately 100,000 digital conversations per month. Over the last 15 years, President Kristan Hawkins has grown SFLA into a $15 million organization preparing for a Post-Roe America.