From the SFLA Blog
These are the Biggest Fears About Starting a Students for Life Group (And We Can Help)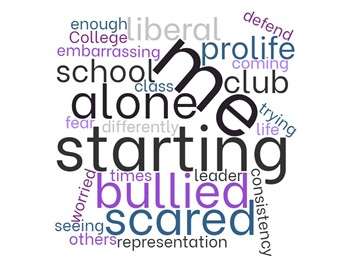 Lori Cascio - 05 Aug 2021
This July, Students for Life of America hosted online "Claim Your Campus" trainings on the East and West Coasts. Students were taught how to start their own Students for Life groups at their schools. Participants heard from guest speaker Autumn Lindsey, played Kahoot!, and collaborated to problem solve. The "Claim Your Campus" training also spotlighted several student guests who shared their experiences of starting new pro-life groups last school year.  
The training was led by Students for Life's newest team: the Field Operations Team. They exist to help students claim their campus and start groups. Going into the Fall, the six Field Operations staff members are working with 200 new student leaders, mentoring them to get more involved and eventually start Students for Life of America groups to expand the Pro-Life Movement across the nation.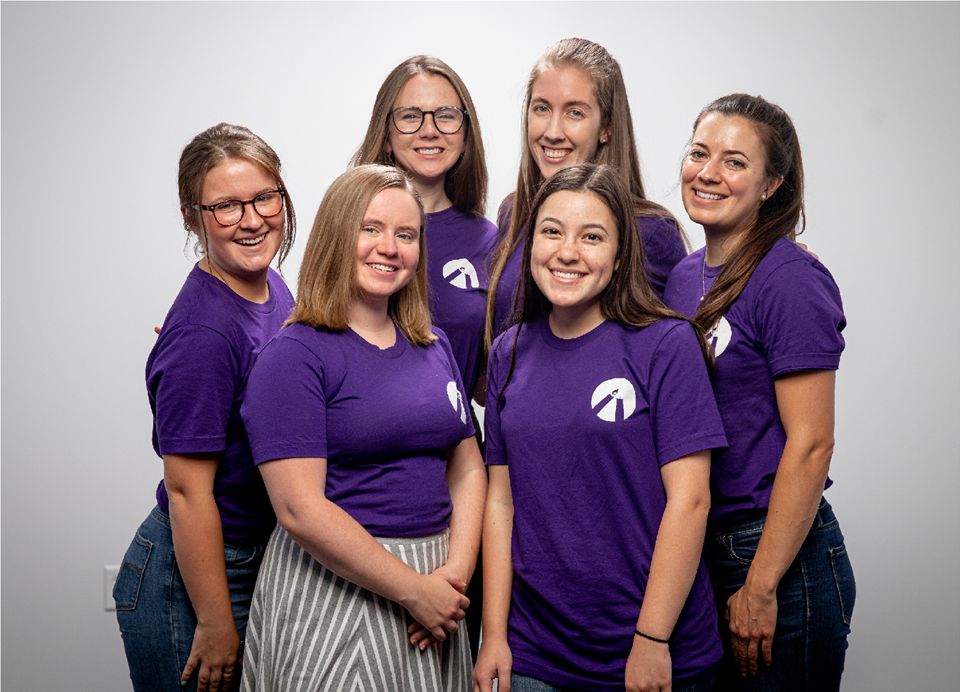 What Participants Learned
Why and How to Start a Students for Life Group

 – This training explained all the basics of what a Students for Life Group can do on campus and why the work of student groups is so uniquely important.  Participants reviewed the "Five Pillars of Pro-Life Engagement" and logistics they'll need to know for starting in the Fall. 

 

Empower their personal calling for Life through practical easy steps.  

 

Allowed them to strategize with other young pro-life leaders.  

 

Gave them a glimpse of all that Students for Life has to offer to support their efforts. 

 

Had a chance to meet their regional Field Operations staff member!

 
Student Guest Speakers
Elizabeth B. from Indiana State University spoke on the importance of persistence, or as Julia DeLuce, the host, said it, "being a nice Karen." After fearing her request for club approval was being ignored, Elizabeth called and emailed staff at her university every day for a week. "And what do you know? By the end of the week, we were an approved group on campus!" We must never give up when lives are on the line!

 

Grace R. from Rider University in New Jersey climbed her own uphill battles to get to the point of being approved at her school and continued to stay actively pro-life throughout it all. She highlighted how various Students for Life resources, like our displays, trainings, and one-one-one mentorship from Students for Life staff enabled her to persevere in the two-year process of starting her group during a school merger and the pandemic closing in-person school.

 

Marcos G. from Texas A&M University at Galveston started his pro-life activism in his Catholic network and slowly branched out to his peers on campus. Receiving the Students for Life Activism Kit provided tangible easy step for him to take and provided the confidence he needed. (All webinar participants are also receiving this Kit for free!)  Setting aside his hesitations and carrying his new badge of course, he started tabling on campus. New members began flooding in!

 
In an exercise, student participants answered the question of "What are you most fearful of when you picture yourself standing for life on your campus?" and "What would a victory look like? Field Operations then turned their submissions into a word cloud (pictured below). The more a word showed up in their combined responses, the bigger the word became.  
FEARS 
VICTORIES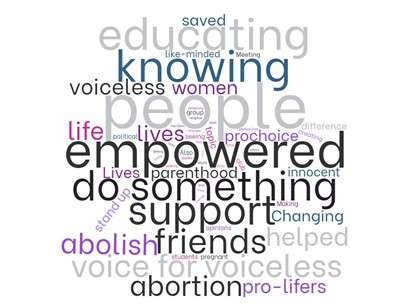 When we focus on ourselves instead of the reason why we are in the pro-life movement, we can get wrapped up in our qualifications. Reminder: if you are human, you are 100% credible to speak out against the ending of innocent human lives in abortions.  
Notice that "starting" is one of the largest words in the fear cloud. The Field Operations team helps each student start. The beginning is new and exciting, we are here to make sure it is effective and that you feel equipped.  
Testimonials from the Students
"Thank you so much for being on the zoom call last night. It motivated me to keep working towards my group. I am super excited…" -Ilana, Oak Harbor,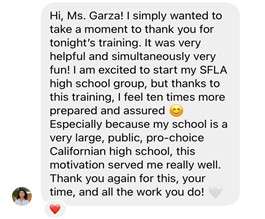 Want to start a Students for Life group at your middle school, high school, college, or graduate campus this fall? 
Email [email protected]!