Biking for Babies is an organization that uses long-distance bicycling journeys to raise awareness for the pro-life cause and funds for pregnancy help organizations. The first Biking for Babies event consisted of two people who biked 600 miles and raised $14,000 for a pregnancy center. Their work has expanded to national rides with legions of pro-life bicyclists. Over the past 11 years, Biking for Babies boasts…

This summer, two Students for Life leaders from Texas participated in their first national ride: Melanie Salazar and Jerry Sharp III. We asked Melanie and Jerry a few questions about their experience…
You can support Melanie's Biking for Babies missionary experience HERE! 
You can support Jerry's Biking for Babies ride HERE!
Why did you Bike for Babies?
Jerry: I first encountered Biking For Babies (B4B) at their booth at a FOCUS conference in Phoenix and then once again in Washington DC. at the National Pro-Life Summit. I not only wanted a challenge, but also wanted to do more for the pro-life cause as I am very service-oriented. I care about and recognize the significance of our nation's pregnancy help organizations (PRCs) and the important services they provide to future and current moms and dads.
Melanie: I have known about B4B for years and never considered joining… until someone from B4B personally reached out to me and invited me to join. I thought it would be both a fun and meaningful thing to do for a week in the summer. I believe we have to be fighting the abortion battle on every front and pregnancy help organizations are a huge part of the fight. PRCs are the first alternative to the abortion industry.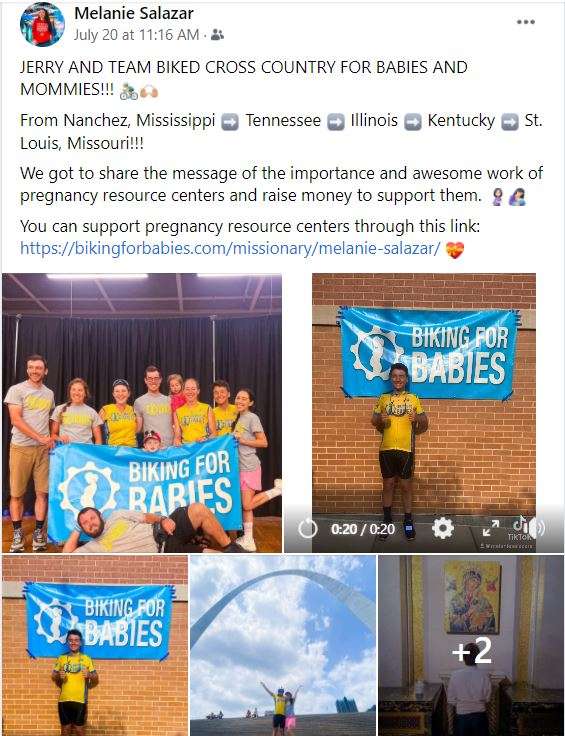 Have you participated before?
Jerry: This was actually my first time! I joined the Southern Route team which rode from Natchez, MS all the way to St. Louis. It was an adventure, riding across part of the country, but I was also so grateful for the ability to promote and help pregnancy centers across the nation in a fun and rewarding way!
Melanie
: This was my first missionary experience
with
B4B. I was a part of the support crew. My role was to drive the van, provide water and sunscreen, help to keep riders on course, and wash the bikers' laundry! I was a backbone for the riders and our week-long endeavor.
What would you say to someone considering Biking for Babies?
Jerry: I will say this to anyone considering becoming a missionary: be ready to dive in and to fully immerse yourself in this cause. And just like anything new… there will be hills and valleys but ask yourself this – if not YOU, then WHO?!
Melanie: If you are looking to expand your pro-life community and want to have a summer experience that will support LIFE, then this is the program for you! Also, if you enjoy bicycling and want to push yourself physically, this is really the calling for you.