From the SFLA Blog
Students for Life Praises U.S. Bishops' Vote to Address Pro-Abortion 'Catholic' Politicians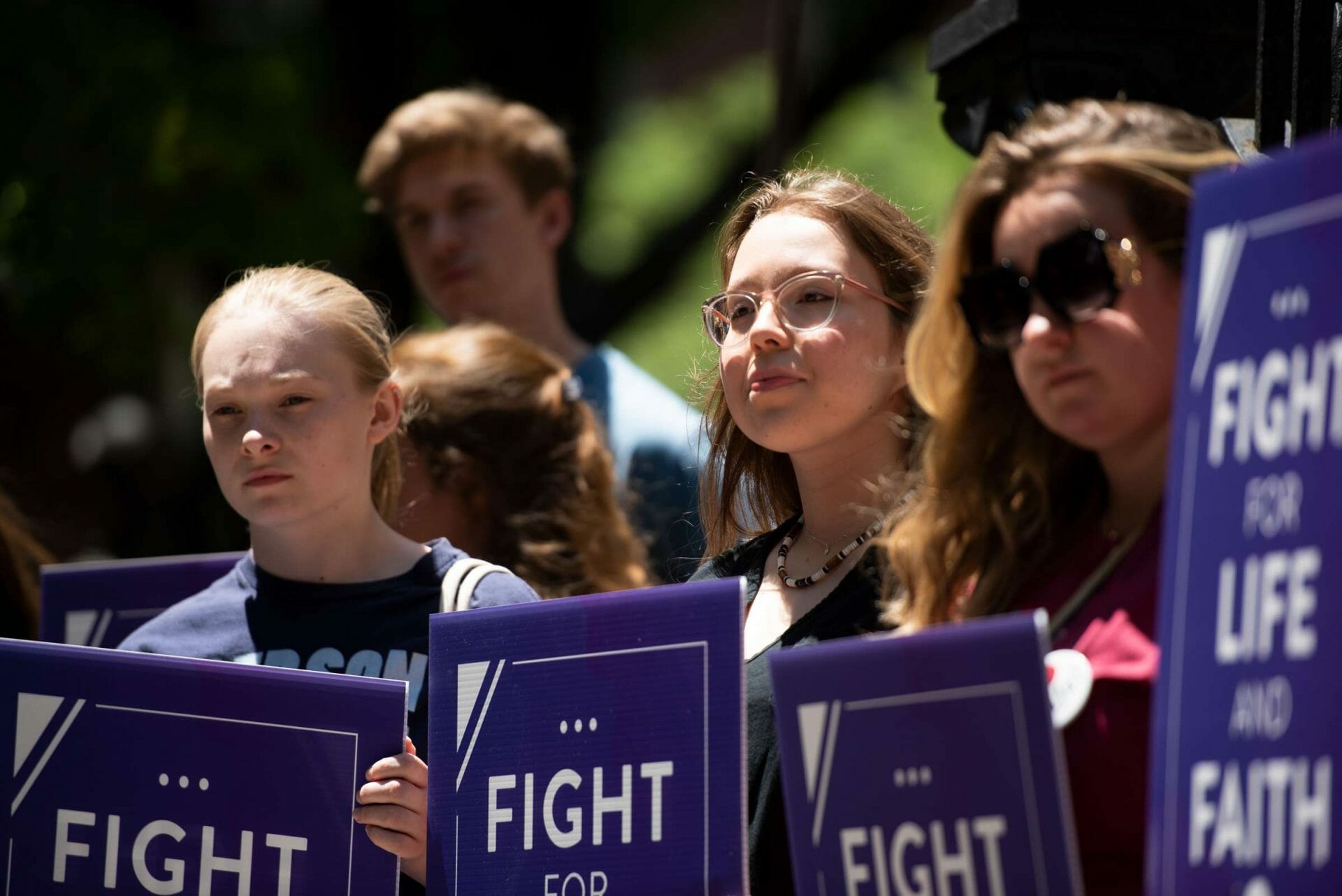 Kristi Hamrick - 18 Jun 2021
"With nearly one million children targeted for abortion violence each year, the stakes are too high for Christian leaders to NOT hold powerful politicians who claim to share their faith accountable to teachings on the sacredness of human life," said Kristan Hawkins, President of SFLA/SFLAction. "We are pleased that a majority of U.S. bishops recognize the urgency of this matter and are taking long-overdue action."  
WASHINGTON, D.C. (06-18-2021) – Today, the United States Conference of Catholic Bishops (USCCB) announced that by a margin of 168 to 55, U.S. bishops have voted to proceed with drafting a document that is expected to reiterate Catholic teaching that those who present themselves for Communion must submit to Catholic doctrine on abortion. With President Joe Biden professing devout Catholicism while using his political power to expand and fund abortion violence, the U.S. bishops faced renewed pressure to underscore the Catholic Church's absolute prohibition of abortion.
As reported by the New York Times, "The organization Students for Life held rallies in seven cities on Thursday to urge the bishops to vote 'yes.'" The rallies were held in seven cities as part of SFLA's Fight for Life & Faith campaign to encourage bishops to take action.
SFLA/SFLAction President Kristan Hawkins praised the vote as a key victory on the Catholic Church's longer path to clearly denouncing the pro-abortion views of powerful politicians like President Biden and House Speaker Nancy Pelosi, saying:
"Powerful politicians like Joe Biden and Nancy Pelosi wield serious influence and power over abortion — over who lives and who dies — in our nation. And over whether taxpayers are forced to fund the violence. It is no small matter that these self-proclaimed Catholics flout their purported faith out of one side of their mouths while using their authority as powerful public officials to ensure and fund unfettered abortion violence on our nation's most defenseless children. It is time for the Catholic Church to set forth the choice that Catholicism places before these politicians: Choose abortion or choose Catholicism. There is no scenario in which the two can coexist. This USCCB vote to move forward with a document is a step in the right direction and lives hang in the balance."
In an op-ed this week at The Washington Times, Hawkins joined with SFLA/SFLAction Chief Media and Policy Strategist Kristi Hamrick, writing:
On the issue of abortion, Mr. Biden's deeds are in direct opposition to those taught by his church. His administration has pursued the most radical abortion policies in U.S. history working to end limits on taxpayer-funded abortion, expand abortion through foreign aid, open the door to more inhumane experiments with the body parts of babies taken from abortions and allow deadly, on-line, no-test Chemical Abortion sales, to name a few. The personnel he has surrounded himself with also consistently embrace the most radical of abortion policies. Many faithful Catholics find this heartbreaking.
In a statement reacting to the vote, Archbishop Cordileone of San Francisco said: "I'm grateful that the bishops of the United States placed their trust in the Holy Spirit to guide in our effort to promote and protect the sanctity of the Most Holy Eucharist… We must confess our serious sins and seek reconciliation in the sacrament before presenting ourselves for Holy Communion."
Visit Studentsforlife.org/Faith for more on SFLA's Fight for Life & Faith campaign.
"Biden's Abortion Hypocrisy Is Also A Catholic Leadership Problem" at The Washington Times
"The Christian Faithful Are Rising Up to Fight for Life and Faith" at Townhall
For interviews, contact Lauren Enriquez at [email protected]
–30– 
Students for Life Action (SFLAction) is the 501c4 sister organization of Students for Life of America (SFLA), the nation's largest, pro-life, student organization with more than 1,240 groups on middle, high school, and university campuses in all 50 states. Students for Life has more conversations with those most targeted by the abortion industry every day, week, and year than any other pro-life outreach in the world and mobilizes the Pro-Life Generation to confront abortion at the local, state and national levels daily. Every week, Students for Life entities reach more than 2 million people across social media platforms to have nearly 200,000 digital conversations with the most engaged pro-life online audience in the world. 
Students for Life of America (SFLA) is the nation's largest, pro-life, youth organization. Headquartered in Fredericksburg, VA, SFLA serves more than 1,240 groups on college and university, middle and high school, medical and law school campuses in all 50 states. Student pro-life organizations work to confront policies on their campuses to support pregnant and parenting students, to end Planned Parenthood's relationships with schools and communities, and to change minds of their peers about abortion. SFLA has more conversations with those most targeted by the abortion industry every day, week, and year than any other pro-life entity.