From the SFLA Blog
Students for Life Action Rallied, Sent Petitions Calling for Firing of Dr. Anthony Fauci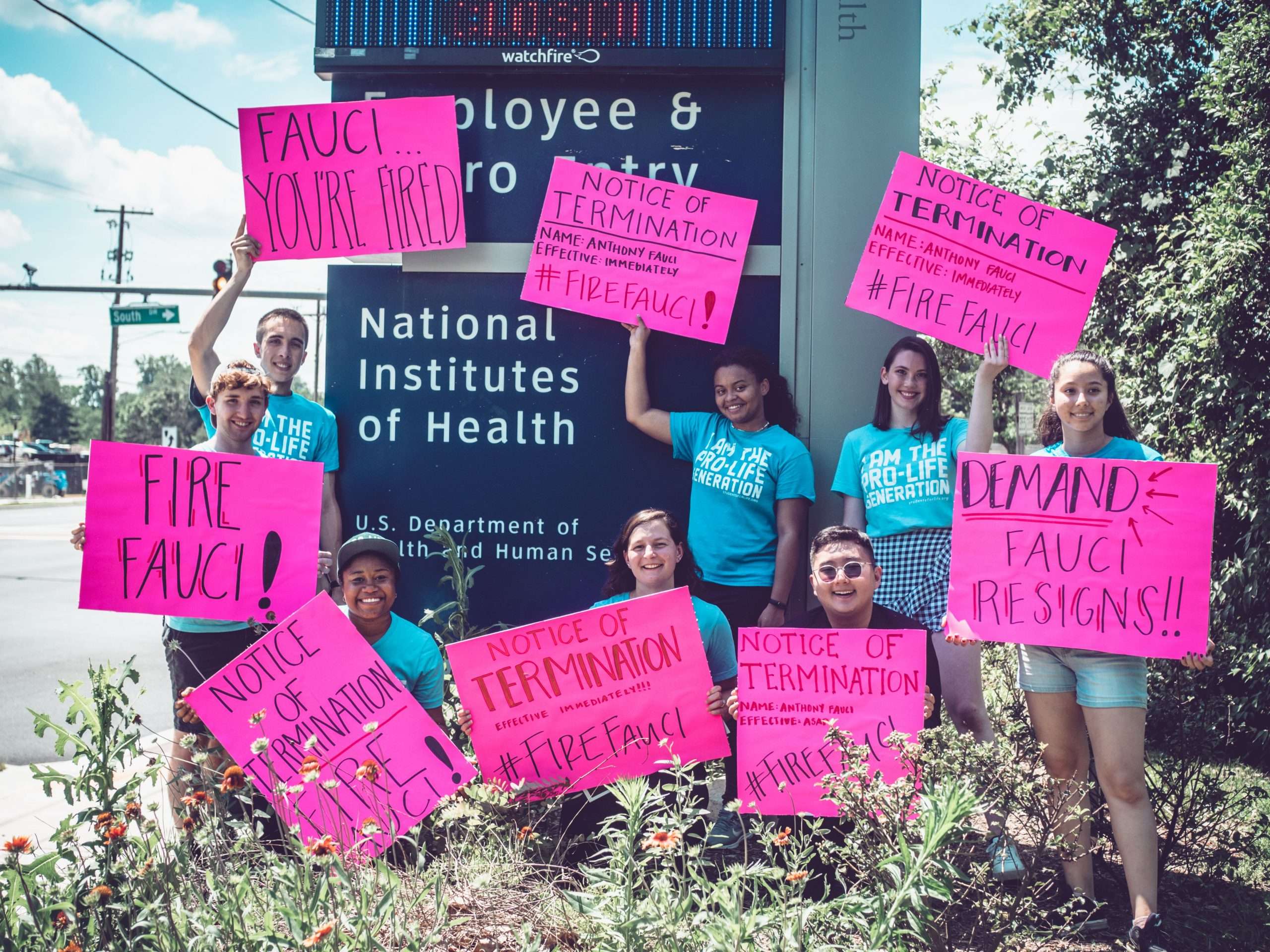 Kristi Hamrick - 10 Jun 2021
Reported on Behalf of Students for Life Action
"We rallied today at the National Institutes of Health to make the voices of the Pro-Life Generation heard loud and clear: We do not support the continued employment of Dr. Anthony Fauci amidst revelations that his office has been complicit in barbaric, inhuman research," said Kristan Hawkins, President of SFLA/SFLAction
BETHESDA, M.D., and WASHINGTON, D.C. (06-10-2021) – Today, Students for Life and pro-life allies rallied to demand that Dr. Anthony Fauci be fired amidst the aborted infant experimentation scandal his office funded.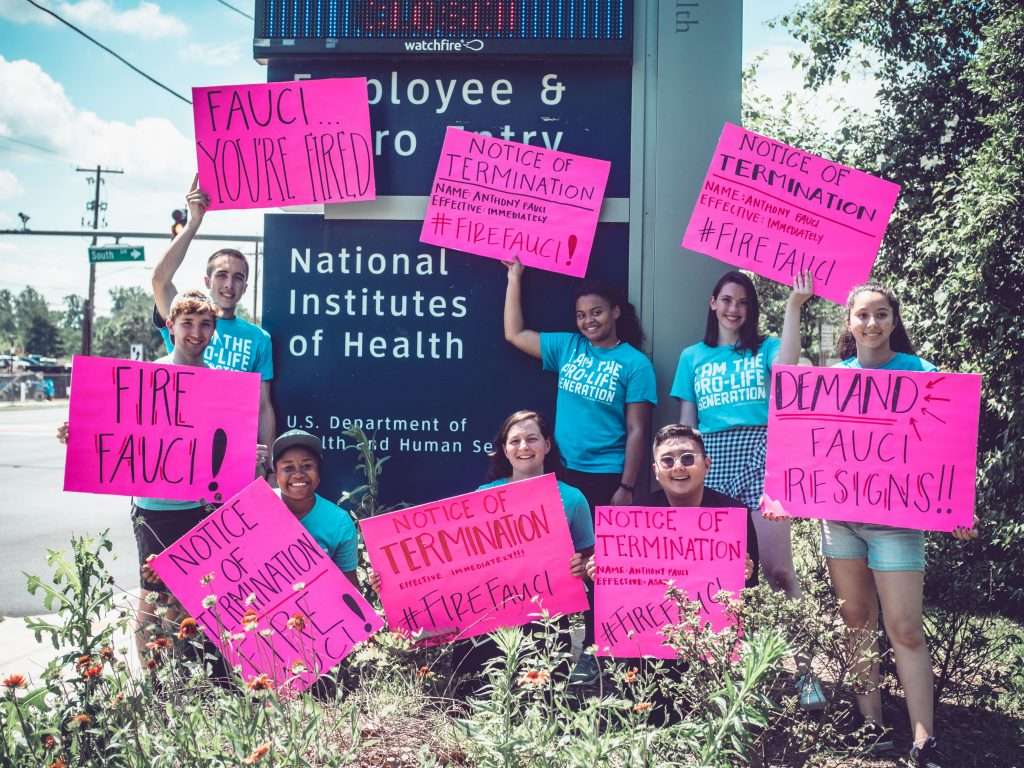 Speakers included SFLA regional manager Stephanie Stone, Fairfax Students for Life leader Alyssa Thoburn, and Rehumanize International Executive Director Herb Geraghty. Rally participants held pink signs to represent "pink slips" for Dr. Fauci.
In her speech, Stephanie Stone stated:
Dr. Fauci, as the director of the National Institute of Allergy and Infectious Disease (the NIAID), has allowed federal tax dollars to fund what should be considered a criminal act that is currently taking place at the University of Pittsburgh. Right now, medical researchers at UPitt are undergoing a series of tests that, frankly, it's even hard to talk about. These tests involve taking the scalps of 5-month-old aborted children and grafting them on to the backs of lab mice. Researchers then observed as the rats and mice grew HUMAN baby hairs. This is an insane misuse of not only taxpayer dollars, but an absolutely abhorrent waste of precious human lives.  
Why does this slip under the radar? Why aren't more people talking about this? Why are we turning a blind eye as a society to this inhumane injustice going on right under our noses? Medical research should never — let me repeat — never exist at the cost of LIVES, and most especially, no one should be forced to PAY for it. It's shameful that this office has seen fit to put their stamp of approval on this project; let alone using taxpayer money to do it! 
In a recent interview with The Stream, SFLA/SFLAction President Kristan Hawkins remarked:
This all matters because it signals that the scientific world is [turning] a blind eye to what happens to human beings in a lab. We can expect more pre-born babies to suffer and die to satisfy someone's curiosity… For many new voters today, abortion is a human rights issue, treating innocent life as a commodity. Treating a human child worse than we would treat an animal is clearly wrong.
Following the rally, Students for Life and Students for Life Action met with Senator Mike Braun (R—IN), who recently joined with Sen. Daines and Sen. Lankford to introduce an amendment outlawing the creation of animal-human hybrid organisms. Sen Braun stated:
Human life is distinct and sacred, and research that creates an animal-human hybrid or transfers a human embryo into an animal womb or vice versa should be completely prohibited and engaging in such unethical experiments should be a crime.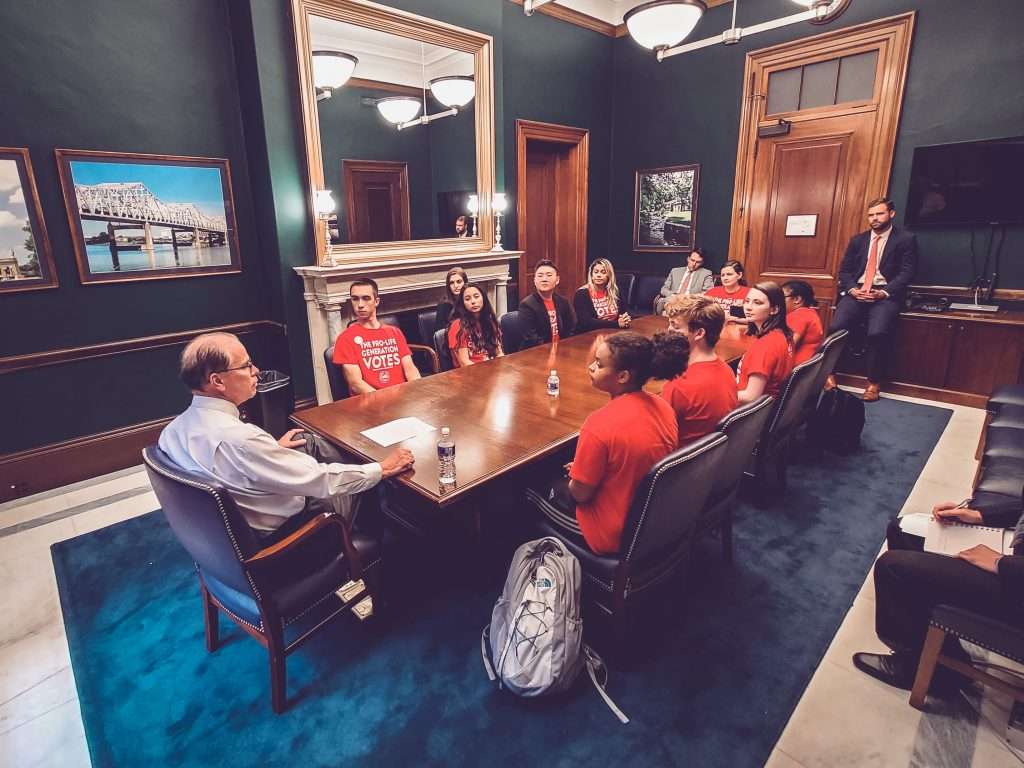 SFLA/SFLAction staff were grateful for the opportunity to meet with Senator Braun to discuss pro-life concerns with Dr. Fauci and encourage continued legislative action on the unconscionable research on preborn lives taking place in the United States.
Just this week leading up to today's rally, Students for Life collected nearly 20,000 petitions from concerned Americans calling for Dr. Fauci to be fired amidst this infant research scandal.
Visit ResignFauci.com to Sign the Petition HERE
View A Recording of Today's Rally Livestream HERE
"Dr. Fauci Plays Dr. Frankenstein With Unborn Baby Body Parts" at The Stream
For interviews, contact Lauren Enriquez at [email protected]
–30– 
Students for Life Action (SFLAction) is the 501c4 sister organization of Students for Life of America (SFLA), the nation's largest, pro-life, student organization with more than 1,240 groups on middle, high school, and university campuses in all 50 states. Students for Life has more conversations with those most targeted by the abortion industry every day, week, and year than any other pro-life outreach in the world and mobilizes the Pro-Life Generation to confront abortion at the local, state and national levels daily. Every week, Students for Life entities reach more than 2 million people across social media platforms to have nearly 200,000 digital conversations with the most engaged pro-life online audience in the world. 
Students for Life of America (SFLA) is the nation's largest, pro-life, youth organization. Headquartered in Fredericksburg, VA, SFLA serves more than 1,240 groups on college and university, middle and high school, medical and law school campuses in all 50 states. Student pro-life organizations work to confront policies on their campuses to support pregnant and parenting students, to end Planned Parenthood's relationships with schools and communities, and to change minds of their peers about abortion. SFLA has more conversations with those most targeted by the abortion industry every day, week, and year than any other pro-life entity.