From the SFLA Blog
Five Years Later, 96% of Women Denied Abortion No Longer Wish They Could Have Had One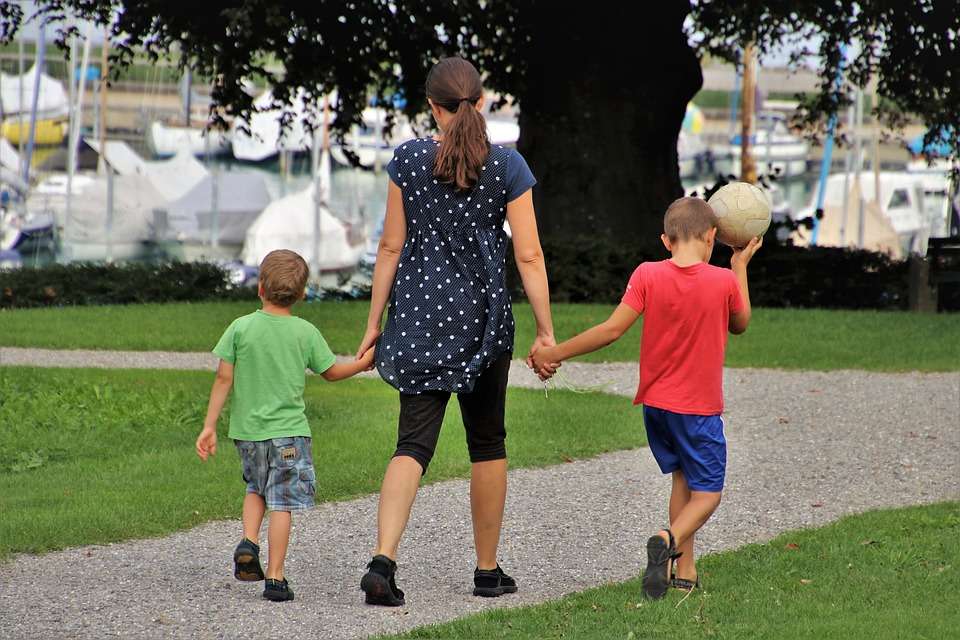 Brenna Lewis - 21 May 2021
Reprinted with permission from Secular Pro-Life

The Turnaway Study had a much touted statistic about how few women regret their abortions five years later. Google "women regret abortion," and see the press coverage. All of the following are referencing the Turnaway Study: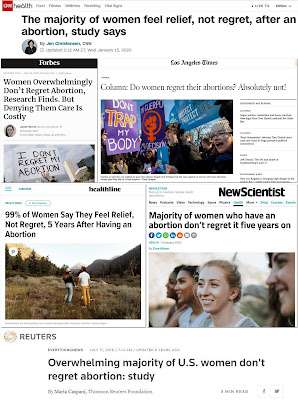 Much touted stat.
[The sources for the image are 
CNN
, 
Forbes
, 
Los Angeles Times
healthline
, 
NewScientist
, and 
Reuters
]
The Turnaway Study has resulted in many published articles comparing women who obtain abortions versus women who are denied them. The specific article discussing abortion regret is "Emotions and decision rightness over five years following an abortion" and can be found here.
Much of the discussion about this study has focused on whether this statistic is accurate. There are questions about study methods and limitations, and you can read more about that here.
But even if we assume the study is sound, the above press coverage leaves an incomplete picture of the study's findings. The Turnaway Study also looked at the mental health outcomes for women who went to clinics to get abortions but were turned away (because they were too far along in pregnancy for the clinic's gestational limits). I haven't been able to find these particular research results published online [see the post-publication edit below], but here is a picture from my copy of the book "The Turnaway Study," Chapter 4. Mental Health, page 126:
The highlighted portion reads:
One week after abortion denial, 65% of participants reported still wishing they could have had the abortion; after the birth, only 12% of women reported that they still wished that they could have had the abortion. At the time of the child's first birthday, 7% still wished they could have had an abortion. By five years, this went down to 4%.
This portion includes an endnote marked "28," which references this citation:
Also worth noting (all of the following info is also from the book page photographed above):
Only one week after being denied an abortion, over a third of women no longer wished they could have had one. This is a surprising level of ambivalence. These women not only contemplated abortion but physically arrived at clinics prepared to get abortions. I would expect that level of action to imply a greater level of decision certainty, but this statistic suggests otherwise. The pro-choice side frequently discusses how abortion restrictions pressure women to carry pregnancies they may not want, but it's also worth discussing how unrestricted abortion access can pressure women to get abortions they may not want. We've published testimonies from post-abortive women about that kind of pressure here.<  /li>
Women who had less social support from family and friends were more likely to continue to wish they had received an abortion

. While few women continued to wish they had aborted, of the group who did, they were less likely to have support. This result isn't surprising, but it's worth highlighting because we can all help here. Find ways to connect to your community and to support pregnant women and parents of young children. We had a pretty great list of ideas (from all of you!) 

here

, if you're looking for inspiration.

Women who placed for adoption were significantly more likely than women who parented to still wish they'd had an abortion. 

At five years out, 15% of women who placed for adoption, compared to only 2% of women who parented, reported that they still wished they could have had an abortion. (The 4% statistic at five years out is a combination of these two groups.) A few thoughts here. (1) It makes sense that the love and connection women experience with their children would have a mitigating effect on their negative emotions regarding the factors that led them to seek abortion in the first place. If they place their children for adoption, they have fewer interactions that can lead to that mitigating effect. (2) We as pro-life activists need to take note of the complicated effects of adoption. Of course adoption is preferable to abortion, but we need to be sensitive to the complex psychological and emotional effects adoption can have for all parties (children, biological parents, adoptive parents). We can advocate for adoption in some circumstances without oversimplifying it. We published some testimonies from people with experience with adoption 

here

 (see the subheading "On Adoption").