From the SFLA Blog
"Ethical" Soap Brand Praises Margaret Sanger on Their Bottle Label
Brenna Lewis - 03 May 2021

Follow Christine on Instagram! 
Dr. Bronner is a producer of organic soaps and personal care products. According to their website, the brand self-describes as "clean, green, and ethical." Seems like a great marketing slogan… until you take a closer look. Their product labels are littered with text that often goes unread, similar to the fine print you might see on a pharmaceutical company's commercials. You know they're there, but people typically gloss over them.
If you're one of the many people who hasn't taken the time to read the label in full, you might not know among the bizarre writings the text reads: "A great teacher must first self-supporting be, like . . . Margaret Sanger . . . or he will turn our greatest teachings into spades with which to bury our people." Initially I assumed there might be two Margaret Sangers. I couldn't fathom how they could advertise the Dr. Bronner brand as ethical only to print a eugenicist's name onto their product labels, but after a little more research, it seems they do.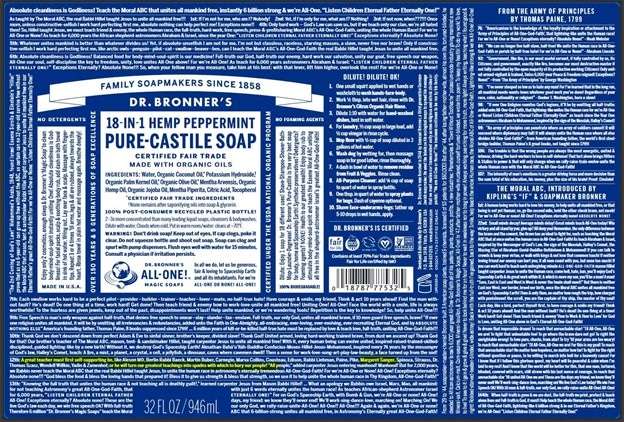 I found her name on their labels deeply disturbing and immediately felt the need to share with my social media followers as I post consistently about the pro-life movement. I shared their most recent post to my Instagram stories and added the following text: "Did you know @drbronner's has Margaret Sanger's name (founder of Planned Parenthood) on their bottle? This is one of the brands people suggested when I asked for non-toxic products awhile back. I considered buying them, but I'm so glad I didn't. I'll stick to Branch Basics." I made sure to tag the brand so they would see it and have the opportunity to respond.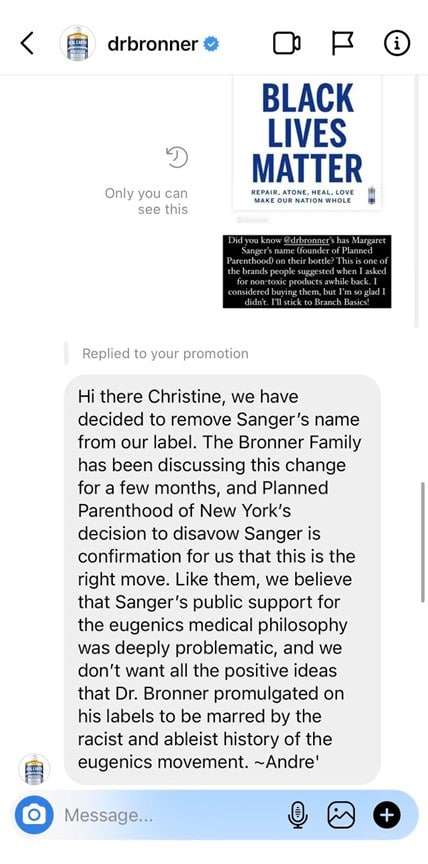 Their response was as follows: "Hi there Christine, we have decided to remove Sanger's name from our label. The Bronner Family has been discussing this change for a few months, and Planned Parenthood of New York's decision to disavow Sanger is confirmation that this is the right move. Like them, we believe that Sanger's public support for the eugenics medical philosophy was deeply problematic, and we don't want all the positive ideas that Dr. Bronner promulgated on his labels to be marred by the racist and ableist history of the eugenics movement. – Andre"
While I do appreciate Dr. Bronner is working to remove her name from their labels, I'm curious as to why it was there in the first place. Surely they knew of her history prior to Planned Parenthood in New York disavowing her. Surely they knew of her unethical and racist past. We may never know the answers why Dr. Bronner admired her or why the discussions to remove her name only started a few months ago, but we can rest assured the pro-life movement will make sure her heinous past is known by anyone who shares her name in a positive light. We won't stop until Margaret Sanger's disturbing dream of dismembering the most vulnerable among us is only learned about in history books.