From the SFLA Blog
Students for Life of America Urges Removal of Memorials to Racist Planned Parenthood Founder Margaret Sanger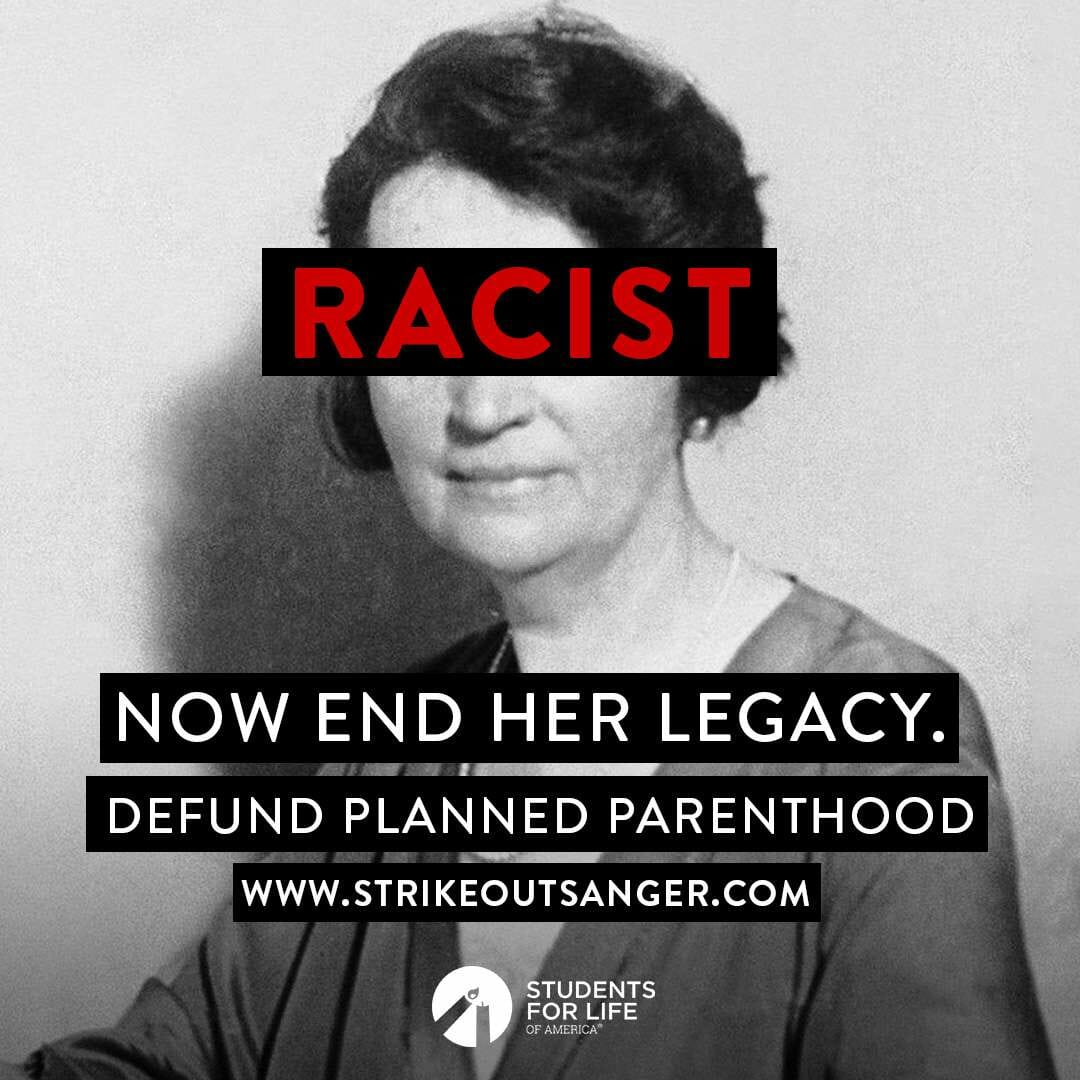 Autumn Schimmer - 21 Apr 2021
STUDENTS FOR LIFE OF AMERICA URGES REMOVAL OF MEMORIALS TO RACIST PLANNED PARENTHOOD FOUNDER MARGARET SANGER  
"Margaret Sanger's legacy cannot be hidden or covered up by mere words or apologies, or simply by acknowledging Planned Parenthood's racist roots," said Toni McFadden. "Reckoning with its own racism means Planned Parenthood must take action to address its racist present, the disproportionate loss of life they cause in communities of color. If they really want to change, Planned Parenthood will cease killing innocent human beings in minority communities." 
WASHINGTON, DC (04-21-2021) – Over the weekend, Planned Parenthood president Alexis McGill Johnson penned a New York Times op-ed in which she decried the racist roots of the abortion organization she runs. "We don't know what was in Sanger's heart, and we don't need to in order to condemn her harmful choices, said McGill Johnson in the piece. However, absent from her remarks about Planned Parenthood's past is a commitment to reckon with the organization's continued targeting of minority communities and killing of 972 children each day — of whom, a disproportionate number are Black. 
Students for Life and Students for Life Action have engaged for years to raise awareness of Planned Parenthood's past and present racism and urged the removal of memorials celebrating and honoring its racist and eugenicist founder, Margaret Sanger. At the University of Missouri, Mizzou Students for Life successfully achieved the removal of a poster of Margaret Sanger from the school's library. Students for Life also advocated for the removal of the Planned Parenthood founder's name from Margaret Sanger Square in New York City, the birthplace of the organization where, until recently, more Black children were killed in abortion than born alive. 
Today, Margaret Sanger is still honored in the Smithsonian's National Portrait Gallery,  at Margaret Sanger Square in Manhattan, and with a Margaret Sanger Statue  in the Old South Meeting House in Boston, MA. The racist Planned Parenthood founder is also the namesake of Sanger Hall at Chatham University in Pittsburgh, Pennsylvania. There is a bust of Margaret Sanger in the hall. Students for Life is mobilizing the Pro-Life Generation to contact Chatham University and urge the school to remove Sanger's bust and rename the building. SFLA also urges concerned Americans to contact the Mayor of Boston and contact the Secretary of the Smithsonian to remove their memorials to Sanger.
Toni McFadden, Minority Outreach and Healthy Relationships Director for SFLA/SFLAction, said that Sanger's legacy persists today, and that the danger of her work remains eminent as long as Planned Parenthood continues to kill children. McFadden said: "Schools and cities should realize that in honoring Margaret Sanger, they are propping up not only Planned Parenthood's historic racism, but its continued violence and injustice against the Black community, targeted by the billion-dollar Corporate Abortion franchise."
Read Toni McFadden's latest op-ed, addressing the racism of abortion with SFLA/SFLAction President Kristan Hawkins, at Newsweek. 
For interviews, contact Kristi Hamrick at [email protected]. 
-30-
Students for Life Action (SFLAction) is the 501c4 sister organization of Students for Life of America (SFLA), the nation's largest, pro-life, student organization with more than 1,240 groups on middle, high school, and university campuses in all 50 states. Students for Life has more conversations with those most targeted by the abortion industry every day, week, and year than any other pro-life outreach in the world and mobilizes the Pro-Life Generation to confront abortion at the local, state, and national levels daily. Every week, Students for Life entities reach more than 2 million people across social media platforms to have nearly 200,000 digital conversations with the most engaged pro-life online audience in the world. 
Students for Life of America (SFLA) is the nation's largest, pro-life, youth organization. Headquartered in Fredericksburg, VA, SFLA serves more than 1,240 groups on college and university, middle and high school, medical and law school campuses in all 50 states. Student pro-life organizations work to confront policies on their campuses to support pregnant and parenting students, to end Planned Parenthood's relationships with schools and communities, and to change minds of their peers about abortion. SFLA has more conversations with those most targeted by the abortion industry every day, week, and year than any other pro-life organization.