From the SFLA Blog
Students for Life Visits 3 Abortion Facility Sidewalks in 3 Hours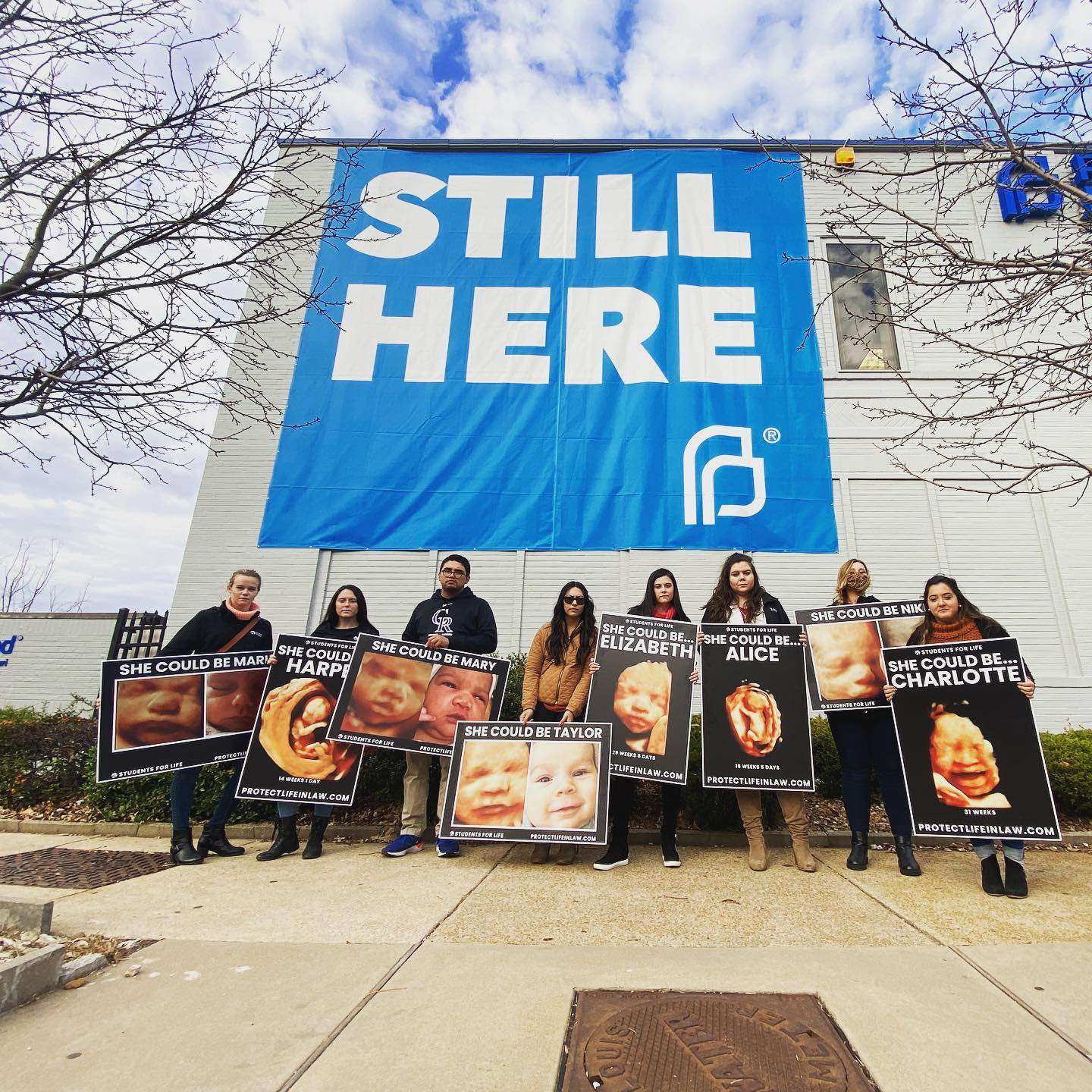 Brenna Lewis - 19 Jan 2021
Every small team at Students for Life has bi-annual meetings to assess team health (and catch up with one another, given that we're spread out across the country). When the West Coast half of the Field Team gathered in St. Louis, they decided to include some pro-life activism in their schedule… which meant visiting 3 different abortion facilities in 3 hours!
Eight SFLA Regional Coordinators, representing a combined 24 states, took our #SheCouldBe signs to witness for Life on abortion facility sidewalks in Missouri and Illinois. Each facility brought a very different set of experiences!
View this post on Instagram
Hope Clinic for Women in Granite City, Illinois
Hope Clinic for Women is a late-term abortion facility (they commit abortions past 22 weeks, past the point of a baby being capable of surviving outside the womb). The team visited the facility on a late-term abortion day. Thankfully, one of the encounters we had here was a turnaway. The SFLA team members watched as a car pulled into the lot and the security guard came out to tell her to park in the back lot.
So, Texas and Southern Regional Manager Sarah Zarr walked around to the back lot, holding her sign and pregnancy resource literature. Sarah stayed on the public sidewalk, ready to lend a hopeful voice if needed. The vehicle stayed in the lot for a while, then drove away after thoughtfully looking at Sarah and her sign.
The rest of the team's time there wasn't so fortunate. At two different points (just in the one hour they were there), two different women stumbled out of the facility, visibly in pain and hunched over. Neither was escorted by nurses or other abortion staff. The first waddled to the car where someone was waiting for her, and she threw up before getting in the car and being driven away.
Later, the second woman also came out visibly in pain and stumbling. She didn't even have a ride; she drove herself. One of the other pro-life sidewalk counselors was able to chat with her, asking if she was okay and suggesting that it wouldn't be safe for her to drive. Left without a choice, the woman drove herself away anyway. Nobody drives themselves home from getting their wisdom teeth out or getting a colonoscopy. Yet abortion facilities are just fine taking women's money, aborting their child, and pushing them out the door.
Fairview Heights Planned Parenthood
The next facility the team visited was the new mega facility in Fairview Heights, Illinois (just over the Missouri border). This massive Planned Parenthood was built in secret, largely to avoid pro-life attention but also to skirt Missouri's abortion restrictions.
The Students for Life team joined Sidewalk Coalition outside this facility. Sidewalk Coalition had a turnaround earlier that day wherein a young woman skipped her abortion appointment and went to their mobile unit to get an ultrasound instead.
SFLA team members were waving to passing cars, and got a lot of positive feedback. One vehicle they waved to was an ice cream truck, and the driver actually pulled in and gave them free ice cream because he was pro-life!
St. Louis Planned Parenthood
The St. Louis Planned Parenthood is known to be the most dangerous abortion facility in America. They have called 75 ambulances for confirmed medical emergencies since 2009 (though they've called 81 total). They routinely fail health inspections, even to the point of losing their license, yet abortion allies in high places allowed them to stay open and continue committing abortions.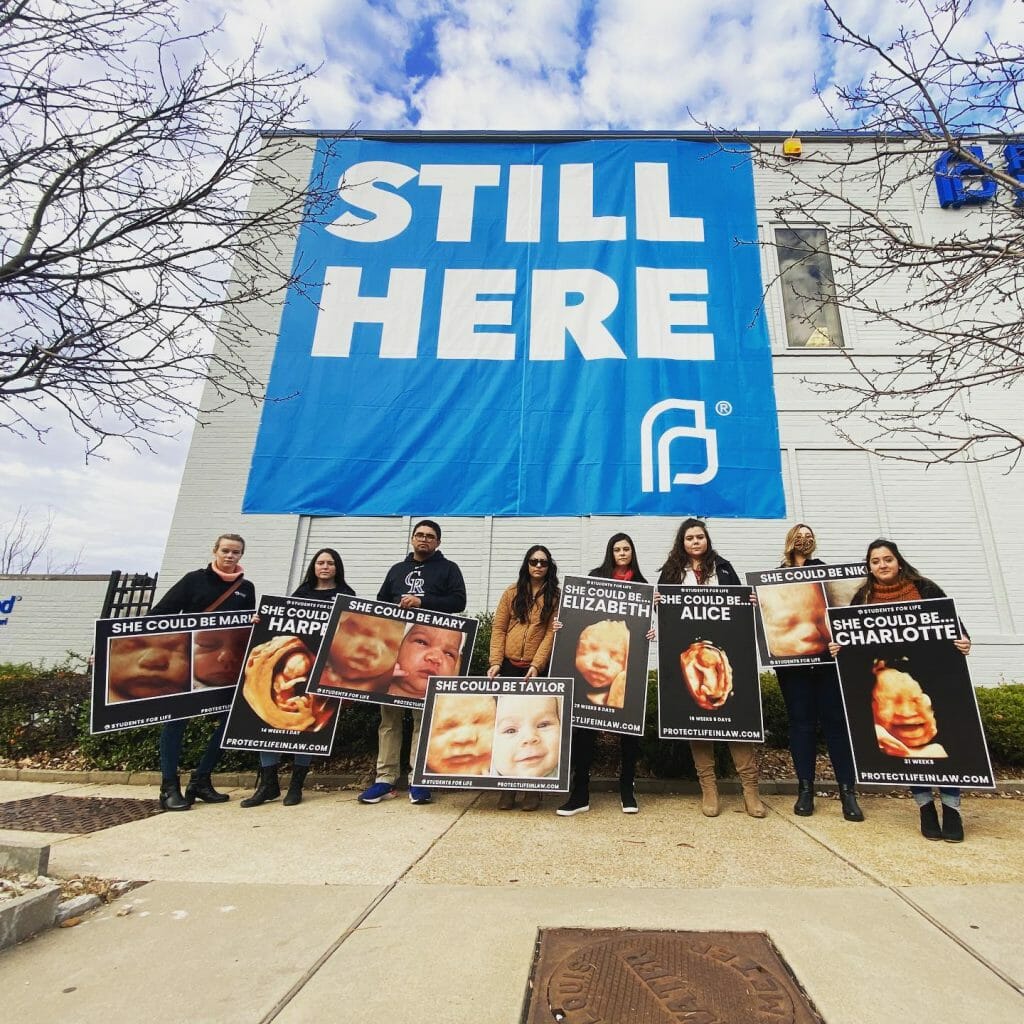 Here, the team takes a photo with the facility's "Still Here" sign. The irony is loud. Yes, they're still there… hurting women and operating unlicensed because abortion facilities are treated differently than actual medical institutions. They're given special treatment, and it's at women's expense.
While on the sidewalk, the team was able to give life-affirming resources to three vehicles that stopped. Did they follow through with their appointments? We'll never know. Comedically, our team of young pro-life women were "protested" by one lone man with a "My Body, My Choice" sign.