From the SFLA Blog
Victory! Oregon College Settles in Lawsuit with Students for Life Group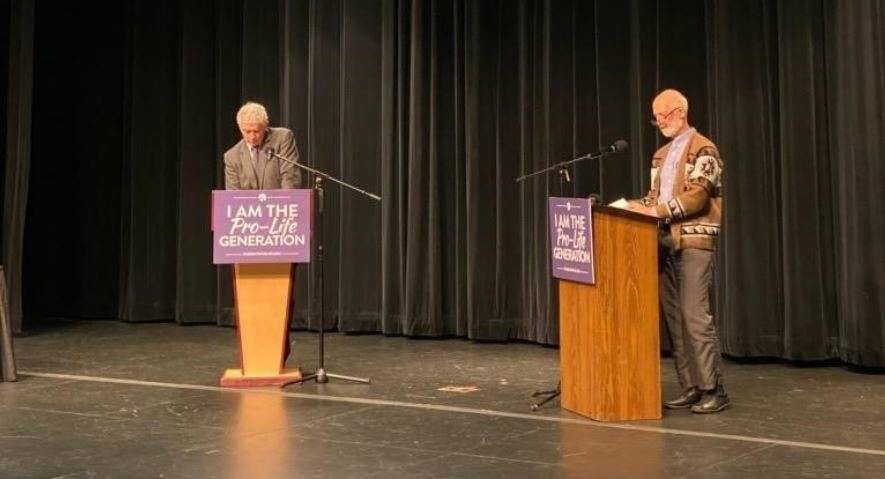 Kristi Hamrick - 12 Jan 2021
As an Oregon College Agrees to End Unconstitutional Policies against a Students for Life group, SFLA calls on SCOTUS to also protect students' rights   
"Chemeketa Community College agreed to change the unconstitutional policies that severely limited where and when students could speak. We hope that the Supreme Court takes seriously these organized efforts to suppress the First Amendment," said SFLA's Kristan Hawkins.  
SALEM, OR – FREDERICKSBURG, MD  (01-12-2021) – Students for Life of America President Kristan Hawkins noted that a victory for the First Amendment took place this month as Chemeketa Community College (Pronounced: chuh-MEH'-kih-tuh) agreed to change policies designed to hinder pro-life speech on campus. As ADF reported, the school had enacted "unconstitutional policies that restricted outdoor speech to two small areas, less than 1.5% of the 100-acre campus, and required students to secure permission at least two weeks in advance before speaking in those areas. As part of a settlement ending a federal lawsuit Alliance Defending Freedom attorneys filed on behalf of the campus chapter of Students for Life, the college agreed to revise its policies so that all students can speak freely and openly on campus."
Hawkins observed: "Across the nation, we are seeing incredible opposition to the pro-life speech of our student leaders and volunteers as they speak for the defenseless and educate their fellow students on abortion. But the law and the Constitution are clear on the matter: Public schools cannot silence pro-life groups or force them to self-censor. We are thankful that Chemeketa Community College clarified that Students for Life—and all students—can participate in the open exchange of ideas and ensure that the entire college community is a 'free speech zone' for pro-life students and their peers."
"Our case is uncomfortably similar to one at the Supreme Court today, Uzuegbunam v. Preczewski, in which free speech zones were set up with a permitting process to use First Amendment rights," said Hawkins. "School officials cannot place the First Amendment in a box that they lock away from pro-life students and people of faith, and we wish ADF attorneys the best of luck as they make their case today in court."
"The only permit students need to speak on campus is the First Amendment," said ADF Legal Counsel Michael Ross. "Chemeketa Community College's previous policy placed a restriction on these fundamental freedoms by confining students to so-called 'speech zones' and requiring reservations weeks in advance. Thankfully, Chemeketa has agreed to revise these unconstitutional policies and help ensure that all students can engage in free expression on campus."
The timeline, as ADF reports: "On May 5, 2020, ADF attorneys, representing Marcos Sanchez and Emma Howell, filed a lawsuit after the school prevented the students from speaking on campus. As co-presidents of the school's Students for Life chapter, Sanchez and Howell desire to create a culture of life, love, and compassion on Chemeketa's campus by educating others on pro-life topics and providing practical benefits to others at Chemeketa, including passing out resources for a local pregnancy center. The students have refrained from doing so, however, to avoid violating the college's policies restricting speech. Under the settlement agreement, Chemeketa Community College has agreed to remove its unconstitutional speech zones, and the prior-permission requirement for these zones, both of which were used to silence students. The college has also paid $25,000 in attorneys' fees for restricting speech and violating students' constitutional rights."
Following the settlement in Chemeketa Students for Life v. Members of the Chemeketa Board of Education, ADF attorneys voluntarily dismissed the lawsuit.
For interviews, contact Kristi Hamrick at [email protected]. 
–30— 
Students for Life of America (SFLA) is the nation's largest, pro-life, youth organization. Headquartered in Fredericksburg, VA, SFLA serves more than 1,240 groups on college and university, middle and high school, medical and law school campuses in all 50 states. Student pro-life organizations work to confront policies on their campuses to support pregnant and parenting students, to end Planned Parenthood's relationships with schools and communities, and to change minds of their peers about abortion. SFLA has more conversations with those most targeted by the abortion industry every day, week, and year than any other pro-life

The ADF Center for Academic Freedom is dedicated to ensuring freedom of speech and association for students and faculty so that everyone can freely participate in the marketplace of ideas without fear of government censorship.